Banking on a Revolution
By Christina Le Beau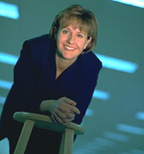 Web entrepreneur Janina Pawlowski '84S (MBA): She and a partner saw a way to put loan consumers in charge. She just didn't know what it would take to get there. But now the E-Loan co-founder has it all in perspective.
The roadshow was halfway over. Week one was behind them, week two ahead. They were in a groove as they presented their case, selling their passion, their logic, their desire to turn the tables in favor of consumers. But all Janina Pawlowski really wanted to do was head home to California and hide.
She and partner Chris Larsen, who'd co-founded E-Loan three years before, had just given one of the 50-plus presentations scheduled for those frenzied two weeks last June. It was all a carefully orchestrated part of the production--the wooing required before taking their online-lending company public. In 12 days, they would visit close to 200 money managers from coast to coast and back again, rushing from place to place with barely a bathroom break.
Larsen, the CEO, had the lead role in the presentation, followed by Pawlowski and chief financial officer Frank Siskowski. But exhaustion was taking over and Larsen's concentration was slipping, so Pawlowski, the president, stepped in, answering more of the investors' questions.
They pulled it off, happy they could pinch-hit for each other like that. Later, one of the bankers traveling with them pulled Pawlowski aside. "This guy, maybe 22 years old, said to me, 'Great job, but a lot of people come here to see the CEO, not the president,'" Pawlowski recalls. "I could not even speak. Here was me and Chris doing exactly what we wanted to do, and here was this kid trying to tell me what to do."
The bankers wanted to go to lunch to celebrate the end of week No. 1, but Pawlowski wanted out. "I lost it," she says. "I didn't think I could do it." She hopped a plane home, as planned, but spent the weekend in seclusion, asking herself why she was putting up with this.
E-Loan, the company she was promoting, promised to let consumers compare, apply for, and obtain mortgages and other loans online. It would give consumers the edge by putting decisions right at their fingertips. It was something she'd been working on for a long time. And it was a company Pawlowki believed in passionately.
She did return for the roadshow's second week, did get over it, did go on to enjoy a successful public offering on June 29, 1999.
You could say stress flipped her out. You could say the remark about the CEO was a sign they wanted to hear the guy talk, not the woman. Or you might say it was a bruised ego. And all of that would be true. But the irony in the situation was that just a year before, Pawlowski was CEO, a title she swapped with Larsen over a handshake. It was almost a lark, really, acknowledgment by both of them of how silly and fleeting the title, any title, is.
It's a story about perspective--and of that, Janina Pawlowski has plenty.
Last September, Pawlowski was on the cover of Business Week magazine (with Larsen and a limo). On any given day, she might have lunch with a Who's Who of the Internet economy. And blue-chip investors can't give her money fast enough.
Oh, and she might not be CEO, but last fall she was named chairman of the board. Yet there is no pretense about this 39-year-old. What you see with Pawlowski is what you get. Employees know she's direct, impatient, prone in the early days to shooting off e-mail perhaps better left to simmer. But they also know she cares about them, knows what motivates them, and walks the talk on balancing work and life.
Both parents, who came to America from Poland in 1950, worked while Pawlowski and her two sisters were growing up in Rochester--Dad in manufacturing at Eastman Kodak Co., and Mom in quality control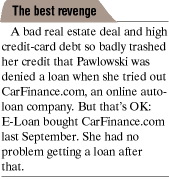 at Xerox Corp. She recalls childhood fondly, remembering that life revolved around family, church, and work at the Rochester Polish Federal Credit Union, which her parents founded to help other immigrants achieve their American dreams.
It was natural to her that she both work and have a family. Yet certain memories came to shape the kind of company Pawlowski eventually started. "When I was little, I'd call my mom at Xerox, and she'd get into trouble," Pawlowski recalls. "It's just not like that here." E-Loan's 330 employees can leave for personal reasons if they need to, can even bring a child to work if child care fails. On-site day care is a favorite subject, says partner Larsen: "She's been pushing for that since we were about 50 people. We don't have it yet, but she's vigilantly pushing for it."
Pawlowski's son, Adrian, who turned 10 in May, is her daily dose of perspective in an industry where money, power, and adrenaline can warp even the levelest of heads. Her ex-husband shares custody of their son and is an integral part of the family. And her parents now split their time between Rochester and Pawlowski's home in Woodside, California, where she helps ease her dad's Alzheimer's disease, and Adrian gets to grow up with his grandparents. So she knows where her priorities are.
"During preparation for the roadshow, Chris kept saying to me, 'This is going to be much harder than anything you've ever done,'" Pawlowski says. "But he's a guy and doesn't have children, and I said, 'Delivering Adrian was the hardest thing I've ever done. You're not gonna top that!'"
That said, let's not underestimate just how passionate Pawlowski is about the company she and Larsen started from nothing. She moved from Rochester to California with her then-husband in 1989; he had a job opportunity, and she was ready to try something new.
Pawlowski had worked at Xerox in Rochester after earning her bachelor's in agricultural economics from Cornell University and an M.B.A. in 1984 from the Simon School. She wanted to stay in Rochester and be close to her family, but she didn't see herself being a lifer at a large company. "Trying to climb the corporate ladder just didn't appeal to me."
Shortly before moving to California, Pawlowski had started working for a small market-research firm in Rochester; she liked the entrepreneurial feel and the fact that the company was run by a woman.
She was expecting Adrian by the time they got to California, so she applied to become a mortgage broker, figuring it would give her flexibility for her son and provide a foundation should she decide to start her own company--something she'd been kicking around in her head.
She'd gotten a taste of consumer lending at her parents' credit union back in Rochester, and she'd always had a mind for math. Plus, she was tired of working for other people. She'd also seen the unfairness in the lending industry--her credit was trashed after a buyer defaulted on an assumed mortgage--so Pawlowski felt there had to be a better way to protect consumers.
When she met Larsen in 1992, after they started working together at a Palo Alto brokerage, it was clear they were kindred spirits. "You could say we complained about the same things," Pawlowski says. "We always thought the consumers were getting gouged in the transactions, that the brokers were getting a lot for doing a little."
The two traded complaints over smoke breaks on the roof, Pawlowski with her ever-present cigarettes and Larsen with his occasional cigar. Within months they'd decided to do something about it: In October 1992, they founded the Palo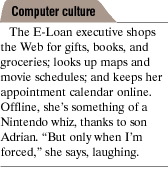 Alto Funding Group, which four years later would become E-Loan. Larsen had written software to compare mortgage products for their clients, so when a
Silicon Valley business consortium wanted to hook them up to the Web for free--part of a pilot project on e-commerce--Larsen and Pawlowski said "Why not?"
"I hadn't really even been paying attention to the Internet," Pawlowski says. "In 1995, it meant nothing to me." But soon enough, it meant everything.
Within months, Larsen suggested they put up their own Web site. It would be the ultimate way to connect with loan customers, he thought. Goodbye, middleman.
Up went www.pafg.com, as in "Palo Alto Funding Group." A pretty forgettable URL, yes, but no one was thinking branding at that point. It was all an experiment, really. Would people actually apply for loans online?
Less than a week later, they had their answer: 12 applications waiting to be processed. Says Pawlowski: "We had kind of set up a business without knowing it." But they still hadn't figured out how to offer real-time, customized quotes online. Those early applications still had to be followed up by loan agents.
The partners started programming a new Web site, which they named E-Loan after an offhand remark at lunch one day. "We were discussing names and couldn't settle on one, so our lawyer says, 'Well, just for now, let's call it E-Loan,'" Pawlowski recalls. "Chris and I looked at each other after we left the restaurant and ran back to look up the name to see if it was registered." A name that now would cost millions was theirs for the registration fee.
The next year was a blur as the partners spent endless hours programming and designing their new Web site. They continued doing traditional loans, but gradually lost all but two of their 30 loan agents, who saw Larsen and Pawlowski grinding away on the new Web site, saw them devoting a lot of energy to something that essentially could put the agents out of work.
It was a single-minded obsession that nearly bankrupted them. Pawlowski racked up tens of thousands of dollars in credit-card debt, and depleted her son's college fund.
When a venture capitalist told them to scrap the programming they'd spent months on and start a new Web site from scratch, Pawlowski was ready to quit. But Larsen persuaded her to stick it out. Not that he thinks she really would have bailed. "She always knew we would get here, no matter what, even when things were incredibly dark," Larsen says. "Janina is a total survivor. If you give her a challenge, she gets power from that."
It paid off in June 1997, when they launched the E-Loan site (www.eloan. com), creating a stir that eventually attracted backing from the likes of Yahoo! and Softbank. Money was no longer a problem. "I quit smoking the day we got money from Yahoo!" Pawlowski says.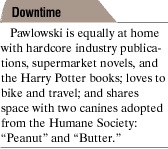 It's been a sweet ride ever since. Exhausting, stressful, and sometimes scary, yes, but sweet. The launch, the public offering, the company's continued expansion into new products and overseas markets--it's enough to make you lose perspective, or at the least consider where else your talents might take you.
But not Pawlowski. "I could never be lured away," she says. "I need the emotional attachment to what I'm doing. And we have so much left to do. We're nowhere close to done."
---
© 2000 Christina Le Beau
Christina Le Beau, a freelance journalist living in Rochester, has written for The Industry Standard, FamilyPC, and Gannett newspapers nationwide.
Maintained by University Public Relations
Please send your comments and suggestions to:
Rochester Review.