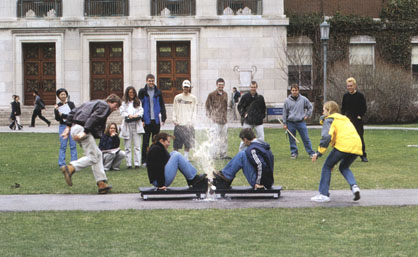 Crash course: "Physics by Inquiry" class tackles its subject head-on. How much impact does it take to smash a soda can? Students in Frank Wolfs' special physics course test out laboratory predictions by strapping sample cans to go-cart bumpers and driving into each other. One fact they easily ascertained is that smashing full cans as opposed to empty ones produces satisfyingly dramatic results.
Maintained by University Public Relations
Please send your comments and suggestions to:
Rochester Review.