Leading Jazz to a Big Band Future
Always willing to take artistic leaps, Grammy-nominated Maria Schneider '85E (MM) and her 17-piece orchestra have been hailed as the 'next wave in jazz.'
by Mark Liu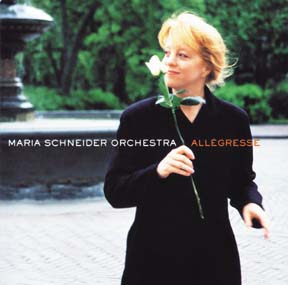 Maria Schneider '85E (MM) stood on the mountaintop, rain falling and wind screaming, the skyscrapers of Rio de Janeiro looking like little Legos down below. The hang-gliding instructor strapped her to his harness and prepared her for her first flight, explaining that they had to get a running start off the cliff to clear the side of the mountain. "If you stop running," he told her, "we'll be killed."
He need not have worried. Schneider, a New York City-based jazz arranger and composer, knows all about taking great leaps-musical as well as aerodynamic.
Within months of graduating from the Eastman School of Music, Schneider was working as an assistant to the legendary Gil Evans, the longtime arranger for Miles Davis. Within three years she was forming her own jazz band in New York City, an economic and artistic step that led people to tell her she was "absolutely crazy."
But in less than a decade, many critics would say she has been "absolutely successful." Her band's first two albums received three Grammy Award nominations and brought an increasing slate of conducting dates and commissions from around the world. In 1998, she received the Critic's Choice Best Composer Award at the New York Jazz Awards at Lincoln Center.
And that death-defying, hour-long glide over Rio? Schneider transformed the experience into Hang Gliding, the 13-minute first track on her 2000 album Allégresse, which in turn sent the critics soaring.
Billboard magazine said that Allégresse "could very well be the finest jazz album of the year" and that Schneider "has painted her masterpiece." Calling Schneider's music "The next wave in jazz," Time magazine named Allégresse to its list of the best music of 2000, one of only 10 albums to receive such accolades (and making for such strange bedfellows as Radiohead and rapper Wyclef Jean). Schneider received her fourth Grammy nomination for the album.
The buzz got so loud, it spilled into the kind of cross-promotion expected of a pop star, not a jazz composer. Her recording of jazz standards, The Days of Wine and Roses, is packaged with two bottles of "Maria Schneider Signature Riesling."
Despite such head-swirling accolades, Schnieder keeps her feet firmly planted on the ground.
"I've been lucky not to have received the reverse yet," she says of glowing reviews. "[The success] is nice because it means I can work. I can support myself.
"But it's important to appreciate the process, not the result," Schneider notes. "The process is what we live with."
For Schneider, that creative process began in rural Windom, Minnesota, where as a youngster she had thoughts of becoming an astrophysicist. But she dropped those plans when, as she self-effacingly puts it, she realized that to be an astrophysicist, "you had to be really smart."
With a population sign that read 3,666 when Schneider lived there, Windom was the kind of place, she says, where the only artists in town were women because all the men were farmers. Schneider dutifully lived the Windom life: working summers in corn and soybean fields, and later collecting tips as a truck-stop waitress. But there was something else for Schneider.
When she was 5 years old, she met a woman who changed her life. Evelyn Butler, a jazz and stride pianist from Chicago who wanted to get out of the city, had just moved to town. Windom wasn't quite prepared for Butler's bright-red dye jobs, purple muumuus, and all-day slippers. But Schneider was.
"Her laugh was just bigger than life," recalls Schneider of the day that Butler came for dinner. "And the personality that came through the piano when she played was just amazing. When she played on our little Baldwin piano, she made it sound like it had never sounded before."
Schneider begged her mother for piano lessons from Butler, who laid the foundation for her musical ideas. When critics today marvel at Schneider's range of color in blending jazz and classical elements, they're referring to the blend of music she was learning to relish and dissect at the hands of her purple-muumuued piano teacher.
Schneider majored in music theory not far from home at the University of Minnesota, but she came to composing fairly late. When she applied to Eastman for graduate study, she was rejected. She had talent, they said, but little experience.
Undaunted, Schneider gained acceptance to Eastman's Arrangers' Holiday that summer. The three-week workshop brought in professional musicians to record student compositions.
"Everyone would just stay up every night, working on pieces to be recorded," says Schneider. "I worked my butt off. I really didn't sleep that whole time."
Her sleep deprivation paid off. The late Rayburn Wright, then director of the Eastman program in jazz studies, marveled at the progress Schneider had made in just the few months between applying to Eastman and composing at the Arrangers' Holiday. By then, Schneider had decided to attend the Berklee College of Music in Boston, yet even as she hunted for an apartment in Boston, she says that "something was just telling me not to go to Berklee."
Following her gut, she spent a semester at the University of Miami until she reapplied-and was accepted-to Eastman. There, she threw herself into the music life.
"She had such a hunger and genuine interest in learning," says Fred Sturm, Eastman professor of jazz studies and contemporary media. "There was a tenacity about her-she was going to become something. But it wasn't calculating."
That was her style: Schneider followed her love of music and left the rest to a certain amount of fate.
After graduating from Eastman, she moved to New York City without a clear plan. A friend helped her get a job as a music copyist, which paid the bills but didn't offer much creativity. Then one day, she started talking with a customer about composing. It was the kind of conversation she hadn't had much of since graduating from Eastman.
"I really missed that-the exchange of ideas, all that stimulation," says Schneider. When the customer asked her about her favorite writers, she went on and on about Gil Evans. Years before, while listening to one of his albums, Schneider had even had a daydream of working as an assistant to Evans, somewhere in some perfect future.
That night, the customer called her. He hadn't told her when they spoke, but Gil Evans was a close friend of his. And Evans was looking for an assistant-an assistant who showed as much interest and insight as Schneider had shown in her impromptu conversation earlier.
Schneider got the job and, that same year, a grant to study composition with another jazz great, Bob Brookmeyer. Between the two, she was soon assisting on the soundtrack to The Color of Money, helping with the musical arrangements for Sting's 1987 European tour, and absorbing all she could from jazz giants who had worked with the likes of Duke Ellington, Sonny Rollins, Thelonious Monk, and many others.
It was life-changing experience, but one that ultimately taught her the limitations of writing for other people's bands. While working on a piece for the Mel Lewis Jazz Orchestra, Schneider found herself arguing adamantly over a tempo until Lewis finally blurted out, "Why don't you go start your own orchestra?"
Not a bad idea. In 1988, Schneider and her then husband, John Fedchock '85E (Mas), set out to form their own jazz band. Schneider was realistic. She went into it thinking, "If I have to be a waitress and have a band on the side, that's fine. That's what I expected."
Of course, it didn't quite play out that way.
Pianist Frank Kimbrough remembers well the day he heard about "some woman" trying to start a big band. She needed a piano player, a friend told him, but Kimbrough had no interest.
"I envisioned some ridiculous woman standing in front of some Tom Dorsey type of band," says Kimbrough. "I was totally skeptical."
Then he put the tape in the machine.
"I couldn't believe what I was hearing," he says. "Just hearing the first 30 seconds, I knew this was something important. It totally knocked me out."
Kimbrough got up early the next morning to call Schneider, afraid someone might beat him to it if he waited. The year was 1993, and Schneider had split with her husband but was trying to make a go of forming a band on her own. She managed to assemble 17 musicians-16 men and one woman-both to record and to play a weekly gig at the club Visiones in Greenwich Village.
Economically, Kimbrough recalls that such an undertaking was "just short of a nightmare. You end up pretty much playing for cab fare."
Yet many of Schneider's musicians were traveling long distances-some from as far as Connecticut, a two-hour drive each way-every week to play in the band.
"I think that says a lot about her and her music," says Kimbrough. In the eight years he has played in the band, he can think of only three people who have left.
"That's a real rarity," he says, noting that entire bands sometimes turn over in such a stretch. "Nobody wants to leave that band."
One reason is that Schneider writes challenging music. Some band leaders try to capture the nostalgic sounds of the big-band era.
But Schneider's compositions are gaining the label "the future of jazz" because she bends her musical influences into new forms and sounds, using an orchestra leader's sensibilities. Yes, there's sax, trombone, trumpet, and clarinet, but there's also some fluegelhorn, piccolo, English horn, and tuba in the mix. The result is complex, extended compositions that manage to be subtle at the same time.
"It's delicious to your ear, and you hear each sound," says Charles Pillow '84E (Mas), who met Schneider at the Eastman Arrangers' Holiday and now plays several instruments in the band, including saxes, oboe, and flute. "She was always into colors, the ability to bring out different sounds that you're not expecting to hear from your father's big band. It's a new palette of sounds."
That palette is colored by the many people Schneider has worked with but also the inspirations she finds outside music. Schneider calls writing music a search for meaning, and her journeys into understanding the world have led her to reading Buddhism, Jewish, and Catholic mysticism, even talking to a psychic on occasion.
"That's the beautiful thing about music," she says. "Everything inside you comes through in the music."
And the music furthers the journey. The Maria Schneider Orchestra has played all over the world, including Macao, Berlin, Brazil, and throughout Europe. As a guest conductor, Schneider has traveled to Finland, Holland, Sweden, Germany, and Iceland. Things got so busy, she had to hire a manager earlier this year when she realized she was spending all day doing business instead of writing.
But she makes time to return to Rochester and the Eastman School. She delivered the Eastman commencement address in 1999 and conducted the jazz ensemble a year ago, offering four days of master classes and guidance.
"She was inspiring for the kids," says Sturm. "She just speaks passionately about music. I wanted them to hear someone who is so successful and yet graduated only a decade or so before."
Although Schneider, it appears, is her own biggest critic ("I always torture myself after completing a CD," she says. "I'm hypercritical of it, or I say, 'I'll never be able to do this again.'"), right now, there's no sign the success is letting up.
She is beginning to receive commissions to write for symphonies, which opens up new possibilities for someone who is already lauded for getting sweeping range from a 17-piece orchestra.
An orchestra that is solidly behind its determined, leap-of-faith leader. When asked what it would take for him to leave the Maria Schneider Orchestra, Frank Kimbrough answered without pause:
"She's going to have to fire me or I'm going to have to die."
Mark Liu '87 is a Rochester-based freelance writer.

Maintained by University Public Relations
Please send your comments and suggestions to:
Rochester Review.