HONORING THE NATION'S HEROES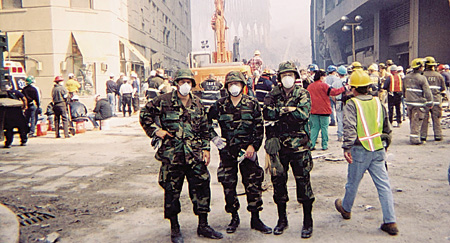 Edmund Luzine '89S (MBA) (center) and members of his reserve Army Special Operations unit.

In the months since September 11, several Rochester graduates have been recognized for their heroism and self-sacrifice:

John Kieffer '84, a Navy commander, worked in the office of the chief of naval operations in the area of the Pentagon that was hit by American Airlines Flight 77. Kieffer received the Navy's Meritorious Service Medal for risking his own life by repeatedly entering the damaged areas of the building in search of injured employees and assisting in the firefighting efforts.

The late Zhe (Zack) Zeng '95, '98S (MBA) was honored by New York Governor George Pataki during Pataki's annual condition of the state message in January. An employee of the Bank of New York several blocks away from the World Trade Center towers, Zeng was also a trained emergency medical technician. He saw the first plane strike the towers from a nearby subway stop and ran to his office to get supplies before plunging into the dust and ash at ground zero. He was last seen in news footage trying to help the injured.

In December, Jeremy Glick '93 was honored posthumously as a hero during the halftime of a United States versus South Africa rugby match. An English major and active judo and rugby competitor, Glick was one of several passengers on United Flight 93 credited with attacking the terrorists and causing the plane to crash in rural Pennsylvania.

A number of Rochester graduates, including Edmund Luzine Jr. '89S (MBA), were on the scene in New York and Washington, helping comb for survivors and clearing the rubble. A major with a reserve Army Special Operations unit, he was assisting in the relief efforts in the weeks following September 11 and sent a photo.

David Rubinowitz '89 worked for Morgan Stanley, which had an office at 2 World Trade Center. He escaped alive, and he writes of his gratitude for those who helped rescue him and others. "You are my and my family's heroes," he writes.
IT'S NOT A RECORD UNTIL SHE SAYS IT IS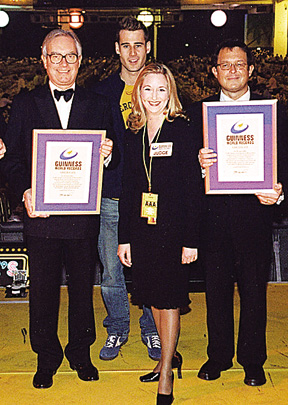 Jerramy Fine '99 (center) and record holders
Ask Jerramy Fine '99 what her favorite Guinness world record is, and she'll probably tell you about the massive group hugs of 500 people or more. At least, that beats records like most bubbles blown with a tarantula in your mouth.
Fine is a research adjudicator for the London-based Guinness World Records, the second bestselling book of all time-after the Bible. And she's seen it all, from sizeable internal organs to the smallest people. Sometimes, she says, it hardly seems like work.
"I thought I'd do something very serious, very politics- and policy-oriented after graduation," Fine says from her office in London. "But now I talk to navel fluff collectors on the phone. My job is insane, and I love it."
One of eight adjudicators who determine what constitutes a record and makes the book, Fine has flown all over the world to oversee records and has appeared several times on British television. Much of her job is research-determining, for example, what the world's fattest cat weighed or how many people have flossed with the same piece of floss-but she also gets to oversee many record-setting events, like the largest group hug of more than 900 people at Goldman Sachs in New York, a record since broken several times.
"I reject and accept records all day," she says. "I saw the biggest G-string in the world. I actually had to go out there with my tape measure and present a certificate. It's never a boring job, that's for sure."
In a record understatement, Fine has seen some strange things at her job. In the category of the human body, she examined pictures sent by doctors of oversized organs that had been removed from patients. In the category of wackiness, she worked out the record-setting rules for a man who duct-taped himself to a wall and a man who wanted to live on a Ferris wheel.
"When I first started, I wondered if working here would make me feel more sane in comparison, but that isn't true," she says. "It doesn't even seem strange anymore to be arguing in a meeting if the world's biggest muffin should have butter on it."
Fine advises that the best way to get in the record book yourself-a designation that earns you not only a certificate but a place in history-is to come up with something completely new that's never been tried before. Then beware, she says, because everyone will want to do it-and do it better.
ALUMNI TOTE THE OLYMPIC TORCH

Watts
Even an unprecedented seven feet of snow in Buffalo during Christmas week couldn't slow the progress of the Olympic torch as it made its way across the country toward its destination in Utah. The streets were cleared by December 31 when Lois (Inky) Ingersoll Watts '51 carried the torch for her segment along Kenmore Avenue.
"Flashing lights against the night's blackness . . . faces, noise, cheers, and flags waving. That's what I remember so vividly of my New Year's Eve Olympic Torch Relay run in Buffalo," she writes in a note to the University. "It was exhilarating."
Nominated by her son, Andy, Watts was one of 12 local residents carrying the torch through the city.
"The pride and thrill of carrying the Olympic Torch bound for our country's games in Salt Lake City will be my cherished memory forever," she writes. "It is a feeling that is impossible to explain, and I felt the excitement of the next torchbearer kick in as I passed on my flame to his waiting torch."
Watts wasn't the only alumni carrying the Olympic flame. Elizabeth Nash '92 also carried the torch in San Francisco on January 18. She later appeared on the city's NBC affiliate to discuss the honor.
CROSSING THE COUNTRY FOR MS
Craig Johnston '78 runs an average of 70 miles a week, so the 60 miles he and his relay teammates plan to average when running across the country this summer to raise money for multiple sclerosis research hardly fazes him.
One of his oldest friends-also a former athlete-has the disease and can no longer run. Johnston and others are hoping to raise $250,000 for research by getting sponsors for the month-long relay. Starting in Tillamook, Oregon, and ending in Boston, the 34 people will each run legs of 12 miles a day, passing through Rochester on their way east.
"We're doing this in honor of one of my oldest and best friends, but he'll be along with us, so our inspiration will be right there," Johnston says. "He's lost a lot in 10 years, and it's a great feeling to do something to help."
The runners will be crossing three mountain passes of 8,500 feet or higher, over the continental divide, and passing through the Sand Hills region of Nebraska, all obstacles that won't make for easy running.
"That's part of the fun of the experience," he says. "Plus, we have a great group of people committed to raise money. We're really pumped up about it."

A WEDDING IN RE-RUNS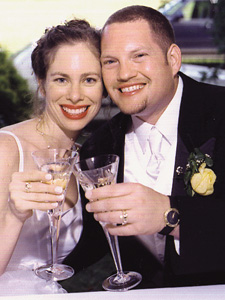 Caurie Ann and Arthur Putnam
As if the pressure of a wedding day wasn't enough, Caurie Ann Miner '97, '98W (MS) had hers filmed by a professional crew to air on cable television. Fortunately, no re-shoots of the wedding vows were necessary.
Miner married Arthur Burns on July 7, 2001, in Saratoga Springs, New York, and the wedding was featured on A Wedding Story, a reality program on The Learning Channel.
The couple both took the last name Putnam, which was Arthur's mother's last name. Adding to the untraditional wedding was the presence of a film crew, but that wasn't the couple's biggest concern. The application process for the program was the real hurdle.
"They get 14,000 applications a year for about 45 slots," Putnam says. "They have a 15-page questionnaire that was pretty tough. I'm a writer, so I plowed right through, but that's where a lot of couples got hung up."
A fan of the show since she watched it with her sorority sisters in Gamma Phi Beta at Rochester, Putnam had hoped to apply when she got married. One of the producers of the show received her application after reading an article Putnam freelanced for Shape magazine, which helped the pair make the cut, she says.
The couple spent three days with the producers and film crew before the wedding, devoting an entire day to interviews and having all of the wedding party sign release forms. Other than the interviews, Putnam says she barely knew the cameras were there as they prepared for the wedding.
The wedding and filming went smoothly, except for when the microphone fell out of Putnam's dress while she danced with her father at the reception. The couple received a copy of the video before it aired in October, and that's when she got anxious.
"I was pretty nervous," she admits. "I had told everyone to watch, but what were people going to think? Still, we were really pleased with the way the video turned out."
The show has had some unexpected results. Some of the wedding party-including Putnam's sister, Stephanie Miner, a senior at Rochester-have been recognized on the streets. And the video has nice footage of Putnam's new mother-in-law, who died earlier this year.
Many of her Rochester friends who couldn't make the wedding were able to watch it on TV. The couple even got in a few plugs for the University. Arthur Putnam, an instructor in the Department of Dentistry at the Medical Center, wore a University sweatshirt during the taping.
"I feel really lucky that they portrayed us in such a good light," Caurie Putnam says. "With all that footage, there had to be moments when we weren't in the best mood or snapped at someone. But they picked the best moments."
Maintained by University Public Relations
Please send your comments and suggestions to:
Rochester Review.