Back Cover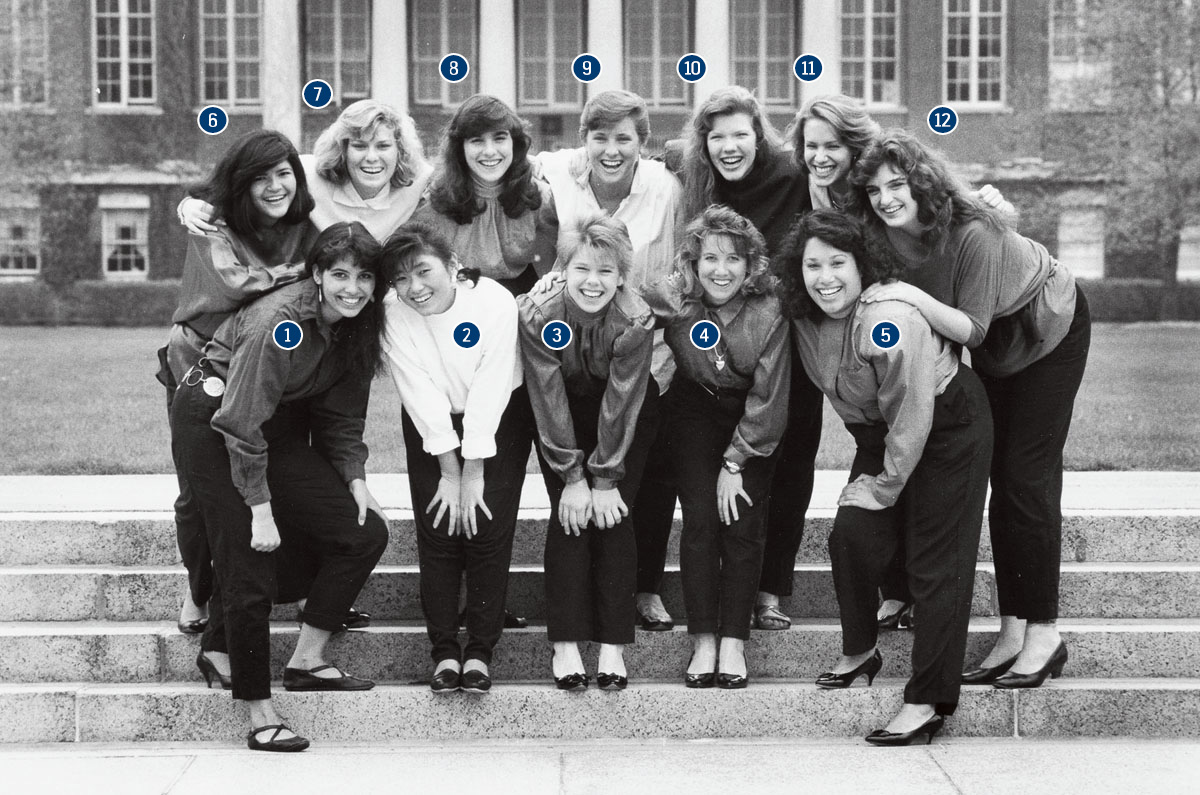 Several Vocal Point alumnae wrote to ID members of the 1988 roster of the all-women a cappella group that appeared at the start of Class Notes in the spring issue. The photo marked the ensemble's 50th anniversary this year.
One of the correspondents was Stephanie Smart '88, who is second from left in the back row of the photo. She teamed up with fellow Vocal Point alumna Stephanie Clader-Rindell '91, who's in the front row, second from right. Also writing was Donna Herforth Walters '87, '91M (MD) who, although she isn't in the photo, was a member of the group with many of the women pictured. "Proud to be part of Vocal Point," she writes. "Happy 50th anniversary!"
In the front row: (1) Vivica Genaux, (2) Jennifer Lee '90, (3) Lisa Alexander, (4)Stephanie Clader-Rindell '91, and (5)Melissa Negron '89. In the back row: (6) Rocio Moromisato Pereira '89, (7) Stephanie Smart '88, (8) Stephanie Jabbs-Maurer '90 '96N (MS), (9) Heidi Kluck, (10) Joy Moore, (11) Diane Hoffman-Kim '88, and (12) Christa Madden.
For more about Vocal Point, visit Urvocalpoint.com.
Credit to Klingenberg (and Eastman, of Course)
Many thanks for printing David Evan Thomas's wonderful tribute to Dominick Argento '58E (PhD) (" 'Addio' to a Resonant Voice in Music"). But your short paragraph about Thomas contained a rather serious error in referring to Howard Hanson as "Eastman's founding director." Hanson was the second director at Eastman, arriving in 1924 to succeed Alf Klingenberg who resigned in 1923.
Besides, the only founder of the Eastman School of Music was George Eastman. No director of the school could rightfully claim that distinction.
Vincent Lenti
Professor of Piano and Historian
Eastman School of Music
Department of Corrections
In a photo on page 3 of the Spring 2019 issue, we failed to properly identify the researchers in the photo. They are dermatology professor Lisa DeLouise and biomedical engineering professor Danielle Benoit, who are part of a team trying to regenerate salivary gland cells to help some cancer patients. We apologize for the error.
---
Review welcomes letters and will print them as space permits. Letters may be edited for brevity and clarity. Unsigned letters cannot be used. Send letters to Rochester Review, 22 Wallis Hall, Box 270044, University of Rochester, Rochester, NY 14627-0044; rochrev@rochester.edu.