Master Class
Manners of Speaking
Voice coach Nick DiCola '07 helps actors for stage and screen—as well as automated voices—achieve authenticity in spoken language.
Interview by Karen McCally '02 (PhD)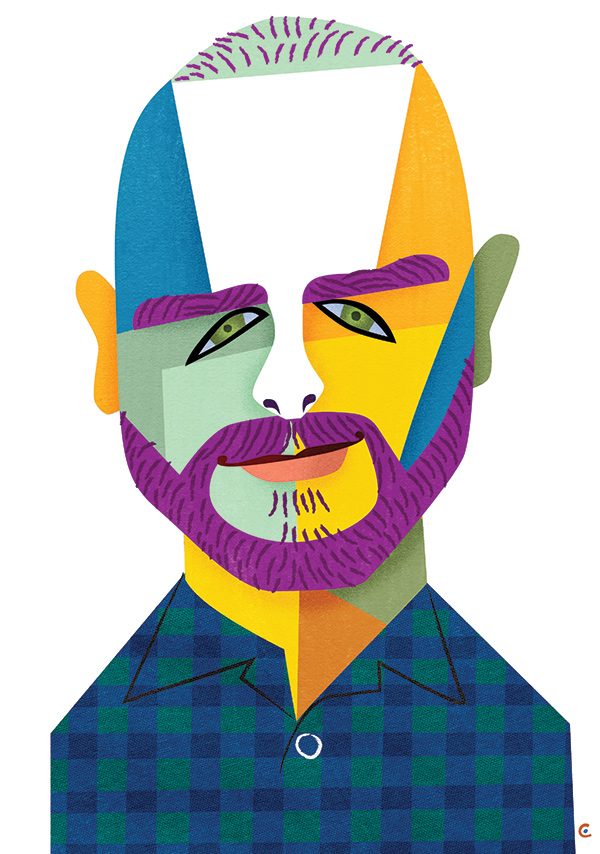 Nick DiCola '07
Home: Los Angeles
Voice coach, Amazon; deputy dialect coach, Billy Eliott—West End Instructor, voice production and speech, American Music and Dramatic Academy, Los Angeles (since 2018)
Head of Voice, The Musical Theatre Academy, London (2013–17); instructor at Central School of Speech in Drama BA
Majors at Rochester: Linguistics; Russian language
My interest in languages, and the variations in how speakers sound, developed really early. I was born in Montana and lived in San Diego as a kid. When I was six, we moved to western New York. I could tell that I spoke differently from the people in RACH-ester. I also liked to make my family laugh, by doing impressions of what I saw on television, often based on some nuance or difference in how someone spoke.
I always wanted to work with actors because I've always been interested in the performance element—the heightened nature of performance—and I love film and television. I studied linguistics at Rochester and also got involved in Todd Theater and In Between the Lines improv comedy troupe. I thought if I studied language and was also active in performance, I could find a way of tying them together.
I befriended Mark Brummitt, a professor at the Colgate-Rochester-Crozer Divinity School, and when I told him I was interested in languages and dialects, he instantly said, "Have you heard of the Royal Central School of Speech and Drama in London?" And I thought, "That's oddly perfect." The Central School, I found out, was where Judi Dench had gone to drama school, as well as many of the most notable practitioners in the voice industry. I applied, got in, and eventually earned a master's degree from the Central School in voice studies—specifically, about how to work with the voice in performance.
While I was in London, I ended up teaching phonetics and British dialect to British students and specialized in American dialects as well, though a dialect coach has the potential to be asked to teach any dialect or accent. My process for learning an accent is a bit like that of documenting a language. Ideally you meet with someone, a consultant, who is a native of the area; or you watch a lot of video or listen to a lot of audio from that particular region. Then you establish some sort of framework that you know covers the bases. For my work, there's a story called "Comma Gets a Cure," which was written by dialect coaches and linguists in the UK and US, that includes every consonant, vowel, and diphthong that exists in English. So you record a native from the region reading that, select words, and a lot of natural, free speech—because people always speak differently when they read. Then, if the actor or voice talent can isolate the sounds, I can help them adjust the sounds to make them consistent and eventually influence their flowing speech in the new target dialect.
While I was in the UK, I also started working with Amazon as a voice coach. For most computerized voices that you hear, there is someone who provided the initial sounds for that voice. To get full coverage for a voice, you need someone to work with the voice talent to get the thousands of things that make up the nuances of the language and the voice clear and consistent, so the end product sounds like a unified voice. I describe the process as a bit like the scene in Willy Wonka and the Chocolate Factory, when Mike Teavee is sent through WonkaVision. He's zapped into a million pieces and gets put back together, but smaller. The work is time-intensive, and recording can last weeks, with 30 to 40 hours a week of recording scripts created by linguists and programmers.
I've worked on a British version of Alexa, as well as the Samuel L. Jackson voice, the first celebrity voice for Amazon. A lot of the work is about building rapport with the voice talent. I'm the person who has to stop them every time they need to correct something or ask them to repeat something if they were unclear. No one likes to be the bearer of bad news, if you will! There's a lot of back-and-forth banter. I work hard to convey that I'm there to assist, to help them get through moments where they're gravelly, raspy, or lose their breath or support; or to point out things that sound irregular, or too monotone. It's a lot of work to speak for six hours a day.