CBS News (September 13)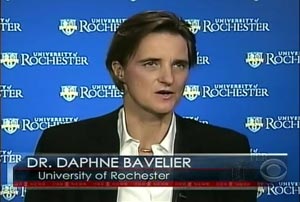 The investigation, which was carried out by a team from the University of Rochester, assembled a test group of videogamers and measured their reaction skills against another group consisting of nonplayers. The participants in the test–including those who didn't usually play action video games–were found to have improved inference skills after playing 50 hours, compared with a test group that didn't play at all, according to the researchers. (Also Reported in: The Economist, MSNBC, Baltimore Sun, Chicago Tribune, Bloomberg BusinessWeek, U.S. News & World Report, Rochester Democrat and Chronicle, Christian Science Monitor, USA Today, Discovery News, Time, ABC News, New York Post, BBC News, Mail Online, Los Angeles Times, Fox News, UPI, Toronto Sun, Slashdot, Calgary Sun, The Independent, MSN, 10WHEC-TV, WHAM AM 1180, and others)
New York Times (September 20)
"Even if it's just a 5 percent difference of undertreatment versus overtreatment – why use a less accurate method?" said Kevin Fiscella, a professor of family and preventive medicine at the University of Rochester. "Especially when it's quite easy to use a more accurate method with electronic devices."
New York Times (September 5)
Things have been going well of late for the gifted and eager performers in JACK, who first played together as students at the Eastman School of Music in Rochester in 2003.
Chicago Tribune (September 17)
Valente is part of a new effort, led by Peter Wyman of the University of Rochester, to study how effectively key network members can implement a suicide prevention program called Sources of Strength.
U.S. News & World Report (September 13)
"Good old-fashioned diet and exercise is the only substantive sustained therapy that's shown to be helpful," said J. Chad Teeters, an assistant professor of clinical medicine in the cardiology division at the University of Rochester Medical Center. "There's no quick-fix pill."  (Also Reported in: CBS, Bloomberg, BusinessWeek, MSN, Yahoo! News)
NPR (September 7)
Randy Curren is a professor of philosophy at the University of Rochester. He has done a lot of work on the philosophy of education and what it tells us about our responsibilities in preparing the next generation for this new kind of future.
Rochester Democrat and Chronicle (September 10)
Showing more than a $100 million increase over last year, the University of Rochester received a record $458 million in research funds for the fiscal year that ended in June.  (Also Reported in: YNN)