Summer Camp Connects Real World and Science Education
Future Science Teachers Work Alongside Children to Investigate Water Quality Issues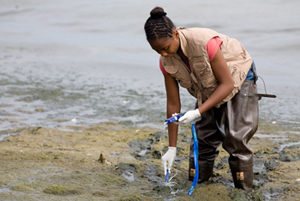 A student in the annual Get Real! Science Camp checks a water sample in Lake Ontario.
Graduate students who are studying to become science teachers at the University of Rochester's Warner School of Education will run this summer's Get Real! Science Camp. The program, which runs July 25 through August 1, will provide 32 low-income Rochester middle school students with the opportunity to learn about science through hands-on investigations of Lake Ontario's water quality issues.
The weeklong camp will support these soon-to-be science teachers in learning a radically new way of teaching science while also honing their skills as science educators. Gaining hands-on experience with inquiry-based science instruction, these master's students will guide middle school students from The Harley School's Horizons Enrichment Program and Horizons at Warner, two local community outreach programs that support the academic success of city students, in acting, thinking, and working like scientists. Together, they will investigate a relevant problem in their own community and learn what can be done to prevent future beach closings at Charlotte.
Created eight years ago by April Luehmann, associate professor at the Warner School, the camp seeks to move the teaching of science away from merely presenting the facts and learning from a textbook to a more scientific inquiry approach that teaches students to think like scientists and to go deeper into science—to ask questions, make hypotheses, and produce meaningful results.
"The camp shows beginning science teachers innovative ways to teach science to students," said Camp Director Michael Occhino, who is a doctoral student at the Warner School. "The key to teaching science is to make it exciting, stimulating, and meaningful for children, and the way we do that at Warner is to prepare educators to teach through scientific inquiry. During the camp, graduate students will gain hands-on experience developing and implementing lesson plans that will enhance science learning for these middle school students."
Harvey Williams, a master's student who helped to lead the 2010 Get Real! Science Camp, does not remember learning this way growing up.
"The camp is all about inquiry and how to incorporate inquiry into the classroom—to move beyond traditional ways of teaching science," said Williams, who will be joining an all-boys charter school this fall to teach ninth-grade biology. "It allowed me to play around with different teaching methods and to teach from a different perspective. This inquiry-based approach stayed with me during student teaching, when I found ways to incorporate inquiry into my own scientific instruction."
The value of inquiry-based education, or doing science to learn science, is affirmed as a solid method of teaching and learning throughout summer camp and the remainder of the 15-month science teacher preparation program, known as the Get Real! Science Project.
"The summer camp and program gave me experience and the opportunity to think about what meaningful and effective science education should look like, or can look like," said Jared York, a master's student who also took part in the 2010 summer camp. "I was pleased to find out how interested the camp participants were to work on a real problem and how much content knowledge and skill they gained from that experience. I could see how they developed a sense of purpose when they got to the beach and began making observations, and perhaps even more so when they got to put on their protective equipment and use the tools at hand to make measurements and investigate the issue."
The Get Real! Science Camp also gives these future science teachers an opportunity to interact with students before they go into the classroom to teach. Molly Gildea, a career-changer who previously worked as a research biologist studying salmon in Seattle, Wash. for six years, said that last year's camp gave her more confidence about getting ready to go into schools.
"I am older than many graduate students at Warner, so it helped me to remember what younger students are like," explained Gildea, who will teach biology at Finger Lakes Community College next year while pursuing additional certification at Warner to teach fifth- and sixth-grade science. "This was the first opportunity to put everything that we learned over the summer into practice. It's low pressure because it's camp—and it's fun."
The middle school students, with guidance from these future science teachers, will spend two days at the lakeshore collecting water samples and will then perform several tests in laboratories on the University of Rochester's River Campus to determine water quality variables like pH balance, dissolved oxygen levels, bacteria and algae, temperature, and turbidity. Students will then present their findings about the water quality to the community and share recommendations for improving the current beach conditions on the camp's last day, August 1, at The Harley School Atrium from 1 to 2 p.m. The event is free and open to the public.
The Get Real! Science Camp is part of the larger Get Real! Science Project, a teacher preparation program designed to engage students in real science. The Get Real! Science Project is grounded in authentic experiences that include the summer Get Real! Science Camp, Science STARS (Students Tackling Authentic and Relevant Science) program, and more. Daily photographs from the Get Real! Science Camp and blog entries describing activities can be viewed on the Get Real! Science website at www.rochester.edu/warner/getreal.
About the Warner School of Education
Founded in 1958, the University of Rochester's Warner School of Education offers master's and doctoral degree programs in teaching and curriculum, school leadership, higher education, counseling, human development, and educational policy. The Warner School of Education offers a new accelerated option for its EdD programs that allows eligible students to earn a doctorate in education in as few as three years part time while holding a professional job in the same field. The Warner School of Education is recognized both regionally and nationally for its tradition of preparing practitioners and researchers to become leaders and agents of change in schools, universities, and community agencies; generating and disseminating research; and actively participating in education reform.