Richard Aslin Elected Fellow of the Cognitive Science Society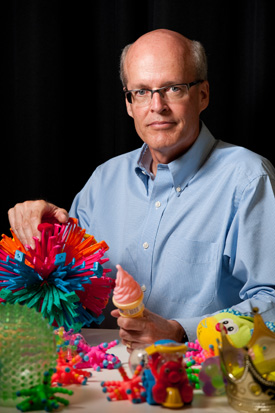 Richard Aslin, the William R. Kenan Professor of brain and cognitive sciences and director of the Rochester Center for Brain Imaging at the University of Rochester, has been elected a fellow of the Cognitive Science Society.
Aslin, whose theory of "statistical learning" has helped to revolutionize the field of cognitive science, was recognized for the "sustained excellence and . . . sustained impact" of his work. He is one of only nine scholars elected to the position in 2012.
"Dick is one of a handful of world leaders in the area of developmental cognitive science," said Gregory DeAngelis, chair of brain and cognitive sciences at Rochester. "He has been at the forefront of understanding the development of cognitive abilities in babies, particularly in two key domains. He initially focused on visual perception and, after joining the Rochester faculty, a second major thrust has been in language."
In Aslin's theory of statistical learning, how babies learn is very much related to the statistics of their environment, or in other words the probability that something will or will not happen. "Learning is a matter of building up a mental model of those statistical tendencies," DeAngelis explained.
On a personal level, Aslin is "an incredible mentor," DeAngelis said. Students and post-docs over and over report how he guided their research, encouraged their independence, and provided critical advice about managing a research career. So many of his former students and post-docs have gone on to prominent positions in science, says DeAngelis. "The list is like a 'Who's Who' of the rising stars in the field of cognitive science."
Aslin received his doctorate in child psychology from the University of Minnesota in 1975, and taught at Indiana University before joining Rochester in 1984. Today, he is the principal investigator for the Rochester Baby Lab. He is an author on more than 100 publications and an editor or contributor to 36 books. Aslin serves on the editorial boards of the journals Infancy, Cognition, Language Learning and Development, and Cognitive Science, and is an associate editor for Developmental Science.
Aslin's research has been supported by grants from the National Institutes of Health, the National Science Foundation, the McDonnell Foundation, and the Packard Foundation. He is a fellow of the American Academy of Arts and Sciences and the American Association for the Advancement of Science, and he is president of the International Society for Infant Studies.
Founded in 1979, the Cognitive Science Society advances understanding of the nature of the human mind by bringing together researchers from the fields of artificial intelligence, linguistics, anthropology, psychology, neuroscience, philosophy, and education. The society publishes the journal, Cognitive Science, the premier outlet for brain research that intersects two or more disciplines.