Grant to Provide Treatment for Children Exposed to Trauma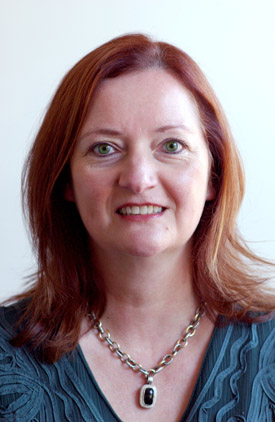 By Erica Messner
The University of Rochester's Mount Hope Family Center has been awarded a $1.6 million grant from the Substance Abuse and Mental Health Services Administration to provide treatment for children from civilian and military families who have been exposed to trauma, including domestic violence. Led by Sheree Toth, the center's executive director and associate professor of psychology, the project also will help institutions locally and nationally provide effective interventions for families struggling with violence and other types of distress.
Research has shown that military families face unique challenges. Children may experience traumatic stress from the loss or deployment of their parents, while couples may face increased risks for intimate partner violence. Among soldiers returning from combat, self-reported rates of violence between spouses is greater than 50 percent, considerably higher than the national average among civilians, said Toth. Veterans also experience high rates of posttraumatic stress and depression, conditions that are known to put families at risk for abuse, she explained.
"But if you look on a national level, the focus of psychological services for reserves and former military personnel is not on children and spouses," said Toth. "There is a well-documented gap in support for those children and families who struggle with violence in the home."
That's where Promoting Emotional Adjustment in Children Exposed to Violence (PEACE) will make a difference. The program aims to treat 90 Rochester-area children and their parents per year, reaching a total of 720 participants over the projected four years of the grant. Project PEACE is the center's first program directly targeting military families. Participants will include the families of soldiers on active duty, in the National Guard and in the reserves, as well as veterans. Children who have experienced trauma also will be recruited through the Department of Human Services.
The center will provide three types of customized support for families tailored to the age of the children, the needs of the family, and the types of trauma involved. "All of the services are evidence-based, meaning that extensive research has confirmed the effectiveness of the treatments," said Toth. The services are free, and offered at convenient locations for families to encourage participation.
For children up to six years of age, the center focuses on Child-Parent Psychotherapy (CPP), a highly effective therapy that seeks to strengthen the emotional connection between children and parents. "If a parent has a history of trauma, perhaps they've been maltreated as a child, they may not have the skills necessary to parent in a more positive way," explained Toth. "Child–Parent Psychotherapy helps such parents recognize how their past can affect their current caregiving and teaches more effective and nurturing ways of relating to their child."
A second program for children ages three to 17 is Trauma-Focused Cognitive Behavior Therapy (TF-CBT). "This one-on-one treatment assists the child, in a sense, develop a narrative about the trauma they've been exposed to, and then helps them develop more effective ways of thinking and coping in their daily lives," said Toth.
A third approach aimed at youths age five to 17 works with the family as a whole. Called Alternatives for Families–A Cognitive Behavioral Therapy (AF-CBT), the program helps families understand how thoughts and experiences affect behavior and provides guidance for modifying destructive habits. "The program is typically directed towards families where physical violence has occurred," said Toth.
Project PEACE also focuses on making such treatments more widely available to both military and civilian families. In Rochester, more than 50 percent of children live in poverty and the city has the highest rate of violent crime in New York State. A Community Advisory Board will work to improve treatment and services for children who have been exposed to violence. Board membership will draw from a variety of organizations involved in child health, services, and advocacy including the Susan B. Anthony Center for Women's Leadership at the University of Rochester, Alternatives for Battered Women, Center for Youth, Children's Institute, Department of Human Services, Mercy Community Services, Monroe County Family Court, Office of Mental Health Promotion, Rise Up Rochester, St. John Fisher College School of Nursing, University of Rochester's REACH clinic and Warner School of Education, U.S. Marine Corps, and the Veterans Outreach Center. The board also may include family members from the program.
"We'll distribute flyers and have emissaries throughout the community to get the word out," said Toth. "The board will make connections and provide feedback on the services. Dr. Kate Cerulli, director of the Susan B. Anthony Center for Women's Leadership, also will hold focus groups with families that might benefit from services in both military and non-military populations to get a sense of what they think they need."
Mt. Hope Family Center works in partnership with the National Child Traumatic Stress Network to share its treatment methods with training centers and service providers across the country.