Adam Fenster
J. Adam Fenster in the University photographer.
Adam Fenster's Latest Posts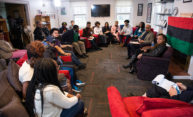 Joy DeGruy (far right), assistant professor at Oregon State University and a self-described ambassador for healing, met with student leaders at Douglass Leadership House before delivering the Martin Luther King Jr. Commemorative Address Friday evening. She answered questions and talked about her background, her experiences as a teacher, and about fighting injustice. "Choose your battles," she told students. "But always be who you are." (University photo / J. Adam Fenster)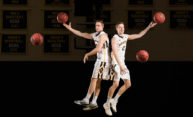 As another calendar year comes to a close, we're looking back at 2016 through the lens of University photographer J. Adam Fenster. He's selected his top shots from the past year and offers his insights on what makes Rochester such a special place to photograph.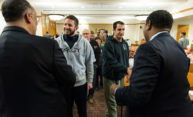 University Vice President Paul Burgett, left, and Associate Vice President for Human Resources Tony Kinslow hand out "Veteran Rocky" pins at an ceremony in recognition of all faculty and staff who have served in the United States armed forces. (University photo / J. Adam Fenster)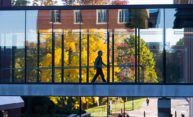 The new bridge between the Frederick Douglass Building and Rush Rhees Library offers a new path — and a new viewpoint — through the fall campus foliage. (University photo / J. Adam Fenster)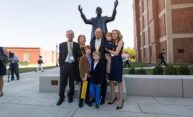 University Trustee and Board Chairman Emeritus Ed Hajim '58 and his family pose with the new statue dedicated Friday on the Edmund A. Hajim Science & Engineering Quadrangle. (University photo / J. Adam Fenster)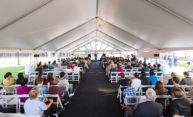 As Meliora Weekend ceremonies kicked off, the University celebrated the dedication of the new Wegmans Hall, the future home for the Goergen Institute for Data Science. (University photos / J. Adam Fenster)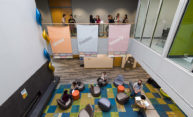 The new Language Center in the newly remodeled Frederick Douglass Building hosted its first event on Friday, as students gathered to share languages and cultures from around the world. (University photo / J. Adam Fenster)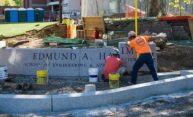 Workers put the final touches on the engraved wall that will mark the new Science and Engineering Quadrangle. The quad was designed to complement the new Wegmans Hall, and provide more functional public space around the Goergen, Hylan, and Hutchison Halls, and the Computer Studies Building. (University photo / J. Adam Fenster)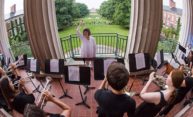 Honey Meconi, chair of the Department of Music, leads an all-woman ensemble of student musicians in a performance of Aaron Copeland's "Fanfare for the Common Man" from the balcony of Rush Rhees Library to mark the beginning of classes on Wednesday morning. (University photo / J. Adam Fenster)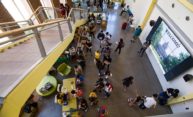 New international students register in Rettner Hall as they begin their academic journey. For the incoming Class of 2020, 27% come from countries outside the United States and represent 90 different counties. (University photo / J. Adam Fenster)