Adam Fenster
J. Adam Fenster in the University photographer.
Adam Fenster's Latest Posts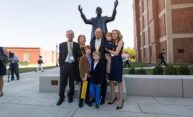 University Trustee and Board Chairman Emeritus Ed Hajim '58 and his family pose with the new statue dedicated Friday on the Edmund A. Hajim Science & Engineering Quadrangle. (University photo / J. Adam Fenster)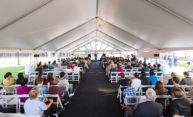 As Meliora Weekend ceremonies kicked off, the University celebrated the dedication of the new Wegmans Hall, the future home for the Goergen Institute for Data Science. (University photos / J. Adam Fenster)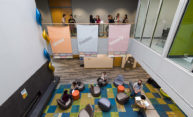 The new Language Center in the newly remodeled Frederick Douglass Building hosted its first event on Friday, as students gathered to share languages and cultures from around the world. (University photo / J. Adam Fenster)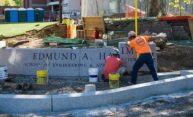 Workers put the final touches on the engraved wall that will mark the new Science and Engineering Quadrangle. The quad was designed to complement the new Wegmans Hall, and provide more functional public space around the Goergen, Hylan, and Hutchison Halls, and the Computer Studies Building. (University photo / J. Adam Fenster)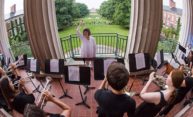 Honey Meconi, chair of the Department of Music, leads an all-woman ensemble of student musicians in a performance of Aaron Copeland's "Fanfare for the Common Man" from the balcony of Rush Rhees Library to mark the beginning of classes on Wednesday morning. (University photo / J. Adam Fenster)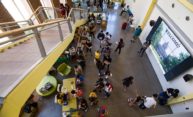 New international students register in Rettner Hall as they begin their academic journey. For the incoming Class of 2020, 27% come from countries outside the United States and represent 90 different counties. (University photo / J. Adam Fenster)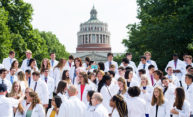 First-year medical students assemble for a photo after the Dr. Robert L. & Lillian H. Brent White Coat Ceremony, marking the start of their journey toward becoming physicians.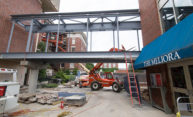 A pedestrian bridge linking Rush Rhees Library with the Frederick Douglass Building is one of the renovations under construction on River Campus this summer. (University photo / J. Adam Fenster)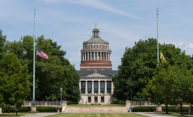 Flags in front of the Eastman Quad and Rush Rhees Library fly at half staff after the mass shooting in Dallas, Texas. The University hosted two community dialogues on "Race in America, Race in Rochester" to seek answers to questions about violence, racism, and ways to bridge the divides in America.
Read President Joel Seligman's statement from Wednesday's community dialogue.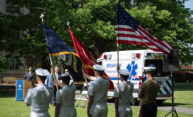 The NROTC honor guard presents colors during a dedication and remembrance ceremony for University alumnus Zhe "Zack" Zeng '95, '98S (MBA), a former Brighton Volunteer Ambulance member who was killed at the September 11 attacks while helping first responders at the World Trade Center. Earlier this year, Brighton dedicated its new ambulance, "In memory of Zhe 'Zack' Zeng and all the rescuers who died on September 11, 2001. 'So Others May Live.' " / (University photo / J. Adam Fenster)