Adam Fenster
J. Adam Fenster in the University photographer.
Adam Fenster's Latest Posts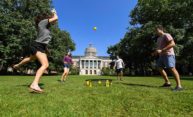 From left, Amanda Cabal '18 (T5), Suzie Ziegler '19, Brian Schonfeld '19 and Sam Rusoff '19 take a break on a warm fall day to enjoy a game of spikeball on Eastman quadrangle. (University of Rochester photo / J. Adam Fenster)
WATCH: What is Spikeball?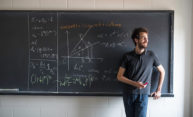 Nik Chatzikonstanti is among the nearly 1,400 master's and doctoral students in Arts, Sciences & Engineering, whose studies range from philosophy to physics and who come from more than 67 counties. Meet some of graduate students who have found a home at the University.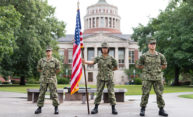 NROTC midshipmen Vanessa Carollo '21, and Rochester Institute of Technology students Julie Nguyen and Daniel Sause take the first shift in a vigil on Eastman Quadrangle to honor members of local university communities who were killed in the September 11, 2001 terrorist attacks. (University of Rochester photo / J. Adam Fenster)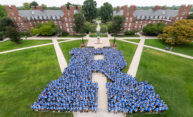 Members of incoming Class of 2022 pose for their class photo on Monday before heading out into the Rochester community for the annual Wilson Day of service. The class totals  more than 1,300 students from 47 states (plus Washington, D.C., and Puerto Rico) and 76 nations and is the most select yet, with 29 percent admitted from more than 20,000 College applicants. (University of Rochester photo / J. Adam Fenster)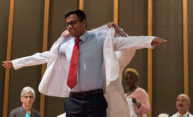 Ankit Dahal receives his white coat from professor of surgery David Kaufman as the School of Medicine & Dentistry welcome members of the Class of 2022 and the annual Dr. Robert L. & Lillian H. Brent White Coat Ceremony. (University of Rochester photo / J. Adam Fenster)
Students kick-off Springfest Weekend with Dandelion Day, and end-of-the-semester celebration and one of the University's oldest traditions featuring rides on the quad, concerts, games, food, and giveaways. (University of Rochester photo / J. Adam Fenster)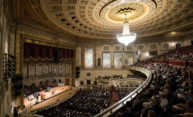 More than 2,000 guests including 40 members of Congress gathered Friday to celebrate the life of Louise Slaughter, the longtime US representative for the Rochester area and much of western New York. The memorial service was held at the University's Kodak Hall at Eastman Theatre and featured remarks by Slaughter's children and grandchildren, friends and government officials. (University photo / J. Adam Fenster)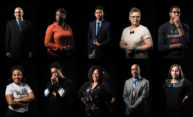 As February draws to an end, members of the University of Rochester community offer their thoughts on the ways in which black history is inseparable from American history.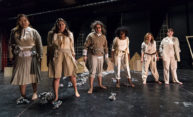 Cast members from the upcoming International Theatre Program production of We Don't Live on Mars Yet, from left, Zhongyi Zuo '20, Ashley Figueira '21, Marc Laroussini '18, Samantha Richardson '19, Matalin Collins '19, Roisin Flanagan '19. The experimental show focusing on issues of immigration, refugees, and the meaning of "home" opens on Thursday, March 1. (University of Rochester photo / J. Adam Fenster)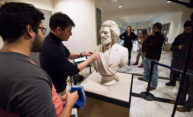 Victor Garza '19, left, and associate professor of English Gregory Heyworth prepare to scan the marble bust of Frederick Douglass in the Frederick Douglass Building . The students in Heyworth's Digital Imaging class are using a structured light scanner to create a digital rendering of the marble bust. Their goal is to create a file that can be accessed and the bust reproduced anywhere with a 3D printer. (University of Rochester photo / J. Adam Fenster)