Adam Fenster
J. Adam Fenster in the University photographer.
Adam Fenster's Latest Posts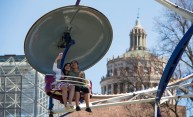 The weather could not have been better for this year's Dandelion Day celebration. Dandelion Day, one of the University's oldest traditions, is a day of music, food, and celebration as the spring semester winds to a close.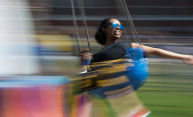 Aisha Mohamed '19 takes a ride on the carnival swings at the annual Dandelion Day celebrations marking the start of SpringFest Weekend. (University photo / J. Adam Fenster)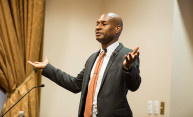 Charles Blow, New York Times columnist and CNN commentator, read from his memoir, Fire Shut Up In My Bones, yesterday evening in the Hawkins-Carlson Room in Rush Rhees Library. "This book is about remembering, against all that this world may signal to the contrary, that you are not forever broken," he said. "You are capable of giving and receiving love, and you are deserving of it.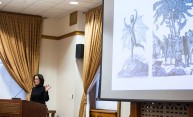 Joan Saab, associate professor of art history and visual and cultural studies, points to illustrations popularized in the 19th century press purporting to prove there was life on the moon, during the inaugural Hagop and Artemis Nazerian Humanities Lecture. "I'm interested in this moment in the 19th century when people are willing to suspend disbelief and see things—and even though they know they're not true, to believe for that moment that they are." (University photo / J. Adam Fenster)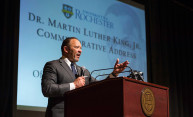 Marc Morial, the president of the National Urban League and a former mayor of New Orleans, delivered the University's annual Martin Luther King Jr. Commemorative Address, after the event had been postponed due to weather. "Every generation has a responsibility and a mission to improve things," Morial told students at the Douglass Leadership House earlier in the day. "When you succeed, go back," he said. "Do not forget the communities from whence you've come." (University of Rochester photo / J. Adam Fenster)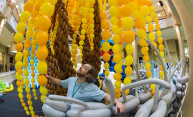 The five-story, 50-foot sculpture made from more than 40,000 compostable balloons currently on display in the Sibley Building atrium in downtown Rochester is the work of University graduate and artist Larry Moss '92. The exhibit closes this Sunday, February 7, with a giant "popping party." (University of Rochester photo / J. Adam Fenster)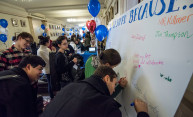 Students, faculty, and staff participate in the first ever 'I Heart Eastman' Day, sharing what they love about the Eastman School of Music, and posting thank-you notes to Eastman alumni. (University of Rochester photo / J. Adam Fenster)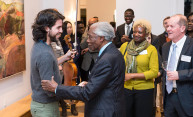 Walter Cooper '56 greets violist and ROCmusic director Alexander Peña, who performed at the 2016 University of Rochester Diversity Awards reception at Witmer House on January 20. The Diversity Awards recognize the accomplishments of faculty, staff, students, grads, units, or departments of the University that contribute to diversity and inclusion through exemplary leadership. (University of Rochester photo / J. Adam Fenster)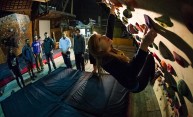 With 2015 coming to a close, we asked University photographer J. Adam Fenster to select his favorite Rochester photos from the past year.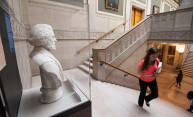 The bust of abolitionist and leader Frederick Douglass sits in its new home on the stairway landing in the Great Hall of Rush Rhees Library. The statue is one of the oldest on campus, having been dedicated and placed in Sibley Hall on the University's original Prince Street campus in 1879.