As we head into September, take a brief look back at some August moments at the University of Rochester you may have missed—and some photographs we couldn't help but share. Photos by J. Adam Fenster unless otherwise noted.
---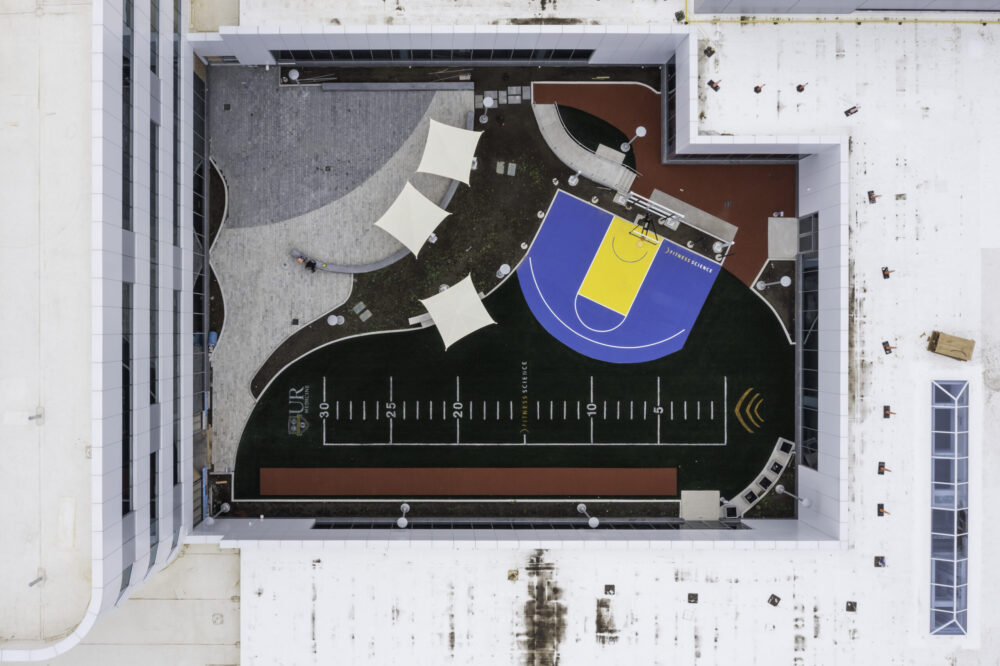 LET'S GET PHYSICAL (AND ORTHOPAEDIC): An aerial drone photo shows the courtyard space and rooftop of the new UR Medicine Center for Orthopaedics and Physical Performance in Henrietta.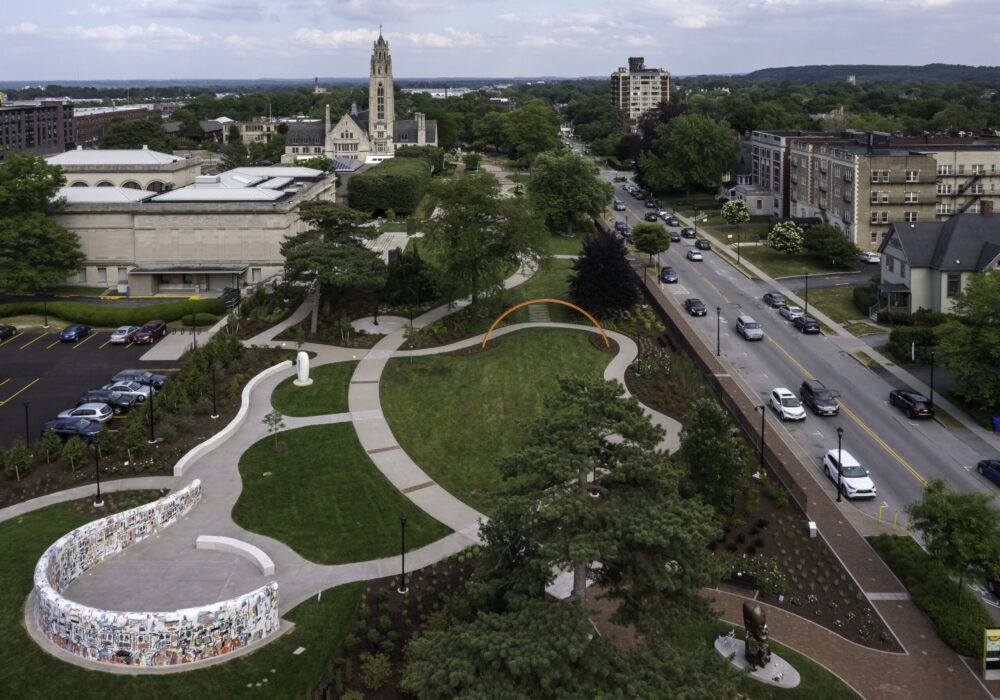 A WALK IN THE SCULPTURE PARK: The second phase of the Memorial Art Gallery's Centennial Sculpture Park, which had its ribbon-cutting celebration this summer, is photographed from above.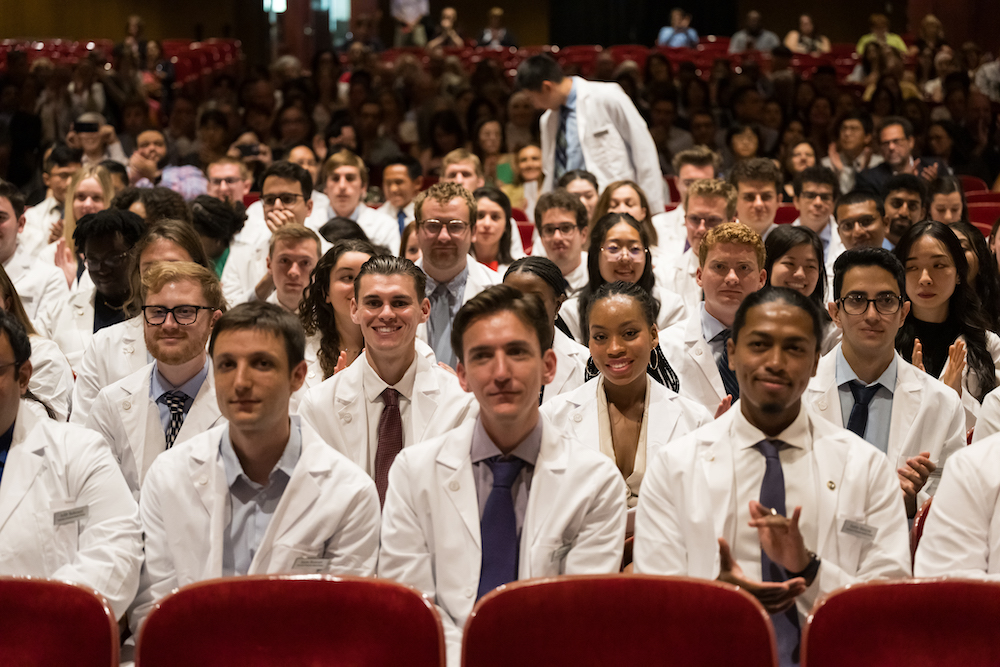 IS THERE A DOCTOR IN THE HOUSE? Members of the School of Medicine and Dentistry's Class of 2027, captured moments after receiving their white coats at the annual Robert L. &  Lillian H. Brent White Coat Ceremony.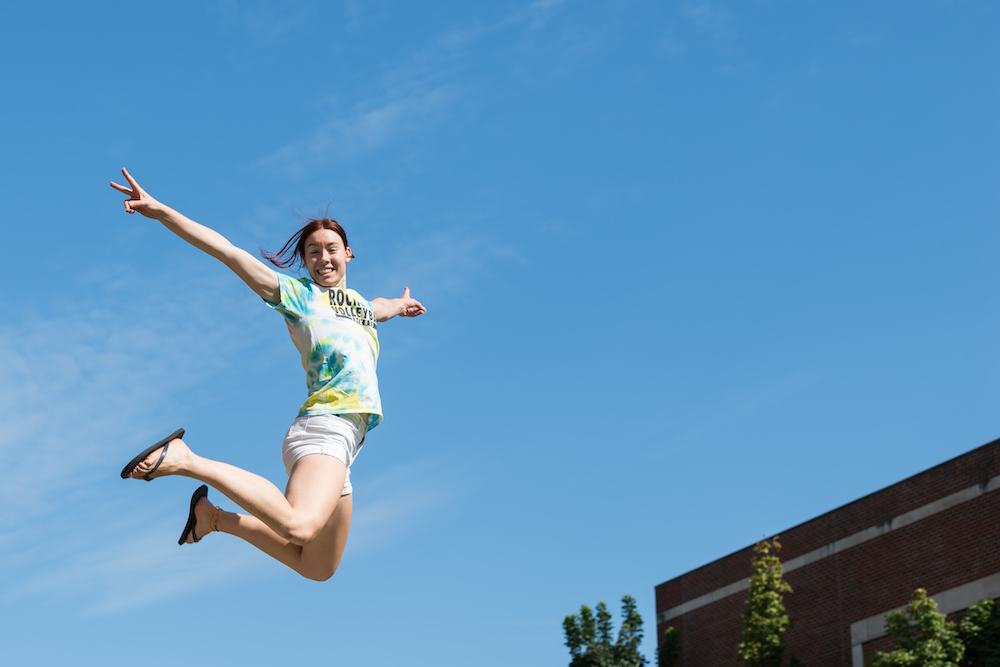 A BIT OF FRESH AIR: Volleyball player Sonia McGaffigan '23 (T5) catches some air while helping new students move into Hoeing Hall.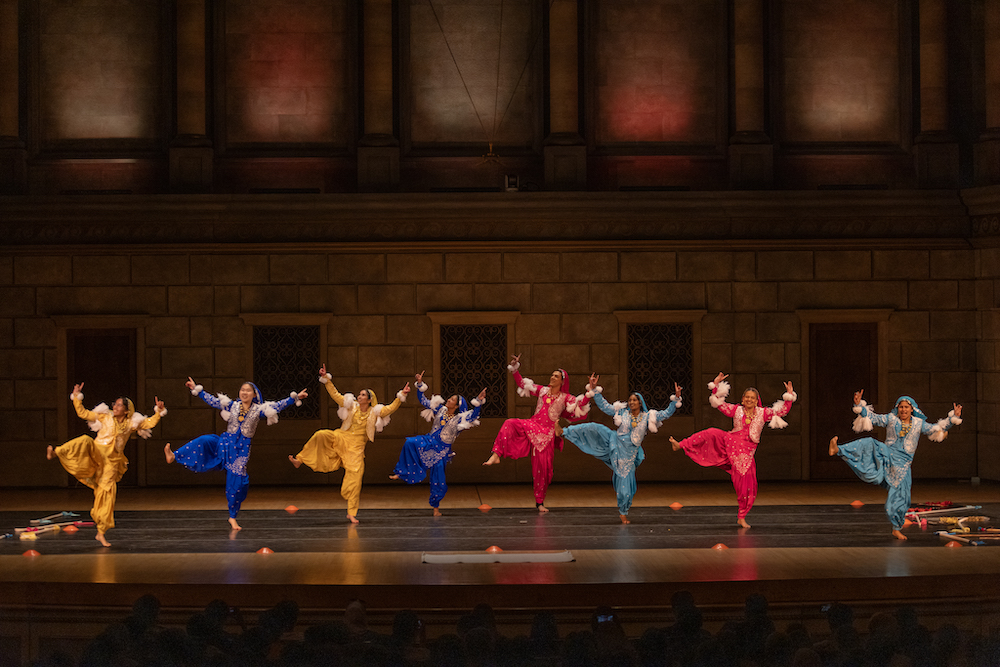 DANCE THE NIGHT AWAY: Members of the Bhangra dance team perform in Kodak Hall at Eastman Theatre during "Celebrate Diversity," a Welcome Week event for first-year students from the College and Eastman School of Music. (University of Rochester photo / Lauren Petracca)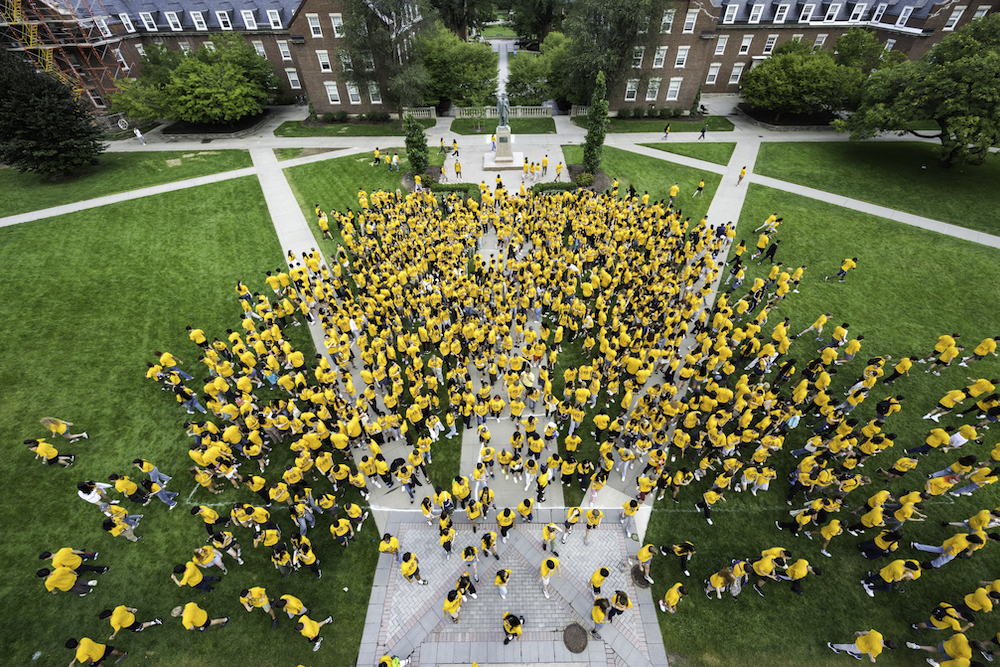 CLASS DISMISSED: First-year, transfer, and exchange students disperse after having the annual Welcome Week photo taken on Wilson Quadrangle.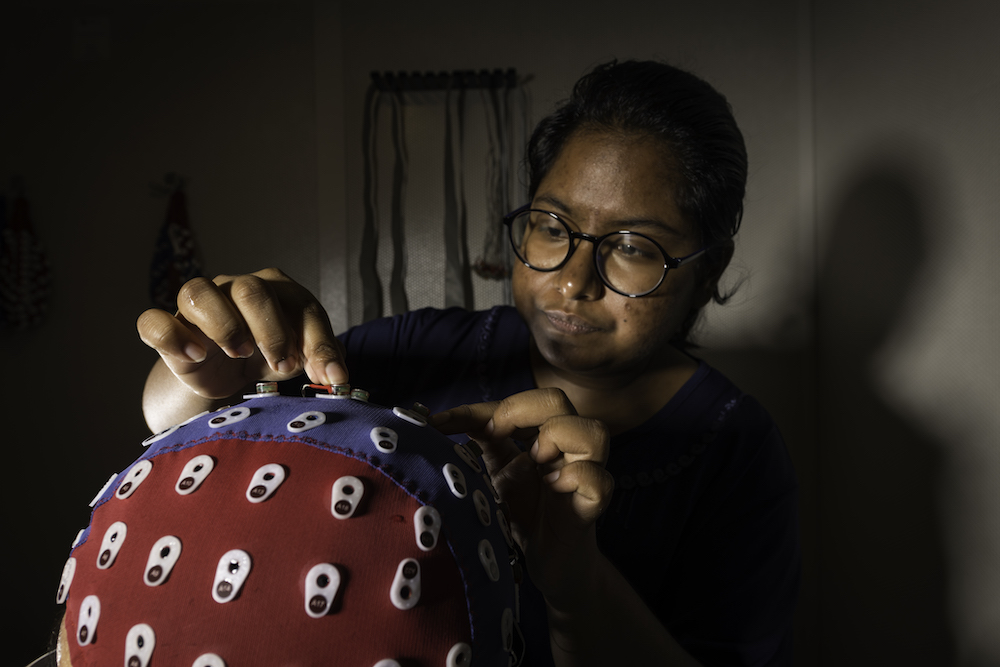 DETAILS, DETAILS, DETAILS: Sophea Urbi Biswas '24 adjusts an electroencephalography cap on fellow lab member Jin Dou, a biomedical engineering PhD student. The two conduct research on how humans perceive sounds under the guidance of Ed Lalor, an associate professor of biomedical engineering and of neuroscience.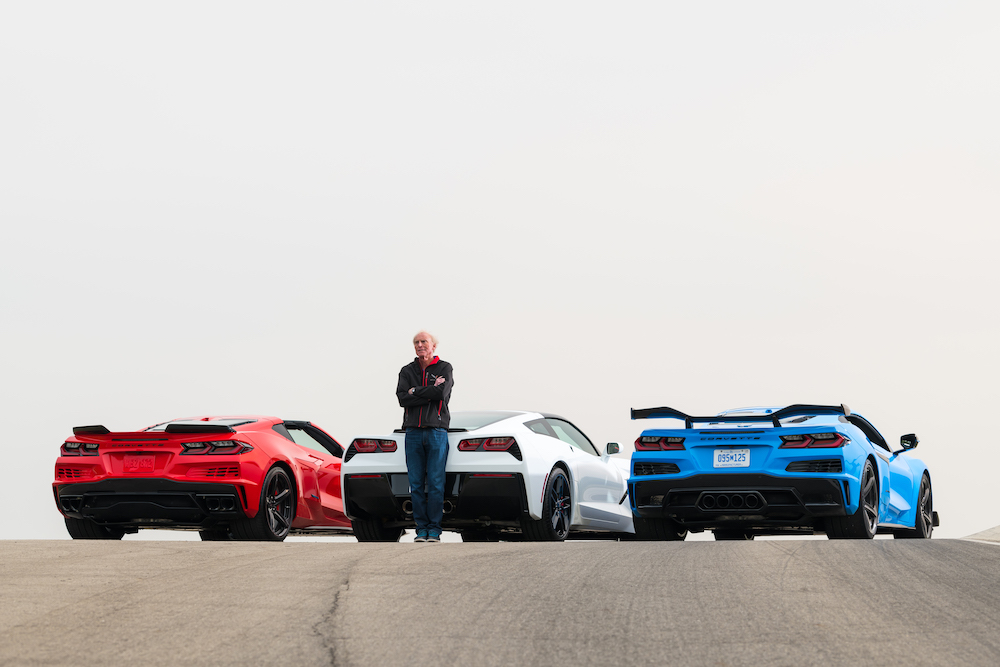 GET READY, GET 'VETTE: Tadge Juechter '79, executive chief engineer of Corvette since 2006, is photographed on a test track at General Motors Proving Ground in Milford, Michigan. He has overseen work on multiple iterations of the car at any one time—including this year's electrified E-Ray (top, red) as well as the C7 generation, introduced in 2014 (white), and the C8, introduced in 2020 (blue).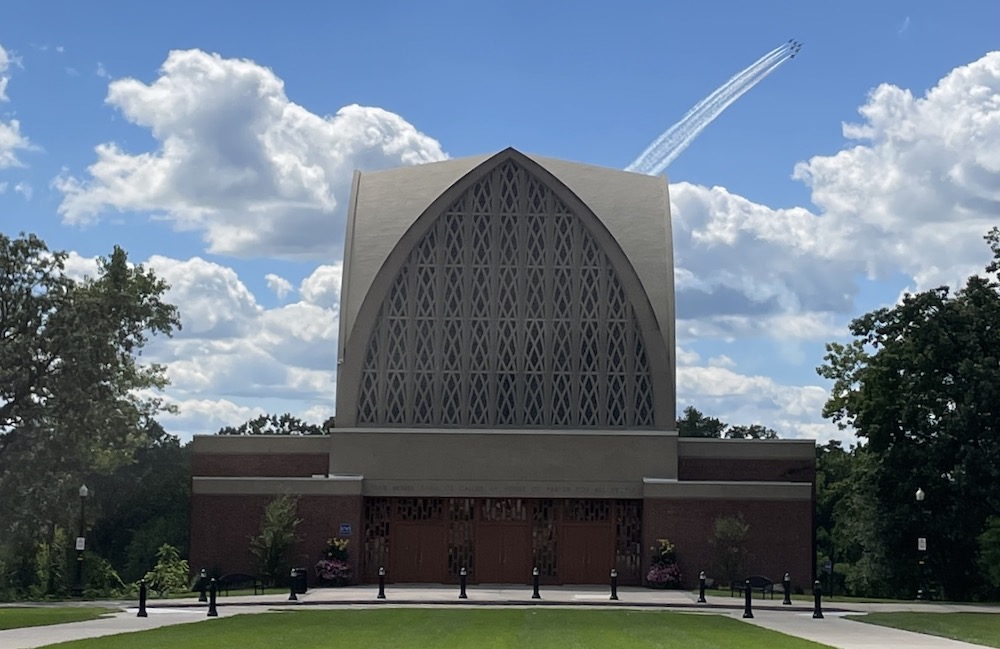 DEFYING GRAVITY: Members of the US Air Force Thunderbirds were seen (and heard) over the River Campus and much of Rochester while practicing for this year's Rochester International Airshow. (University of Rochester photo / Michael Osadciw)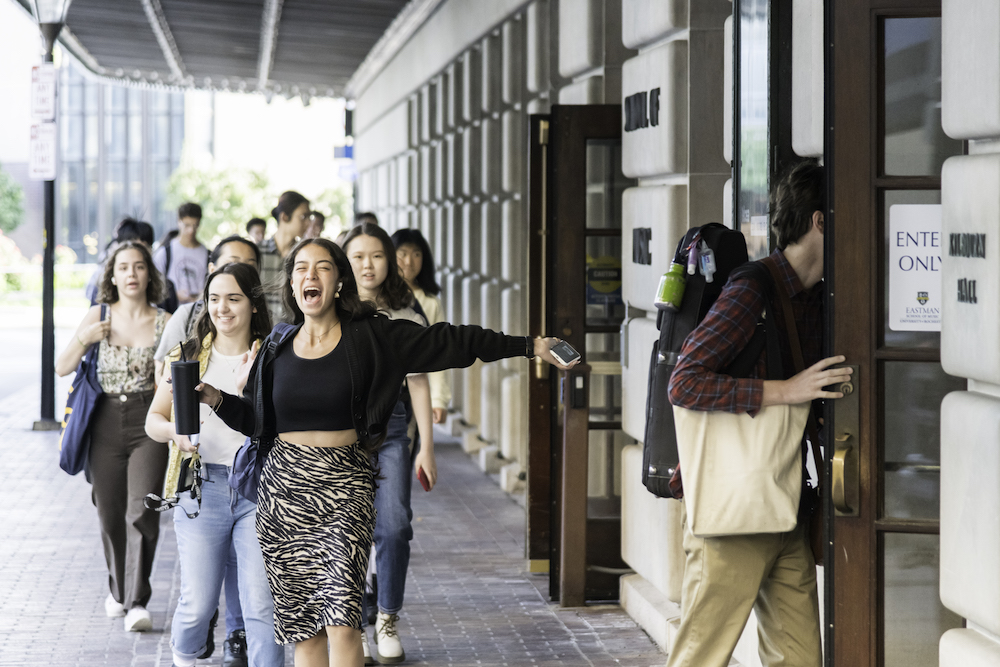 THRILLED TO BE BACK:  Students at the Eastman School of Music head into their first day of classes for the fall semester.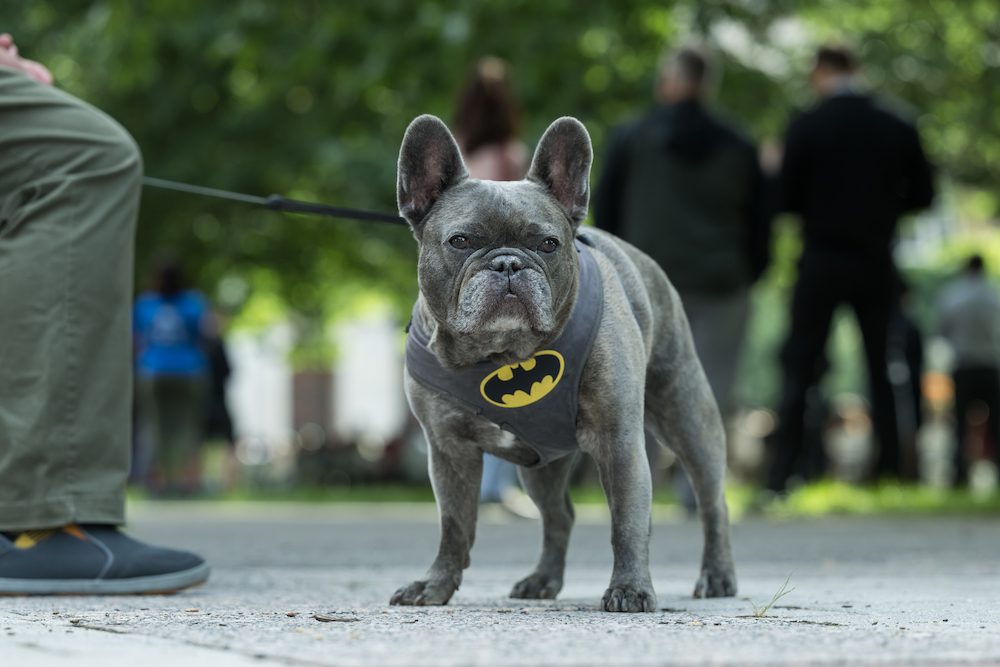 WHO'S A GOOD BOY? "Bat Dog" Gumbo, a French bulldog owned by Sophie Parent '27, attends the College Convocation ceremony.
Category: In Photos