Tadge Juechter '79
The Little Red Corvette Undergoes a Revolution
Longtime Corvette Engineer Launches the Iconic Sports Car into the Age of Electrification
By Luke Auburn | Photographs by J. Adam Fenster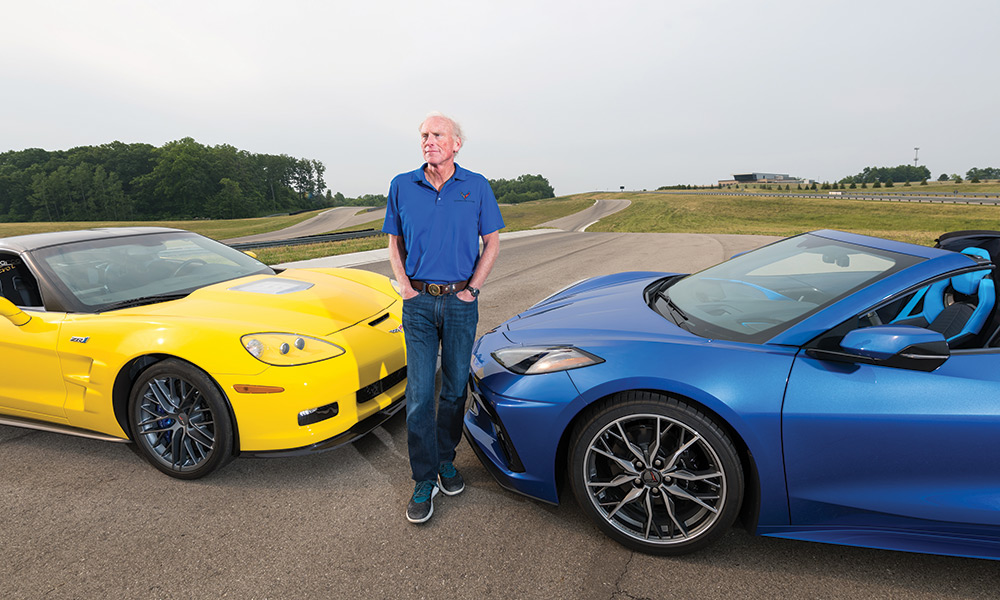 On the 2.9-mile Milford Road Course at General Motors' sprawling proving ground facility half an hour from Detroit, Tadge Juechter '79 eyes a few examples of the Corvette models that he has helped bring to the car-buying public.
From a well-worn test model of the C5 Corvette from the 1990s to a pristine new red E-Ray—the first electrified vehicle in the model's 70-year history, hitting the market later this year—Juechter has been instrumental in nearly every facet of the cars.
A member of the Corvette team since 1993, Juechter was named executive chief engineer of Corvette in 2006. Throughout his storied career, he has helped reimagine the vehicle known as "America's sports car" many times over, with more big changes on the horizon.
Each generation of the car presents engineering hurdles, and most recently some of those challenges involve developing batteries for the E-Ray to get energy in and out of the car as quickly as possible. But he shies away from saying he has a fondness for one Corvette model over another.
"I get asked all the time if I have a favorite model, but it's like choosing a favorite child," says Juechter. "We have poured blood, sweat, and tears into every one. The truth is that whatever model I'm currently developing is my favorite and I'm totally devoted to it."
Juechter and his team of thousands of engineers, designers, and mechanics have embraced the ambitious task of making an electrified sports vehicle that stays true to the car's celebrated history.
That includes addressing enthusiasts' concerns about the performance of electric propulsion compared to internal combustion engines.
"We have this giant business challenge—how do you bring people along to embrace electrification?" says Juechter. "And it's particularly acute in our segment where the cars have a lot of character and a lot of history. So many of our customers are completely tied into what we've provided for 70 years and so they kind of look askance at electrification."
It's a challenge that Juechter seems to relish, and his colleagues say he's uniquely equipped to address it.
"There's no better person or leader positioned to bring Corvette into the electric future," says Josh Holder, vehicle chief engineer at Corvette and one of Juechter's protégés. "There's not a problem he can't solve or doesn't know the details of when asked. He can frame everything in a way that's understandable for everyone from a nerdy engineer to a senior finance person."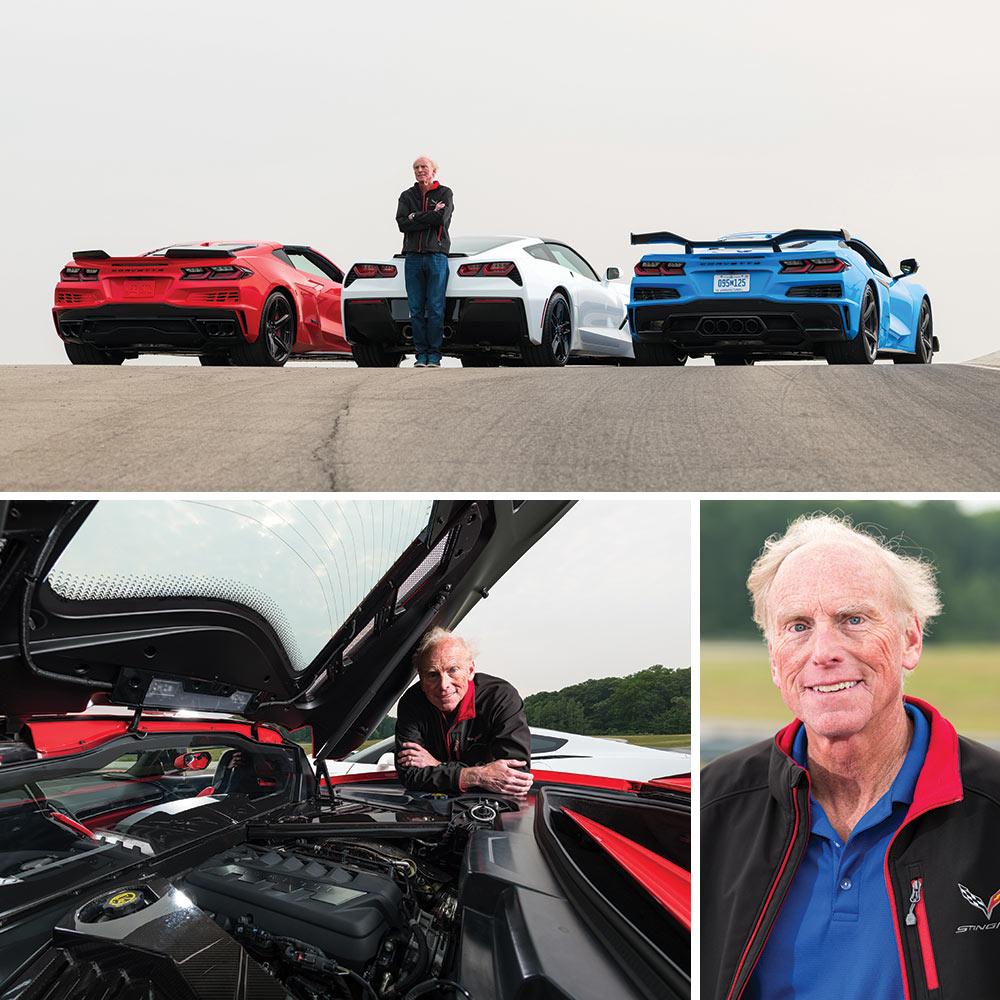 Corvette Engineer's Rochester Roots
Early on in his life, Juechter found he was more drawn toward tinkering in shop class than he was to other pursuits.
Growing up primarily in New York's Westchester County with stints in the Rochester area, he says he was somewhat of an outlier among his peers. All the adults in his life were professionals, doctors, lawyers, or businesspeople, and he had no engineering role models.
"I thought I was this very odd kid because I was constantly taking stuff apart, building stuff, putting motors on skateboards, building a full-suspension bicycle—all this quirky stuff," says Juechter. "When class was over, all the kids in my class would go to chess club or debate club and I would just go straight to the shop."
He excelled at math and physics and eventually found his calling in engineering. At Rochester, everything seemed to click.
"I credit Rochester for giving me that enlightenment, giving me that ability to find my path, and giving me the education at a quality that is unsurpassed," he says.
Not only did he develop mathematical rigor at Rochester that he still uses as an engineer, but he also began developing crucial soft skills that he leans on as the face of Corvette.
It was at Rochester that he was thrust into his first experience addressing a crowd when a professor required all students in a class to do a five-minute presentation on the results of their experiments.
"Everyone was mortified and wondering why he was making a group of engineers have to do this," he says. "I was always shy, and I was freaked out about it, so I wrote it all down, I practiced it constantly, presented it to my girlfriend over and over. Because I had done it so many times, it just came out and it went well. But if it had gone the other way, I might not have this job today."
After graduating with a degree in mechanical and aerospace engineering in 1979, Juechter moved to Michigan, where he had no familial or local connections in the car business.
He started a career at GM that is 45 years and counting, working his way up slowly and steadily.
At one point he designed door hinges for the now dissolved Fisher Body division of GM, one stint on the road to getting more comprehensive roles in vehicle development.
He eventually applied on a whim for a job at Corvette. Juechter's predecessor Dave Hill thought he had the right perspective for the job.
"Dave Hill was the new chief engineer and actually wanted some fresh blood because Corvette had been this sort of closed community," says Juechter. "You couldn't get a job there."
His new outlook helped revitalize the brand.
"His focus has always been on bringing Corvette to the future," says Holder. "Before he joined, I would say the car was starting to slip behind some of the other competitors. Tadge did a lot of work to define what would become the fifth-generation Corvette and when it came out it was revolutionary."
Qualities of Great Sports Cars Transfer to Other Vehicles
"A lot of customers imagine that as the chief engineer, I spend my day at the track and I get to just drive cars around fast and issue orders on what needs to be fixed," says Juechter. "That's really a tiny little portion of my job."
At any given moment, Juechter is working on numerous future iterations of a Corvette. It takes four to six years to go from a blank sheet of paper to a car rolling off the assembly line, and Juechter has a hand every step along the way.
Juechter says the most fulfilling parts of creating a car bookend the process.
"I like when you're first just trying to imagine what you can do, what technologies you're going to use to architect the car," he says. "I like bringing people together to figure out a product plan. And then the end part when it finally all comes together is really fun. There's a lot of grind in between—years of small wins, wrestling with all the issues, problems, and surprises along the way."
Based in Michigan, where the team designs the cars, Juechter travels regularly to the Bowling Green Assembly Plant in Kentucky, where the cars are assembled.
He's also often on the road to meet with suppliers, to talk with customers at events to get feedback on the vehicles, and to observe how the cars perform at races like the Rolex 24 Hours of Daytona.
By contrast, his home life seems surprisingly quiet. He and Mary, his wife of 40 years, live in a small ranch on 65 acres of wooded, rolling hills in northern Michigan, where they spend most of their free time riding bicycles, cross country skiing, snowshoeing, and engaging in other outdoor activities.
He says he has long been sensitive to environmental issues, making a concerted effort to have a negative personal carbon footprint. While an environmentalist sports car executive might seem contradictory at first glance, Juechter says there are common threads.
"People think of sports cars as maybe a little irresponsible environmentally, but actually the qualities that make a sports car great—lightweight, aerodynamic, efficient engines—can contribute to great cars in any segment."
The Corvette has thus far used electrification to add fun and performance to the driving experience for the E-Ray, but Juechter says the advancements made for the sports car will permeate throughout the GM line of vehicles. He makes no predictions about what GM will look like 45 years from now, but he says his team will continue to lead the pack into the future, driven by their passion for being the first to use the latest advanced materials and technologies.
"We take the latest technology—whether it's from the automotive industry or anywhere in the world—and look at how we can apply that technology to create a better ownership experience for our customers," says Juechter.
"We've taken a great first step in the electrification space with the E-Ray and there will be a whole bunch of steps between now and the end of the road."