Adam Fenster
J. Adam Fenster in the University photographer.
Adam Fenster's Latest Posts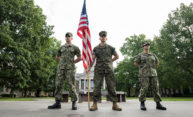 From left, Naval ROTC midshipmen third class Cal Niezabytowski '22 and Andrew Lazarus '22, and midshipmen second class Vanessa Carollo '21 stand at attention on Eastman Quadrangle at a vigil remembering the terrorist attacks of September 11. Among the nearly 3,000 people who died during the attacks were six University of Rochester alumni: Jeremy Glick '93; Jean Hoadley Peterson '69N; Jeffrey Smith '87, '88S (MBA); Zhe (Zack) Zeng '95, '98S (MBA); Aram Iskenderian '82; and Brendan Dolan '86. (University of Rochester photo / J. Adam Fenster)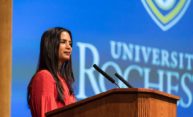 In her keynote address at the 10th Annual Diversity Conference, novelist, activist, and commentator Samina Ali described the fear she faced when the birth of her son left her with brain damage. "I was scared, and I was completely alone," says Ali. "Courage is like any other physical function in your body … each time we exercise our brave heart we are reinforcing our neural pathways for courage." (University of Rochester photo / J. Adam Fenster)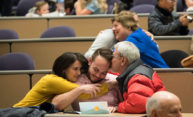 Michael Estephan is congratulated after opening his Match Day envelope. At noon precisely, Estaphan and approximately 100 students from the University of Rochester School of Medicine and Dentistry joined medical students from around the country to simultaneously open sealed envelopes and learn where they're headed for their residencies. The day caps off years of work and study as the students learn where they will spend the next several years in training for their first jobs as physicians, with Rochester students filling residencies at the top medical centers in the country. (University of Rochester photo / J. Adam Fenster)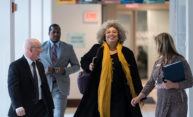 Scholar, political activist, and author Angela Davis, center, arrives at Schlegel Hall to meet with students before her talk, "The University's Role in Educating Students to be Engaged Citizens," part of the series Difficult Conversations as a Catalyst for Change. (University of Rochester photo / J. Adam Fenster)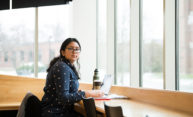 "I grew up feeling I would go to college no matter what," says Hajim Scholar and computer science major Maisha Idris '19. Idris's story is striking, but not unusual at Rochester, where about 20 percent of undergraduates are first-generation, or "first-gen" students.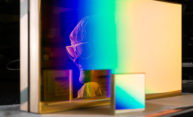 As the University photographer, J. Adam Fenster sees—and subsequently documents—more than the average person at Rochester. Here he picks some of his favorite photos and gives us a behind-the-scenes look at what makes each special.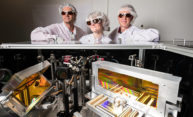 Today's Rochester researchers are taking science developed at the Laboratory for Laser Energetics to develop the next generation high-power lasers and to better understand the fundamentals of high-energy-density physics.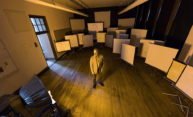 It has not been used as a high school for years, but the empty, Victorian-era building in Medina, New York, recently hosted a collaborative art project inspired by the fleetingness and permanence of memory.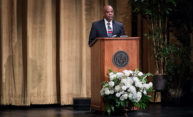 Lee Koonce '96E (MM), president and artistic director of the Gateways Music Festival, delivers remarks at a memorial service for University Vice President Emeritus and University Dean Emeritus Paul Burgett '68E, '76E (PhD) yesterday afternoon. Burgett championed the festival, a multiday series of concerts, performances, and other events designed to provide classical musicians of African descent a performance showcase of their own. (University photo by J. Adam Fenster)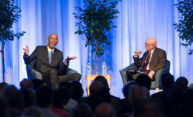 In the first of an ongoing initiative to bring challenging conversations to campus, Donald Hall (right), the Robert L. and Mary L. Sproull Dean of the Faculty of Arts, Sciences & Engineering, welcomed basketball icon and activist Kareem Abdul Jabbar to meet with students and host a talk on the issues dividing America, including racism, economic inequality, and social injustice. "Basically we have to overcome fear … That type of bigotry has no basis in logic," Abdul Jabbar told the audience in the Palestra last night. "We have to learn to appreciate that people of intelligence come in all shapes and sizes and colors, and if we don't learn to appreciate that then I think we're just doomed as a species." (University photo by J. Adam Fenster)