Adam Fenster
J. Adam Fenster in the University photographer.
Adam Fenster's Latest Posts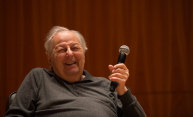 Composer, conductor, and pianist Andre Previn speaks during a discussion in the Eastman School of Music's Hatch Hall. A new work by Previn, Music for Wind Orchestra (No Strings Attached) will receive its world premiere in a concert by the Eastman Wind Ensemble on Friday, Oct. 10, as part of an all-Previn program.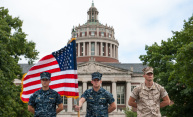 Naval ROTC students from the University—including Katherine Baum '17 (above, left) and Jacob Shawler '17 (center)— along with ROTC members from local battalions—including RIT senior Josh Nysenbaum (right)—held a small vigil on the Eastman Quad to remember those who died in the Sept. 11, 2001, terrorist attacks, including six alumni. The vigil was one of several student-organized events that included a Hopeman Memorial Carillon concert and the playing of the National Anthem at the Eastman School.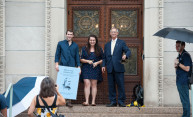 President Joel Seligman and students Antoinette Esce '15 and Russell Rosenkranz '15 ring a replica of the bell used by Martin Brewer Anderson, the university's first president, to signal class changes.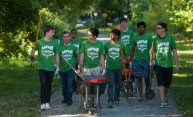 The incoming Class of 2018 fanned out into the surrounding neighborhoods of Rochester during the 26th annual Wilson Day of community service.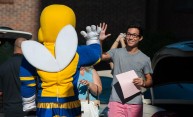 The University of Rochester's incoming freshmen class arrives, with about 1,300 students moving into five residential halls on the River Campus and the downtown Eastman School of Music. Welcome to Rochester, Class of 2018!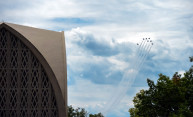 F-16 fighter jets of the U.S. Air Force Thunderbirds are seen in the skies over the Interfaith Chapel during a practice session for the Rochester Air Show.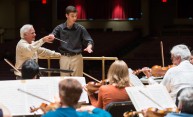 Neil Varon, professor of conducting and ensembles at the Eastman School, directs Luca Antonucci of Watertown, MA on the Kodak Hall stage during the Summer Conducting Institute. During the intensive five-day program, each young conductor has the opportunity to rehearse with Rochester Philharmonic Orchestra musicians,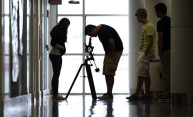 Optical engineering major Sarah Bjornland '19 (left) uses a telescope to study resolution versus pupil size with local high school students Justin Shetty, Tyler Acton, and Dan Duguay. During Photon Camp, a week-long effort by the Institute of Optics to introduce more students to the growing field of optics, high school upperclassmen work with University undergrads to learn about the relevance of optics to everyday life.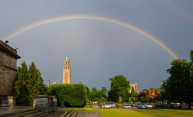 A rainbow forms over Cutler Union at the University of Rochester's Memorial Art Gallery.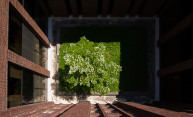 A dogwood tree blooms in the courtyard of Rush Rhees Library.