Adam Fenster
J. Adam Fenster in the University photographer.
Adam Fenster's Latest Posts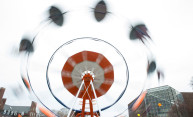 Students mark the end of the semester with Dandelion Day celebrations on the quad.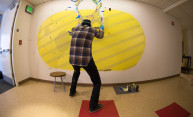 Rochester artist Thievin' Stephen works on a mural in Rettner Hall as part of Day of the Arts 2014: Street Art, a two-day series showcasing movement, dance, and art executed outside of traditional art venues.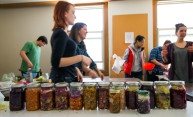 The New Media Fermentation Workshop, a collaboration between University professors Leila Nadir (sustainability) and Cary Peppermint (art and art history) meets in Burton Hall. The workshop consist of students making their own personal vegetable ferments, such as kimchi, and new media art students who will be documenting and remixing the experience. The workshops are part of EcoArtTech's new work-in-progress, Edible Ecologies, which involves collaborating with local communities to resuscitate historic food practices and foodways.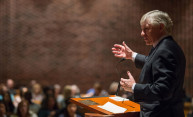 Columbia University president Lee C. Bollinger delivers the keynote address at the 5th Annual Diversity Conference in the Interfaith Chapel. ollinger is a prominent advocate of affirmative action who played a leading role in the twin Supreme Court cases—Grutter v Bollinger and Gratz v Bollinger—that upheld and clarified the importance of diversity as a compelling justification for affirmative action in higher education.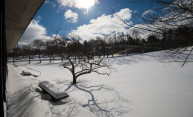 A snowstorm blankets a quiet River Campus in approximately 18 inches of snow.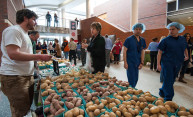 Diana Lacona (right) buys potatoes from Erik Fellenz of the Fellenz Family Farm at the grand opening of the University Farmers Market in the Flaum Atrium of the Medical Center.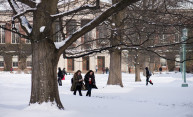 Students walk across a snow-covered Eastman Quad.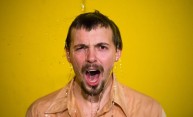 Steven Winkelman '16 as Dr. Thomas Stockmann in the International Theatre Program's production of Henrik Ibsen's An Enemy of the People. The play opens in Todd Theatre on Thursday, February 27.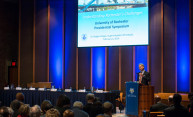 Rochester City School District Superintendent Bolgen Vargas addresses the audience in the Interfaith Chapel at the Presidential Symposium on "Revitalizing K-12 Education in Rochester."
Read President Joel Seligman's remarks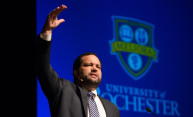 Former NAACP president Benjamin Todd Jealous delivers the annual Martin Luther King Jr. Commemorative Address in  Strong Auditorium.