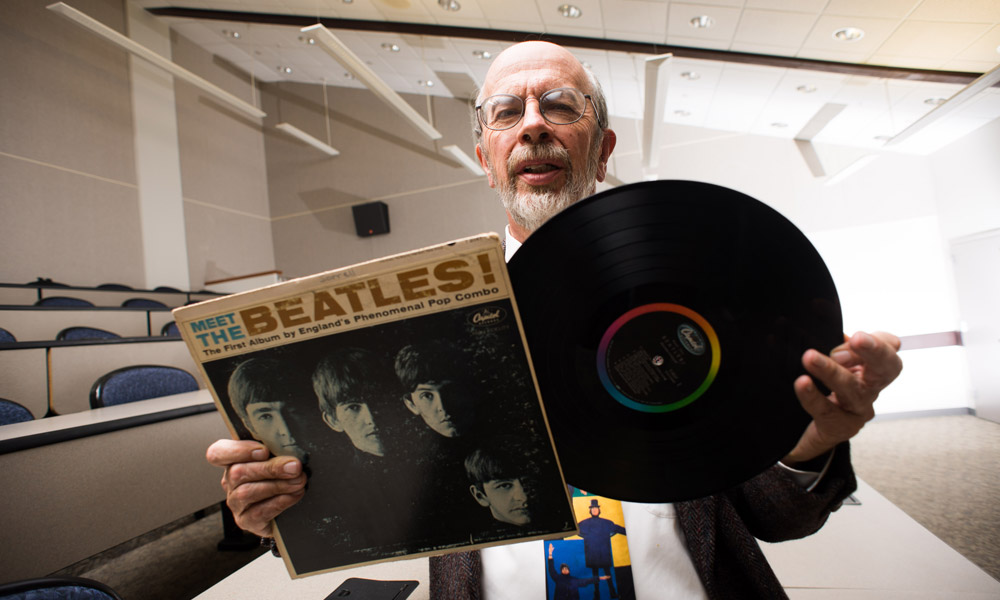 "It was 50 years ago today…"
On Feb. 9 1964, an estimated 73 million Americans tuned in to the Ed Sullivan Show to watch the Beatles make their American debut, giving birth to the British Invasion, and ushering the frenzy known as Beatlemania.
"The world sort of stopped," says Institute for Popular Music Director John Covach, "and everybody listened."
This weekend, we look back on the four lads from Liverpool, and the impact they made on music, popular culture, and Rochester students alumni.
The Institute of Popular Music presents a lecture from University of Michigan professor Walter Everett, author of a two-volume work, The Beatles as Musicians.
Sunday, February 9, 2014
2 p.m.
In the spring of 1964, walking across the Eastman Quadrangle, Edwin (Ned) Ferguson '66 heard someone shout from a first-floor dorm room: "They're on!" He rushed to the room, which was covered with Beatles photos and posters, and gathered with eight or nine others around an AM radio to jam to "She Loves You."


Rochester alumna Robin Lynn '70 witnessed the birth of Beatlemania—and had her reaction broadcast live on television. Fifty years later, she remains linked with the famous British foursome.


"There are lots of neat things about my life, but when I tell people about this, their mouths drop," says an alumna about her chance to be part of a historic musical moment.


"The importance of the Beatles is that they took the popularity that happened to them with this fad and they were able to have sustained and lasting — not only success — but influence." Professor John Covach looks back on the legacy of the Beatles.
On Sunday, Feb. 9, Professor John Covach will launch his free, six-week online course, The Music of the Beatles, through massive online course platform Coursera. The class, which currently has over 23,000 enrolled participants, will analyze the musical development of the band.
Campus rock 'n' roll expert John Covach offers a guide to the top hidden gems in the Beatles' digital catalog.
Writing in Musicology Now, Professor John Covach looks at the true story of how the Beatles came to be booked on the Ed Sullivan Show.


Making headlines
Category: Society & Culture