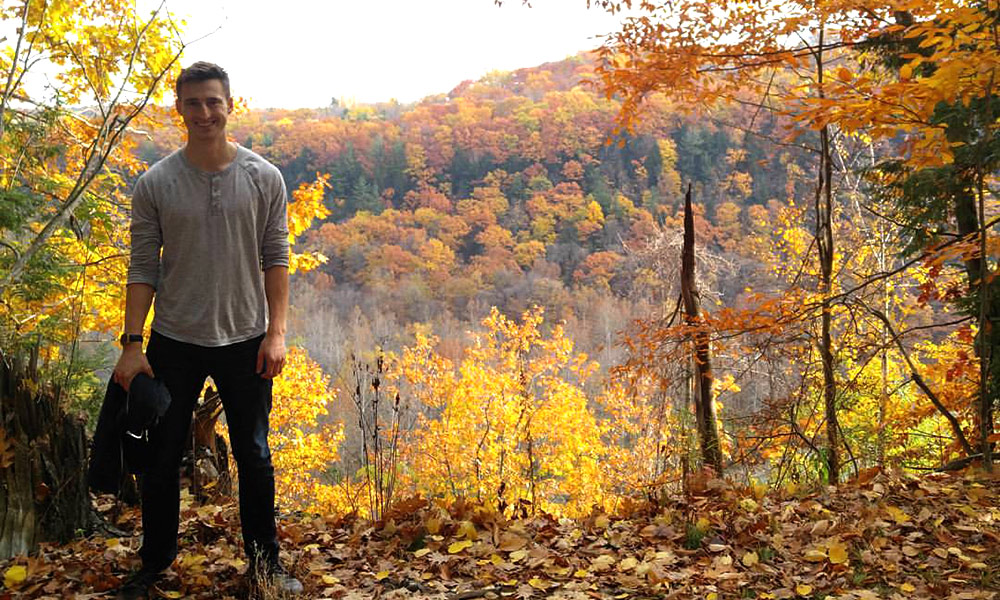 Unlocking big data
A Newscenter series on how Rochester is using data science to change how we research, how we learn, and how we understand our world.
Ulrik Soderstrom '16, '17 (MS), has found myriad ways to apply his knowledge of data science and machine learning: everything from bringing solar energy to low-income communities, predicting weather patterns for farmers, modeling ocean wave patterns, and solving Sudoku puzzles.
Soderstrom is one of the first students to graduate with a BA in data science (and a joint BA in earth and environmental sciences), and also go on to the data science master's degree program, which he will complete in May. He was awarded an AVANGRID Foundation scholarship from the electric utility company AVANGRID to pursue his master's degree in data science. As a benefit to receiving the scholarship, Soderstrom was recognized in a ceremony in Madrid with the King and Queen of Spain for "excellence in data science, energy, and environmental studies."
Along with finishing his coursework, he is currently collaborating as a data scientist with Arable Labs, where he utilizes machine learning algorithms to create weather forecasts from aggregated weather data, and a data science consultant for ROCSPOT, where he connects utilities, homes, and corporations to solar installers to increase usage of solar power.
During his time at the University, he served as president of the class of 2016 and was a data science analyst during a summer internship at NOAA (the National Oceanic and Atmospheric Administration) in Washington, DC.
What made you interested in data science?
I've always loved math and computers, and data science really brings those together. The other thing about data science is that it can be applied to many other fields. Three of my housemates are in the data science master's program. Two of them are really interested in the way the brain functions, and the other is really into finance, stock projects, and financial modeling. The variety of interests people have keeps the program fresh, and the classes just feel really cutting edge.
I think a lot of that shows how much is happening at the University, as well as nationally. The U.S. Senate just had the first congressional hearing on artificial intelligence in November. Experts in the field came before lawmakers to discuss artificial intelligence and how policy is ever going to keep up. Things like driverless cars and other intuitive systems like that are really going to change our technology landscape. Of course, my passion for sustainability and renewables plays right into that.
How does environmental science intersect with data science?
What's really missing from environmental science is full-scale climate models. We can make scientific guesses and provide hypotheses based on what we're ob