On January 28, the Year of the Monkey gives way to the Year of the Rooster. Some of our students of Chinese descent tell us what makes the celebration of the Lunar New Year special to them, their family and the region in which their families live.
Thanks to these students for sharing their experiences with us:
Richard Kao '19, Kaili Chen '20, Christina Zhang '18, Randy Wang '20, and Bingying Liu '18. 新年快乐!
---
Upcoming Events
Chinese New Year Dinner
Danforth Dining Center
Wednesday, Feb.1, 5–7 p.m.
The chefs at Danforth have taken a menu devised by members of the Chinese Students' Association to include traditional fare from different regions of China.
Spring Festival Expo
Wilson Commons Hirst Lounge
Sunday, Feb. 5, 2-5 p.m.
The University community is invited to join in a celebration of the Chinese New Year. Try your hand at calligraphy, play with toys found in Chinese homes and toy chests, sample cuisine and more.
This event is cohosted by the Chinese Students' Association, the Taiwanese American Students' Association, and the Hong Kong Students Association.
China Nite
Strong Auditorium
Saturday, Feb. 11, 6:30–8:30 p.m.
Revel in the beauty and color of traditional dance and song in this annual event.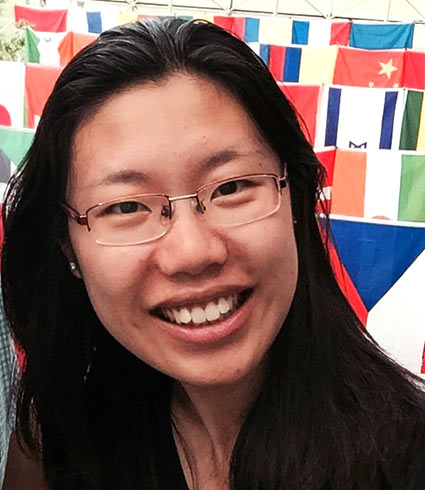 Joy Bian '17 is majoring in digital media studies and business.
According to the Chinese calendar, a lunar calendar with a 12-year animal zodiac cycle, 2017 begins this weekend. At the stroke of midnight, as the Gregorian calendar turns to January 28, China will welcome the Year of the Rooster, replacing the Monkey, the zodiac of 2016.
Thinking of the celebrations back home, I texted my friend "Remember to wear red." The color red symbolizes luck, fortune, and happiness in China so it is common to see people wearing red bracelets, scarves, and coats at the beginning of the New Year. "Rooster babies" (born in the year of Rooster) are often dressed in red by their parents to avoid bad luck in the coming year. While many people consider these gestures superstitious, they're still widely observed as traditions that have been passed down for generations.
The holiday is bittersweet for me and many other Chinese students studying in the United States.
"I haven't celebrated Chinese New Year with my family since I came to study in the States," said Shuyu Zhou '17, a mathematics and economics major from Beijing. "I am always packed with schoolwork when Chinese New Year comes."
For many Chinese, Christmas, which falls during winter break, is an exotic festival when families bond and get together. We celebrate it in my family, but gift exchange is more voluntary than a must, and it's not as popular as it is in the United States. My family is very understanding about my school calendar, so during Christmas we had a huge family reunion. Even though it wasn't the same as everyone getting together on New Year's Eve, it helped make up for missing the huge celebration back home.
In China, people get seven days off for the holiday to spend time with their families and get ready for a brand-new year.
There are many ways to celebrate the holiday. Food choice always varies from one region to another. I was born and raised in Jiaxing, Zhejiang Province, a city of approximately 4.5 million people in eastern China. While northern Chinese make dumplings on New Year's Eve, I make spring rolls and sesame rice balls with my parents. This is the only time of the year that I have the opportunity to show off my natural-born cooking talent. I love spring rolls stuffed with mashed red beans, but my father is not a big fan of sweets. He usually fills the rolls with finely chopped nappa cabbage and ground meat. I deep-fry the rolls until their skin turns gold.
Gathering and preparing all the ingredients for the night of the feast takes a whole day. Grocery shopping must be done by noon on New Year's Eve, because stores and public markets all shut down in the afternoon. It's not surprising to see no one on the streets. Everyone is home.
Fish is always the traditional dish in my family. The word "fish" in Mandarin sounds like the word for "surplus." My mom likes the auspicious message that fish brings good fortune, abundant food, and luck in the coming year.
As a dessert, my family always goes with Eight Treasure Rice. It consists of sticky rice, preserved and candied fruits, ginger, plums, and dates. The dessert takes its name from a legend in which eight warriors battled against a despotic emperor.
New Year's Eve is the only night of the year that my dad stays up late. He sets off firecrackers at midnight outside the house to say goodbye to the old year and embrace the new year with a loud bang. There are three times over the 15-day New Year celebration that my family lights firecrackers—the first, fifth, and seventh days. Many families that are in business or trade explode firecrackers on the fifth day because it is believed that the Chinese God of Fortune would visit. My uncle used to own a flower shop. I witnessed the annual firecracker show in front of his shop when I was little. The noise was so loud, as it was supposed to be, that I always covered my ears.
If I'm about to take out the garbage, my mom will stop me. "No! Don't dump the trash today," she says. This is a tradition passed on for years in my family: never throw anything away on the first day of New Year because it is considered fortune flowing away.
My mom is the only person in my family who is familiar with all kinds of New Year taboos, traditions, and customs. "My mom taught me well," she always says.
Even though I am not taught every single rule, I am a keen observer and have learned much over the years. Things like no porridge or congee for breakfast, or no laundry on the first day. These may sound funny to people who have never heard of them, but every culture has traditions that are transmitted from older to younger generations.
While traditions continue, they are also transformed in various ways to adapt to our modern life. Children are the happiest group on the first day of New Year when they receive red envelopes from their parents. I used to discover two red envelopes under my pillow when I woke up in the morning. This so-called "lucky money" is given by parents to send love, blessings and happiness. In 2013, WeChat, a social mobile app company based in China, launched an online money transfer program that allows people to send virtual red envelopes. It has become so popular that it has turned into a modern way of greeting people during the New Year. We give red envelopes not only to kids, but send them to our friends and relatives, too.
Category: Student Life