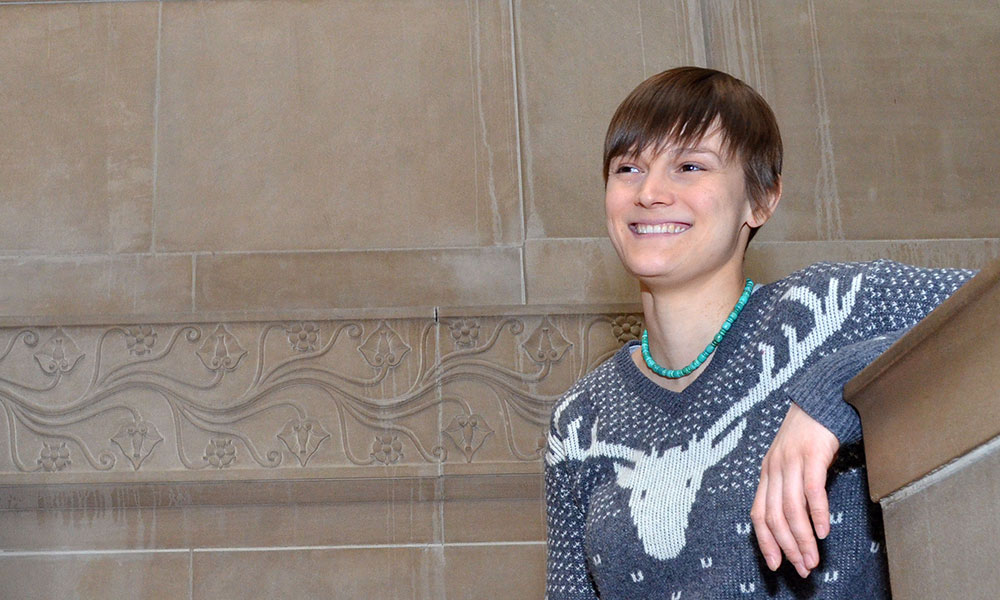 Juliana Conley '20 is pursuing a path of study that is less traveled at the University of Rochester. But then, so too is the road that brought her here.
Her choice of major is a culmination of careful thought, advice well taken, Venn diagrams, western wildfires, and a totally unexpected, seven-year detour away from undergraduate study.
All of this has given the 29-year-old a very clear idea of what she wants from her college experience—and the university's interdisciplinary program in geomechanics will give her an opportunity to achieve it.
"It's not been a conventional path to being a first-year student at the University of Rochester, but I'm really happy to be here," Conley says. "This has exceeded all of my expectations."
Starting out, heading West
A native of Concord, New Hampshire, Conley was lured westward after graduating from high school. She enrolled at the Flagstaff campus of Northern Arizona University, where she intended to study mechanical engineering. But when she got to Flagstaff, she started to learn firsthand how daily life can be affected by the threat—and the reality—of wildfires.
"My neighborhood went into pre-evacuation twice. I saw a number of fires and the destruction they caused," Conley explains. She spent a summer as a Forest Service intern working near a community that had lost 400 homes in a wildfire. "I saw up close the impacts on both the ecosystem and on the people, who live in this shadow of fear each summer, wondering what will happen if a fire comes."
She switched her academic focus to forest ecology. And then came the detour.
In a collision with another bicyclist on campus, Conley suffered a serious concussion in addition to a back injury. She took some time off. "It ended up taking seven years for me to come back," she says.
Making connections
In retrospect, the detour may not have been such a bad thing. After taking a job in Santa Fe, New Mexico, she became involved with the Friends of the Santa Fe National Forest, a fledgling nonprofit organization that works with rangers to preserve the forest and educate the public about forest