Bob Marcotte
Bob Marcotte's Latest Posts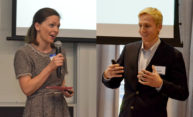 Jessica Goodman and Alec Salminen each took first place at two recent University of Rochester research competitions that limited contestants to brief presentations geared toward general audiences.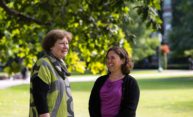 To Joan Shelley Rubin, the Ani and Mark Gabrellian Director of the Humanities Center, and Wendi Heinzelman, dean of the Hajim School of Engineering and Applied Sciences, engineering and the humanities are strongly connected.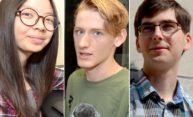 Seniors Melissa Wen, Nathan Nickerson, and Jarrod Young are this year's winners of the Wells Award, given each year to high-achieving students in the Hajim School of Engineering and Applied Sciences who also excel in the humanities.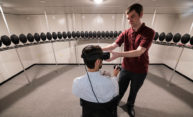 A $1.5 million grant from the National Science Foundation will establish a structured, well-rounded training program for University scholars applying augmented and virtual reality in health, education, design, and other fields.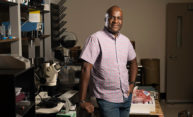 The professor of electrical and computer engineering is one of 20 faculty members nationwide who have been selected for the IAspire Leadership Academy, a program aimed at building diversity in STEM fields.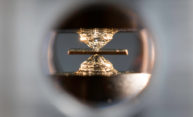 Aluminum stops being a metal. Metals turns transparent. Remarkable things happen to materials placed under remarkable conditions, and Rochester scientists are at the forefront of the quest to understand why.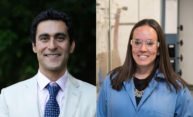 Two University of Rochester faculty members–Hussein Aluie and Ellen Matson–have been named recipients of Early Career Research awards from the Department of Energy.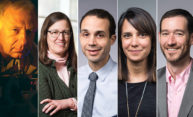 Five University of Rochester faculty mentors are the inaugural recipients of a new mentorship award from the University's David T. Kearns Center for Leadership and Diversity.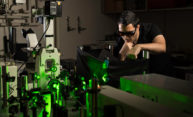 There's no better time to do research at the University than during the summer. While the classrooms may be quiet, labs and libraries remain busy as undergraduate students work on projects from engineering to political science.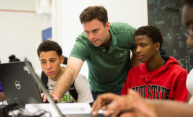 The Hajim School of Engineering and Applied Sciences is among the first cohort of engineering schools to earn recognition for its diversity initiatives from the American Society for Engineering Education.