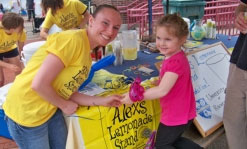 Alex's Lemonade Stand Promotes National Effort
Danielle Benoit, an assistant professor of biomedical engineering at the University of Rochester, has devoted much of her career to researching new ways to administer medicine, particularly to those afflicted with childhood cancer. However, this weekend she and her students will head out of the lab to help increase awareness and funding for childhood cancer in a different way.
Benoit and her fellow researchers will be serving lemonade and explaining their research in childhood cancer therapies at the 5th Annual Benoit Laboratory Lemonade Stand (details below). All of the proceeds from the lemonade stand will go towards the Alex's Lemonade Stand Foundation, an organization that has managed to raise over $1 million in the past fourteen years to help fund cancer research for young children.
The name, Alex's Lemonade Stand, comes from Alexandra "Alex" Scott of Connecticut, a four year old girl who had battled cancer since her diagnosis before her first birthday. Alex set up a lemonade stand each year to help doctors find a cure for childhood cancer until her death at age 8. The idea spread, and children in other parts of the country set up their own lemonade stands to join the cause.
"The majority of people are unaware that cancer affects children in different ways than adults," said Benoit. "Children's cancer research is woefully underfunded in comparison to the large amount of money that goes into researching adult cancers." Cancer is also the leading cause of death for children under 15 years old.
Benoit hopes to raise $2,500 for the charity by the end of the weekend.
Event Details
What: Benoit Laboratory Lemonade Stand
When & Where: Saturday, June 7, 10am-1pm, at Rochester Public Market
280 N. Union St.
Sunday, June 8, 9am-1pm, at Brighton Farmers Market
1150 Winton Rd. South
Category: University News