Tag: African Leadership Academy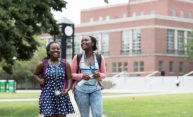 More than 30 students from sub-Saharan Africa are River Campus this summer as part of the Early Connection Africa program, preparing for college life and taking classes in math, economics, writing, and politics.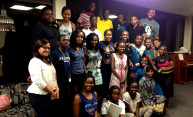 Nineteen high school students from Africa are staying on the River Campus through Aug. 7 as part of a pre-orientation program designed to prepare them for college this fall. Three will continue their education at the University of Rochester this fall.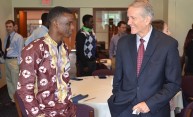 The University ranks as the number one destination for graduates of the African Leadership Academy (ALA), a selective college preparatory program in South Africa. Last week the University hosted the academy's 4th annual indaba, meaning "gathering" in Zulu – the largest conference in North America for students who have graduated from ALA.