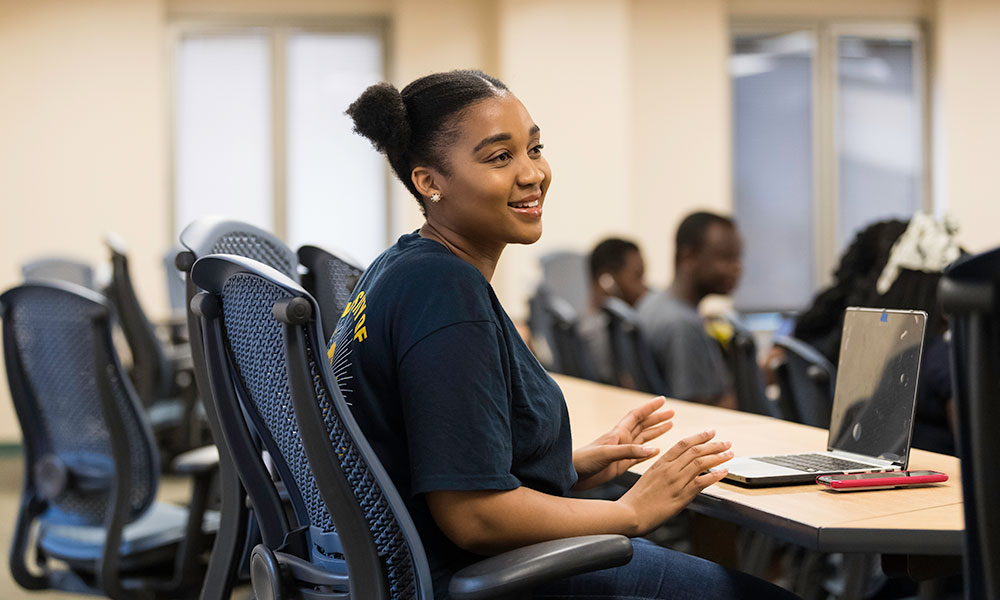 The African Leadership Academy stands more than 8,000 miles away, but year after year it makes a strong impact at the University of Rochester.
"Our partnership with Rochester has been amazing," says academy chief executive officer and co-founder Chris Bradford.
The academy opened 10 years ago with an inaugural class of 97 students and graduated its first class two years later. Rochester has been the leading destination every year among US colleges, with 75 total students enrolling at the University over its 10-year history. The University of Notre Dame is second, with 40.
A residential institution in Johannesburg, South Africa, the academy is dedicated to transforming the African continent by identifying, developing, and fostering connections among its most promising future leaders. It offers a two-year curriculum of African studies, writing and rhetoric, and entrepreneurial leadership to standout high school students from nearly 50 African nations.
Jonathan Burdick, Rochester's vice provost for enrollment initiatives and dean of admissions and financial aid, says forging this pipeline between the schools is an investment in the present and future.
"Projections say that by 2050, Africa will be the only growing region in the world," he says, citing data from the United Nations Educational, Scientific, and Cultural Organization (UNESCO). "By 2100, Africa will be 40 percent of the world's population. If you think of the University as a place that wants to be here in 82 years, you'd be crazy to not be as invested in Africa as we've been."
Thirteen academy graduates are part of the College's incoming Class of 2022, the largest cohort yet and the top feeder program for the University this year. Burdick says the presence and contributions of academy graduates make "an impact beyond what you can imagine."
"Most students who come to Rochester have never met anyone from Africa or been to Africa," he says. "It's mind blowing for them to get to know these great African students."
The students include Thandie Ramme '20, an international relations major from Molepolole, Botswana, who chose Rochester to pursue academic interests she couldn't find at home. She works year-round as an office assistant at Simon Business School and is also a program director for the summer Early Connection Africa program, which helps initiate African students headed to colleges in the United States. She's also a resident advisor and a member of the LOGOS and Pan-African Students Association campus clubs.
"I liked Rochester's open curriculum and the fact that it has a large African community," Ramme says. "Coming here has challenged my thinking and ideas and made me more independent financially and as a person."
Frederico Hama '20, a mechanical engineering major from Luanda, Angola, is another academy graduate. A member of the varsity track and field team, he works in the Hajim School of Engineering and Applied Sciences dean's office as a financial information analyst and is a Xerox Engineering Research Fellow at the David T. Kearns Center.
"The University has afforded me so many opportunities," Hama says. "It's allowed me to find out exactly what I want to do in life and has made me believe I can actually make an impact in my community and the world at large."
That impact will be greatest in Africa. As part of their admission to the academy, students have made a commitment to return to the continent, putting their talents and education to work, in collaboration with one another and other leaders in their communities, to address longstanding challenges.
Jane Gatewood, vice provost for global engagement, says the African Leadership Academy benefits the students and the University.
"It builds a pipeline for dynamic African student leaders to join the Rochester community," she says. "These students and alumni exude the tenets of Meliora by helping to make the world ever better."
Category: Campus Life