Tag: Department of Physics and Astronomy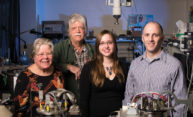 The Near Earth Object Camera (NEOCam) sensor is a new infrared-light detector to improve the performance and efficiency of the next generation of space-based asteroid-hunting telescopes.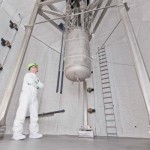 An experiment to look for one of nature's most elusive subatomic particles is underway in a stainless steel tank nearly a mile underground beneath the Black Hills of South Dakota. And among the dozens of scientists involved in the research is physics Professor Frank Wolfs.
The Nobel Prize for Physics was awarded today for work in the field of quantum optics, an area of physics that was pioneered in large part at the University of Rochester.