Events and performances will take place next week on the River Campus in honor of Black History Month.
The first "Color Cannot Divide Us Week" is sponsored by the Student Programming Board and the University's "We're Better Than That" anti-racism campaign.
Here's a look at what's on tap:
Monday, February 6
Breaking Racial Bounds Through Music, 7 to 9 p.m. – This event features performances by minority student and faculty musicians from the Eastman School of Music. The performances will be held in the Interfaith Chapel, and a discussion will follow.
Wednesday, February 8
Implicit Bias Training Dinner, 5 p.m. – Skilled facilitators will lead implicit bias training in the Eisbenberg Rotunda at Schlegel Hall, followed by a buffet dinner. This event is free and open to all students on a first come, first served basis. In order to attend you must RSVP to Meredith Crenca at mcrenca@u.rochester.edu. The event will capped at 50 students. The dinner is provided by Mel Catering and will be available throughout the training.
Thursday, February 9
Merchandise Giveaway: We're Better Than That, 2 to 5 p.m. – Students can stop outside the Paul Burgett Intercultural Center in Frederick Douglass Commons to sign a banner, grab food, and pick up free We're Better Than That swag. Giveaways include original WBTT t-shirts and stickers, as well as rubber bracelets and water bottles that read "Color Cannot Divide Us".
Friday, February 10
W. Kamau Bell appearance, 7 p.m. – Bell is a sociopolitical comedian and host of the Emmy Award nominated CNN series, United Shades of America. The New York Times called Bell "the most promising new talent in political comedy in many years."
He will be appearing at the Douglass Ballroom in Douglass Commons.
The Common Market is selling tickets at $5 for undergraduates, $10 for graduate students/faculty/staff, and $15 for the general public.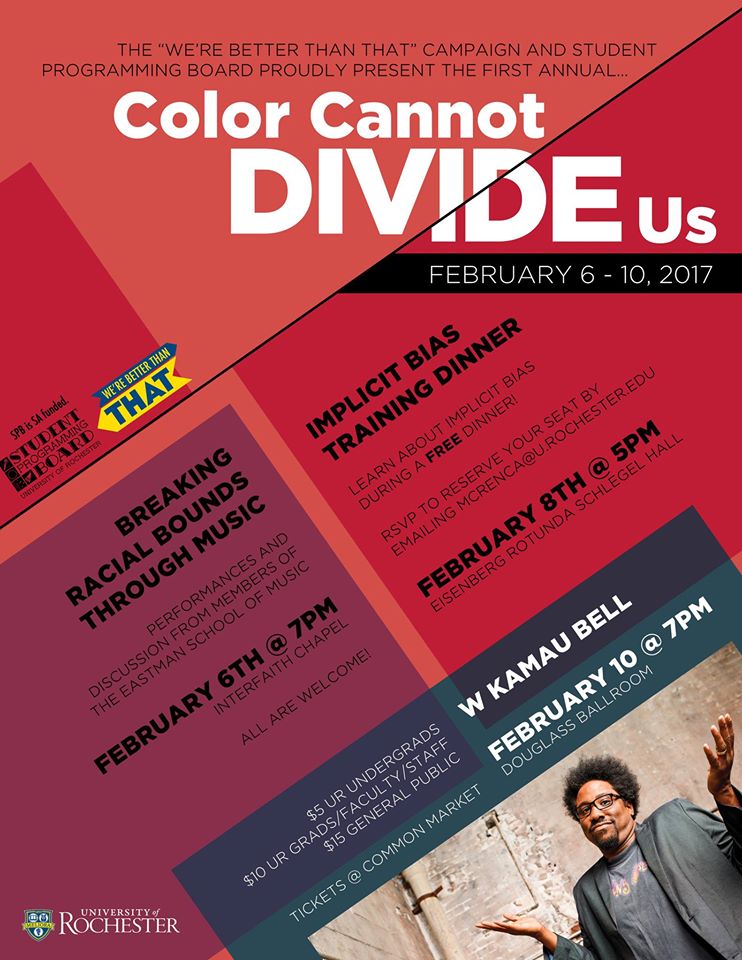 Category: Student Life