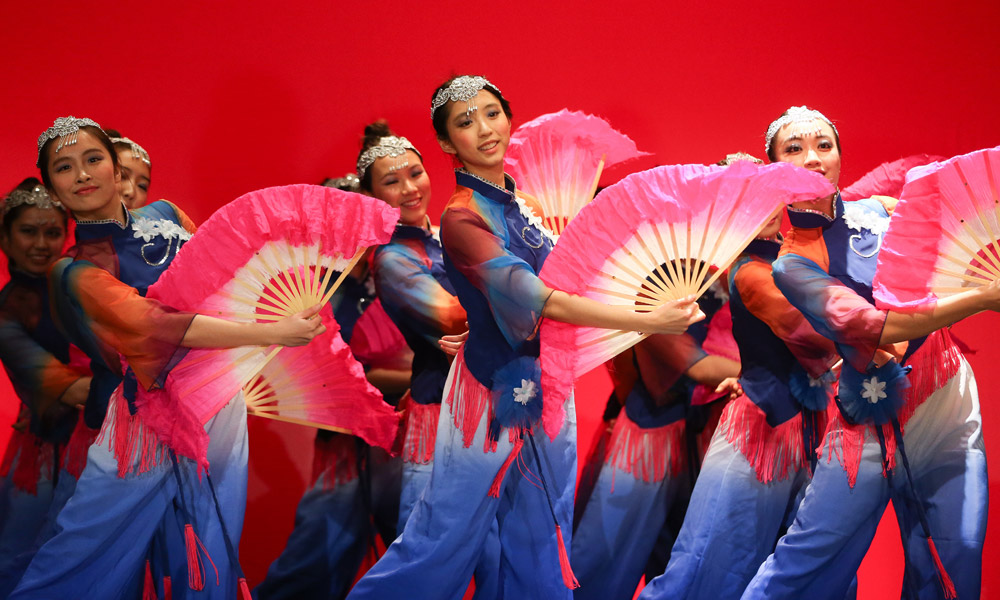 Each year in celebration of Chinese New Year, the University of Rochester Chinese Students' Association (CSA) hosts China Nite. The event features the traditional and modern aspects of Chinese culture through song, dance, instrumental acts, and dramatic performances—all woven together to honor the New Year.
This year, China Nite is on Saturday, February 8 at 7:30 p.m. in Upper Strong Auditorium. It's the CSA's signature event, welcoming hundreds of people to River Campus. The student-run show features performers from on and off campus, including Rice Crew, UR Styles, and the Chinese Dance Company of Rochester.
"It's an entertaining show that highlights Chinese culture for all members of the Rochester community," explains CSA President Jessica Cheung '14.
CSA has been active at the University since the mid-1970s and has more than 100 current members. In addition to China Nite, the club offers social, cultural, and educational programs throughout the year.
Chinese New Year traditions
With the spring semester in full swing, finding time to commemorate the New Year can be tricky.
"Back home in New York City, we usually attend the parade in Chinatown," says Kelvin Tam '14. "We also make sure to clean and decorate the house before the New Year. Then we get together with family, eat traditional meals, and pay our respects to our grandparents and ancestors."
The names of the foods are especially important, explains Tam: "We eat things that sound like the Chinese words for prosperity, fortune, and getting together."
There is also a custom of gift giving, says CSA Co-Vice President Mian Wei '15, who is from Dalian, China. "We go to our relatives' homes to wish everyone a happy New Year," she says. "Then the older people give children red envelopes containing money. The money is called 'Yasui Qian,' which means 'money to push the children back from aging.'"
Experiencing Chinese New Year at Rochester
Wei couldn't be home to celebrate the New Year of the Horse, but she was determined to bring some of the festivities to campus.
"I'm a residential advisor in Southside," she explains. "My RA colleague and I organized a dumpling-making workshop in the Valentine Tower lobby on Chinese New Year. We taught our American friends about Chinese food and how to make dumplings. It was a fun and memorable experience."
CSA brings Chinese Culture to Rochester
Wei's CSA co-vice president, Jieyi Zhou '15, is from Guangdong, China, and together with Cheung and Tam they planned and organized this year's China Nite.
But Zhou underscores CSA's larger role in bringing Chinese culture to campus: "CSA creates a sense of community for Chinese students studying abroad, while also welcoming members of all backgrounds. In this way, we're making the campus more diverse. Plus, through the club's programs, we help educate our fellow students about Chinese culture."
---
Learn more about the Chinese Students' Association:
Like CSA on Facebook: https://www.facebook.com/UofRCSA
Follow CSA on Twitter: https://twitter.com/urochestercsa
Learn more at their blog: http://urcsa.wordpress.com
2014 China Nite details
Event:                         China Nite
Venue:                        Strong Auditorium, UR
Date:               Saturday, Feb. 8, 2014
Time:              Doors open at 7 p.m.; show starts at 7:30 p.m.
Tickets:           Sold at Common Market/Door
$5 for UR students
$8 for UR faculty/alumni
$10 for community members
Category: Student Life