NEWS
Weekend Ceremonies Mark Rochester's 159th Commencement
Rep. Louise Slaughter challenged Arts, Sciences and Engineering graduates during a Sunday morning ceremony to look for ways to serve. "You are not going to be graded on service to others," she said, "but your life will not be complete without it." At the Eastman School ceremony, alumnus Mark Volpe '79E, managing director of the Boston Symphony Orchestra, talked about sharing the value of classical music "in a world where a generation has grown up without music education," he said. "Musicians can't remain islands."
Congratulations to parents of the newest members of the Rochester alumni community. Read the "Dear Mom and Dad" letters submitted by members of the Class of 2009 to thank their families for the love and support.
MORE ONLINE: Photos, video, and audio from Commencement 2009.
Parents Buzz on Summer Hiatus
This is the last issue of Parents Buzz for the academic year. The newsletter will return to your inbox in August.
Engineering School Named for Edmund A. Hajim
The University announced last week that its engineering school will, effective July 1, be officially named the Edmund A. Hajim School of Engineering and Applied Sciences. The naming recognizes alumnus Edmund Hajim's many decades of service and contributions to the University, including his $30 million gift commitment last fall to the School of Engineering and Applied Sciences. Read more ...
$10 Million Gift to Transform Neuromedicine at the Medical Center
A multimillion dollar gift from Ernest J. Del Monte, one of Rochester's hometown entrepreneurs, promises to launch the Medical Center's neuromedicine program into a nationally recognized, comprehensive center for investigating and treating neurological conditions such as Alzheimer's disease, Parkinson's disease, muscular dystrophy, stroke, and trauma to the brain and spinal cord. Read more ...
Kennedy Center Spotlight Shines on Eastman Musicians
Arabesque Winds, an award-winning woodwind quintet, will represent the Eastman School at the John F. Kennedy Center for the Performing Arts in the Center's prestigious Conservatory Project. The ensemble will perform a free public concert at the center on Friday, May 22. Last month, Arabesque Winds won the Coleman-Saunderson Prize for Woodwinds and Brass in the 63rd annual Coleman Chamber Ensemble Competition. Read more ....
Health Insurance Selection Process for 2009-10
Don't be charged for the wrong insurance on your student's July tuition bill. All full-time students must complete the online Health Insurance Selection Process by June 30 to ensure correct billing in July. Students need their Net ID and password to complete the process. Information about health insurance options can be found on the UHS Web site.
Red Line Saxophone Quartet Wins Fischoff Gold Medal
For the second time in less than two months, the Red Line Saxophone Quartet has taken home a top honor from a major national chamber music competition. The ensemble of Eastman musicians was awarded a Gold Medal in the senior wind division of the 2009 Fischoff Chamber Music Competition, held May 8 to 10 at the University of Notre Dame. Read more ...
Eastman Musicians Win DownBeat Student Music Awards
DownBeat magazine has named the Eastman New Jazz Ensemble as the best college big band in its 32nd annual music awards issue. The publication also chose a composition by Eastman musician Jeremy Siskind as one of the best original songs. The awards are announced in DownBeat's June issue. Read more ...
Funny, Outlandish Films Shine at Gollin Festival
The Gollin Film Festival showcases the best student work at the University. "This year's competition yielded an especially broad range of films, and it attracted an unprecedented volume of submissions from women," says Sharon Willis, director of the Film and Media studies Program, of the 15 films selected for the festival on April 30. Read more...
Study Abroad in Spring 2010
The Center for Study Abroad is now accepting proposals from students who plan to study abroad during the Spring 2010 semester. The center is open all summer, and counselors can work with students via phone, (585) 275-7532, and e-mail. Regular passport drives will be held to allow students to get their passports as part of the Get a Passport: Study Abroad program.
What Do You Want to See in University Bookstores?
University bookstores want your ideas for Rochester-based items to offer at the stores. E-mail Maria Ferrante with your suggestions.
Business Model Competition Winners Selected
Polynet Technology, a team including biomedical engineering majors Cheryl Blechman '09, Woojin Han '09, Alvin Lomibao '09, and Charity Wallace '09, took third place in third annual Mark Ain Business Model Competition. Their project involved developing a temperature-dependent shape-memory polymer for an artificial intervertebral disc, which would ultimately treat patients with degenerative disc disease and lower back pain. The team won a $1,000 prize. The winners were announced May 14.
Summer Schedules Begin
Summer hours for dining halls and bus shuttle schedules begin May 18.

ADVICE
'The Internship Imperative'
Burt Nadler, assistant dean and Career Center director, says students should complete at least two internships during their undergraduate years. Read more ...
TEACHING
How I Teach
My studio courses do not focus as much on how to make art but why to make art.Through varied processes my courses provide students the opportunity to discover their own values, their views of themselves, their cultures, and the societies in which they live.—Allen C. Topolski, associate professor of art and a past recipient of a Goergen Award for Distinguished Achievement and Artistry in Undergraduate Teaching. Read more ...

FINANCIAL AID
Changes Will Help Meet Students' Needs
The Financial Aid Office is using focus group feedback to make changes that will better meet the needs of students. Read more ...
MAKING HEADLINES
'Nanocrystals Show Potential for Cheap Lasers and New Lighting'
U.S. News & World Report (May 11)
Researchers at the University and Eastman Kodak Company report in Nature they've created a nanocrystal that constantly emits light. The breakthrough may open the door to dramatically less expensive and more versatile lasers, brighter LED lighting, and biological markers that track how drugs interact with cells at a level never before possible.

'Estrogen Vital to Hearing'
UPI (May 6)
Raphael Pinaud, assistant professor of brain and cognitive sciences, talks about a study he and colleagues Liisa Tremere and Jin Jeong conducted that indicates the hormone estrogen plays an important role in how the brain processes sounds. "We show that estrogen plays a central role in how the brain extracts and interprets auditory information," Pinaud says.
---
About Parents Buzz
Parents Buzz is produced by University Communications, Parent Relations, and the Parents Program. It is e-mailed monthly to parents of undergraduates at the College and at the Eastman School of Music. View issues online at www.rochester.edu/parentsbuzz. Direct feedback and questions to parentsbuzz@rochester.edu.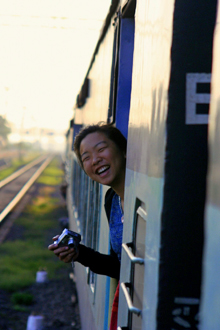 The winners of Rochester Review's first Study Abroad Photo Contest were named this month, and the winning photos appear in the May/June issue of the magazine. Rochester students who studied abroad during the 2007-08 academic year were invited to submit photos documenting their experiences. This photo, taken in India by Sarah Rogers '09, won an honorable mention. See a slideshow of winners online.
CALENDAR
Parents: You're Always Welcome
Parents of current College and Eastman students, as members of the University community, are regularly invited to regional alumni programs. Visit the regional calendar for details and registration information.
Regional Events
Washington, D.C.: Eastman at the Kennedy Center. 6 p.m. May 22.
Philadelphia: Expanding Your Network, Multi-University Networking Event. 6 to 8 p.m. June 4.
Washington, D.C.: A Day of Science at NASA's Goddard Visitor Center. 10:30 a.m. June 7.
Chicago: A Rochester Night at the Ravinia Summer Festival. 6 p.m. July 24.
Boston: Rochester at Tanglewood: A Spectacular Evening of Music. 6:30 p.m. Aug. 1.
Boston: Pawtucket Red Sox vs. Rochester Red Wings. 5 p.m. Aug. 20.
Concerts
Dave Rivello Ensemble. 7:30 p.m. June 29.
Summer Carillon Recitals. 7 p.m. July 6, Todd Fair; July 13, Dennis Curry; July 20, Laura Ellis; July 27, Jeremy Chesman.
Mitzie Collins and Friends. 7:30 p.m. July 15.
More events listed on Eastman's concert calendar and the University Events Calendar.
SPORTS
Yellowjackets Away
Track: May 21-23, NCAA Championships. Marietta, Ohio.
Year in Review
Rochester teams won four conference titles this year. The men's soccer team repeated as the champion of the University Athletic Association. The squash team repeated as the Liberty League champion. In March, the baseball team won the UAA title for the first time in school history. In April, the softball team won its third consecutive Liberty League title.
Several teams were ranked nationally by either their respective coaching organizations or by the media, including women's and men's basketball, squash, men's and women's soccer, women's indoor track and field, baseball, softball, and golf.
For a full schedule: www.rochester.edu/athletics.
What's It Like?
See what it's like today in Rochester. Check out the River Campus Web cams. Or view today's forecast.
Maps & More
View maps of the University and take a virtual tour.
Planning a visit? There's a lot to do and see in Rochester.
Helpful Links
Arts, Sciences, and Engineering