Kearns Center: Forging a New Path for Minorities into Science, Engineering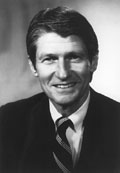 Kearns
A new effort to recruit and retain underrepresented minorities pursing graduate degrees in the sciences and engineering at the University is taking its inspiration from a longtime champion of improving diversity in education and the workplace.
Officially announced during Meliora Weekend, the David T. Kearns Center for Leadership and Diversity in Science and Engineering aims to radically increase the numbers of students of color who earn master's and doctoral degrees in those fields.
The center—named after Kearns '52, a 30-year member of the Board of Trustees, retired Xerox CEO, and a former deputy secretary of the U.S. Department of Education—eventually will house programs in support of students from high school through the doctoral degree, initiating what organizers hope will be a transformation in higher education on a national scale.
"There is a critical need in this country to educate and train scientists and engineers of color," said University Trustee Francis L. Price '74, '75S (MBA). "That is why the concept of the Kearns Center has been so personally important to me."
Price, a successful African-American businessman who is CEO of Q3 Industries based in Columbus, Ohio, and Anaheim, California, has been a driving force behind the establishment of the Kearns Center.
He and President Jackson organized an honorary committee of noted business, education, and government leaders who know and admire Kearns.
The Kearns Center will be overseen by William Scott Green, dean of the College, and Kevin Parker, dean of the School of Engineering and Applied Sciences. The center will be administered by Beth Olivares, who leads the Ronald E. McNair Post-Baccalaureate Achievement Program.
For more on the announcement, visit www.rochester.edu/pr/News/NewsReleases/general/dkearns.html.
Maintained by University Public Relations
Please send your comments and suggestions to:
Rochester Review.