TEN INDUCTED INTO HALL OF FAME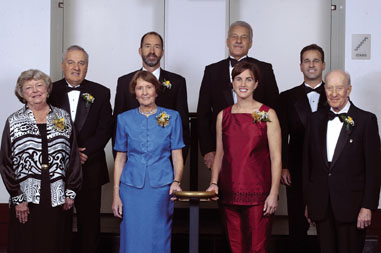 INDUCTEES:(back row, left to right): Eugene Nicandri, Reed Martin, Philip Yurecka, and Mark Palvino; (front row, left to right): Jeanne Cramer Armstrong, Patricia Norris Anderson (accepting for H. Scott Norris), Jill Decker Ogden; and Halford Johnson.
Ten former athletes were inducted into the University's Athletic Hall of Fame during Meliora Weekend. The 2002 class included:
Jeanne Cramer Armstrong '50—In an era when there were no intercollegiate sports for women, Armstrong played both field hockey and basketball for Rochester and led both teams to four undefeated seasons. An experienced golf course rater, she has won several golf championships and served as an alumni representative for the University in the southern New Jersey area.
Halford Johnson '54—A member of the freshman football, basketball, and baseball teams, Johnson lettered in basketball and baseball and was sports editor of the student newspaper. He has aided in scouting and recruiting to Rochester and serves as a member of the Garnish Scholar-Athlete Committee, which recognizes athletes for their academic accomplishments, and on the Garnish Awards Committee.
Thomas Jones Jr. '61—Jones played No. 1 on the squash team and went undefeated for three years, also winning the Rochester Men's Squash Championship three times. He was selected as part of the 15-man U.S. team that played Canada for the Lapham Cup in 1960. A four-time New York City doubles champion after graduating, he has won more than 75 tournaments. He founded Squash News and is chairman of the Olympic Committee for the United States Squash Racquets Association.
Reed Martin '75—Martin holds Rochester soccer records for most goals scored in a single season (18) and in a career (41). He was named team MVP during his junior and senior years and served as team captain for his senior year. He also played on two intramural basketball championship teams and won the under-six-foot one-on-one tournament in his junior year. The chief operating officer of Wendt-Bristol, he is married to Rebecca Kantor '75.
Eugene Nicandri '60—The quarterback who started every game in his college career led the team to a 20—4 record over three years, including the second perfect season in Rochester's history in 1958. He threw 36 touchdown passes in 29 games and ranks fourth in career touchdown passes. He practiced law for 20 years and has been county judge of St. Lawrence (New York) County since 1985.
H. Scott Norris Jr. '49—Norris lettered in four varsity sports but made his mark in basketball where he teamed with John Donohue '51 as one of the University's most prolific scoring combinations. An active alumnus who served on the Trustees' Council, as chairman of the board of managers for Strong Memorial Hospital, and as director of the Memorial Art Gallery, he was inducted posthumously.
Jill Decker Ogden '89—A four-year letterwinner in women's soccer, Ogden was part of both NCAA Division III national championship teams in 1986 and 1987. She was named the NCAA Freshman of the Year in 1985 and All-Station for four years. She was nominated as Local College Sportswoman of the Year in 1989 and received the Merle Spurrier Award and the Lysle (Spike) Garnish Scholar Award. She is a pediatric dentist in Westminster, Colorado.
Mark Palvino '85—Palvino started every game in his college football career, playing cornerback in his first two seasons. He was the team's interception leader as a freshman and moved to wide receiver for his next two years. He earned All-ECAC honors in his senior year. Palvino set two receiving records and his 756 yards receiving in a season is the third-highest total in Rochester history. He runs a $15 million sales division for Zygo Corporation in Santa Clara, California.
Nancy Melvin Taylor '86—A four-year starter at forward for the field hockey team, Taylor set records for most goals (17), points (23), and game-winning goals (six) in one season as well as most career goals (50) and career points (64). She led the team to a four-year record of 40—25. The team won two state tournament titles and appeared in two ECAC tournaments, winning one. She became the University's first All-American in field hockey in 1984 and was named All-New York State in several seasons.
Philip Yurecka '65—Yurecka started every game for the men's basketball team over a three-year varsity career and scored in double digits for 54 of the 56 games he played. He broke the existing Palestra scoring record with 35 points in a win over St. Lawrence. With the team's record of 28–8 over his last two years, he earned recognition in Sports Illustrated for leading the nation in field goal percentage. He is director of major gifts and planned giving at Georgia Southern University.
Maintained by University Public Relations
Please send your comments and suggestions to:
Rochester Review.