In this week's edition . . .

Observatory a window to study high-energy gamma rays
Book examines needs of Rochester's Latina/o students
Grants help transition technical ideas to the marketplace
"Smart glasses" provide real-time feedback
NIH conference examines science of team science
Introducing Ruchira Singh
In the news:
Lynne Maquat on inhibiting nonsense-mediated mRNA decay to control breast cancer
Alina Monteagudo and colleagues on a new therapeutic target for brain tumors
Jonathan W. Friedberg and Jennifer Kelly on lack of vitamin D and follicular lymphoma
Diana Fernandez on effectiveness of workplace health programs
Chad Heatwole gets grant to support spinal muscular atrophy research
Congratulations to Robert Dirksen, Ehsan Hoque, Regina Compton, Emma Grygotis, and Diane Dalecki

---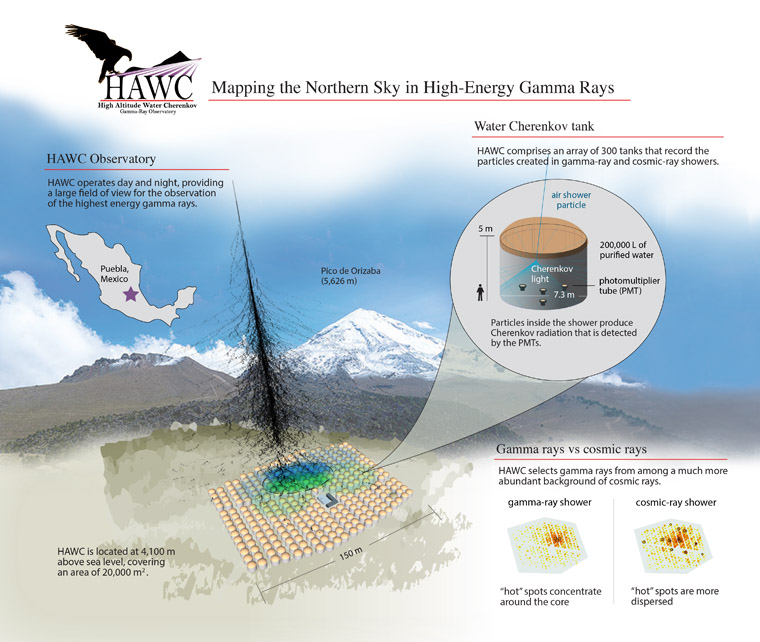 Infographic explaining how High Altitude Water Cherenkov (HAWC) Gamma Ray Observatory will detect gamma rays. (Image courtesy of HAWC)
Observatory a window to study high-energy gamma rays and their sources
A new observatory in Mexico promises a clearer picture than ever before of the most energetic phenomenon of the known universe. And Segev BenZvi, Assistant Professor of Physics, and his students couldn't be happier.

"We want to understand the incredibly violent explosions that generate high-energy gamma rays and cosmic rays, like supernova remnants and gamma ray bursts," said BenZvi. "But we also hope to observe something totally unexpected."

The High Altitude Water Cherenkov (HAWC) Gamma Ray Observatory is beginning an all-sky search for very high-energy gamma rays, which scientists believe will greatly expand the catalog of known gamma ray sources.

Located 13,500 feet above sea level on the slopes of Mexico's Volcán Sierra Negra, HAWC features 300 detectors — huge tanks each containing 50,000 gallons of ultrapure water with four light sensors anchored to the floors. When gamma rays or cosmic rays reach Earth's atmosphere they set off a cascade of charged particles, and when these particles reach the water in HAWC's detectors, they produce a cone-shaped flash of light known as Cherenkov radiation.

The light sensors record each flash. By comparing nanosecond differences in arrival times at each light sensor, scientists can reconstruct the angle of travel for each particle cascade.

BenZvi has been a member of the HAWC team for five years and participated in the construction, software design, and data analysis of the experiment. Two of BenZvi's graduate students, Mehr Un Nisa and Chang Rho, and two undergraduates working with him are also part of the Rochester team working on HAWC.

BenZvi has received a Department of Energy (DOE) grant for this work, specifically related to dark matter. "We will use HAWC to search for 'anomalous' gamma rays and cosmic rays that don't seem to be produced by normal astrophysical processes," he said. "They might be produced by the decay of dark matter." Read more . . .


Do you have an interesting photo or other image that helps illustrate your research? We would like to showcase it. Send a high resolution jpg or other version, along with a description of what it shows, to bmarcotte@ur.rochester.edu.
---
Book examines needs of Rochester's Latina/o students
Research by current and former Warner School faculty and students has led to publication of The Plight of Invisibility by Donna Marie Harris and Judy Marquez Kiyama, which addresses the educational challenges confronted by Latina/o students in Rochester's public schools.

The book informs the use of a community-based research approach and offers a new perspective (Latinas/os themselves) to understand students' circumstances in schools as they navigate culturally and socially unresponsive social systems that are often barriers, rendering the students and their families invisible. It also offers examples of community programs and resources that address student needs.

The study that led to the book, "School Experiences of Latina/o Students: A Community-based Study of Resources, Challenges and Success," was begun in 2008 as a result of a partnership between the Ibero-Action League and University researchers. It was co-directed by former Warner faculty members Harris and Kiyama.

A book signing and community reception will be held from 6 to 8:30 p.m. Friday, April 10, at the Barnes & Noble at University of Rochester, 1305 Mt. Hope Ave. Read more . . .

---
Training, grants help transition technical ideas to the marketplace
Got a technical business idea? Students, faculty, staff, and alumni are invited to apply to Cohort I of the National Science Foundation (NSF) I-Corps Site program at the University.

The program provides entrepreneurial training (two required workshops) and $1,000 to $3,000 grants to enable teams to transition their technical ideas into the marketplace. Cohort I will take place during the 2015 fall semester. Application materials, including an Itemized Financial Plan on how the funds will be used, are due Monday, April 20 at noon via email to natalie.antal@rochester.edu.

Learn more online about the program details and eligibility and guidelines.

---
"Smart glasses" provide real-time feedback to speakers
Researchers from the Human-Computer Interaction Group at the University have developed an intelligent user interface for "smart glasses" that gives real-time feedback to the speaker on volume modulation and speaking rate, while being minimally distracting.

Ehsan Hoque, Assistant Professor of Computer Science (see Congratulations below) and his students M. Iftekhar Tanveer and Emy Lin describe the system, named Rhema after the Greek word for "utterance," in a paper that was presented this week at the Association for Computer Machinery's Intelligent User Interfaces (IUI) conference in Atlanta.

After user-testing, the team settled on delivering feedback every 20 seconds in the form of words ("louder," "slower," nothing if speaker is doing a good job, etc.)

Hoque used the system himself while giving lectures last term. "My wife always tells me that I end up speaking too softly," he says. "Rhema reminded me to keep my volume up. It was a good experience." The researchers believe that live feedback displayed in a private and non-intrusive manner could also be useful for people with social difficulties (e.g., Asperger syndrome), and for people working in customer service.

Rhema is freely available for download from the team's website. Read more here.

---
NIH conference addresses the science of team science
"There has been a transformation in the scientific community about the importance of teams in the development of solutions to our most complex problems," Harriet Kitzman, Professor of Nursing and Senior Associate Dean for Research, noted recently. (Read more . . .)

The SciTS 2015 Conference in Bethesda, Md., June 2-5 will tackle this topic by bringing together leaders in the Science of Team Science field, including researchers engaged in team-based science, institutional leaders, policy makers, and federal agency representatives who support collaborative research.

Central themes include effective practices and policies for enhancing team science as well as hot topics and emerging trends such as team diversity, big data, citizen science, open data, and research networking.

Registration for the SciTS 2015 Conference is now open. All attendees must register, though there is no registration fee for the conference.

---
Introducing a new faculty member . . .
Ruchira Singh has joined the Department of Ophthalmology as an assistant professor. The overall objective of her research is to find treatments and possibly cures for retinal and neuro-degenerative diseases. Her research program focuses on using patient-derived human induced pluripotent stem cells (hiPSCs) to study the molecular mechanism of specific retinal and neurological diseases and applying that knowledge to pharmacologically target certain retinal disorders in patient-derived cells. Current projects in her laboratory use patient-derived hiPSCs for 1. Studying the role of individual cell layer and intercellular interaction in retinal physiology and disease development 2. Delineating the disease mechanism(s) of inherited retinal degenerative disease(s) and age-related macular degeneration 3. Elucidating the role of gene-environment interaction in the pathophysiology of macular degeneration. Singh received her PhD in Physiology from Kansas State University in 2008. Read more about her projects here.

---
University research in the news
A University of Rochester team has found a way to make chemotherapy more effective by stopping a cellular quality-control mechanism, according to a study published in Nature Communications. The mechanism is known as NMD (nonsense-mediated mRNA decay). Death of breast cancer cells was hastened when they were exposed to a molecule that inhibits NMD prior to treatment with a drug called doxorubicin, researchers found. The team led by Lynne E. Maquat, Professor of Biochemistry and Biophysics and Director of the Center for RNA Biology, acknowledges that the work is in the early stages but believes the data provide insights that could lead to new treatment strategies for cancer patients in the future. Read more . . .

Alina Monteagudo, a graduate student in Pharmacology and Physiology, and her colleagues in the laboratory of Gail Johnson, Professor of Anesthesiology, have identified transglutaminase 2 (TG2) — a multifunctional protein that can regulate cell adhesion and motility —as a possible new chemotherapeutic target for treating glioblastoma multiforme, the most common primary brain tumor in adults, and among the most deadly. The researchers found that NC9, a novel drug specific for transglutaminases that was made by a collaborator, Jeffrey Keillor at the University of Ottawa, effectively inhibited TG2 and decreased GBM cell growth and survival. Read more . . .

A Wilmot Cancer Institute investigation is believed to be the first to report that lack of vitamin D is a potentially modifiable risk factor for follicular lymphoma, a type of cancer. The study, published by the Journal of Clinical Oncology, found that people with lower vitamin D levels prior to treatment for follicular lymphoma succumb to the disease or face relapse earlier than patients with sufficient vitamin D levels in their blood. Jonathan W. Friedberg, Director of the Wilmot Cancer Institute, and Jennifer Kelly, an Epidemiologist at the University, led the collaborative study between SWOG, a component of the NCI-sponsored National Clinical Trials Network, and the Lymphoma Study Association (LYSA), based in France. Read more . . .

Workplace wellness programs can be effective in helping people lose weight by providing healthier food choices and increasing opportunities for physical activity, particularly if these efforts are designed with the input and active participation of employees. That is the finding from a two-year project — the results of which appear in the American Journal of Public Health — that successfully reduced the number of people considered overweight or obese by almost 9 percent. "Worksites are self-contained environments with established communication systems where interventions that modify food options and provide physical activity have the potential to reach large numbers of adults," said Diana Fernandez, Associate Professor of Public Health Sciences and lead author of the study. "This study shows in particular that when employees are empowered to help shape wellness programs, these programs appear to result in meaningful improvements in health." Read more . . .

Chad Heatwole, Associate Professor of Neurology, has received a $140,000 research grant from Cure SMA (spinal muscular atrophy) to support his project "Development of a Clinically Relevant Outcome Measure for SMA Therapeutic Trials." By developing a new and accurate way to report clinical trial outcomes of adults who suffer from SMA, Heatwole hopes to increase progress in clinical trials as well as improve the analysis of results. Read more . . .

---
Congratulations to . . .
Robert T. Dirksen, who will serve as chair of the Department of Pharmacology and Physiology effective July 1, 2015. Dirksen, who has conducted research on the mechanisms of muscle diseases, including muscular dystrophy and muscular fatigue and atrophy, has taught medical and graduate students at the University since 1998 and is known for his superb track record of federal funding, his collaborative nature and his ability to inspire and engage trainees and colleagues alike. Read more . . .

Ehsan Hoque, Assistant Professor of Computer Science (see "Smart glasses" above), who has received an NSF CRII (Pre-CAREER) award — a new initiative for faculty in computing within two years of their appointment — in the amount of $170,000. He is developing a framework that allows anyone to practice public speaking skills using a computer browser. Read more . . .

Regina Compton, a PhD candidate in Musicology, who has received the International Handel Research Prize for her Ph.D. dissertation, "The Recitativo Semplice in Handel's Operas for the First Royal Academy of Music, 1720-1728," (advised by Roger Freitas, Chair and Associate Professor of Musicology). The award comes from the Händel-Gesellschaft (Handel Society) in Halle, Germany.

Emma Grygotis, a second-year graduate student in Pharmacology and Physiology, who was the recipient of an Outstanding Student Presentation Award at the 2015 Therapeutic Ultrasound Winter School held recently in Les Houches, France. A group of 20 professors and 50 students from around the world discussed topics in the rapidly expanding field of therapeutic ultrasound. Grygotis presented an overview of her studies on developing ultrasound technologies to fabricate bioactive collagen hydrogels for wound repair. Read more. . .

Diane Dalecki, Professor of Biomedical Engineering and Director of the Rochester Center for Biomedical Ultrasound, who has been elected Vice Chair of the Bioeffects Committee of the American Institute of Ultrasound in Medicine (AIUM). The Bioeffects Committee provides information and guidance to the AIUM on matters relating to the biological effects and safety of ultrasound. Following completion of a 2-year term as Vice Chair, Dalecki will become Chair of the Committee, a post she previously held from 2001-2003.

---
PhD dissertation defenses
Hairong Shang-Butler, Warner School, Teaching and Curriculum, "Great Expectations: A Qualitative Study of How Chinese Graduate Students Navigate Academic Writing Expectations in U.S. Higher Education." 3 p.m., Monday, April 6, 2015, LeChase Hall 215. Advisor: Nancy Ares.

Patricia Waters, Warner School, Teaching and Curriculum, "1+1=3: Pursuit of the Public Good in the Neoliberal University." 1 p.m., Friday, April 10, 2015, LeChase Hall 215. Advisor: David Hursh.

---
Mark your calendar
April 8: Lily Koppel, author of The Astronaut Wives Club, part of the River Campus Libraries' Neilly Lecture Series. 7 p.m., Hawkins-Carlson Room of Rush Rhees Library. Her book is a behind-the-scenes look at the lives of the women who stood beside America's Mercury Seven astronauts.

April 9: Whipple Lecture: "Skin Stem Cells: Their Biology and Promise for Medicine," presented by Elaine Fuchs, Rockefeller University. Noon to 1 p.m., Class of '62 Auditorium.

April 10: 4th Annual Medical Scientist Research Symposium. "Stem Cells in Silence, Action and Cancer," keynote address by Elaine Fuchs, Rockefeller University. Student poster session and oral presentations. 1-4:30 p.m., Class of '62 Auditorium and Flaum Atrium.

April 10: Community reception and book signing for The Plight of Invisibility, which addresses the educational challenges confronted by Latina/o students in Rochester's public schools. 6 to 8:30 p.m. Barnes & Noble at University of Rochester, 1305 Mt. Hope Ave. Read more . . .

April 15: Celebration of the Seward Project, 3 to 5 p.m. in the Digital Humanities Center. Keynote address by Beth Luey, Past President of the Association for Documentary Editing, and presentations by students involved in the project. Read more . . .

April 17: "RNA and the New Genetics: From Bench to Therapeutics," the 17th Annual Marvin J. Hoffman Lecture by Lynne E. Maquat, Director of the Center for RNA Biology. Noon-1:00 p.m., Class of 1962 Auditorium. Complimentary boxed lunch provided. RSVP by April 8 to 585-273-5937 or apullen@admin.rochester.edu

April 20: "Ice Melt, Sea Level Rise and Superstorms: Evidence from Paleoclimate Data, Climate Modeling, and Modern Observations that 2°C Global Warming is Dangerous," presented by James Hansen, Earth Institute at Columbia University. Center for Earth and Envivonment seminar series. 4-5 p.m., Lander Auditorium, Hutchison Hall. Reception to follow.

April 20: Deadline to apply to Cohort I of the National Science Foundation (NSF) I-Corps Site program, which provides entrepreneurial training and grants of $1,000 to $3,000 to enable teams to transition their technical ideas into the marketplace. Send to natalie.antal@rochester.edu.

April 20: AS&E workshop on applying for the NSF Faculty Early Career Development (CAREER) Program. 9 to 11 a.m., Gamble Room of Rush Rhees Library. RSVP by April 14, 2015. For additional information please contact assistant deans Debra Haring or Cindy Gary.

April 20: Initial applications due for Environmental Health Sciences Center (EHSC) Pilot Projects. Click here for more information.

April 26: Deadline to apply for Falling Walls Lab competition, to be held May 19 at Sloan Auditorium. Any grad student, post-doc, scientist or early career faculty member, born on or after Nov. 8, 1980, is eligible. Apply here. Questions? Contact fallingwallsrochester@rochester.edu.

---
Please send suggestions and comments to Bob Marcotte. You can see back issues of Research Connections, an index of people and departments linked to those issues, and a chronological listing of PhD dissertation defenses since April 2014, by discipline.