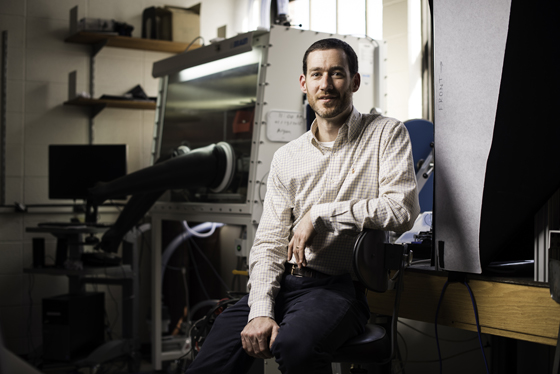 Douglas Kelley in his lab in the Hopeman Building. (Photo by J. Adam Fenster/University of Rochester.)
NSF CAREER award: Liquid metal batteries that could power a city
(From February 2015 to February of this year, three Hajim School Faculty members — Danielle Benoit of Biomedical Engineering, Douglas Kelley of Mechanical Engineering, and Nick Vamivakas of Optics — received Faculty Early Career Development (CAREER) awards, the most prestigious grants given by the National Science Foundation to junior faculty members. This is the second of three parts looking at what they're doing with their awards, and their tips for junior faculty members interested in applying for a CAREER award.)
Douglas Kelley
, whose expertise is in fluid dynamics, says "one of the core challenges, and maybe the biggest challenge of our time, is to learn to live sustainably" by developing reliable sources of alternative energy.
His CAREER award will further Kelley's research on the
use of liquid metal batteries as a "technology that could absolutely disrupt how the world's power grids work
— and I mean 'disrupt' in a positive, innovative sense.
"We want our energy grids to be stable, but to keep them stable with lots of intermittent wind and solar generation, you will
also need stored energy that can charge and discharge seamlessly on the grid to ensure efficient operation
."
One current approach to providing energy storage on that scale is to fill shipping containers with thousands of liquid metal batteries the size of coffee cups, and create stacks of containers bigger than a house, "because that's what it takes to store enough energy for neighborhoods and cities," said Kelley, an Assistant Professor of Mechanical Engineering.
Kelley will use his CAREER award to study
how the flow of fluids in those liquid metal batteries affects their performance
.
"In our lab we can make quite detailed measures of what the flow is doing in a battery by using ultrasound," Kelley noted. "But when these things are operating in the field, it's not in the budget to put an ultrasound transducer on every single battery; it would be too expensive."
Kelley hopes to
create mathematical models, based on detailed measurements taken in the lab, which could then be used to predict battery efficiency and stability in the field
, based solely upon what an operator would know: how much current is running, the amount of charge, the temperature.
"The other big aspect of this is to know if and how solids are forming inside liquid batteries," Kelley added. "That can cause an electrical short across the battery internally, and it would no longer be usable."
Currently, it is easier to prevent solids from forming when liquid batteries are kept the size of coffee cups.
"I think the mixing work we're doing could explain that and
enable larger cells
," Kelley said. "Larger is nicer because you don't have to spend as much money on all those cases."
(Kelley's CAREER award will support the equivalent of 1.5 PhD students a year to work on the liquid metal battery project in his lab. Students interested in applying can contact him at
d.h.kelley@rochester.edu
Click
here
to see his research website.)
Program manager, PhD advisor provided pivotal advice
Kelley
got a lot of good advice and feedback from colleagues and peers
en route to being awarded an NSF CAREER award on his first submission.
Weekly grant-writing sessions for junior faculty, launched by the Department of Mechanical Engineering last spring, were helpful. So was the opportunity to read the submission of a previous Hajim School CAREER award recipient, Danielle Benoit of Biomedical Engineering.
Especially pivotal were two conversations that helped Kelley identify his topic, and how he would present it.
Kelley had previously circulated grant proposals involving liquid metal batteries among three different programs at NSF. Eventually a panel even recommended one of them — but not enough funds were available.
Kelley paid a personal visit to the program manager, who suggested that Kelley
make it clearer in his proposal that his ideas and research were indeed original
, not just borrowed from his postdoctoral advisor. In fact, the program manager suggested, Kelley's innovative ideas on the topic would make a strong CAREER proposal.
"That settled it for me," Kelley said.
Last summer he visited Dan Lathrop, his PhD advisor at the University of Maryland, who "catalyzed a lot of my thinking," Kelley said. Lathrup urged him to structure his CAREER proposal so the
"core ideas" would be clearly explained to reviewers within the first two pages
.
"I worked very hard to write it not like a scientific paper, and not like a mystery novel, but as early as possible, as near to the front of the document as I could, to get those core ideas into the reader's mind and explain the details later," Kelley said.
Kelley's advice for junior faculty interested in applying for a CAREER award?
"
You need a good idea, well crafted figures and preliminary data to support it, and a Broader Impacts section that is carefully thought out. The Kearns Center is whiz-bang good for helping you with the Impacts section.
"
Click
here
and scroll down to view the video of an AS&E workshop on applying for NSF CAREER awards, held on April 20, 2015.
Do you have an interesting photo or other image that helps illustrate your research? We would like to showcase it. Send a high resolution jpg or other version, along with a description of what it shows, to bmarcotte@ur.rochester.edu.
---
PI Oversight: Free Study Start-up Consultation can get your team off to a good start
(This is part of a series of articles to help principal investigators understand their role in ensuring that human subject protection requirements are met in their studies.)
As a Principal Investigator, either new to research or with years of experience, you will at some point, have the experience of "shooting yourself in the foot" somewhere along the way. Maybe you inadvertently included a procedure in your protocol that you did not intend to perform. Maybe you didn't realize you needed a Delegation of Authority Log for your study. Or maybe you forgot to include height as a data collection point on your case report form.
To avoid these challenges and
to set you and your study team on the road to achieve compliance at the start of a study, consider taking advantage of the free Study Start-Up Consultation service
available through the Office for Human Subject Protections' Division of Quality Improvement (OHSP-QI).
Upon request, prior to initiating IRB-approved research, OHSP-QI staff is available to
provide guidance on best practices for meeting your regulatory responsibilities
, as they relate to the conduct of a specific study. This includes:
1. Evaluating the study documentation (e.g. regulatory file & case report forms) you've prepared for the implementation of your study;
2. Identifying processes for ensuring protocol adherence; and
3. Providing tools and resources to support training, mentoring and research staff development.
Interested in taking advantage of this service or have questions? Contact OHSP-QI at
ohspqi@urmc.rochester.edu
.
(Stay tuned for periodic tips for PIs in upcoming issues of Research Connections.)
---
Cross-border financing squeezes domestic banking sector
While cross-border financing benefits some institutions, not all institutions benefit equally. According to new research from the Simon Business School,
competition from overseas financial markets can impact the domestic banking sector
. The study, titled "Cross-Border Financing by the Industrial Sector Increases Competition in the Domestic Banking Sector," predicts that
access to cross-border financing by multinational firms reduces the firms' reliance on domestic banks, thereby leading to lower income and greater competition
in the domestic banking sector.
"Our results suggest that while financial reforms such as market liberalization offer financing benefits to firms, they also impose costs on domestic banks by reducing their lending income and inducing them to assume more risk," said
Sudarshan Jayaraman
,an Associate Professor of Accounting and co-author of the study. "The overall desirability of these financial reforms involves a delicate tradeoff between imposing costs on the banking sector and rendering benefits to the industrial sector."
Read more . . .
---
Eastman celebrates 100th anniversary of Milton Babbitt
Milton Babbitt, one of the most extraordinary American composers and musical thinkers of the twentieth century, will be honored with a concert and colloquium at the Eastman School on April 29.
A concert by OSSIA, Eastman's student-led new music ensemble
, will present four of Babbitt's works starting at 7 p.m. in Hatch Recital Hall.
Earlier in the day, at 3:30 p.m. in ESM 305,
three scholars of Babbitt's music will discuss
aspects of his music and legacy.
Andrew Mead
, author of
An Introduction to the Music of Milton Babbitt
, will present on Babbitt's "Game of Tones," investigating the sense of play his music embodies.
Joseph N. Straus
of The Graduate Center of the City University of New York will discuss Babbitt's analytical work, which has become a basis for contemporary American music theory.
Zachary Bernstein
, Assistant Professor of Music Theory at the Eastman, will explore the delightful and paradoxical sense of motion Babbitt's music inspires in its listeners.
Read more . . .
---
'Games for Curious Scholars' mixer connects researchers
A casual social event designed to
foster interdisciplinary connections between those interested in video games and research
will be held from 5 to 7 p.m. today at the Playhouse/Swillburger, 820 S. Clinton Ave. RSVP to Warner School doctoral student
Kristana Textor
by e-mail or on the Games for Curious Scholars
Facebook page
.
---
'Reclaim your connectivity' at the Digital Room
One of this year's senior capstone projects in Digital Media Studies is a Digital Room — a four-walled immersive and interactive room that
explores digital connectivity by way of perpetual commentary, media production, creative evolution, and the physicality of our technological dependence
. It will be open from noon to 4 p.m., Friday, April 22 and Saturday, April 23 in Rettner Hall's third floor video studio.
"We are always connected. The digital and social media that permeate our everyday are intertwined with our identities," says Carolyn Sohmer '16. "In the words of cultural analyst, Sherry Turkle, 'we continually forget that we clean up our messy and demanding human relationships with technology, sacrificing conversation for mere connection.'
We build our history in hashtag increments all too often at the expense of real forged connections
— the proven ones that enrich our lives, communities, and personal experience."
This exhibit, she adds, "
strives to bring the perpetual and otherwise embedded connectivity of its participants to the forefront of their consciousness, if only momentarily. Stop by the digital room to reclaim your connectivity
. Stay for the free cupcakes and a conversation with a real person."
---
Applications sought for Technology Development Fund
A new round of the
Technology Development Fund
has started. The fund provides faculty, staff, or students with up to $100,000 to develop their technology to a commercial endpoint. An invention disclosure filed with UR Ventures is required.
Pre-proposals are due Friday, May 6
, and can be submitted to
Omar Bakht
. New this round: non-inventor developers can propose to
develop technology that they did not invent
.
---
Applications due today for Falling Walls competition
To day is the deadline to apply for the University's preliminary Falling Walls competition, which will select a graduate student, postdoc, junior faculty member or young entrepreneur to represent the University at the international Falling Walls competition in Berlin, Germany, this fall. Register at the official Falling Walls
website
; contact Adele Coelho, Faculty Outreach Coordinator, at
adele.coelho@rochester.edu
for additional information.
---
Call for posters for Genetics Day
The 28th Annual Genetics Day, to be held 10 a.m. to 4:30 p.m. May 2 in the Class of '62 Auditorium and Flaum Atrium, will feature a lecture by Michael Levine, Director of the Lewis-Sigler Institute for Integrative Genomics at Princeton University.
Read more, and download the registration form for the poster session
here
. E-mail registration to
daina_bullwinkel@urmc.rochester.edu
by April 21. Sponsored by University Committee for Interdisciplinary Study.
---
Congratulations to . . .
Hyekyun Rhee
, Associate Professor of Nursing, who has been
named the Endowed Chair of Nursing Science
. Rhee, an associate professor since 2007,
leads several cutting-edge research projects to help children and teens manage their asthma
. Rhee has worked with other scientists to develop a mobile phone-based device that will help teens better monitor and track their symptoms to help manage their disease. She is also exploring ways to lower the high risk of asthma complications in urban youth.
Yitschak Biton
, a fellow in the Heart Research Follow-up Program, who
won a Young Investigator Award
at the American College of Cardiology's 65th Annual Scientific Session in Chicago. Biton received third prize in the category "Molecular and Cellular Cardiology" for his research on long QT syndrome. The Young Investigator Awards are given annually to physicians, scientists and students in residency or fellowship programs who show great promise and represent the future of cardiac research.
Read more . . .
---
PhD dissertation defense
Steven Gillmer
, Mechanical Engineering, "Resolution and Functionality Enhancements in Optical Metrology." 10 a.m., April 26, 2016, Hopeman 224. Advisor: Jonathan Ellis.
Ellie Carrell
, Physiology, "Short- and Long-term Roles for Orai1 in Skeletal Muscle Structure and Function." 1 p.m., April 26, 2016, Upper Aud, 3-7619. Advisor: Robert Dirksen.
---
Mark your calendar
Today:
Center for Integrated Research Computing (CIRC) Symposium. Tanzy Love from Biostatistics and Computational Biology will discuss variable selection methods for data clustering and demonstrate a new method with successful results. Caroline Thirukumaran from Public Health Sciences will show how big data can be used to evaluate the role of Medicare's Non-Payment Program in preventing hospital-acquired conditions. 11:30 a.m. to 1 p.m., Class of '62 Auditorium (URMC G-9425).
Today:
Talking about the Hard Stuff: An Intervention to Improve Communication in Advanced Cancer, presented by Ronald Epstein, Professor of Family Medicine. Noon to 1 p.m., Helen Wood Hall Auditorium (1w-304). Public Health Grand Rounds.
Today:
Reproducibility of Biomedical Research, presented by Lawrence Tabak, principal deputy director of the National Institutes of Health. 3-4 p.m., Class of '62 Auditorium (G-9425). Bioethics Lecture.
Today:
Deadline to apply for the University's preliminary Falling Walls competition, which will select a graduate student, postdoc, junior faculty member or young entrepreneur to represent the University at the international Falling Walls competition in Berlin, Germany, this fall. Register at the official Falling Walls
website
; contact Adele Coelho, Faculty Outreach Coordinator, at
adele.coelho@rochester.edu
for additional information.
Today and tomorrow:
Hard Coded Humanities, a two-day interdisciplinary conference organized by the Andrew W. Mellon Fellows in Digital Humanities, will challenge traditional distinctions between software and hardware in scholarly contexts. All events are free to attend. More information can be found
here
.
April 21:
2nd Annual Rochester Global Health Symposium. 8:30 a.m. to 5:30 p.m., Saunders Research Building. The call for posters and registration portal are available
here
.
April 21:
Deadline to register posters for 28th Annual Genetics Day, to be held May 2. Download registration form
here
. E-mail registration to
daina_bullwinkel@urmc.rochester.edu
.
April 29:
Colloquium and Concert, celebrating 100th anniversary of Milton Babbitt's birth, Eastman School.
Read more . . .
May 2:
Genetics Day, 10 a.m. to 4:30 p.m., Class of '62 Auditorium and Flaum Atrium. Lecture by Michael Levine, Director of the Lewis-Sigler Institute for Integrative Genomics at Princeton University. Poster session. Sponsored by University Committee for Interdisciplinary Study.
May 6:
Humanities Proposal Writing Workshop, to help faculty, postdocs, and graduate students (and staff who assist them) prepare compelling proposals to non-federal funders interested in advancing the Humanities and Humanistic or Interpretive Social Sciences. 9 a.m. to 4 p.m., Hawkins Carlson Room, Rush Rhees Library. Sponsored by the AS&E Dean for Research Office, under the umbrella of the University's Humanities Center. For more information and to register (required), click
here
.
May 6:
Preproposals due for University Technology Development fund, which awards winning applications from faculty, staff, or students up to $100,000 to develop their technology to a commercial endpoint. For more information or to submit preproposals, contact
Omar Bakht
.
---
Please send suggestions and comments to Bob Marcotte. You can see back issues of Research Connections, an index of people and departments linked to those issues, and a chronological listing of PhD dissertation defenses since April 2014, by discipline.