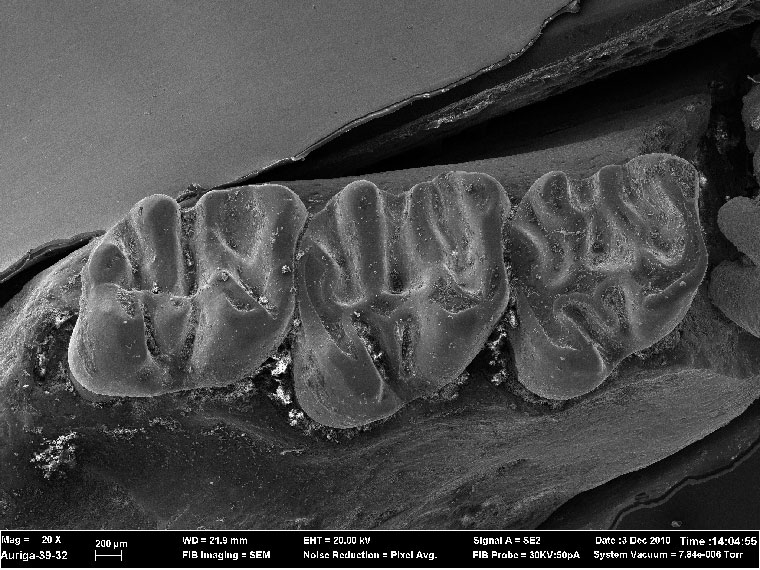 Images of research
This is a Scanning Electron Microscope (SEM) image of the teeth of a fossil rodent called Brachygaulus, which lived about 35 million years ago. Brian McIntyre, operations manager of the Integrated Nanosystems Center (URnano), captured this image for William Korth, a visiting professor at Nazareth College and expert in the petrified remains of rodents. "These were precious, one-of-a-kind samples from both museum collections and recent digs," McIntyre said. "Therefore imaging them was difficult and non-routine in nature." Learn more about URnano and how it can assist researchers at its new website.
Do you have an interesting photo or other image that helps illustrate your research? We'd love to showcase it. Send a high res jpg or other version, along with a description of what it shows, to bmarcotte@ur.rochester.edu.
---
Researchers in the news
Deeply concerned about significant federal budget cuts to research and higher education, President Joel Seligman joined 165 other university presidents and chancellors in calling on leaders in Washington to close what they call the "innovation deficit."

When Vera Gorbunova, Andrei Seluanov and their colleagues in the Department of Biology reported recently on the chemical that makes naked mole rats cancer-proof, it was widely covered, including articles in the New York Times, at BBC online and in Scientific American.

---
Congratulations to...
Neurologist Steven Goldman, at the Medical Center, for back-to-back findings recently. He was senior author of a study pinpointing the genetic traits of the cells that give rise to gliomas – the most common form of malignant brain cancer. He also was coauthor of another study showing how researchers have been able to mobilize the brain's native stem cells to replenish a type of neuron lost in Huntington's disease. …Two Medical Center researchers for grants from the American Cancer Society. Robert Gramling, associate professor of Family Medicine, Public Health Sciences, and Nursing, received $1.3 million to study palliative care consultations among people with advanced cancer and Aram Hezel, associate professor of Hematology/Oncology and vice chief of the division of Hematology/Oncology at the James P. Wilmot Cancer Center, received $720,000 to use a recently developed mouse model as a tool to further investigate Intrahepatic Cholangiocarcinoma (IHCC), a primary cancer of the liver with poor outcomes. Robert Holloway, who was appointed new chair of the Department of Neurology … Highland Hospital Chief of Medicine Robert M. McCann, who has been named a fellow of the Royal College of Physicians of Edinburgh (RCPE). … Sheree Toth, professor of psychology, associate professor of psychiatry, and the executive director of the University's Mt. Hope Family Center, who was recognized with the Outstanding Research Career Achievement Award from the American Professional Society on the Abuse of Children. .

---
Introducing a new faculty member
Rajeev Raizada, formerly a research scientist at Cornell University's Departments of Human Development and Psychology, has joined the Department of Brain and Cognitive Sciences as an assistant professor. He earned a PhD in cognitive and neural systems from Boston University. His research interests include the structure of neural representations and how they underlie behavior, individual differences in behavioral performance, and social and environmental effects on learning.

---
Points of pride
A record number of Medical Center specialties are ranked among the best in the nation in U.S. News & World Report's 2014 Best Hospitals guidebook. The six chosen represent the highest number of Medical Center programs ever to earn a seat in the magazine's list of the nation's top 50 in a single year, since U.S. News began ranking hospitals in 1989.

---
Did you know ...
The College deans and the Office of Undergraduate Research have announced a new undergraduate research grant program aimed at increasing and enhancing research opportunities for current University of Rochester undergraduate students. The program is funded initially at $50,000 per year. Large and small requests may be funded, though there will be some bias toward funding many smaller awards as opposed to few large ones. A common thread for successful proposals is that they create an undergraduate research opportunity that might not happen otherwise. Learn more about the program, along with the criteria used for proposal evaluation and instructions on how to apply.

---
Here to help you
Pivot is a robust proprietary research development tool to identify and connect funding opportunities to researchers. Pivot combines a comprehensive database of funding opportunities (worth an estimated $33 billion) with a unique database of three million pre-populated scholar profiles (including UR researcher profiles). Pivot is available to the entire University community, including faculty and students/trainees at all levels, as well as all staff. Registration is easy and requires only a University Net ID. The program is intuitive, easy to use and provides training documents and short videos for users.

---
Grant-writing tip
Each fellowship opportunity has guidelines sometimes called solicitations or announcements, but also referred to as Program Announcements (PA), Requests for Proposals (RFP), Funding Opportunity Announcement (FOA) or, for the U.S. Departments of Defense and Energy, Broad Agency Announcements (BAA). Note, however, it is important to use the most current program announcement. BEWARE: Past/old announcements are often archived and appear first in online searches

---
Worth pondering
At a recent SCORE seminar, a volunteer who often participates in clinical trials was generally very positive about the experience -- except for filling out all those informed consent forms. "I'll tell you I've read them if that's what you want to hear," she confided. "I skim most of the pages." In other words, direct, ongoing communication between researchers and their volunteer subjects is vital. Don't assume that participants will remember all the important details of a study protocol, just because they've been spelled out on a piece of paper. SCORE, by the way, stands for the Study Coordinators Organization for Research and Education.

---
Mark your calendar
Today: Deadline to submit abstracts for the Third Annual Center for Musculoskeletal Research Symposium (September 18). Submit abstracts to Bonnie Lipari.

August 12: Deadline for investigators to provide initial abstracts of proposals for Clinical and Translational Pilot Awards through the Clinical and Translational Science Institute.

August 31: Deadline to apply for Matsumae International Foundation fellowships to young doctorate degree holders interested in conducting research in Japan, with natural science, engineering, and medicine a top priority.

---
Please send suggestions and comments to Bob Marcotte..