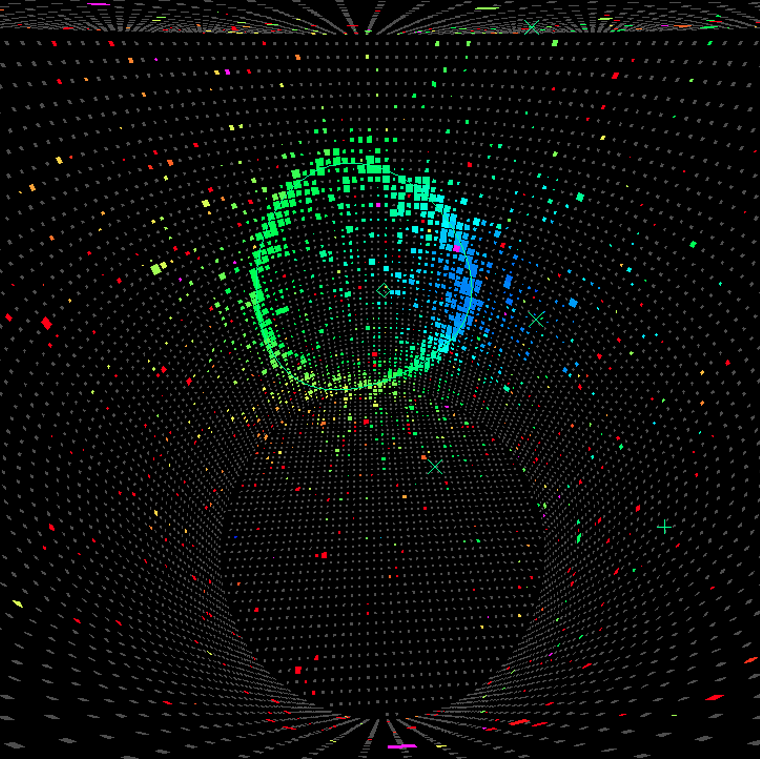 Images of research
The growing problem of pathogen resistance to antibacterials has prompted a search for alternative modes of inhibiting bacterial growth. Using single-molecule microscopy and X-ray crystallography, Dmitri Ermolenko, assistant professor of biochemistry and biophysics; Clarence Ling, a graduate student in his lab; together with researchers from UMASS Medical School Egor Svidritskiy and Andrei Korostelev, found that antibiotic blasticidin S inhibits protein synthesis through a unique mechanism by binding to bacterial ribosome and stabilizing the deformed conformation of transfer RNA (as shown in the crystal structure of bacterial ribosome above). This could serve as a platform for developing new therapeutics.
Do you have an interesting photo or other image that helps illustrate your research? We'd love to showcase it. Send a high res jpg or other version, along with a description of what it shows, to bmarcotte@ur.rochester.edu.
---
Did you know?
The Fulbright Specialist Program encourages University researchers with U.S. citizenship from a wide variety of disciplines to apply to be placed on its "specialist roster." The program promotes linkages between U.S. scholars and professionals and their counterparts at host institutions overseas. It awards grants to qualified U.S. faculty and professionals to engage in short-term collaborative two- to six-week projects at eligible institutions in over 140 countries worldwide. Shorter grant lengths give Specialists greater flexibility to pursue projects that work best with their current academic or professional commitments.

---
Grant-writing tip
Start early to develop your research proposal. You may think you can pull it off a few days before the deadline, but well conceived, compelling and fundable grant proposals take time to prepare and develop!


Speaking of which ...
Two upcoming workshops can help you hone your grantsmanship.

Sept. 16: Graduate Student Grantsmanship Forum, Hawkins-Carlson Room, 9 am to noon.

Sept. 19: NSF GRFP Workshop in Dewey 101 from 5- 8:15 pm. This is an informational session for senior undergrads and first-year graduate students in all disciplines supported by NSF, followed by a faculty panel of NSF GRFP reviewers, to give UR applicants an edge in understanding the program, its requirements and best practices on how to craft a competitive application.

Please RSVP to Janice Van Opdorp for both events and/or contact either Wendi Heinzelman or Debra Haring if you have any questions.

---
Here to help you
The Structural Biology and Biophysics Facility offers access to new instrumentation and services, and has a new, revamped website. Services offered at the facility can support a broad range of clinical and basic research applications. Contact Jermaine Jenkins to plan your experiments.

---
Introducing a new faculty member
Ignacio Franco, who joins the Department of Chemistry as an assistant professor, focuses on theory and computation as applied to dynamical processes occurring at the nanoscale -- with a particular interest in developing theoretical techniques to identify new methods to exert control over the behavior of matter by means of external stimuli. Franco earned his Ph.D. from the University of Toronto in 2007, worked as a postdoc at Northwestern, and was a group leader and Humboldt research fellow in the Theory Department of the Fritz Haber Institute in Berlin, where he investigated electronic decoherence processes in molecules.

---
Researchers in the news
Adam Frank, professor of physics, in a New York Times op ed piece, argues that scientists can no longer afford "head-scratching bemusement" when society is ambivalent, even skeptical, about the fruits of science. They must become "fierce champions of science in the marketplace of ideas." ... "People about to tuck into a meal at a dodgy restaurant could soon be warned off by a new system that collects data from the tweets of millions of diners." That's how the Times of London began its article on nEmesis, the system that combines machine learning and crowdsourcing techniques to analyze millions of tweets to find people reporting food poisoning symptoms following a restaurant visit. The system, developed by a team of UR researchers, including Henry Kautz, chair of computer science; Adam Sadilek, former UR post-doc now at Google; Sean Brennan, graduate student, and Vincent Silenzio, associate professor of psychiatry, has received wide coverage. Recent stories were in the Daily Mail, Toronto Star and Pittsburg Gazette.

---
Congratulations to...
Three URMC faculty members who have earned CTSI Novel Biostatistical and Epidemiologic Methods (NBEM) pilot awards for 2013-2014. They are Anthony Almudevar, Changyong Feng, and Xing Qiu of Biostatistics and Computational Biology. The program offers investigators one- or two-year awards for up to $20,000, to stimulate the development of novel biostatistical and epidemiologic methods to help overcome specifically identified limitations that will significantly enhance the validity, accuracy, scope or speed of translational research. ... Jeffrey Hayes, who has been selected as chair of the Department of Biochemistry and Biophysics at the Medical Center.

---
Points of pride
The Laboratory for Laser Energetics is touted as a "unique national resource," and with good reason. Here's an example why: When researchers at Lawrence Livermore National Laboratory wanted to compress iron up to 5.6 million atmospheres (or, 5.6 million times the pressure at the Earth's surface), they used the Omega laser at LLE to achieve this record pressure for solid iron, with multi-shock compression.

---
Mark your calendar
Sept. 15: Proposals due for The Research Development Fund, an annual competitive fund exclusive to partner institutions in the Worldwide Universities Network (WUN), of which the University of Rochester is a member. The fund aims to bring together researchers from across the world to undertake innovative, high quality, sustainable research that addresses global challenges.

---
Save the dates
Oct. 8: UR Center for AIDS Research Clinical & Translational Sciences Core Symposium, 9 a.m., School of Nursing Auditorium. Details to come.

Oct. 18: University of Rochester Big Data Forum 2013, 8:30 a.m., Hawkins-Carlson Room, Rush Rhees Library. Seating limited. Register by Oct. 11; contact Melissa Singkhamsack for registration details.

---
Please send suggestions and comments to Bob Marcotte..