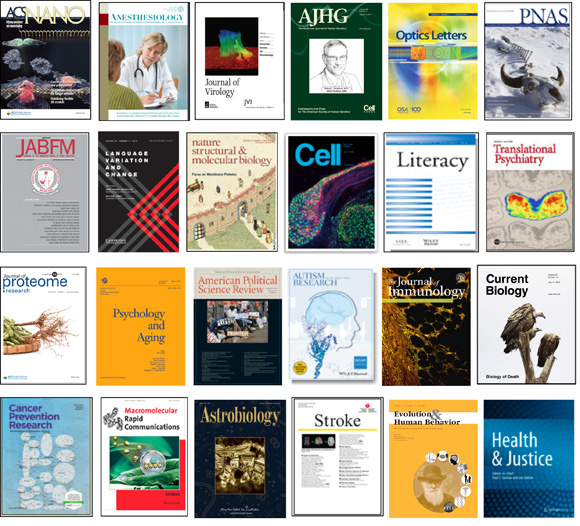 A sampling of scholarly journals in which University researchers have been published.
So . . . you want to publish?
Young faculty members and postdocs eager to publish a paper often come to
Karen Liljequist
and other University librarians wondering:
Which journal should I submit it to?
"
Look at your paper's bibliography
," replies Liljequist, liaison program manager with Miner Library. "
Which journals are cited the most?
"
She offers these other tips as well:
1.
Ask your peers
for the journals they would suggest.
2. Do any of the
journals you read
publish articles similar to your own?
Then, when you've narrowed down the possibilities, drill deeper to find the best fit for your topic and the audience you want to reach.
1.
Review the journal's website
and, if possible, skim through a hard copy as well. Does it appear on the web, in print, or both? How often? What is the circulation? How long has it been in publication? Is it peer-reviewed or refereed? Not finding the answers? Check
Ulrich's Global Serials Directory
.
2.
Check the masthead and table of contents.
Who is the publisher? What associations or organizations are affiliated with the journal? Do you recognize names on the review board? Is the contact information current? What are the main subject areas covered? Who is the declared audience?
3.
Author instructions
should include acceptance rate, time to publication, fees associated with publishing, who retains copyright and ownership, and the editing cycle and process.
4.
Check
InCites Journal Citation Reports
for a journal's impact factor.
5.
Is it indexed in the databases you use
, such as PubMed? Ulrich's can help with this; so can the
PubMed Core Journal's list
.
"Ultimately it may come down to
what the experts in your field and the experts in your department
say makes sense for you," Liljequist said. But also bear in mind that there
could be reputable, newer journals that peers are unfamiliar with, but could be a good fit for your topic and audience
, she added. University of Rochester librarians can help you search for those.
Want to learn more?
Classes on identifiying journals for publication and avoiding predatory publishers
will be held at Miner Classroom 1 from
noon to 1 p.m. on Thursday, Sept. 29
, and from
9 to 10 a.m. on Tuesday, Oct. 25
. Sign up
here
. Contact
Karen Liljequist
about scheduling additional sessions.
Online discussions
can be found at
thinkchecksubmit.org
and at the
Miner Library
and
River Campus Libraries
websites. See also the
Miner Library blog
.
Questions?
Contact a
liaison librarian
at Miner Library or
Justina Elmore
at River Campus Libraries.
Next: Tips on avoiding predatory journals and publishers.
Do you have an interesting photo or other image that helps illustrate your research? We would like to showcase it. Send a high resolution jpg or other version, along with a description of what it shows, to bmarcotte@ur.rochester.edu.
---
CTSI receives $19 million to continue programs
that speed medical advances to patients
The Medical Center has been awarded more than $19 million from the National Institutes of Health to continue programs that remove hurdles in the process of applying medical research to patient treatment and population health. The award will support "bench-to-bedside" research and is the Medical Center's
third consecutive translational science award
, bringing total funding from the grants to almost $86 million.
Since its inception in 2006, the University's Clinical and Translational Science Institute has provided
an infrastructure to support translational research
— offering education, funding, and consultation on research-related issues for scientists at all stages of their careers. In the next four years, the institute will continue that programming with
renewed focus on applying innovative approaches and technologies to improving population health
, which relies heavily on improving the university's capacity to analyze large, health care datasets, and encouraging scientists to work in teams.
Read more
here
.
---
Study: Oxygen for brain is 'precisely choreographed'
Research led by
Maiken Nedergaard
, the Frank P. Smith Professor of Neurosurgery and codirector of the University's Center for Translational Neuromedicine, reveals how
the brain is able to meet its massive energy demands with a "just in time" system that delivers the oxygen that fuels nerve cells
. The findings, published in the journal
Neuron
, could shed light on diseases like Alzheimer's and help explain the cognitive decline that accompanies the disease.
"Our brains require a tremendous amount of energy, and in order to meet this demand the flow of blood must be precisely choreographed to ensure that oxygen is being delivered where it is needed and when it is needed," said Nedergaard, lead author of the study. "This study demonstrates that
microvessels in the brain play a key role
in reacting to spikes in demand and accelerating the flow of blood to respond to neuronal activity."
Neurons maintain only a small reserve of energy and require a continuous supply of oxygen, especially when they are firing and communicating with their neighbors. Using imaging technologies, scientists have observed that
when neurons start to fire there is an accompanying increase in blood flow
to the area of the brain that is active.
What has not been fully understood is how the blood circulation system in the brain "knows" that it needs to ramp up blood flow to respond to the increased demand. The question is important because unlike other parts of the body, the brain resides in a confined space which restricts the amount of blood that is on hand at any given moment.
Some scientists have theorized that the main arteries are responsible for responding
to increases in demand. However, Nedergaard and her colleagues speculated that the
smaller capillaries, which ultimately deliver oxygen to its final destination, must play a central role
because they are closer to the action and would be the first to detect the need for more oxygen.
To test their theory the researchers
created a miniature race track that mimicked the capillaries in the brain
and placed red blood cells at the starting line on one end. When the oxygen level in the fluid outside the artificial capillaries was high, the cells took their time to cross to the other side. However,
when the oxygen levels were lowered, the blood cells raced to the other end
. The researchers also conducted these experiments in the brains of animals with the same results.
The experiments demonstrated that the blood cells can sense when the environment outside the capillaries is low in oxygen — which occurs when neurons take up more oxygen to generate energy — and respond by rushing to deliver more. The researchers also observed that
this response is very rapid, occurring less than a second after oxygen is pulled out of the surrounding tissue
. Read more
here
.
---
Stronger terahertz waves could safely detect hidden objects
A suspicious package is found in a public place. Police clear the area. Forced to work from a distance and unable to peer inside, they fear the worst and decide to detonate the package.
New research at the University's Institute of Optics might help authorities in the not-too-distant future be better informed in tackling such situations and do so more safely.
Working with an exotic ring-Airy laser beam
, they were able to
extend the reach — up to 100 feet or more — at which terahertz waves can be used
to sense or image objects behind barriers. Moreover, the THz wave created by the researchers is more than five times stronger than what is generated by more conventional means.
The research project was led by
Kang Liu
, a PhD student in optics, and
Xi-Cheng Zhang
, the M. Parker Givens Professor of Optics and the director of the Institute of Optics, in collaboration with a group from Greece led by Tzortzakis Stelios. The results have been published in the journal
Optica
.
"The use of an unconventional laser beam in our project goes beyond a scientific curiosity," said Zhang. "
It makes possible the remote sensing of chemical, biological, and explosive materials from a standoff distance
."
Read more
here
.
---
University ranks among top recipients of U.S. patents
With 48 issued U.S. patents in 2015,
Rochester placed 41st on the National Academy of Inventors' global list of top patenting universities
, reports the
UR Ventures Technology Review
. Traditional research and technology transfer powerhouses, such as Stanford (2.31 patents earned per $10 million spent in research) and MIT (1.83) remain ahead of Rochester, but at (1.39)
the University surpasses Harvard (1.31 patents earned per $10 million spent in research), UNC (0.71), Johns Hopkins and Michigan (0.89 each), U Penn (1.05), and even the entire State of California system (0.97)
, which led the NAI list with 489 patents.
---
Congratulations to . . .
Jerold Zimmerman
, professor emeritus of accounting, who recently was
presented the 2016 Outstanding Accounting Educator Award
. He has now received all five major awards from the American Accounting Association. His research and teaching interests include financial and managerial accounting and organizational economics. Read more
here
.
---
PI oversight: Think before you hit submit
(This is part of a monthly series to help principal investigators understand their role in ensuring that human subject protection requirements are met in their studies.)
As a principal investigator (PI) listed on a study submitted through the Research Subjects Review Board (RSRB), you will be required to "hit the submit button" within the RSRB Online Submission System for initial submission — and each time a progress report is due if your research requires expedited or full board review.
"Hitting the submit button" at each of these points is crucial to your role as a PI. It enables the research to move forward and, more importantly,
represents your oversight of the research and your confirmation that everything included in the application or the report accurately reflects the conduct of the research
. So be mindful about what "hitting submit" means.
Submitting the initial application
certifies that you are responsible for the conduct of the research and that the research will be conducted in a compliant manner
(see
Office for Human Subject Protection Policy 901
). Signing off on a new application or progress report means that
you've reviewed the information
contained within the submission and that the information is accurate. Although this seems obvious,
this step seems to be frequently overlooked by PI's when other study team members (e.g., research assistants, residents, or study coordinators) complete the submission form
. For example, have they described the monitoring plan accurately? Are the enrollment numbers correct? Have events that require reporting to the RSRB been identified and reported with sufficient, accurate detail?
Submitting new applications and progress reports without sufficient review by the PI can lead to
unnecessary miscommunications and frustration, delayed RSRB reviews or approvals, and potentially preventable deleterious board determinations
. Remember: the information submitted to the RSRB
reflects on your role as a PI and your ability to effectively oversee the research
. Taking the time to review the information submitted to the RSRB is a must.
---
NSF sessions help young researchers compete for funding
Two new
NSF Days
, which
teach researchers how to better compete for research dollars
, have been announced for the early fall. The workshops,
of particular interest to young investigators
, new STEM faculty, and researchers new to NSF, will be held:
1.
Sept. 23
at Delaware State University, Dover, Delaware. Read more
here
.
2.
Oct. 13
at the University of Maine, Bangor, Maine. Read more
here
.
These are
day-long workshops
that provide background on the NSF, its mission, priorities, and budget. During the workshops, NSF offers an overview on
proposal writing, NSF's merit review process, and programs
that fall within their seven scientific and engineering directorates, as well as
funding opportunities that cross disciplinary boundaries
.
Program officers will be on hand as presenters
.
---
PhD dissertation defenses
Alex Page
, Electrical Engineering, "Building Decision Support Systems from Large Electrocardiographic Data Sets." 2 p.m., Aug. 12, 2016. Computer Studies Building 523. Advisor: Tolga Soyata.
Stephanie Daifuku
, Chemistry, "Insight into Iron C-C Cross-Coupling Catalysis through Structure, Bonding and Mechanism." Noon, Aug. 16, 2016. 473 Hutchison Hall. Advisor: Michael Neidig.
Kaitlyn Bankieris
, Brain and Cognitive Sciences, "Is Synesthesia More than Unusual Associations? Examining Cue Combination and Various Forms of Learning in Synesthetes." 11 a.m., Aug. 17, 2016. 269 Meliora Hall. Advisor: Richard Aslin.
---
Mark your calendar
Aug. 16:
dSports Summit showcasing next-generation sports technology. 8 a.m. to 4 p.m., Oak Hill Country Club. Read more
here
.
Sept. 1:
Deadline to apply for pilot funding in support of a major initiative by the Del Monte Institute for Neuroscience to launch an Intellectual and Developmental Disabilities Research Center. Read more
here
.
Sept. 22-24:
Department of Neurology 50th anniversary celebration, including gala banquet, department updates, and poster and platform presentations showcasing research by current faculty, alumni, fellows and residents. Read more
here
.
Sept. 29:
identifiying journals for publication; avoiding predatory publishers. Noon to 1 p.m., Miner Classroom 1. Sign up
here
.
---
Please send suggestions and comments to Bob Marcotte. You can see back issues of Research Connections, an index of people and departments linked to those issues, and a chronological listing of PhD dissertation defenses since April 2014, by discipline.