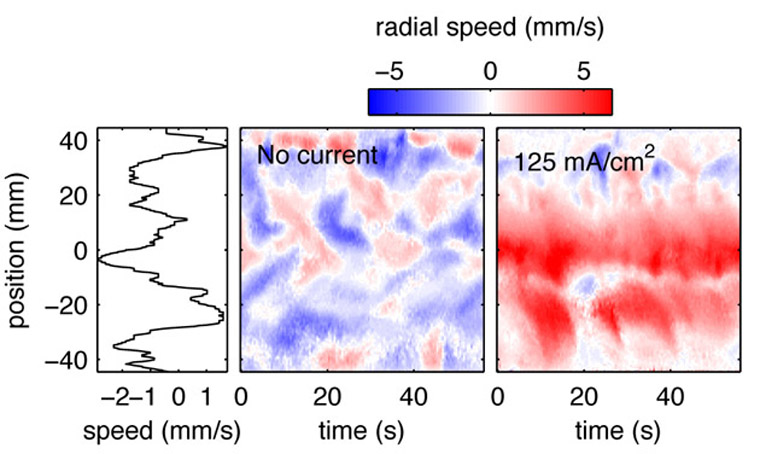 This illustration from the lab of Asst. Prof. Douglas Kelley shows fluid flow in a liquid metal electrode, measured with ultrasound. Reds indicate flow away from the probe, and blues indicate flow toward it. Adding electrical current causes a global rearrangement of the convection pattern and makes mixing more efficient.
Kelley lab examines flow patterns in liquid metal batteries
An experimental apparatus in the lab of Douglas Kelley, Assistant Professor of Mechanical Engineering, could bring us closer to the day when large liquid metal batteries can store surplus energy for the grids that power entire communities and regions.

A paper by Kelley and first author Adalberto Perez '15, which appears in the Journal of Visualized Experiments or JOVE, describes using ultrasound to measure the flow patterns and velocities of the opaque fluids used in liquid metal electrodes. This could help find ways to overcome one of the biggest obstacles to liquid metal batteries: keeping the chemistry uniform in containers that are large enough to power entire grids.

Unlike traditional batteries, liquid metal batteries do not have solid electrodes. They consist of two layers of liquid metal from different parts of the periodic table — for example lithium above, lead and antimony below — separated by a layer of molten salt that acts as the electrolyte.

As a result, liquid metal batteries have the potential to last much longer than solid-state batteries, which tend to swell and shrink with each charge or discharge. "Slowly but surely they grind themselves to dust over time. But when everything is liquid, that doesn't happen," Kelley noted.

Kelley believes the problem with uniform chemistry can be addressed with better mixing. The first step is characterizing how that mixing is affected by various fluid flow patterns and velocities, which Kelley's lab is simulating with the experimental apparatus shown below.

"We're working toward building empirical models, where we could say with reasonable probability, if the battery is discharged, and you're running this current, this is what the flow is likely to be — and then start putting in strategies to improve it."

JoVE is a peer reviewed scientific video journal, which publishes scientific research in a visual format to "help researchers overcome two of the biggest challenges facing the scientific research community today; poor reproducibility and the time and labor intensive nature of learning new experimental techniques."

"They sent a film crew to the lab, which is pretty slick," said Kelley. Being interviewed by a film crew was no big deal, he added. "It was about like giving a talk."

More than 30 other University researchers have been involved in projects featured in JOVE since 2010. Read more. . .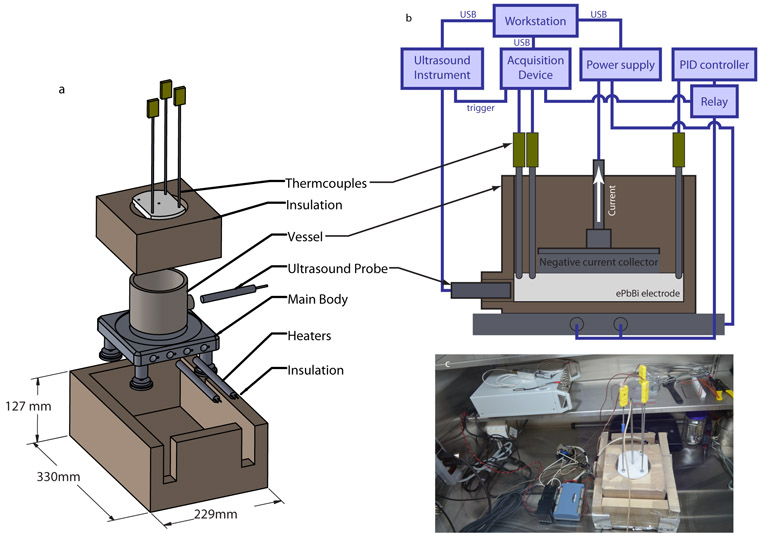 Do you have an interesting photo or other image that helps illustrate your research? We would like to showcase it. Send a high resolution jpg or other version, along with a description of what it shows, to bmarcotte@ur.rochester.edu.
---
Carney lab looks beyond inner ear in quest for better hearing aids
(Laurel Carney recently received the William and Christine Hartmann Prize in Auditory Neuroscience from the Acoustical Society of America. This is a look at a focus of her research.)

Most hearing aids on the market today are designed to mimic what happens in our inner ear — specifically the amplifying role of the outer hair cells.

However, the lab of Laurel Carney, Professor of Biomedical Engineering, is studying what happens beyond the inner ear — in the complex network of auditory nerve fibers that transmit the inner ear's electrical signals to the brain, and in the auditory center of the midbrain, which processes those signals.

Therein lies the key to creating hearing aids that not only make human speech louder but clearer, Carney believes.

An important focus of her research uses a combination of physiological and behavioral studies, and computer modeling, to study the 30,000 auditory nerve fibers on each side of our brain that transmit electrical signals from the inner ear. Critical to this is the initial "transduction" of mechanical energy to electrical signals that occurs in the inner hair cells of the inner ear's organ of Corti.

"This is critical for shaping the patterning of responses in the auditory nerves, and the patterning of those responses at this first level, where the signal comes into the brain, has a big effect on the way the mid brain responds to the relatively low frequencies of the human voice," Carney explained.

In people with healthy hearing, the initial transduction results in a wide contrast in how various auditory nerve fibers transmit this information. "The responses of some fibers are dominated by a single tone, or harmonic, within the sound; others respond to fluctuations that are set up by the beating of multiple harmonics," Carney said.

In the mid brain, neurons are capable of assimilating this contrast of fluctuating and nonfluctuating inputs across varying frequencies. They begin the process of parsing out the sounds of speech and any other vocalizations that involve low frequencies, she said.

A better understanding of how this process works in the midbrain, Carney believes, could yield new strategies for designing hearing aids.

"A lot of people have tried to design hearing aids based just on what is going on in the inner ear, but there's a lot of redundancies in the information generated there. We argue that you need to step back and, from the viewpoint of the midbrain, focus on what really matters. It's the pattern of fluctuations in the auditory nerve fibers that the midbrain responds to."

"The sort of strategies we're suggesting are not intuitive," she added. "The idea of trying to restore the contrast in the fluctuations across different frequency channels has not been tried before. The burden is on us to prove that it works."

To that end, Carney works closely with Joyce McDonough, Professor of Linguistics, in exploring how auditory nerve fiber transmissions play a role in coding speech sounds. Her lab also works closely with that of Jong-Hoon Nam, Assistant Professor of Mechanical Engineering and of Biomedical Engineering, whose inner-ear studies were described in this newsletter last week. Carney shares what her lab is learning about the interface of auditory nerve fiber signaling with the brain, and in return, "we try to include in our models a lot of the nonlinear properties of the inner ear that he (Nam) has been working on. By interacting with his lab, we hope to continue to modernize our model as he discovers more," Carney said.

---
Warner School works with local school district on digital conversion
A partnership between the Warner School and the East Irondequoit Central School District provides a demonstration site where future educators can see the power of digital conversion in action and work alongside teachers in the classrooms to personally experience these innovative instructional practices.

In 2012, the district began exploring new ways to provide the best teaching and learning environment possible for their students, and learned about effective implementation of 1:1 computing devices in schools. They also learned about the digital conversion taking place in the Mooresville Graded School District in Mooresville, N.C.

The district engaged David Miller, an Assistant Professor with the Warner School, to monitor the progress of the 1:1 pilot program in East Irondequoit and collect data to help validate possible expansion of the program.

He has become a regular contributing member of the district digital conversion team. Raffaella Borasi, Dean at the Warner School, says "This new approach to instruction can be transformational, and it would be very valuable for current and aspiring K-12 teachers and administrators to learn about it."

The Warner School is engaging in research and course design to address the principles and implications of digital conversion and online learning.

The East Irondequoit CSD will host a 2-day Digital Conversion Symposium on Feb. 24-25, 2016, co-sponsored by the Warner School and Monroe #1 BOCES. Districts from around western New York will be invited to attend. Read more . . .

---
NSF, Popular Science: Show us what you've got!
The National Science Foundation and Popular Science have teamed up once again to issue a challenge: Can you visualize a scientific idea, concept, or story in an arresting way?

If so, submit your work to the 2016 Vizzies. Awards categories include: Photography, Illustration, Posters & Graphics, Interactive, and Video. The Experts' Choice winner in each category will be awarded $2,500, and the People's Choice winner in each category will be awarded $500.

Click here for Guidelines. The deadline is Sept. 15, 2015.

---
Introducing a new faculty member
Jude Mitchell has joined the Department of Brain and Cognitive Sciences as an assistant professor. HIs research focuses on the role that internal brain states, such as selective attention, play in modulating sensory processing. In particular, he is interested in the distinct roles that different neuronal classes play in this process. He uses the smaller New World primate, the marmoset (Callithrix Jacchus), to study active visual perception and attention. The marmoset provides several advantages as a model organism for these studies. First, the marmoset's visual and oculomotor system is highly similar to that of larger primates and humans. Second, the recent development of transgenic lines in this species has opened many new opportunities for biomedical research. Mitchell's background includes both computational and experimental approaches to the study of neuroscience. After receiving a BS from Harvard University in electrical engineering, he gained experience with computational methods during his graduate studies in the cognitive science department at the University of California-San Diego. He received his PhD there in 2002. He continued more focused neuroscience postdoctoral research at the Salk Institute in La Jolla, CA.

---
Mark your calendar
Sept. 4: Graduate Student Grantsmanship Forum, Hawkins-Carlson Room, 10 a.m. to noon. A light breakfast will be served. Learn more here.

Sept. 8: Regulatory Science Research and Core Competencies, presented by Joan Adamo, Associate Director for CTSI Regulatory Support Services, and Scott Steele, Director of Government and Academic Research Alliances. CTSI Seminar Series. Noon to 1 p.m., Helen Wood Hall Auditorium (1W-304).

Sept. 10: NSF Graduate Research Fellowship Program (GRFP) Workshop in Hawkins-Carlson Room, 4-5:30 p.m. Learn more here.

Sept. 17: Retraining Damaged Brains: A Personal Journey, Krystel Huxlin, Professor of Ophthalmology and Director of Research, Flaum Eye Institute. Graduate Women in Science (GWIS) meeting. 3-4 p.m., MC 1-9576 (Case Method Room).

Sept 24: Environmental Health Sciences Research Day seminar, celebrating 50 years of Environmental Health Sciences research at The University of Rochester. Various seminars on the EHSC History, new research, community impact, and a poster session. 9 a.m. to 4:30 p.m., Class of 62 Auditorium.

Sept. 30: Industry Consulting: Part One, Karl Kieburtz, CTSI director. Noon to 1 p.m., Helen Wood Hall Auditorium (1-304). Part of the series on Good Advice: Case Studies in Clinical Research, Regulation, and the Law.

Oct. 15: Applications due no later than 5 p.m. for CFAR RNA Pilot Announcement. Click here for details.

Oct. 15-16: NIH Regional Seminar on Program Funding and Grants Administration, San Diego, CA. Click here for more information and registration.

Oct. 22: Applications due no later than 5 p.m. for CFAR Major Collaborative Pilot Announcement. Click here for details.

Oct. 30: Applications due no later than 5 p.m. for CFAR Joint Funding Opportunity in HIV/AIDS through SMD, SON and Program Of Excellence. Click here for details.

---
Please send suggestions and comments to Bob Marcotte. You can see back issues of Research Connections, an index of people and departments linked to those issues, and a chronological listing of PhD dissertation defenses since April 2014, by discipline.