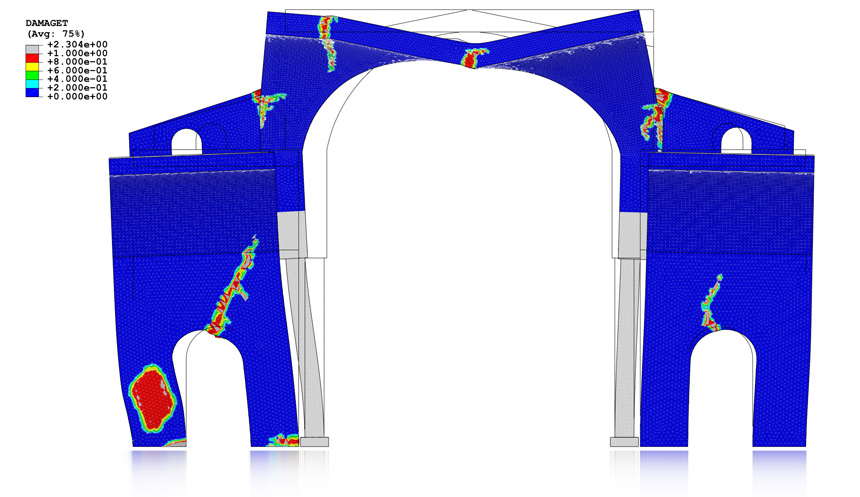 Images of research
On Wednesday, researchers from around the world gathered at the University of Rochester for a symposium on "3D Digital Archaeology: Reconstruction, Analysis, and Conservation of Cultural Heritage." This image illustrates how computational advances have provided new tools for engineers and researchers to simulate how various structural designs react to stress. Renato Perucchio, Professor of Mechanical Engineering and one of the organizers of the symposium, and one of his graduate students, Sarilyn Swayngim, used nonlinear finite element modeling to simulate damage to an unreinforced concrete vaulted structure, caused by lateral acceleration that might occur during an earthquake. Nonlinear finite element analysis takes into account the changing "stiffness" of a structure over time, but engineers were traditionally hesitant to use it because of its complexity. Now, nonlinear FEA software can interface with computer assisted design, making it easier to use. Improved algorithms and increased computational power result in shorter solution time, even with a desktop. Engineers use nonlinear FEA modeling as a tool in design of new structures; Perucchio and his students employ it to analyze ancient structures, thereby advancing our knowledge in archaeology, the history of technology, and the conservation of monumental structures. The illustrated 3D finite element model shown here, for example, represents the Frigidarium of the Baths of Diocletian, a gigantic vaulted structure built in Rome with unreinforced pozzolanic concrete (AD 298-305), still intact and in excellent structural condition, and being used as one of the most important churches of Rome. Next week: More on the symposium.

This is one of the images displayed at the Center for Integrated Research Computing (CIRC) website. Click here to learn more about the hardware, software, training, and other support that CIRC provides to UR researchers to help them use computational science and computing technology in research activities in all areas of academic scholarship.


Do you have an interesting photo or other image that helps illustrate your research? We would like to showcase it. Send a high resolution jpg or other version, along with a description of what it shows, to bmarcotte@ur.rochester.edu.
---
UR's Research Strategic Plan: Finding synergy in vision restoration
(One in a series of installments on the UR Research Strategic Plan for 2013-2018)

Refractive eye surgery, including Lasik, has revolutionized the treatment of many eye disorders. But imagine a "kinder, gentler" laser technique that could accomplish the same results without removing tissue.

In age-related macular degeneration -- a major cause of blindness in older adults -- irreplaceable photoreceptors in the retina die. What if benign viruses, injected into the retina, could insert instructions into the ganglion cells that make up the optical nerve to respond directly to light, allowing them to do the work of photoreceptors?

These are among the promising avenues of research at the University of Rochester in vision restoration, which is identified in the University's Research Strategic Plan as a priority area because:

1. UR researchers have a proven track record in this area. For example, David Williams and his team developed a method to obtain images of individual cone and rod photoreceptors in the living human retina, providing important insights into blinding diseases such as retinitis pigmentosa and macular degeneration. Customized refractive surgery, developed by Williams' team working with Bausch and Lomb, and refined in collaboration with Scott MacRae, allows doctors to precisely tailor refractive surgery to compensate for imperfections in the optics of the eye. Krystel Huxlin and her colleagues are leading experts on the recovery of the visual system from damage, which is key to the success of any vision restoration effort. Bill Merigan and his colleagues are world leaders in the development of methods to use light to send and receive information directly from the neurons of the retina.

2. UR has institutional strengths to build on these advances. They include the Center for Visual Science, the Flaum Eye Institute, the Rochester Center for Brain Imaging, the Institute of Optics, a Neuroscience program, and the departments of Neurobiology and Anatomy, Ophthalmology, and Brain and Cognitive Sciences. The University's strength in Data Science will aid in computations needed to analyze large datasets derived from visual system neural activity. The new Center for Medical Technology and Innovation could be involved in developing next generation retinal and cortical prosthetics.

3. Collaboration is possible across many River Campus and Medical Center departments. At least 27 faculty members work on topics relevant to this field.

4. This initiative is already well-funded, with the prospects good for increased funding. Vision restoration is the National Eye Institute's primary goal for the next decade and the plan is also consistent with the Obama Administration's BRAIN initiative.

Click here to read the Research Strategic Plan in its entirety.


Did you know?
UR has the only investigators in the world capable of monitoring the neural activity of ganglion cells (the output cells of the retina) in the intact animal eye ... Rochester invented retinal cameras with higher resolution than has ever been achieved in the living eye ... Rochester developed a unique technology for recovery of visual function affected by stroke.

(Next: Finding synergy in a carbon neutral future.)

---
Understanding how communities respond to disaster
When disasters strike -- whether on the scale of the Philippines typhoon, or a localized landslide -- some devastated communities show remarkable resilience and quickly recover; for other communities recovery is painstakingly slow, or does not occur at all.

Nancy Chin, Associate Professor of Public Health Sciences, has a personal stake in researching why. She would not be here today if her great grandfather had not survived an 1814 landslide in the Italian Dolomites that buried two villages, killing all but 44 of 340 residents.

As the landslide tore into the villages, Chin's great-great-grandmother struggled to climb a hillside to safety, tightly clutching her son and a pillow. As she turned to look back down at her stricken village, a man rushed up behind her and handed her the infant. She had dropped her son during the climb!

The resilient survivors regrouped, built a new village just uphill, and were able to resume their way of life. At a recent Public Health Grand Rounds presentation, Chin used two anthropological concepts -- taskscape and social suffering -- to compare the recovery after the 1814 landslide with the Vajont dam disaster of 1963, which had a far different aftermath.

Taskscape, developed by social anthropologist Tim Ingold, describes how physical landscapes -- and the activity of the people who inhabit them -- interact over time. It shows how a person's sense of worth and competency is defined not only by the activities a person engages in, but by the physical surroundings in which those activities occur. It helps explain why people are often reluctant to evacuate their surroundings both before and after a disaster occurs.

And it helps explain why those Italian villagers were so resilient.

Their daily activities -- pasturing animals, tending crops, collecting firewood -- were closely intertwined with their physical landscape, Chin notes. Life was hard, and extended families were important. But even more important was the community. "Cooperation between neighbors was essential to survival," Chin writes. This "taskscape" put a high priority on hard work, but also on enjoying life through song and dance, and caring for one another. In other words, all the attributes needed to regroup after a disaster.

Next: Social suffering and the Vajont dam disaster of 1963. Go to http://traumarecovery.tumblr.com/ to read Chin's blog describing how she researched the 1814 landslide.

---
Worth pondering . . .
The protection of human subjects in studies and clinical trials involves more than dotting the i's and crossing the t's on consent forms. It includes incorporating good science into the study design. "'Scientifically unsound research on human subjects is ipso facto unethical'," Carl D'Angio, Professor of Pediatrics and Medical Humanities and Bioethics, said at a recent SCORE presentation, citing the Council for International Organizations of Medical Sciences and its International Ethical Guidelines for Biomedical Research Involving Human Subjects.

"If you do bad science and end up only being able to publish it in the 'journal of irreproducible results,' that's not ethically valid, because you've exposed somebody to risk for no benefit," said D'Angio, who also serves as director of the Research Ethics Key Function at CTSI. "It's incumbent on scientists to think about that when they design their studies. The purpose of human subject research is not to help you get your next grant. The purpose is to do good science, and if you don't do that, then the ethics are questionable as well."

SCORE -- the Study Coordinators Organization for Research and Education -- holds monthly luncheon presentations.



---
Newsletter explores effect of pollutants
Have you ever wondered about the effects of lead exposure later in life? Or how air pollution affects cardiac health? UR studies on these and other topics are discussed in the fall 2013 edition of the Environmental Health Sciences Center's Your Health & the Environment newsletter, now available online.

---
Online site offers training in comparative effectiveness research
The Clinical and Translational Science Institute (CTSI) has released a new Online Training in Comparative Effectiveness Research site, consisting of 10 modules covering the basics of comparative effectiveness research, from definitions to methods and applications. Connect to the site here.

---
Congratulations to ...
Cynthia Ebinger, Professor of Earth and Environmental Sciences, who will be honored next week as a newly elected Fellow of the American Geophysical Union at the organization's national meeting in San Francisco. Ebinger was elected for her "fundamental work on the evolution of continental rifts toward seafloor spreading in East Africa and afar." Only 62 of 62,000 AGU members were elected as Fellows this year.

Karl D. Kieburtz, Director of the Clinical and Translational Science Institute and of the Center for Human Experimental Therapeutics, and the Robert J. Joynt Professor in Neurology, and to Xi-Cheng Zhang, Director of the Institute of Optics and the M. Parker Givens Professor of Optics, for being elected Fellows of the American Association for the Advancement of Science. Kieburtz was cited for outstanding contributions to the field of human translational therapeutics, particularly with regards to diseases of the central nervous system. Zhang was cited for distinguished contributions to the generation and detection of broadband terahertz waves, particularly for free-space electro-optic sampling and terahertz air photonics with femtosecond lasers.


---
Mark your calendar
Dec. 12: SCORE Holiday Social. Christopher Hoolihan, Miner Librarian and University Historian will take attendees on a 30-minute virtual "Journey from the Early History of Medical Center Faculty Research through the Second World War." SCORE will have a donation station where attendees can contribute a gift of a new hardcover children's book or a buck for the Golisano Children's Hospital. Noon to 1:30 p.m., Saunders 1.416.

Dec. 16: Deadline to apply for Global Innovation Initiative grants. NOTE: The UR Office of Research and Project Administration (ORPA) must receive an electronic proposal five days earlier with a completed and signed University sign-off form. For assistance in seeking international partnerships with the mentioned countries, contact Todd St. Vrain, Manager for International Initiatives.

Jan. 24, 2014: Thomas Cech, who shared the Nobel Prize in Chemistry in 1989 for discoveries of the catalytic properties of RNA, will be the keynote speaker at the 2014 Medical Scientist Research Symposium, a half-day event that also includes a poster session and wine and cheese reception. Cech's lecture will be at 1 p.m. in the Class of '62 Auditorium. The symposium is held to showcase the research and scientific accomplihments of the UR Medical Scientist Training Program.

---
Please send suggestions and comments to Bob Marcotte.. To see back issues, click here.