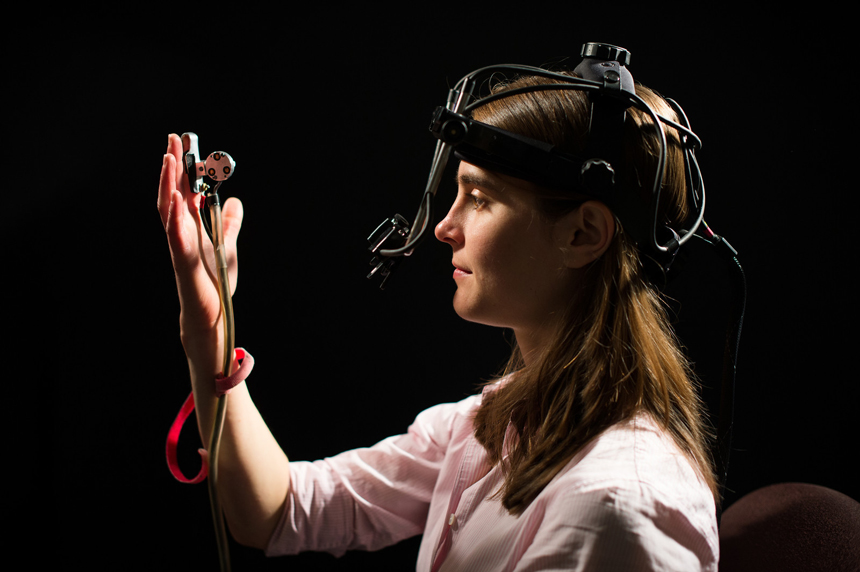 Images of research
A recent study involving University of Rochester researchers shows that, even in complete darkness, at least 50 percent of people can see the movement of their own hand. Through five separate experiments involving 129 individuals, Duje Tadin, Professor of Brain and Cognitive Sciences; collaborator Kevin Dieter, a post-doctoral fellow in psychology at Vanderbilt University; David Knill, Professor of Brain and Cognitive Sciences, and Bo Hu, a postdoctoral student at Rochester, found that this eerie ability to see our hand in the dark suggests that our brain combines information from different senses to create our perceptions. This has caught the attention of such publications and news outlets as NPR, USAToday, Popular Science, National Monitor, Science Recorder, Psychological Science, Times of India, Zee News, Scientific American, Rochester City Newspaper, i09, ABC.es, CNN.com, Science World Report, Product Design and Development, Science Daily, Headlines and Global News, The Punch, Malaysia Sun, and Asian Age. This image shows study participant Lindsay Bronnenkant wearing a computerized eye tracker like the ones used in the study. (Photo by J. Adam Fenster/University of Rochester)


Do you have an interesting photo or other image that helps illustrate your research? We would like to showcase it. Send a high resolution jpg or other version, along with a description of what it shows, to bmarcotte@ur.rochester.edu.
---
Seward Family Archive Project gets funding
The Emerson Foundation has awarded the University of Rochester a three-year $360,000 grant toward the Seward Family Archive project, a collaboration between Thomas Slaughter, the Arthur R. Miller Professor and Professor of History, and the River Campus Libraries, including Mary Ann Mavrinac, Vice Provost and Andrew H. and Janet Dayton Neilly Dean of the River Campus Libraries; Nora Dimmock, Director, Digital Humanities Center; and Jim Kuhn, Joseph N. Lambert and Harold B. Schleifer Director of Rare Books, Special Collections and Preservation.

The project focuses on the creation of an accessible digital documentary archive for the Seward Family Papers, which are a subset of the William Henry Seward Collection, one of our most valuable collections. (William Henry Seward was Secretary of State for Presidents Abraham Lincoln and Andrew Johnson.) This project will significantly advance the organization, digitization, and website development of the Seward Family Papers, and will support the training of graduate and undergraduate students in various digital media techniques.

---
Project seeks to empower HIV patients
A team of HIV patients, doctors, and HIV organizations led by Kevin Fiscella, Professor of Family Medicine, has received $2.056 million from the Patient-Centered Outcomes Research Institute (PCORI) to test a program to reduce disparities and improve empowerment among HIV patients. The program to be tested is a customized personal health record for HIV that includes training sessions so patients can use iPods to access and manage their own data, coaching prior to doctor visits, and clinician training that supports patient empowerment.

---
The benefits of 3D modeling for archaeology
In 10 minutes a drone can take hundreds of overhead photos of an archaeological site. In four hours, a computer software program can render those photos into a precise, extremely detailed visual "document" of the site. Compare that to the days, even weeks it might take researchers to painstakingly produce hand drawings.

"We can now focus our attention on excavation and analysis as opposed to drawing and documenting," said Luis Jaime Castillo of the Pontificia Universidad Catolica del Peru (PUCP). "We have managed to change completely the way we record these contexts."

Other benefits of applying 3D modeling to archaeology were described during a recent UR symposium. For example, 3d modeling:

1. Provides visual, interactive ways to better engage and inform students, other scholars and the public.

2. Allows researchers to simulate experiences and conduct experiments that would not be possible otherwise.

3. Offers new insights in ways to preserve ancient objects and structures.

Renato Perucchio, UR Professor of Mechanical Engineering and one of the organizers of the symposium, showed how 3D modeling can systematically remove each feature of an ancient building to determine the relative importance of that feature to the overall structural integrity. 3D modeling can also simulate the damage that could be caused to a structure by earthquakes and other forces. That in turn, could suggest the best ways to "shore up" an ancient structure to minimize damage.

"The opportunities for interdisciplinary collaborations in this field are phenomenal," Perucchio noted. Work in this field involves not only archaeologists, but architects, engineers, material scientists, geophysicists, historians of art and culture, and computer scientists, to name a few.


Worth pondering . . .
The Pantheon is the largest dome ever built with unreinforced concrete, and still stands in relatively good condition after 2,000 years. And yet, notes Perucchio, "if we take modern structural codes and applied to get a permit for building the Pantheon today, we would be told 'no, you cannot build it because the material you're using would not be able to sustain it. The structure would collapse.' This reveals to us that the engineering knowledge that is embedded in the Pantheon is very, very high. It is a knowledge that does not follow Newtonian mechanics; it follows different paths. But notwithstanding that, it is extraordinary knowledge."

Hence the importance of being able to investigate a structure like this with 3D modeling, Perucchio added. "If we do not have an understanding of the engineering of this, we cannot ensure the survival of this structure."

---
UR's Research Strategic Plan: 'Analytics on Demand'
(One in a series of installments on the UR Research Strategic Plan for 2013-2018)

Data Science -- which provides computational tools to sift through massive amounts of data -- is essential for research in many domains. The University is well positioned to be among the world's leading institutions in this field. Its commitment to create an Institute for Data Science and hire up to 20 new faculty to support it, builds upon "enormous strengths," including:

1. The Health Sciences Center for Computational Innovation, a partnership between the University and IBM to support collaboration in biomedical research using high performance computational resources.

2. The Department of Computer Science, long recognized for cutting-edge research in artificial intelligence, computer systems, human-computer interaction, and theory of computation.

3. The Department of Biostatistics, which collaborates with Medical Center departments on study design and data management.

4. The Center for Integrated Research Computing, which supports faculty and other researchers engaged in computational and data-intensive research.

5. Massive computing power. Between the Blue Gene Q supercomputer and BlueHive systems, CIRC has over 240 teraFLOPS of computational capacity and 640 terabytes of high-speed data storage.

However, putting all this computing power into the hands of the people who matter most -- individual researchers -- remains a challenge, in part because of the sheer scale of data involved, and the proliferation of potentially disruptive computing hardware with thousands of central processing units.

So a key focus of the Research Strategic Plan is "analytics on demand," which involves "creating tools and systems for large scale data analytics that relieve the end user -- the scientist or programmer -- from the need to understand the details of particular platforms and chains of platforms. The scientist writes a program that describes the basic algorithm for the task; the system then takes over and determines how to divide and parallelize the work in order to make optimal use of resources."

This will not happen out of thin air; the plan urges "growing the programming staff" at CIRC "to take on the support of locally created tools."

Click here to read the Research Strategic Plan.

(Next: Engaging the private sector.)


Educating the next generation of biostatisticians
A new concentration in Bioinformatics and Computational Biology (BCB) was recently introduced by the Department of Biostatistics and Computational Biology. This concentration is available to all students pursuing a Ph.D. in statistics. The concentration is designed to educate the next generation of biostatisticians and equip them with the skills necessary to both develop and use quantitative and computational methodologies to manage, analyze and integrate massive amounts of complex biomedical data. Click here for more information.

---
Researchers in the news
Guan Wu, Associate Professor of Urology and of Pathology and Laboratory Medicine, and his colleagues conclude in a new study that radiation therapy used to treat uterine cancer may increase a patient's risk of developing bladder cancer, indicating the importance of monitoring patients for potential signs of bladder cancer to ensure early diagnosis and treatment. They analyzed records of 56,681 patients diagnosed with uterine cancer as their first primary malignancy between 1980 and 2005, and found that bladder cancer incidence in uterine cancer patients treated with pelvic radiation therapy was twice as high as that seen in patients treated without radiation.

Those confidential reports on risk--adjusted mortality rates for trauma patients -- supplied to hospitals as a catalyst for improving health care quality -- have not improved mortality rates, according to a study by Laurent G. Glance, Professor of Anesthesiology and of Public Health Sciences, and his colleagues. The study, published in the Journal of American Medicine, should serve as a wake-up call on performance reports, according to an accompanying opinion piece. An online article about the study can be read at FierceHealthcare.

Rochester's City Newspaper, in the first of a two-part series on mental health attitudes, research, and available services in the Rochester region, reports that researchers at the Medical Center are pioneering new ways to deliver mental-health services. While many people still visit a professional in the traditional clinical office setting, URMC has been creating treatment models built on a reverse premise: that mental health professionals need to bring treatment to the people. The article features Eric Caine, Chair and the John Romano Professor of Psychiatry; Steven Lamberti, Professor of Psychiatry; Catherine Cerulli, Associate Professor of Psychiatry; and Ann Marie White, an Assistant Professor of Psychiatry.

---
Mark your calendar
Today: Center for Integrated Research Computing (CIRC) symposium. Jean-Philippe Couderc, Associate Professor of Medicine/Cardiology will describe details of developing a high-resolution 3D heart model. Sarina Bellows from the Department of Chemistry will feature results from density functional theory (DFT) calculations of metal complexes. 11:30 a.m. to 1 p.m. in URMC 2-6408 (K-207 Auditorium). Pizza and soda will be served.

Jan. 24, 2014: Thomas Cech, who shared the Nobel Prize in Chemistry in 1989 for discoveries of the catalytic properties of RNA, will be the keynote speaker at the 2014 Medical Scientist Research Symposium, a half-day event that also includes a poster session and wine and cheese reception. Cech's lecture will be at 1 p.m. in the Class of '62 Auditorium. The symposium is held to showcase the research and scientific accomplihments of the UR Medical Scientist Training Program.

---
Next issue: Jan. 10
Due to the holidays, Research Connection will not be issued on Dec. 27 and Jan. 3.

---
Please send suggestions and comments to Bob Marcotte.. To see back issues, click here.