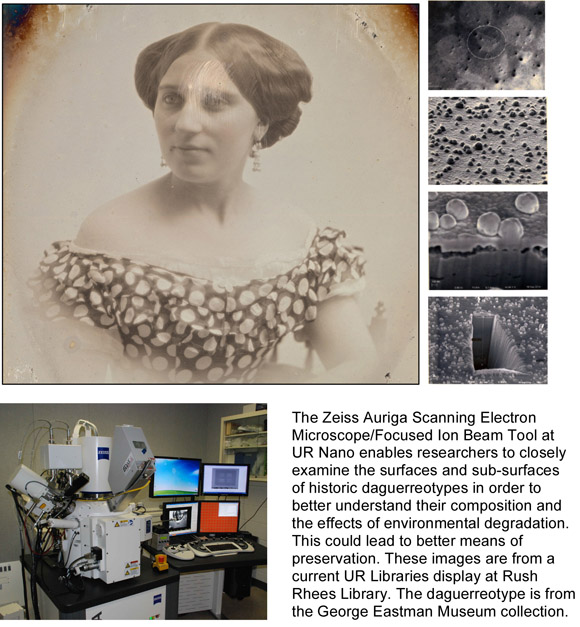 The race to save a vanishing past
We do not know the identity of the woman who appears in this daguerreotype, produced circa 1850 by Southworth and Hawes, who were among the masters of the art. But we do know a great deal about the daguerreotype itself — currently part of an exhibit in the lobby of Rush-Rhees library — thanks to a remarkable
University/George Eastman Museum/ Rochester Museum and Science Center research project that blends cutting edge science with the humanities
.
For example, the unique capabilities of the Zeiss Auriga SEM/FIB tool at
UR Nano
, the University's Integrated Nanosystems Center, enabled a team of researchers to make a
micro-sized cut in the surface of the woman's daguerreotype with high-energy gallium ions
. The cut is seen in the lowest of the four images stacked at right above. These images show, from top to bottom, increasing magnification of the area where the cut was made.
The third image down, taken at 44,400x magnification, shows a thick gold-silver surface complex at the top of the cut that has nearly separated from an underlying silver layer.
The large, spherical surface particles are indicative of the extended gilding
that Southworth and Hawes employed. The researchers believe this "
accounts for the extended tonal range and extraordinary optical effects
that define" the work of Southworth and Hawes.
The research team, including
Nicholas Bigelow
, the Lee A. DuBridge Professor of Physics and Optics;
Ralph Weigandt
, University Conservation Scientist; and
Brian McIntyre
, UR Nano's Director of Operations,
hope insights like these will help identify the daguerreotypists who created previously-unattributed images — and lead to better ways of preserving daguerreotypes
, many of which have undergone considerable degradation.
Learn more by browsing the informative exhibit,
"Researching the Daguerreotype at the University of Rochester: Nanotechnology Meets Local History,"
which will be
on display through Feb. 29
in the Friedlander Lobby at the Eastman Quad entrance to Rush Rhees Library. A
rare daguerreotype of the famed abolitionist Frederick Douglass
, on loan from the Chester County Historical Society in Pennsylvania, will be on display in Rush Rhees Library's Plutzik Room in conjunction with the exhibit.
In addition, a
special presentation about the scientific advances surrounding the daguerreotype and their relationship to cultural preservation
will be led by Bigelow, Wiegandt, and Jim Kuhn, Assistant Dean for Special Collections and Preservation, on
Dec. 14 from 7-9 p.m.
in the Hawkins-Carlson Room of Rush Rhees Library.
You can also click
here
for a
Rochester Review
article about the project.
Do you have an interesting photo or other image that helps illustrate your research? We would like to showcase it. Send a high resolution jpg or other version, along with a description of what it shows, to bmarcotte@ur.rochester.edu.
---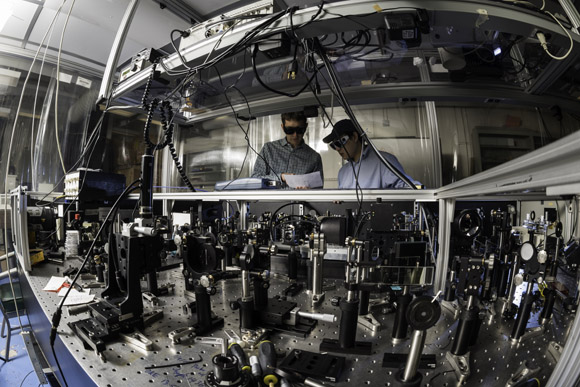 David McCamant, Associate Professor of Chemistry, in his lab with graduate student Joohyun Lee who helped build this array of optical equipment, which enables the lab to use femtosecond stimulated Raman spectroscopy (FSRS) with extremely short laser pulses to stimulate photochemical reactions in photosynthetic molecules. (Photo by J. Adam Fenster/University of Rochester)
PumpPrimer helps lab pursue whether the excitations of molecules help harness sunlight
When light-absorbing molecules are in close proximity — say half a nanometer apart — something interesting happens. The excitation that the light causes in the electrons of these molecules is no longer localized in one molecule or the other, but becomes shared through a molecular coupling, thereby producing an "exciton."
Thanks to a Pump Primer II award from the College of Arts, Science and Engineering, the lab of
David McCamant
, Associate Professor of Chemistry, is now poised to
explore an intriguing theory that this shared excitation may help explain how chlorophyll in plants can harness sunlight so efficiently
.
The McCamant lab will
employ femtosecond stimulated Raman spectroscopy (FSRS) with extremely short laser pulses to stimulate photochemical reactions in photosynthetic molecules
, and then analyze the molecular vibrations that result.
"Think of (FSRS) like a starter's pistol," McCamant explained. "Imagine you have a solution that will turn from red to green to blue after it absorbs light, but it occurs in one second transitions. If you can only turn your light on and off in five seconds, it will blur out that red to green to blue transition. To observe the kinectics of how fast that reaction goes, really precisely, you need to be able to excite it precisely."
Short laser pulses accomplish that — in a matter of femtoseconds.
But what is the connection between molecular vibrations and the shared excitation of electrons that McCamant wants to study in light-absorbing excitons?
"There are new theories coming out that the way molecules vibrate can change electronic excitation," McCamant explained. "Instead of fixed molecules just sitting there, each one is jiggling, and the way each one jiggles around really controls the dynamics of how the electrons move. "
This is an exciting area of research because findings will be significant regardless of whether the new theories are upheld or not, McCamant added.
"If this is an active mechanism that allows light energy to be controlled and manipulated and directed more efficiently, then by better understanding what is happening we could build solar cells that absorb light across the full spectrum and transfer if very efficiently into a photovoltaic cell or into actually making something,"
McCamant said.
On the other hand, "we're not really sure what is going on with this kind of excitation. If it turns out that this quantum coherence really has no improvement in any kind of energy efficiency, it would be good to know that right away, so we don't spend a lot of time and energy pursuing it.
"So it is exciting to be involved in the debate."
A previous grant application to the National Science Foundation was returned with a request for more preliminary data demonstrating the potential efficacy of FSRS in this line of research.
The Pump Primer II award will help McCamant produce that data
, in a continuing collaboration with the labs of Profs. Gregory Scholes (Princeton) and Michael Tauber (UC San Diego).
"
Pump Primer is really good in a situation like this where we have an established lab and we already have the equipment in place
," McCamant explained. "
It will support a grad student for eight months— after which we should have some preliminary data and a better understanding how to design experiments.
Those together would go into an application for a federal grant that might support two grad students for three years.
"It's really the seed money to get this going."
About PumpPrimerII
Pump Primer
awards were created to help faculty
develop data in order to seek extramural funding for "bold new research directions."
Pump Primer II awards are typically $1,000 to $20,000, and in rare instances as much as $50,000.
Guidelines for the award are available at
Rochester.edu/college/pumpprimer
.
Deadline to apply for the next round: Feb. 1.
(Next: Kara Bren, Professor of Chemistry, is using a PumpPrimer II award to explore a promising new pathway to convert CO2 into more useful forms of carbon.)
---
Researchers find pitfalls in new teacher certification assessment
The first teacher candidates required to pass edTPA (a new teaching performance assessment) for certification in New York and Washington States
encountered multiple ambiguities, uncertainties and other obstacles while trying to complete its requirements
, two Warner School researchers report.
The "tensions" this created for the test takers, combined with "sparse" feedback in the form of purely numerical ratings,
undermined the potential benefits of edTPA, providing "little useful information to edTPA takers for improving their practice
,"
Kevin Meuwissen
, Assistant Professor, and
Jeffrey Choppin
, Associate Professor, write in a paper published in
Education Policy Analysis Archives
In 2013, New York and Washington became the first states to require teacher candidates to pass the edTPA in order to be certified. Teacher candidates are required to prepare a portfolio that includes three to five lesson plans, 20 minutes of video-recorded classroom performance, and at least three student assessment samples, all based on their placements in schools as student teachers.
Meuwissen and Choppin interviewed 24 teacher candidates — 19 from New York and five from Washington — who completed the edTPA the first year it was required.
The candidates related instances of:
Representation tensions
, mainly uncertainties about how to best represent their teaching skills within the assessment format. For example, some test takers noted that "teaching involves more than what edTPA asks us to do, including building relationships with students, which edTPA doesn't extensively take into account," Meuwissen noted.
Support tensions
, including confusion among teacher candidates' academic advisors about what the state would or would not allow them to do to help their students complete edTPA's requirements. This was compounded when New York State relaxed its restrictions midway through the first year. The confusion led some teacher candidates to form clandestine support groups to help each other, Meuwissen said.
Agency tensions
, including difficulties aligning school curricula and instruction with those required by the edTPA and also resistance from people in the schools where candidates did their student teaching. This sometimes revolved around whether to allow videotaping of students, or how to allow teacher candidates to demonstrate competencies that edTPA weighs in its scoring but depart from common practices in the host school.
Given the high stakes involved (being certified or not), and confronted with obstacles beyond their control,
some teacher candidates acknowledged embellishing parts of their portfolios
that they struggled to complete according to the edTPA's requirements.
Meuwissen said this is an example of
how Campbell's law can come into play when tests like this are laden with such high stakes
. (Campbell's law states that the more any quantitative social indicator is used for social decision-making, the more subject it will be to corruption pressures and the more apt it will be to distort and corrupt the social processes it is intended to monitor.)
"One of dilemmas of the edTPA, where it is required for certification, is that it was designed to support formative assessment goals (as a learning tool) but is being used largely as summative assessment (or rating mechanism)," Meuwissen noted. "edTPA's role as a summative assessment is plainly obvious to candidates and their teacher education institutions," he added, because of its uses and consequences and the limited feedback they receive.
Teacher candidates receive only a numerical grade indicating whether they passed or failed, and teacher education institutions receive an overall pass/fail rate for their candidates.
Meuwissen offers these recommendations for policy and practice:
1. For states contemplating use of edTPA for teacher licensure:
Consider Washington State's implementation model, not New York's.
"There was a slower rollout (in Washington), more cooperation and transparency between the state and teacher education institutions, more resources, including time for piloting, and the cut scores started off lower and will move up gradually," Meuwissen said. He added, "Part of the problem with the edTPA in New York is that it's
situated within a rhetoric of tightening teacher accountability, which doesn't really inspire people to envision and consider teaching as an essential public good
."
2. For teacher education institutions in states where edTPA is or will soon be required: "Develop strategies for
mediating and reducing these tensions as teacher educators work with candidates
, and consider how the edTPA's components might be repositioned in programs as worthwhile assessment and learning tools."
---
Mark your calendar for NIH funding seminar in May
The National Institutes of Health will hold an NIH Regional Seminar on Program Funding and Grants Administration on May 11-13 in Baltimore. Investigators new to the NIH grants process will not want to miss this opportunity to
hear the latest on grant policies and processes from approximately 50 NIH and HHS grants management, review, program, and policy officers
.
In addition, there will be even more NIH Institute and Center staff available for 15 minute one-on-one chats. Check
here
starting the middle of this month for further details and updates on registering.
---
Congratulations to . . .
Henry Kautz
, the Robin and Tim Wentworth Director of the Goergen Institute for Data Science and Professor of Computer Science, who is
Chair-Elect of the Section on Information, Computing and Communication for the American Association for the Advancement of Science
.
---
University researchers in the news
Early life exposures to toxic chemicals such as PCBs and DDT dampen an infant's response to the tuberculosis vaccine
, according to a new study from the University's Environmental Health Sciences Center. The significance of the research extends far beyond TB vaccine responses and exposures to these two chemicals, said
Todd Jusko
, Assistant Professor of Public Health Sciences and Environmental Medicine, who led the study. "There are thousands of pollutants similar to PCBs and DDT with unknown health implications," he said. "
Our work provides a foundation for how these types of chemicals affect the developing immune system in infants around the world.
"
Read more . . .
Rochester researchers have discovered a
simplified way to measure how fast mercury from fish meals is expelled in humans — by looking at concentrations in hair strands
. Preliminary findings show elimination rates vary widely among people, according to a study published online by
Toxicological Sciences
. The work is exciting because it
could open up a non-invasive, more personalized way to understand mercury exposures
; and it may help to
explain why some people are predisposed to mercury toxicity due to differences in genetics, metabolism, and gut bacteria
, said
Matthew Rand
, Assistant Professor of Environmental Medicine, who led the proof-of-concept study.
Read more . . .
Ethanol, which is produced from corn, is commonly used as an additive in engine fuel to reduce harmful emissions and scale back U.S. reliance on foreign oil. But since ethanol is an oxygenated fuel, its use results in a lower energy output, as well as increased damage to engines via corrosion. A research team led by
William Jones
, the C.F. Houghton Professor of Chemistry, has
developed a series of reactions that results in the selective conversion of ethanol to butanol — an even better alternative to gasoline — without producing unwanted byproducts
. In fact, Jones was able to increase the amount of ethanol converted to butanol by almost 25 percent over currently used methods. Jones describes his process in a paper just published in the
Journal of the American Chemical Society
.
Read more . . .
The
first approved treatment for individuals with a rare neuromuscular disorder called periodic paralysis is a culmination of years of research by
Robert "Berch" Griggs
, Professor of Neurology, and his colleagues. Griggs is the principal investigator of the clinical studies that led to the FDA's recent approval of
dichlorphenamide
, which is being marketed under the brand name Keveyis by Taro Pharmaceuticals.
Read more . . .
---
PhD dissertation defenses
Maria Abreu-Sepulveda
, Materials Science, "Novel Electrode Materials Based on Perovskites and Pyrochlore Structures for Oxygen Catalysis." 9 a.m., Dec. 11, 2015, Hopeman 224. Advisor: David Quesnel.
Russell Follett
, Physics, "The Multiple-Beam Two-Plasmon-Decay Instability." 2 p.m., Dec. 11, 2015, LLE 2101. Advisor: Dustin Froula.
Ruyuan Zhang
, Brain and Cognitive Sciences, "Computational and Psychophysical Mechanism of Brain Plasticity induced by Perceptual Learning and Action Video Game Play." 4 p.m., Dec. 11, 2015, Meliora 269. Advisor: Duje Tadin.
Seyed Mohammad Mirhosseini Niri
, Optics, "Quantum Information with Structured Light." 10 a.m., Dec. 14, 2015, Goergen 101. Advisor: Robert Boyd.
Ovunc Kocabas
, Electrical Engineering, "Design and Analysis of Privacy-Preserving Medical Cloud Computing Systems." 1:30 p.m., Dec. 15, 2015, Computer Studies Building, Room 426. Advisor: Tolga Soyata.
Bilan Liu
, Electrical Engineering, "Improved Spatial Regression Analysis of Diffusion Tensor Imaging for Lesion Detection during Longitudinal Progression of Neurodegenerative Disease in Individual Subjects." 1 p.m., Dec. 16, 2015, Computer Studies Building, Room 523. Advisor: Jianhui Zhong.
---
Mark your calendar
Today:
"A Road Less Traveled (or When did the potholes get so big?): Tales from Neurological Care and Research in Sub-Saharan Africa," presented by Gretchen Birbeck, Professor of Neurology. 4 p.m., Ryan Case Method Room 1-9576.
Second Friday Science Social series
.
Dec. 14:
Deadline to submit proposals for spring workshop for the Center for Energy and Environment. Click
here
for more information and a proposal cover sheet. Completed applications should be returned to Jenn Steward at
jsteward@ur.rochester.edu
Dec. 14:
Scientific advances surrounding the daguerreotype and their relationship to cultural preservation, presented by Nicholas Bigelow, the Lee A. DuBridge Professor of Physics; Ralph Weigandt, University Conservation Scientist; and Jim Kuhn, Assistant Dean for Special Collections and Preservation, 7-9 p.m. in the Hawkins-Carlson Room of Rush Rhees Library.
Dec. 15:
Orphan Product Pricing Issues, presented by Fred Marshall, Associate Professor of Neurology and Frank Sasinowski of Hyman, Phelps, & McNamara PC. Noon to 1 p.m., Helen Wood Hall Auditorium (1w304). Part of the CTSI Skill-Building Workshop series.
Dec. 16:
Matrix Completion Discriminant Analysis, presented by Tongtong Wu, Associate Professor of Biostatistics and Computational Biology. 3:30-5:30 p.m., Helen Wood Hall, Classroom 1W501. Biostatistics and Computational Biology Fall Colloquium.
Dec. 16:
Creative Resilience and Aging: Frank Sinatra's Aging in Rhythm, presented by Jeffrey M. Lyness, Senior Associate Dean for Academic Affairs and Professor of Psychiatry. 4:30-6:30 p.m., Ryan Case Method Room (1-9576).
---
Please send suggestions and comments to Bob Marcotte. You can see back issues of Research Connections, an index of people and departments linked to those issues, and a chronological listing of PhD dissertation defenses since April 2014, by discipline.