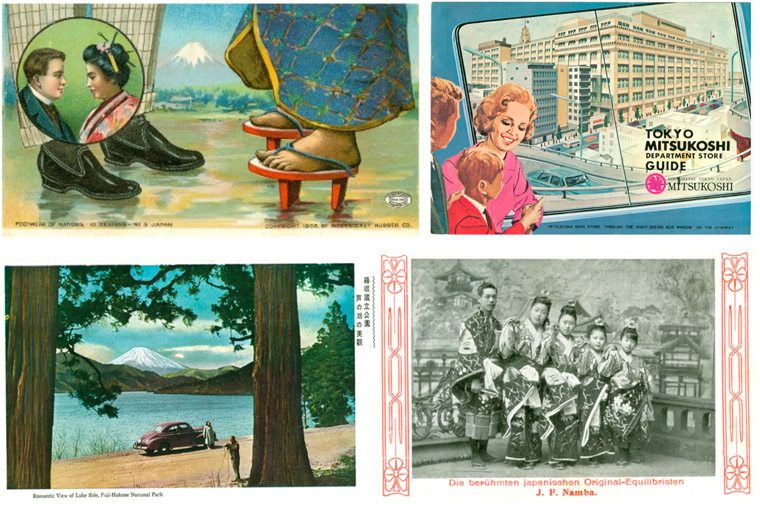 These images of 20th Century Japan are from the collection of Joanne Bernardi, Associate Professor of Japanese. From left to right, top to bottom: Footwear from the Woonsocket Rubber Company Mill, view of the Mitsukoshi Department Store in Tokyo "through the sight-seeing bus on the main highway," "romantic view of lake side at Fuji Hakone National Park," and the J. F. Namba Acting Troupe.
Digital Humanities Project "unleashes collection's potential to make meaning"
For the last 15 years, Joanne Bernardi, Associate Professor of Japanese, has been on a mission. She's been collecting postcards, brochures, films and other visual representations of early 20th century Japan -- often at her own expense -- as part of scholarship investigating representations of Japan and its place in the first half of the 20th century.

But her very success -- her collection now includes several hundred postcards and more than 1,150 film prints, brochures and other objects -- posed a dilemma: How to present all this in a way that would allow the collection to grow AND would allow other scholars to register and contribute content, "creating a dynamic community of users who can share ideas and related research"?

"I knew all along I would have a problem with a book manuscript," Bernardi said, noting that the cost of color reprints alone would be prohibitive. "So a web presence seemed like the way to go."

She approached Nora Dimmock (currently Assistant Dean for IT, Research and Digital Scholarship, who was then directing the Multimedia Center),assuming that the design and launching of a web presence would require a lot of Bernardi's time and expense, and was stunned when Dimmock replied: "We'll do it for you."

"I thought: 'Oh my god,' " Bernardi recalled. "They (Digital Humanities Center) have been with the project from the beginning in terms of getting on the web."

"They've helped me develop the site, and think of ways in which the material will be best presented, ways which make the most of its meaning, and ways that will enable viewers to access the material and further scholarship and teaching in this area."

"This was a huge turning point in the project. In turning this project into an online archive, digital technology acted as the catalyst, unleashing my collection's potential to make meaning."

The Digital Humanities Center applied for and received a Council on Library and Information Resources (CLIR) Postdoctoral Fellow award for 2015-2016, which will help migrate the site to an Omeka platform that is more conducive to community interaction. In the meantime, Bernardi is also grateful for a PumpPrimer II award from the Arts, Sciences and Engineering Dean's office in April that enabled her to digitize film prints and hire musicians to record the sheet music in her collection.

She now has the perfect tool to continue her research and publish her scholarship. "There are so many areas I can investigate just within this one project. I am very happy to continue with this forever."

Click here to visit the website for "Re-envisioning Japan: Japan as destination in 20th century visual and material culture."
Do you have an interesting photo or other image that helps illustrate your research? We would like to showcase it. Send a high resolution jpg or other version, along with a description of what it shows, to bmarcotte@ur.rochester.edu.
---
Warner School research abroad: Kazakhstan
(Three Warner School faculty and staff members recently discussed the importance of doing overseas research in an era of globalization, in order to make links between research conducted in contexts outside of North America and our understandings of local knowledge and practices in this country. This is one in a series of snapshots of their overseas research experiences, and what they've learned from them.)

Kazakhstan, which declared its independence following the dissolution of the Soviet Union, has looked to the United States as a model for the world-class educational system it hopes to create.

Among the "best practices" it wants to import is the U.S. system of shared governance in higher education -- including the boards of trustees that help oversee our universities.

However, as Bryan Gopaul, Assistant Professor of Educational Leadership, related at a recent talk, the translation of shared governance has been anything but straightforward in Kazakhstan.

Gopaul, who is collaborating with University of Pennsylvania and Nazarbayev University researchers in assisting Kazakhstan reform efforts, noted that "historically there was a very centralized control in the Soviet Union, and that splintered off into these new countries that have emerged."

For example, despite the establishment of boards of trustees in Kazakhstan, the central ministry of education still exercises many of the budgetary and hiring functions that would be carried out by trustees in this country.

In other words, mere structural change in educational reform -- e.g. creation of boards of trustees -- is not enough. It must be complemented with a clear, specific "cultural understanding" of what the trustees -- and other players in shared governance -- will actually be empowered to do.

Shared governance in the United States, Gopaul noted, "didn't happen overnight. It's been 150 years, 200 years of universities struggling with how to do effective governance -- and still struggling."

Part of Gopaul's takeaway is to see the Kazakhstan experience as "both a window and mirror" to re-examine our own "best practices" in higher education -- for example, the role of corporate partners in university affairs and how that can influence the mission of higher education. "If the United States is used as an anchor upon which to build educational systems in other countries, it is even more critical for us to engage in self-reflection on what we do here."

In Kazakhstan, it is clear that a variety of "contextual forces" -- a tradition of centralized control, different cultural values and different assumptions about education -- have all shaped the direction educational reform is taking there.

The same is true in the U.S., says Gopaul, where the landscape of higher education spans a multitude of institutions, regions, and populations with different learning needs. "All of these different contextual factors can help inform how we do education here, and help us think through what makes the most sense given all these different institutional types, regions and student needs."

(Next: The growing pressure on multilingual researchers to publish in English.)

---
Basics of IP: From bench top to bedside
(This is one in a series of articles about the importance of intellectual property and its commercialization to the University and its researchers. It is based on a current UR Ventures lecture series, "Intellectual Property and Commercializing Technology" being offered by the office of the AS&E Dean for Research. The next presentation, "Assessing the Market Opportunity of New Technologies," will be at noon, Jan. 20, in the Gowen Room of WIlson Commons. Lunch provided. RSVP to melissa.napolitano@rochester.edu)

The Valley of Death. The Chasm of Risk.

This is the landscape -- somewhere beyond Pure Research, but well short of Commercialization -- where great ideas and promising innovations from university researchers often flounder.

Not because they're bad ideas, adds Patrick Emmerling, Licensing Manager with UR Ventures. On the contrary, they may have the potential to change the world.

However, "there's a lot of risk involved in early stage technologies," Emmerling explained at a recent lecture. Businesses may want to see additional proof of concept or results from clinical trials before they'll risk licensing and investing in a new technology.

That's where UR Ventures would like to actively partner with University researchers, in "adding value" to their discoveries, and helping those discoveries cross the Valley of Death, Emmerling said. It's all part of a "bench top to bedside" process that "always starts at the same point -- the inventor." It involves these steps:

1. Timely disclosure of new innovations to the University before they are revealed in lectures, papers, poster sessions or other public forums or platforms. This is essential to maintain the "novelty" that is key to obtaining patents, Emmerling explained. This does not mean researchers can no longer be open about their work and share knowledge, he emphasized. "All we want is enough lead time to first file a provisional patent, so when you do disclose your discovery (in public), it won't eliminate your ability to patent this invention abroad or in the United States."

2. A UR Ventures licensing manager then meets with the inventor(s) to "give you an opportunity to educate us, to tell us what is exciting about your discovery. You are the experts in your field of research, not us."

3. The UR Ventures team then searches for "prior art" -- whatever is already out there in the literature or in patents -- to help establish the novelty of the discovery.

4. If the discovery is deemed worthy of protection, UR Venture's IP attorneys will work with outside counsel to draw up and file a patent application.

5. Simultaneously, the new technology will be evaluated to determine where it is on the spectrum of risk. Through confidential conversations with the inventors, and with other faculty and/or industry experts, a strategy will be developed to carry out any additional experimentation or development that will "take a good idea and make it an even better idea," Emmerling said.

6. Even after a patent is obtained -- indeed "throughout the life of this technology" -- the licensing manager will engage in a continuous process of evaluating the invention's readiness for market, and locating potential customers.

"The ultimate goal is that we license the technology with an entity outside the university that will take the ball forward and bring this to market," Emmerling said. "Whether it is an existing company, or whether it is a start up -- whether it is one that does or does not include the inventors -- depends on the technology, the market and best path forward."


Better to find out early . . .
A team of UR Faculty inventors, excited about their recently disclosed technology, resolved to launch their own startup company.

First, however, Patrick Emmerling, Licensing Manager with UR Ventures, suggested they participate in the "Lean Launchpad" program at High Tech Rochester, which UR Ventures coordinates with. The intensive, 12-week program involves talking to dozens of potential customers, developing a business model, and refining the technology accordingly.

This is an example of the kind of advice and support UR Ventures can provide to inventors.

In this case, the inventors dropped out of the program prior to its completion, Emmerling said.

"They realized it was the last thing in the world they wanted to do," Emmerling added. "And that was fine, not because I didn't want them to be innovators or entrepreneurs, if that was the right thing for them. But it was important to find out early that this was not the kind of environment they wanted to be in -- before they had committed a great deal of time and capital and gotten knee deep into it. It gives us the opportunity to then license the technology to somebody out in the market who can bring it forward."

---
CTSI pilot funding helps advance autism project
Starting with only a bed-wetting alarm bought off an internet site, Daniel Mruzek, Associate Professor of Pediatrics, and his team have developed effective toilet training devices for children with autism.

Along the way they've been assisted by a Department of Biomedical Engineering senior design group, Innovocracy, the Autism Treatment Network and, above all, a pilot grant from the Clinical and Translational Science Institute that "gave us the 'seed money' to develop a usable prototype, which gave us an opportunity to develop an early manualized intervention and pilot it in a local school with students with developmental disabilities," Mruzek writes.

Read more at the CTSI Stories Blog.

---
REDCap gets upgrade
A recent upgrade to the REDCap system offers users many new features and improvements. REDCap is a mature, secure web application for building and managing online surveys and databases and is available free to all University of Rochester faculty and staff.

New features include the ability to schedule survey reminders, create survey confirmation emails, input a signature field for survey respondents to sign with a mouse, pen or finger, and the ability to generate QR codes for surveys.

Click here to read the full list of new features and improvements, and here to access REDCap.

---
Pilot funding available from Musculoskeletal Biology and Medicine center
The University's Core Center for Musculoskeletal Biology and Medicine is requesting applications from new investigators for funding of pilot projects.

The pilot grant program provides seed funding for new multidisciplinary translational and clinical research, emphasizing the goal of applying new discoveries to human health in individuals and the community.

Proposals are due Feb. 20. Click here for the full RFA.

---
Introducing a new faculty member
Carol Wittlieb-Weber has joined the Department of Pediatrics, Cardiology, as an assistant professor. Her research includes evaluating the outcomes and cost of pediatric cardiomyopathy and heart failure hospitalizations using a national database, and evaluating Doppler flow patterns across the left ventricular outflow tract during exercise, in healthy children and adolescents, using stress echocardiography. She received her MD from the Robert Wood Johnson Medical School at Rutgers in 2007 and completed a Fellowship in Pediatric Cardiology at Children's Hospital of Philadelphia in June 2014.

---
Congratulations to . . .
Qiang Lin, Assistant Professor of Electrical and Computer Engineering and of Optics, for being selected as the first recipient of the Leonard Mandel Faculty Fellow Award by the Department of Physics and Astronomy. The Mandel award, given in honor of the long-time UR physicist and pioneer of quantum optics, provides an early-career faculty member with a two-year $25,000 stipend to support student assistants and research associates. The award notes that Qiang "has formed a large and active research team, engaging Ph.D. students in an impressive record of contributions to the fields of cavity nano-optomechanics, integrated quantum photonics, nanophotonics, and nonlinear optics. His publications include more than 50 papers in physics, optics, and photonics journals, resulting in more than 1,600 citations. The National Science Foundation has designated him as a recipient of the prestigious Faculty Early Career Development Award." Read more . . .

---
UR research in the news
A new study from Medical Center researchers shows that pregabalin is not effective in controlling the pain associated with lumbar spinal stenosis, the most common type of chronic lower back pain in older adults. The new study employed a novel approach to evaluating the effectiveness of pain treatments. Because the pain associated with the lumbar spinal stenosis is present when a person is upright or walking, the researchers asked individuals with the condition to report their pain levels while walking on a treadmill. A total of 26 individuals participated in all phases of the study. The researchers found there was no significant difference in the levels of pain experienced by those taking the drug and those who received a placebo. John Markman, Director of the Translational Pain Research Program in the Department of Neurosurgery, is lead author of the study. Additional co-authors include Maria Frazer, Shirley Rast, Michael McDermott, Jennifer Gewandter, Amit Chowdhry, Kate Czerniecka, Webster Pilcher, Lee Simon, and Robert Dworkin with the University of Rochester. Read more...

University researchers have found that exposing very young mouse pups to low levels of bishphenol-A or BPA, a chemical compound that gives plastics their sturdy nature, can impair their brains' adaptability. BPA is very prolific and can be found in everything from medical respirators to construction hard hats, but the products of most concern are those involved in food packaging, like metal cans and plastic containers. In the study, published in the journal Frontiers of Neuroanatomy, mouse pups were exposed to half the acceptable BPA exposure level set by EPA. Emily Kelly, postdoctoral fellow, and Ania Majewska, Associate Professor, in Neurobiology and Anatomy and Lisa Opanashuk of the Department of Environmental Medicine, conducted the NIH-funded study. They say that more research is needed to understand the full impact BPA may have in humans. Read more . . .

---
PhD dissertation defenses
Vijaya Balakrishnan, Biomedical Genetics, "Regulation of autophagy and lysosome integrity by Plac8 in cancer." 11 a.m., Dec. 15, Upper Auditorium (3-7691). Advisor: Harmut Land.

Hsi-Min Hsiao, Pathology and Lab Medicine, "Pro-Resolving Lipid Mediators in the Resolution of Lung Inflammation." 9 a.m., Dec. 16, Upper Auditorium (3-7691). Advisor: Patricia Sime.

Jordan Aldersley, Biomedical Genetics, "Shared Role for Critical Mediator Genes in Ras-dependent and Ras-independent Malignant Cell Transformation." 1 p.m., Dec. 16, Ryan Case Method (1-9576). Advisor: Harmut Land.

---
Mark your calendar
Dec. 17: "Regulatory Approvals. FDA guidance, Subpart H: Biomarkers for approval of treatment for rare diseases," presented by Charles Thornton, Richard T. Moxley III, and Frank Sasinowski. CTSI skill-building workshop series. Noon to 1 p.m. in the Helen Wood Hall Auditorium. Lunch is provided.

Jan. 5: Deadline to submit requests for up to $50,000 in funding for one year from the Center for AIDS Research to "support a broad range of highly innovative research projects and pilot studies [that] address key gaps in our understanding of HIV/AIDS." Click here for more information.

Jan. 20: "Assessing the Market Opportunity of New Technologies," part of UR Ventures lecture series, "Intellectual Property and Commercializing Technology." Noon, Gowen Room of WIlson Commons. Lunch provided. RSVP to melissa.napolitano@rochester.edu

---
Please send suggestions and comments to Bob Marcotte. To see back issues, click here.