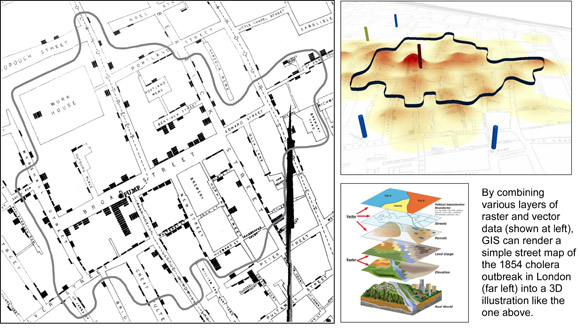 GIS gives researchers a tool to illustrate, analyze data
John Snow didn't know it, but as early as 1854 the renowned British epidemiologist was
incorporating elements of GIS (geographic information systems) in a famous map he prepared showing that 600 cholera deaths in London could be traced to contaminated water from a single pump
.
Basically, he plotted the locations of every death, by building, on a street map. He then drew what today would be called a Voronoi diagram to correlate locations of the deaths to the nearest water pumps.
If only he could see what researchers can do with advanced GIS computer software today!
GIS software allows a researcher to load layer upon layer of images and data for a given location, then combine and analyze them
, explains Blair Tinker, Research Specialist for GIS with the Digital Humanities Center. In essence, it is a tool to "combine spatial locations and their properties."
Police departments use it to concentrate resources in areas with highest crime; city and regional planners use GIS to see if municipal services (such as parks) are properly placed to serve the areas of greatest need; businesses use it to determine the best location for a new store.
Academic researchers can use GIS for any number of applications
; a professor of religious studies at another university used GIS to map the locations of the accusers, the accused, and those who were actually put to death during the Salem witch trials, Tinker noted.
AS&E offers its faculty and students free access to the "cadillac" of commercial GIS systems: ESRI's ArcGIS software package.
It can be accessed at any IT-maintained PC on the River Campus and installed locally on user PCs. Non AS&E faculty and students — at the Medical Center or Eastman School, for example — can still get access to the software and should contact
sitelic@rochester.edu
for more information.
Tinker
encourages students working on a major project to consider the use of an open-source GIS system, such as QGIS or GDAL/OGR
, which they can use on their own Macs and PCs at no cost. The advantage of using an open-source solution over commercial software such as ESRI is that
the project and data are portable and users won't be "stuck with translating or trying to convert" their work to another system when they move to another institution that does not support ESRI products
.
Tinker, the University's primary academic GIS support person, encourages faculty or students with questions about GIS to contact him at
btinker@library.rochester.edu
Do you have an interesting photo or other image that helps illustrate your research? We would like to showcase it. Send a high resolution jpg or other version, along with a description of what it shows, to bmarcotte@ur.rochester.edu.
---
Proposed "Common Rule" changes could stifle research
Proposed changes to federal regulations aimed at improving the protection of human subjects could stifle human subject research and, ultimately, progress against preventing and treating disease, researchers fear. Changes to the regulations known as "The Common Rule" would
complicate consent requirements for the secondary use of biospecimens and data
and would
mandate single Institutional Review Board (IRB) approval for multi-site studies
.
"The policies will
transform the way human subjects research is conducted
," said
Steve Dewhurst
, Vice Dean for Research at the School of Medicine and Dentistry. "They may also have unintended negative consequences — including limiting who can contribute biospecimens for research, and making work with biospecimens far more onerous for researchers. So it is very important that our faculty understand the proposed changes and that they comment on them if they would prefer that the policies be revised before they become finalized."
The federal government is accepting comments on the proposed changes until Jan. 6, and researchers are encouraged to submit feedback.
All feedback must include viable alternatives to the federal government's proposed regulation changes. More information is available on the CTSI website: resources include a
slide deck
, a
fact sheet
on the proposed Common Rule changes, and a
one-page guide
to writing effective comments. Contact
Kelley O'Donoghue
for assistance or more information.
Read more . . .
---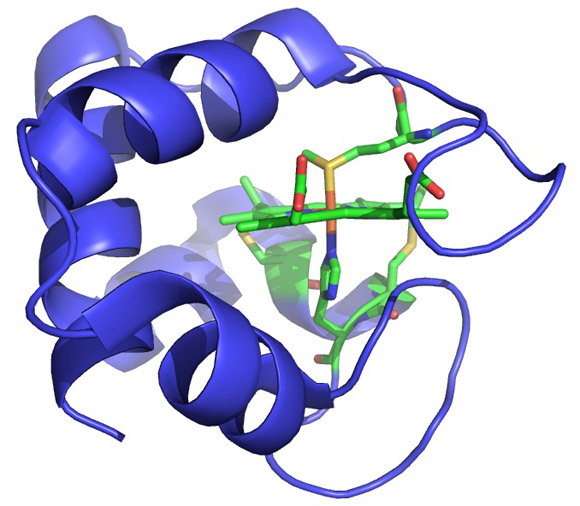 This image shows the structure of one of the proteins being used as a catalyst by the lab of Kara Bren, Professor of Chemistry, to convert CO2 to more useful forms of carbon. To make the protein catalytically active the lab replaces the native iron with cobalt.
PumpPrimer II helps researcher explore promising new pathway to convert CO2
Given the overabundance of carbon dioxide produced by fossil fuels and other sources, it would be a tremendous boon to capture existing carbon dioxide and convert it — in an environmentally friendly way — into more useful forms of carbon. And in doing so, to
avoid the additional CO2 created by traditional hydrocarbon-based manufacture of carbon products
.
This ambitious goal is being pursued in the lab of
Kara Bren
, Professor of Chemistry, with help from a Pump Primer II award from the College of Arts, Science and Engineering.
The project will explore
using cobalt-protein and cobalt peptide compounds
as a promising new pathway in
using specially engineered biomolecules as catalysts for reducing carbon dioxide to carbon monoxide and formic acid — which could be further reduced to methanol
.
"A lot of catalysts that are able to reduce carbon dioxide are also able to reduce (hydrogen) protons and vice versa," Bren explained. "The challenge is to select for one over the other, in particular to select for CO
2
, which is much harder to do and is especially challenging in water."
Based on preliminary work in her lab, it appears "we have the potential make a cavity within a protein that binds CO
2
but would exclude protons. We're hoping this will be a new way to select for CO
2
over protons."
There would be multiple advantages to this pathway:
1. It involves
inexpensive, nontoxic elements.
2. It could be
carried out in water
, rather than in toxic and environmentally harmful organic solvents.
3. It could be
driven by energy from sunlight
.
"To our knowledge, no researchers have made artificial protein-based biomolecular catalysts of CO
2
reduction to date," Bren wrote in her project proposal. "Thus, progress on this project would garner significant attention from the broad chemistry community."
And, she hopes, from federal funding agencies.
"We do have some indications that this approach to reducing CO
2
is possible," she noted. "However,
without definitively showing some initial successes on the reaction of interest here, reviewers would certainly label the project as too risky to support
."
That's where the Pump Primer II award comes into play. It will
help pay stipends for two PhD students that Bren will assign to the project, in hopes of generating sufficient preliminary data to attract external funding
.
Though the project is still in its initial stages, Bren is excited about the possibilities.
"Carbon is really the cornerstone element that makes up a large number of compounds we use. If we can convert CO
2
into forms of carbon that are more useful, then the things you can make from it are pretty much endless. The question becomes one of scale and physical plant — which decides the particular things you target."
About PumpPrimerII
Pump Primer
awards were created to help AS&E researchers
develop data in order to seek extramural funding for "bold new research directions."
Pump Primer II awards are typically $1,000 to $20,000, and in rare instances as much as $50,000.
Guidelines for the award are available at
Rochester.edu/college/pumpprimer
.
Deadline to apply for the next round: Feb. 1.
Next: UR Venture's Technology Development Fund helps researcher pursue ways to boost laser power, efficiency.
---
Exhibit celebrates life and work of Esther Conwell
A tireless researcher. A respected mentor. A distinguished scientist. Esther Conwell, Research Professor of Chemistry and Physics, was
one of the preeminent scientists of her generation
. Conwell died last year at the age of 92, but her legacy lives on at the University. An
exhibition
through Dec. 31 on the first floor of Carlson Library showcases the research that defined her career.
The exhibition includes photos of Conwell, as well as copies of her publications and books, some of which will be added to the River Campus Libraries' collection. A similar display is on view in the Department of Rare Books, Special Collections, and Preservation in Rush Rhees Library.
Conwell earned a Ph.D. in atomic physics in 1948,
when few women were entering scientific fields
. In 2002, she was named one of
Discover
magazine's "50 Most Important Women in Science" for
her semiconductor research that ultimately revolutionized modern computers
. She was awarded the
National Medal of Science
by President Barack Obama in 2010, and held
dual memberships in the National Academy of Sciences and the National Academy of Engineering
. She was also a respected role model and mentor who devoted herself to the cause of equality for women in science and engineering.
---
Abstracts sought for CTSI Novel Biostatistical and Epidemiologic Methods Awards
The Clinical and Translational Science Institute (CTSI) has issued a second call for submission of abstracts for Novel Biostatistical and Epidemiologic Methods (NBEM) awards.
Submissions will be
due on Jan. 15, 2016
at 5 p.m. The principal goal of this program is to
stimulate the development of novel biostatistical and epidemiologic methods
that help overcome specifically identified limitations and
significantly enhance the validity and accuracy, scope or speed of clinical or translational research
.
Information about the program and instructions for submission can be found in the
RFA
.
---
Pilot funding available for HIV/AIDS research
The Center for AIDS Research seeks applications for pilot funding to:
1. support highly innovative research projects that address key gaps in our understanding of HIV/AIDS and in HIV treatment and prevention; high-risk/high reward science is strongly encouraged, along with studies likely to result in new extramural funding.
2. facilitate interdisciplinary and inter-professional collaborations between the University's HIV/AIDS Clinical Trials Unit (CTU) and members of the Center for AIDS Research. (The CTU consists of clinical research sites for the AIDS Clinical Trials Group and the HIV Vaccine Trials Network.)
Applications may be targeted to either therapeutics research, prevention research or both, and are also expected to address both goals listed above. One award will be made for a one-year period with
maximum funding of $50,000
in Direct Costs. Additional information and specific application requirements can be found in the
full pilot announcement
.
Applications are due before or on Jan. 22
, 2016, no later than 5 p.m.
Read more . . .
---
Congratulations to . . .
Professor
Ann Dozier
, who has been
named Chair of the Department of Public Health Sciences
. Dozier has served as interim chair since July 2014 and will formally be installed on Jan. 1. Dozier's research and fieldwork
focuses on maternal and child health, with an emphasis on improving breastfeeding among low income women and reducing infant mortality
. The scope of her work entails identifying barriers to improving maternal child health, evaluating and identifying the most effective ways to overcome these challenges, and working with providers and other health and human service organizations to promote the adoption of best practices and improve outcomes on a community-wide scale.
Read more . . .
Wilmot scientists
Carla Casulo
, Assistant Professor of Medicine (Hematology/Oncology) and
Jonathan Friedberg
, Director of the Wilmot Cancer Institute and Samuel E. Durand Chair in Medicine, who published a study this year that has
been named to "Best of JCO 2015" hematologic malignancies edition
. The
Journal of Clinical Oncology
describes itself as the single-most credible, authoritative resource for clinical oncology research. The Casulo-Friedberg study
defined a unique group of high-risk follicular lymphoma (FL) patients — about 20 percent — who consistently experience their disease coming back within two years of treatment
, despite the fact that most FL patients can expect to live 20 years.
Read more . . .
Timothy Dye
, Professor of Obstetrics and Gynecology, who has been
awarded a Fulbright Specialist Program Award
by the Institute of International Education. Dye, whose work crosses global health and biomedical informatics,
will work at the United Nations University's Institute for Computing and Society in the Macao Special Administrative Region of the People's Republic of China
in January 2016. The director of biomedical informatics at the Clinical and Translational Science Institute, Dye works to combine global health with big data. The Fulbright Award will help him
further his research in the emerging field of "Data Diplomacy," which seeks to better understand the role that data sharing plays as an agent in social and political relationships around the world
.
---
University researchers in the news
A study led by
Mehmet Aktas
, Associate Professor of Medicine (Cardiology), shows that
married patients with an implantable cardioverter defibrillator or ICD — a device designed to prevent sudden cardiac death — had a 39 percent lower risk of death
when compared to unmarried patients. "Patients who have a spouse living with them may be better taken care of; they may be more likely to take their medications and to attend follow-up appointments, which can lead to better outcomes," explained
Wojciech Zareba
, Director of the Heart Research Follow-up Program. Zareba added that future research will examine female versus male ICD patients to better determine how gender influences outcomes.
Read more . . .
---
PhD dissertation defenses
Daniel Williams
, Optics, "Window-Integrated Low Concentration Planar Light Guide Solar Concentrators." 1 p.m., Dec. 21, 2015, Goergen 109. Advisor: Duncan Moore.
Yanwei Song
, Electrical Engineering, "Energy Efficient Data Movement with Sparse Representation." 2 p.m., Jan. 7, 2016, Computer Studies Building 426. Advisor: Engin Ipek.
Karan Mehrotra
, Mechanical Engineering, "Nano-mechanics of Optical Structures for High Laser-Damage Threshold Applications." 10 a.m., Jan. 12, 2016, Hopeman 224. Advisor: John Lambropoulos.
---
Next issue: Jan. 15
Enjoy the holidays!
---
Mark your calendar
Today:
The Center for Integrated Research Computing (CIRC) symposium. Tim Mosmann from the Department of Microbiology and Immunology will present his lab's approach to high-dimensional data clustering and strategies for dealing with unusual features of flow cytometry data. 11:30 a.m. to 1 p.m. in URMC 3-6408 (K-307 Auditorium).
Jan. 5:
Seeking Consent: When the Physician is also the Researcher. Presented by Carl T. D'Angio, Professor of Pediatrics and Medical Humanities & Bioethics and Director, Research Ethics Program, Clinical and Translational Sciences Institute: John C. Elfar, Associate Professor of Orthopedics; Kelley O'Donoghue, Director of the Office of Human Subjects Protection; Margie Hodges Shaw, Assistant Professor, Medical Humanities and Bioethics; and Kelly Unsworth, Director of Education and Training, Office of Human Subjects Protection. Faculty Development Seminar and Workshop Series. 4-5:30 p.m., Center for Experiential Learning, CEL Room 2-7520.
Jan. 15:
Abstracts due for CTSI Novel Biostatistical and Epidemiologic Methods Awards. Information about the program and instructions for submission can be found in the
RFA
.
Jan 20:
Telemedicine and Research, presented by Ray Dorsey, Director and Professor, and Karen Rabinowitz, Legal Counsel and Associate Director of Collaborations, Center for Human Experimental Therapeutics (CHET). Noon to 1 p.m., Helen Wood Hall Auditorium (1w304). CTSI Skill-Building Workshop.
Jan. 22:
Applications due for Center for AIDS Research/Clinical Trials Unit Pilot funding. Click
here
for the RFP.
---
Please send suggestions and comments to Bob Marcotte. You can see back issues of Research Connections, an index of people and departments linked to those issues, and a chronological listing of PhD dissertation defenses since April 2014, by discipline.