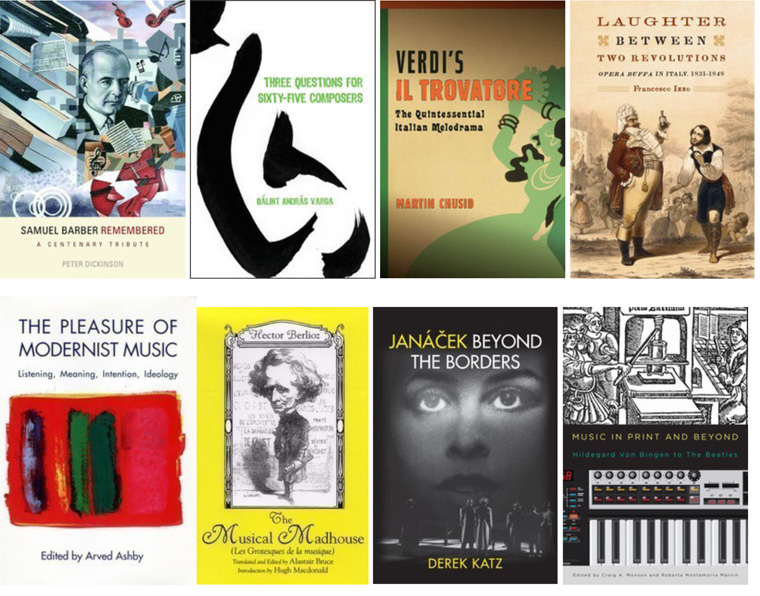 These are among the titles available from the Eastman Series in Music, published by the University of Rochester Press.
Breadth in an age of specialization: the Eastman Studies in Music series
"Music can be a problematic topic for a book," writes Ralph P. Locke, Eastman Professor of Musicology, at the Musicology Now blog of the American Musicological Society. "Unlike novels or poems, plays or paintings, musical works cannot easily be represented in words or visual images. Furthermore, musical notation and detailed technical description can feel opaque to many music lovers. The net result has been a looming gap, for centuries now, between music as it is understood by musicians and the often superficial ways in which it has tended to be written about in books, magazines, and newspapers."

The Eastman Studies in Music, edited by Locke and published by the University of Rochester Press, is helping to fill that gap with dozens of scholarly books on such varied topics as music publishing in sixteenth-century Venice, fugal theory in the Baroque era, the suites of Johann Sebastian Bach, and "the pleasure of modernist music." For example, the 100th title in the series, published last year, is The French Symphony at the Fin de Siècle: Style, Culture, and the Symphonic Tradition. This monograph by Andrew Deruchie, Lecturer in Music at Otago University (New Zealand), focuses on the special challenges that composers in France faced in the late nineteenth and early twentieth centuries when composing in a genre previously dominated by German-speaking composers.

Some of the books in the series were written or edited by Eastman School professors or notable alumni. The Howard Hanson Institute for American Music, which is administered at the Eastman School of Music, has provided subventions to certain Eastman Studies books about music and musical life in America. And hot off the press this week is Mendelssohn, the Organ, and the Music of the Past: Constructing Historical Legacies, derived in large part from papers presented at the 2009 festival of EROI (the Eastman-Rochester Organ Initiative) and edited by Jürgen Thym, Professor Emeritus of Musicology. Works discussed in the book can be listened to at the Eastman School's website in performances by Eastman organ professor David Higgs, former Eastman organ professor Hans Davidsson, and professor emeritus of organ William Porter.

"By casting its net wide," writes Locke, "the Eastman Studies in Music series provides a wide range of critical and nuanced perspectives on musical composition and performance, on close analysis of music's formal and expressive qualities, on musical performance across the centuries and around the world, and on the many historical and cultural contexts that have shaped music and its meanings for those who make it and love it."

Moreover, at a time when funding for arts and humanities projects is under great strain, the University of Rochester Press and its sister firm in the UK, Boydell & Brewer, "are committed . . . to providing a forum for scholarly debate and research," demonstrating that "serious research on music can still be published and at least break even for the publisher, even in the tight economic situation of the early twenty-first century."

Visit Locke's blog post to learn more about the history of the Eastman Studies in Music.


Do you have an interesting photo or other image that helps illustrate your research? We would like to showcase it. Send a high resolution jpg or other version, along with a description of what it shows, to bmarcotte@ur.rochester.edu.
---
Warner School research abroad: The 'dual burden' for non-English scholars
(Three Warner School faculty and staff members recently discussed the importance of doing overseas research in an era of globalization, in order to establish links between research conducted in contexts outside of North America and our understandings of local knowledge and practices in this country. This is the last in a series of snapshots of their overseas research experiences, and what they've learned from them.)

After visiting her counterparts overseas, Mary Jane Curry, Associate Professor of Teaching and Curriculum at the Warner School, no longer takes for granted the privileges that come with working at a well-funded U.S. research university.

For example, if she needs a book, she emails UR librarians and they get it for her. Ditto for journal articles; Interlibrary Loan usually delivers them within 12 hours.

"If you're a scholar in Slovakia, where you're making $300 a month, and you want a book, you're probably going to have to order it from Amazon. Of your $300 a month, are you going to spend $50 on a book? I don't think so."

But perhaps the biggest privilege Curry enjoys is an accident of birth: She speaks English.

By that fact alone, she avoids the "dual burden" that increasingly confronts university faculty in non-English speaking countries. Since 2001, Curry has worked with Theresa Lillis, Professor of English Language and Applied Linguistics at The Open University, United Kingdom, on researching how scholars in those countries are responding to the growing pressure to publish their academic work in English.

In conducting their project -- Professional Academic Writing in a Global Context -- they have focused on 50 scholars in Hungary, Slovakia, Spain and Portugal, making 60 visits to those countries. They have conducted more than 225 interviews with scholars who have written for publication and with the editors they've worked with. They have collected more than 1,200 versions of scholars' texts written for publication, and at least 200 reviewer reports and letters from editors. Their goal is to document how the global status of English influences academic knowledge, production and exchange in the 21st century, specifically the pressures scholars face, barriers and support mechanisms, what they publish, how they do it, and what kinds of policies affect their ability to do so.

During a recent presentation at the Warner School, Curry outlined some of their findings:

1. In just the last 15 years, the pressures to publish in English have increased dramatically. More than 95 percent of indexed natural science journals and 90 percent of social science journals use all or some English as the medium of publication. And with the emergence of Thomson Reuters as the "global megalith of knowledge production," the journal impact rankings that consume academics in this country have become "global forces impinging on scholars all around the world."

2. This creates a dual, or double burden on multilingual scholars who also want to continue publishing in their own languages. This dual pressure is compounded by the fact that English journals generally refuse to publish articles that have already appeared in non-English language journals, even though the overlap in readership is extremely small.

3. There has been an increase in English medium journals that are published regionally, which allows scholars to publish in English "without having to engage in the politics and competitiveness of index journals."

4. The "literacy brokers" who help determine what does or doesn't get published -- reviewers and language specialists who provide feedback -- often "have an impact on the text that goes well beyond correcting English" to influencing what knowledge is presented and in what forms.

5. Success by non-English speaking scholars in getting published in English language journals has less to do with competency in English, as having a network of English-speaking colleagues and scholars in Anglophone-'center' locations who can help with identifying publishing opportunities, selecting target journals, framing research findings, and structuring of articles -- support that goes well beyond wording.

In Academic Writing in a Global Context -- The Politics and Practices of Publishing in English (Routledge 2010), Curry and Lillis urge that the production and evaluation of scholarly publications, now centered in English-speaking countries, be "decentered," to help ensure that contributions from multi-lingual scholars are given equal weight. They also call for increased mentoring, collaboration and open-access publishing. They have also published A Scholar's Guide to Getting Published in English: Critical Choices and Practical Strategies (Multilingual Matters 2013).


Worth pondering:
The global status afforded to English -- and to those who speak it -- can create subtle pitfalls when conducting research on your peers in other countries, notes Mary Jane Curry, Associate Professor of Teaching and Curriculum at the Warner School, who studies academic publishing in a global context.

She relates an experience she had as a postdoc, interviewing "people who have been publishing in Hungary for 25 years. These are full professors in the Hungarian system. They know way more than I do. But because of the global status of English, the context positions us so that I know more than they do. That is a dangerous place for a researcher. You should always be feeling like you know less than your participants."

---
Discovery may explain why we gain weight
University researchers believe they're on track to solve the mystery of weight gain -- and it has nothing to do with indulging in holiday eggnog.

They discovered that a protein, Thy1, has a fundamental role in controlling whether a primitive cell decides to become a fat cell, making Thy1 a possible therapeutic target, according to a study published online this month by the FASEB Journal.

The research brings a new, biological angle to a problem that's often viewed as behavioral, said lead author Richard P. Phipps, the Wright Family Research Professor in the Department of Environmental Medicine. In fact, some diet pills consist of antidepressants or anti-addiction medications, and do not address what's happening at the molecular level to promote fat cell accumulation. Phipps' laboratory reported for the first time that expression of Thy1 is lost during the development of fat cells, suggesting obesity could be treated by restoring Thy1.

They're also working towards developing an anti-obesity drug, a Thy1-peptide, and have applied for an international patent to protect the invention. Read more . . .

---
UR researchers contribute to highly cited paper on LUX dark matter experiment
A paper on "First results from the LUX dark matter experiment at the Sanford Underground Research Facility" by the LUX collaboration is the second most cited paper in high energy physics this year, according to INSPIRE, the High Energy Physics information system. University of Rochester coauthors include Frank Wolfs, Professor of Physics; Visiting Scientist Wojtek Skulski; and graduate students Eryk Druszkiewicz and Mongkol Moongweluwan.

The Large Underground Xenon (LUX) experiment involves a 370 kg liquid xenon time-projection chamber that aims to directly detect galactic dark matter in a laboratory 1 mile underground in the Black Hills of South Dakota. Click here to read more about the project and the contributions of the UR researchers, which include the electronic trigger mechanism.

---
AS&E faculty can apply for PumpPrimer, mobility grants
Now in its second year, AS&E's PumpPrimer internal seed funding program, as well as its researcher mobility grant program, stimulate external support for projects that are otherwise difficult to launch for faculty in Arts, Sciences and Engineering:

1. PumpPrimer I supports large-scale initiatives such as multi-institutional and multi-investigator research projects. It provides teaching relief, administrative support, and international travel grants for faculty to pursue such initiatives. Applications accepted on an ongoing basis.

2. Researcher mobility travel grants may be requested for overseas research visits. (See "congratulations" below.) Applications accepted on an ongoing basis.

3. PumpPrimer II funding supports AS&E innovative and high-risk projects that need proof of concept and/or pilot funding to get off the ground. Applications are due online by Monday, Feb. 2, 2015.

Read more . . .

---
Applications sought for University Research Awards
All UR Faculty are invited to apply for University Research Awards, formerly known as Provost's Multidisciplinary Awards. Funding is awarded to recipients who demonstrate their projects involve new research with a high probability of being able to leverage future external funding.

Nearly $500,000 was awarded this academic year to eight projects, involving 22 faculty from Arts and Sciences, the School of Medicine and Dentistry, and the Hajim School of Engineering and Applied Sciences. Topics ranged from "Virtues as Moral-Psychological Constructs" to "Testing the Epigenetic Hypothesis of Aging" and "Nanostructured Terahertz Emitter and Detector of Security and Biosensing."

Click here for the request for proposals. Applications are due via email to Vini Falciano by Monday, Feb. 2, 2015.

---
Introducing a new faculty member
George Alessandria has joined the Department of Economics as a professor. Prior to joining the University, he was a senior economic advisor and economist at the Federal Reserve Bank of Philadelphia. His research interests are in macroeconomics and international trade. In his use of dynamic models to study trade flows, Alessandria and his peers pioneered a new approach to the field of international trade that allows us to understand the effects of business cycles on trade. Through a microeconomic analysis of the behavior of firms, Alessandria's work has given insight into what were long-standing puzzles concerning the slow response of trade patterns to economic volatility. He has published in journals such as the Quarterly Journal of Economics, American Economic Review, and the Journal of Monetary Economics. He received PhD in economics from the University of Pennsylvania.

---
Congratulations to . . .
Kang Liu, an Optics PhD student in the Terahertz Research Group of Xi-Cheng Zhang, the M. Parker Givens Professor of Optics and Director of The Institute of Optics. Liu has been awarded a University of Rochester Researcher Mobility Travel Grant to further her collaboration with the Institute of Electronic Structure and Laser in Heraklion, Greece. Her project is "Using Airy-ring beams to generate/detect Terahertz (THz) waves." Researcher Mobility Travel Grants from Arts, Sciences and Engineering support overseas research visits of one to three months. They provide the chance to expand international collaborative networks and enhance research via international collaboration. These grants may support graduate student or postdoctoral travel, but only if it directly benefits the research group, per his/her advisor.

---
UR research in the news
Why are corrupt practices so embedded in China? What are the prospects for change after President Xi Jinping's crackdown on graft? And why are so many rich Chinese emigrating? John Osburg, Assistant Professor of Anthropology and author of Anxious Wealth: Money and Morality Among China's New Rich, shares this thoughts on these topics and others in the first part of an interview with The New York Times.

An interdisciplinary team of University neuroscientists and neurosurgeons has used a new imaging technique to show how the human brain heals itself in just a few weeks following surgical removal of a brain tumor. In a study featured on the cover of the journal Science Translational Medicine, the team found that recovery of vision in patients with pituitary tumors is predicted by the integrity of myelin -- the insulation that wraps around connections between neurons -- in the optic nerves. "Before the study, we weren't able to tell patients how much, if at all, they would recover their vision after surgery," explained David Paul, an M.D. candidate in the Department of Neurobiology and Anatomy, and first author of the study. When pituitary tumors grow large, they can compress the optic chiasm, the intersection of the nerves that connect visual input from the eyes to the brain. Nerve compression can lead to vision loss, which usually improves after these tumors are surgically removed. Paul and his colleagues used a technique called diffusion tensor imaging (DTI) to show how changes in a particular bundle of nerve fibers relate to vision changes in these patients. "DTI measures how water spreads in tissue," explained Bradford Mahon, Assistant Professor of Brain and Cognitive Sciences and of Neurosurgery, and senior author of the study. "The myelin insulation normally prevents water from spreading within the nerves, which would cause the nerves to malfunction." Read more . . .

---
Next issue: Jan. 9
Due to the holidays, Research Connections will not be distributed on Dec. 26 and Jan. 2.

---
Mark your calendar
Jan. 5: Deadline to submit requests for up to $50,000 in funding for one year from the Center for AIDS Research to "support a broad range of highly innovative research projects and pilot studies [that] address key gaps in our understanding of HIV/AIDS." Click here for more information.

Jan. 8: Study Participant Audit in Relation to Fraud Awareness and Prevention. Presented by Debra Russell, University Audit. SCORE event. Noon to 1:30 p.m. Medical Center, 2-7520 (K-207).

Jan. 20: "Assessing the Market Opportunity of New Technologies," part of the UR Ventures lecture series, "Intellectual Property and Commercializing Technology." Noon, Gowen Room of WIlson Commons. Lunch provided. RSVP to melissa.napolitano@rochester.edu

Jan. 21: Drug Supply for Clinical Trials: Contractual Issues with Drug Supply. Presented by Cornelia Kamp, Director, Clinical Materials Services Unit (CMSU) and Pat Bolger, CMSU Director of Clinical & Business Affairs. CTSI skill-building workshop. Noon to 1 p.m., Helen Wood Hall Auditorium (1w-304).

Feb. 2: Applications due for PumpPrimer II funding to support AS&E innovative and high-risk projects that need proof of concept and/or pilot funding to get off the ground. Read more . . .

Feb. 2: Applications due for University Research Awards to support new research with a high probability of being leveraged by future external funding. Applications are due via email to Vini Falciano.

Feb. 20: Applications due from new investigators for pilot project funding from the University's Core Center for Musculoskeletal Biology and Medicine. Click here for the full RFA.

---
Please send suggestions and comments to Bob Marcotte. To see back issues, click here.