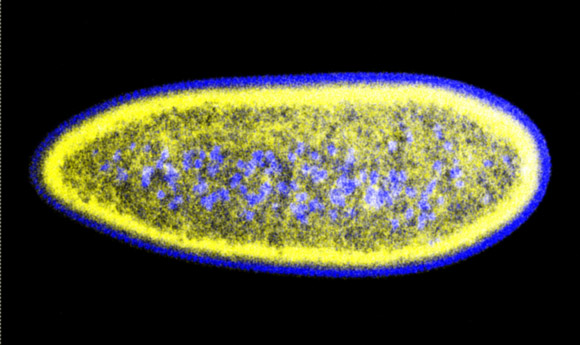 This striking image from the lab of Prof. Michael Welte shows lipid droplets (yellow) and nuclei (blue) in early Drosophila embryos. Welte and his collaborators have demonstrated that the lipid droplets are associated with histones that play a role in defending against bacteria.
Pump Primer award helps biologist pursue histones as a defense against bacteria
Three years ago, University biologist
Michael Welte
and his collaborators published a paper
identifying histones, bound to lipid droplets, as a previously unrecognized cellular defense mechanism against bacterial infection
in
Drosophila
fruit flies.
The paper was greeted enthusiastically by their peers.
When Welte, Professor of Biology, and collaborator Steven Gross of UC Irvine followed that up with grant applications to pursue this novel concept,
several of the NIH and NSF reviewers were enthusiastic as well
. "This is an exceptionally original, creative and exciting proposal," one of them wrote. "The background and excellent track record of the applicants gives assurance that the bright ideas outlined will be pursued with success," wrote another.
And yet, as happens all too often in the current funding environment, the agencies declined to commit any money,
wanting even more preliminary data first
.
Hence the importance of the
Pump Primer II award
Welte recently received from the College of Arts, Science and Engineering. It will pay the stipend of Sean Lindley, a graduate student in Welte's laboratory, who will now be able to
devote full time to generating additional data for another grant application
next year.
Histones are highly positively charged proteins that
play an important role in packaging DNA within cell nuclei and in regulating gene expression
. They are also toxic: too much histone can cause cell death. In the 1950s, researchers even discovered that dumping purified histones on bacteria kills them. However, the importance of this observation was unclear as histones were thought to be present only inside the cell nucleus.
10 years ago, when
Welte and Gross initially reported finding histones bound to lipid droplets in the cytoplasm of single-cell fruit fly embryos — outside of the nucleus
— the reviewers of the paper they published "did not want to believe it," Welte said. "
It was such a radical idea that these proteins, which are supposed to be with DNA in the cell nucleus, were also outside of the nucleus
attached to fat storage organelles. Now it is well accepted."
Since then, Welte, Gross and their research teams have:
1. Identified Jabba as the protein that anchors histones to lipid droplets in the Drosophila cytoplasm.
2. Demonstrated that normal embryos with histone laden lipid droplets are able to quickly destroy bacteria injected into them, whereas mutant embryos lacking histone lipid droplets succumb.
3. demonstrated that this mechanism is likely not just a "special case" limited to single-cell embryos; when adult flies lacking Jabba are injected with bacteria, they die much more readily after infection.
The Pump Primer award will enable Welte and Lindley to further explore exactly how histones bound to lipid droplets in adult fruit flies attack bacteria.
For example, do the histones attack bacteria that have already entered a cell? Or are they emitted by cells to attack bacteria still in the bloodstream? The findings will hopefully provide key missing information for their next grant application.
Ultimately, says Welte, "
if we can understand the molecular mechanism of how fruit flies regulate histones as a defense mechanism against bacteria, it will be possible to look in humans to see if histones have this same effect
. In the long term, we might identify a similar pathway in humans and find ways to boost it to increase protection against infections."
About Pump Primer II
In a recent memo, David Williams, Dean of Research for Arts, Sciences & Engineering, reminded faculty members of the
increasingly competitive environment for extramural funding
, which "increases the need for proof of concept and/or pilot data in proposals, and decreases funding of high-risk proposals."
Pump Primer
awards were created to help faculty
develop that data in order to seek extramural funding for "bold new research directions."
Pump Primer II awards are typically $1,000 to $20,000, and in rare instances as much as $50,000.
Pump Primer II awards have supported projects across a broad spectrum of disciplines (see list
here
). For example,
Re-envisioning Japan: Japan as Destination in 20th Century Visual and Material Culture
by
Joanne Bernardi
, Associate Professor of Japanese; and the
Edible Ecologies
project of
Cary Peppermint
, Assistant Professor of Art and Digital Media Studies and
Leila Nadir
, Lecturer in Sustainability Studies.
The Pump Primer II award received in 2014 by
Chunlei Guo
, Professor of Optics, helped his lab evaluate the suitability of developing a superwicking surface for a high-efficiency evaporative cooling system. He
subsequently received a grant from the New York State Energy Research and Development Administration to pursue the project further
.
"Pump Primer II is a great program that enabled us to obtain some preliminary data and
increased our competitiveness in obtaining the grant
," Guo says.
Guidelines for the award are available at
Rochester.edu/college/pumpprimer
.
Deadline to apply for the next round: Feb. 1.
(Next: A Pump Primer II award helps Prof. David McCamant pursue a theory that shared molecular excitations in excitons may help explain how chlorophyll in plants can harness sunlight so efficiently.)
Do you have an interesting photo or other image that helps illustrate your research? We would like to showcase it. Send a high resolution jpg or other version, along with a description of what it shows, to bmarcotte@ur.rochester.edu.
---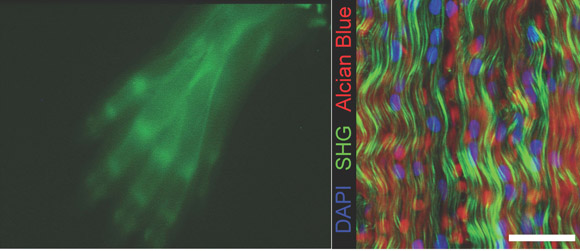 These images from the lab of Catherine Kuo, Associate Professor of Biomedical Engineering, show tendons in the forelimb of a mouse embryo during development, at left, and a high magnification microscopy image of the embryonic tendon in which cells are blue, collagen fibers are green, and glycosaminoglycans (water-binding structures) are red.
Researcher merges embryonic development with engineering to develop 3D tissue regeneration models
If you're trying to grow tendon replacement tissue from stem cells in a bioreactor, what better model than a living embryo?
"In my lab, the approach is to
go back to the basics, and think about how nature does it
," says
Catherine K. Kuo
, who recently joined the Department of Biomedical Engineering as an associate professor. "Nature has perfected this developmental process in the embryo, so if we can characterize this embryonic microenvironment, we can understand the different chemical and mechanical cues that tell embryonic stem cells to differentiate and make tendons. And we can use that information to inform our tissue engineering strategy."
Tendons, which connect muscles and bones, are composed primarily of collagen — the most abundant mammalian protein — arranged in long fibers. Actual tendon cells and blood vessels are scattered in such small numbers along these fibers, that
once a tendon is damaged, there usually is insufficient regenerative response for the tissue to heal normally
.
Hence the interest in ultimately being able to:
1. Take an individual's stem cells, which have not yet started the process of differentiating into various kinds of tissue,
2. Seed them into hydrogel "scaffolds" where differentiation into tendon tissue can begin, and then
3. cultivate the tissue in vessels called bioreactors to impose mechanical stimulation (stretching) that tendons experience during skeletal movement.
The trick: understanding the precise combination of chemical and mechanical cues that need to occur at each of the many steps along this process, and then mimicking that process in custom-engineered scaffolds and bioreactors.
At a Center for Musculoskeletal Research symposium, Kuo outlined some of the progress her lab has made.
For example, using atomic force microscopy they were able to characterize the increasing stiffness of embryonic tendon tissue as it developed from developmental day 5 to day 19 in chick embryos,
then duplicate that environment in hydrogel scaffolds that she engineers
. When those scaffolds were seeded with embryonic tendon progenitor cells, the cells began to interact and stretch out.
Scleraxis, a transcription factor for tendon development, was expressed at higher levels when the stiffness of the hydrogels increased. "So it seems that the stiffness of the gel is telling the embryonic cells how much to express certain tendon markers," Kuo said.
The lab has also shown, using a mouse model, that
adult mesenchymal stem cells are able to mimic embryonic tendon progenitor cell behavior
in response to these engineered environments. They found that cyclically stretched (exercised) stem cells have higher Scleraxis levels than "lazy" (not exercised) stem cells, and that the exercised stem cells make a lot more tissue (collagen).
However, the response of the adult mesenchymal stem is more muted than the embryonic tendon progenitor cells. How the adult stem cells are mimicking embryonic cells and why their responses are more muted is one of many areas the lab continues to investigate.
Importantly,
while the research is focused on tendon, the knowledge gained from this research will be broadly applicable to all types of tissues
(e.g., skin, cornea, heart, etc.) in the body, and for a range of biological phenomenon, ranging from embryonic development to disease progression to aging.
Kuo is actively recruiting PhD students and postdoctoral researchers
for her lab. She can be contacted at
Catherine.K.Kuo@rochester.edu
---
From the last years of GDR: Films of emotional power, unusual styles
(This is the second of two installments.)
In
Latest from the Da-Da-R
(1990) by Jorg Foth,
two clowns wander through the architectural "detritus" of failed East German socialism
, satirizing the final days of the GDR and lamenting 40 years of "hoping and waiting in vain, of aging, and losing creativity."
In the opening credits for
The Land Beyond the Rainbow
(1991), Director Herwig Kipping allows the camera to pan across
mile after mile of desolate landscape, devastated by East German coal mining run amuck
. It is a powerful symbol of "an experiment that had gone incredibly wrong."
These are among the filmmakers that
Reinhild Steingrover
, the Eastman School's Chair of Humanities and Professor of German, focuses on in her book
Last Features: East German Cinema's Lost Generation
(2014). It examines a
remarkable, largely overlooked collection of East German films created by the DaDaeR group
— the youngest generation of directors associated with the DEFA studio — between the fall of the Berlin Wall in 1989 and the closing of the studio in 1992.
These filmmakers were heavily censored before 1989, and their relentless petitions for greater artistic freedom ultimately proved futile, Steingrover related at a recent Phelps Colloquium. "They were always encouraged, and then thwarted through a carrot and stick approach carefully choreographed by the studio leadership.
"As one of the filmmakers later said, it was a Catch 22.
If you enter the apparatus you get lost; if you don't, you lose. Either way they were doomed.
"
The films that emerged from this group after the fall of the Berlin Wall pay little attention to that event. Many of them dwell upon the discrepancies between the promises of socialism that Foth, Kipping and the other directors grew up with in East Germany, and the realities, "which didn't line up at all."
For these filmmakers, "looking at the end of the country is almost like looking at their own beginnings and the trajectories of their lives," Steingrover said.
Their films showcase "mature cinematic aesthetics, emotional power and unusual filmmaking styles," she added. Many of them employ little if any dialogue, and scant voiceovers. They are elliptical and fragmented in structure, and, at times, overwhelming in impact.
Though initially overlooked, these films are now enjoying a "second life" at festivals
; their directors are invited more and more to talk about their filmmaking, Steingrover said. "On the one hand, their films are very specific to a moment in time, but
they also have universal qualities that are the hallmark of all great art. They are able to communicate to audiences, past geographies and timelines
."
Their themes — such as alienation in the workplace, and environmental degradation — are ones that today's students are eager to explore, she said.
The Phelps Colloquium continues with Garrett Johnson, Assistant Professor of Marketing at the Simon School, talking about "Ghost Ads and the Science of Online Advertising," at 4 p.m., Dec. 10 in the Meliora Grand Ballroom, Frederick Douglass Building. Click here to learn more about this year's topics, and here to register for one or more of the talks.
---
Study group for research certification exam to meet soon
Are you preparing to take a clinical research certification exam or interested in preparing for a future exam? A study group facilitated by representatives from the Clinical and Translational Science Institute (CTSI) and The Office for Human Subject Protection (OHSP) is forming to meet weekly, starting Wednesday, Jan. 6 from 4-6 p.m. Sessions will run Wednesdays through mid-February. If interested in participating, email
SCORE@urmc.rochester.edu
.
---
Congratulations to . . .
William Valenti
, Clinical Associate Professor of Medicine and Senior Vice President for Organizational Advancement, Co-Founder, and Staff Physician at Trillium Health, who is the
first recipient of the Center for AIDS Research Community Partner Award
. The award recognizes those who have exemplified commitment and leadership in developing community collaboration with the CFAR in the HIV/AIDS research field. Read more about CFAR's recent scientific symposium and honorees
here
.
Robert J. Poreda
, Professor of Earth and Environmental Sciences, who has been
elected a Fellow of the Geological Society of America
for his research contributions on application of noble gases toward understanding the history of mantle dynamics, use of tritium-helium groundwater dating, 21Ne cosmogenic surface exposure age dating techniques, and environmental impacts of unconventional energy development on groundwater.
Lisa Jakelski
, Assistant Professor of Musicology at the Eastman School of Music, who has been
named one of three recipients of the
Polish Studies Association's 2015 Aquila Prize
for the best English-language article in Polish studies. Jakelski's article, "Pushing Boundaries: Mobility at the Warsaw Autumn International Festival of Contemporary Music," appeared in the February 2015 issue of
East European Politics and Societies
. Jakelski examined how the festival fostered international contacts among socialist state institutions during the 1960s. "Particularly important is Jakelski's dual focus on how cross-border connections could be both "top-down" — i.e. orchestrated by those working in an official capacity for the state — and "bottom-up" — i.e. consisting of the informal networks of people who circulated ideas about modernist music," according to the award citation. Jakelski's work, the citation adds, not only shows music as a way to discuss barriers and borders during the Cold War, but is relevant to those working beyond the field of Polish studies.
Read more . . .
Mary Jane Curry
, Associate Professor of Language Education at the Warner School, and co-author Theresa Lillis. Their 2010 article,
"Academic research networks: Accessing resources for English-medium publishing,"
has been chosen by the
Journal of English for Specific Purposes
as one of it's
Editor's Choice articles
. "There is a growing interest in the writing for publication practices of scholars from non-English speaking backgrounds who seek to publish in 'international' English language journals," the citation notes. "The findings of this ethnographic study highlight the role that academic research networks play in enabling scholars' participation in academic publishing." Click
here
for a discussion by Curry on the "dual burden" that university faculty in non-English speaking countries face because of the growing pressure to publish their academic work in English.
---
University research in the news
The lab of
Edward Brown
, Associate Professor of Biomedical Engineering, has discovered a
new way to judge whether breast cancer cells are likely to spread
, by viewing tumor biopsies with a powerful multi-photon laser microscope that Brown built and watching for certain optical patterns emitted by cancer. His discovery is
based on a signal called second harmonic generation, which is produced by the collagen and other fibrous matter that surrounds a tumor
. The structure of this material may affect the ease with which cancer cells travel, and Brown's lab has documented how the structure of the fibers also impacts the direction of scattered light. New data published by the journal
BMC Cancer
shows that the optical signals
independently predicted metastasis-free survival and overall survival
based on 125 tissue samples obtained from patients in the Netherlands. "Our goal is to aid in treatment decisions by complementing the information that's already available, to help women avoid being over-treated," said Brown. Earlier work by a key investigator in the Brown lab,
Kathleen Burke
, first demonstrated the association between optical measurements and properties of many types of breast tumors;
Ping Tang
, Professor of Pathology and Laboratory Medicine for the Wilmot Cancer Institute, and
Ryan Dawes
, a graduate student in Brown's lab, are also significant contributors to the project.
Read more . . .
James McMahon
, Associate Professor of Nursing, has been awarded a
$3 million NIMH grant to study pre-exposure prophylaxis, or PrEP, as a viable prevention option for people who are at high risk of contracting HIV
, specifically among heterosexual partners of HIV-positive men and women. "Before PrEP, the only reliable options people knew about to prevent HIV were condoms or abstinence," said McMahon, who co-directs the Clinical and Translational Sciences Core of the URMC Center for AIDS Research (CFAR). "
This has the potential to be a game-changer in the fight against HIV/AIDS.
" The once-a-day medication — known as Truvada — has been shown to be highly effective in preventing HIV transmission.
Read more . . .
The Medical Center is
testing a new method to prevent HIV
that scientists hope will boost the development of an effective vaccine for the virus. The new study, led by Principal Investigator
Michael Keefer
Professor of Medicine (Infectious Diseases) and Director of the University's HIV Vaccine Trials Unit, will test an experimental antibody against HIV. Traditionally, people get a vaccine and researchers wait to see if effective antibodies are produced by our immune system in response.
In this study, researchers will skip that step and give people the antibody directly.
The antibody being tested, called VRC01, is able to
bind to HIV strains from around the world (there are more than 60 different strains) and block the virus from infecting cells
. It has already proven effective in early studies: it prevented animals from getting infected, decreased levels of the virus in HIV infected patients and didn't produce any negative side effects or discomfort in the more than 100 individuals who have received the antibody so far.
Read more . . .
Researchers in the Department of Biomedical Genetics have
unraveled one of the key molecular mechanisms that regulate stem cell behavior
, a discovery that
could provide important insight into regenerative medicine and certain forms of cancer
. The study —led by
Benoit Biteau
, Assistant Professor of Biomedical Genetics — appears in the journal
Cell Reports
. Benoit and his colleagues focused on a transcription factor called Sox21a, which is uniquely found in the stem cells of the
Drosophila
fruit fly intestine.
Sox21a is the equivalent of Sox2, a transcription factor found in humans that is known to play an important role in the function of stem cells
, whose primary function is to repair damaged tissue. When cells die, they send out signals in the form of small proteins called cytokines that activate stress signaling pathways in neighboring stem cells. The new study shows that stress pathways ultimately converge to induce the expression of Sox21a in fruit flies, which, in turn, activates the genetic instructions that cause the stem cells to divide and proliferate. These mechanisms may also play a role in certain types of cancers in which Sox2 is overexpressed — possibly due to chronic stress — and the stem cells multiple in an uncontrolled manner, forming tumors.
Read more. . .
---
PhD dissertation defense
Lindy McClelland
, Genetics, "Role of Tis11 in Drosophila intestinal stem cell function." 3 p.m., Dec. 7, K-207 (2-6408). Advisor: Heinrich Jasper.
Deborah Hudson
, Warner School, "Therapy Integration: Intensive Short-Term Dynamic Psychotherapy with Dialectical Behavior Therapy in the Treatment of Personality Disorders." 10 a.m., Dec. 11, LeChase Hall 481. Advisor: Andre Marquis.
Rafael Outland
, Warner School, "The Meanings and Experiences of Violence among Urban African-American Adolescent Males." 11:30 a.m., Dec. 14, LeChase Hall 215. Advisor: Andre Marquis.
---
Mark your calendar
Today:
The Complexities of Gestational Weight Gain and Downstream Effects, presented by Susan W Groth, Associate Professor of Nursing. Noon to 1 p.m., Helen Wood Hall Auditorium (1W-304). Public Health Grand Rounds.
Dec. 7:
Inital abstracts due for CTSI Pilot program awards to begin on July 1, 2016. The awards provide seed funding for highly innovative research that addresses translational research questions, and provides insights generalizable to other projects. Awards are available in four categories: faculty, trainee, UNYTE translational research network and novel biostatistical and epidemiologic methods. Click
here
for the full pilot program RFA.
Dec. 7:
Initial abstracts due for CTSI Incubator awards to begin on July 1, 2016. The Incubator Program (2 years, $125K/year) supports the development of promising clinical and translational research within the institution, where larger, carefully targeted investments can accelerate progress and create stand-alone research programs. The goal of the program is to identify research collaborations at the institution with tremendous potential to deliver a quantum advance in therapies, diagnostic techniques, or population and public health programs, accelerating scientific progress and leading to programmatic levels of extramural funding. Click
here
for the full Incubator program RFA.
Dec. 10:
Gestational iron deficiency and environmental lead exposure. Is there an interaction?, presented by Margot Mayer-Proschel, Associate Professor of Biomedical Genetics. 11 a.m. to noon, EHSC Conference Room (Med. Ctr. 4-8820). EHSC Seminar Series.
Dec. 10:
"Ghost Ads and the Science of Online Advertising," presented by Garrett Johnson, Assistant Professor of Marketing at the Simon School, 4 p.m., Meliora Grand Ballroom, Frederick Douglass Building. Phelps Colloquium. Click
here
to register for this or others in the series.
Dec. 11:
"A Road Less Traveled (or When did the potholes get so big?): Tales from Neurological Care and Research in Sub-Saharan Africa," presented by Gretchen Birbeck, Professor of Neurology. 4 p.m., Ryan Case Method Room 1-9576.
Second Friday Science Social series
.
Dec. 14:
Deadline to submit proposals for spring workshop for the Center for Energy and Environment. Click
here
for more information and a proposal cover sheet. Completed applications should be returned by Dec. 14 to Jenn Steward at
jsteward@ur.rochester.edu
---
Please send suggestions and comments to Bob Marcotte. You can see back issues of Research Connections, an index of people and departments linked to those issues, and a chronological listing of PhD dissertation defenses since April 2014, by discipline.