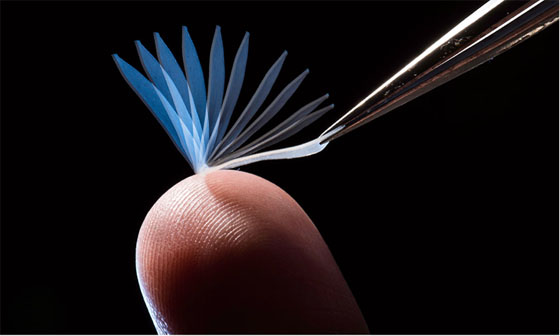 Months before Prof. Mitch Anthamatten's paper appeared, he worked with videographer Matthew Mann, photographer J. Adam Fenster, and writer Peter Iglinski of University Communications to capture images like this one and two videos, one of which has more than 137,000 views. That helped expand the reach of the University's reporting of Anthamatten's work, which has been featured by United Press International, Engadget, Gizmodo, E-Science News, and Biospace, among others.
New shape-memory polymer responds to body heat
A research team led by
Mitch Anthamatten
, Associate Professor of Chemical Engineering, has
created a material that undergoes a shape change that can be triggered by body heat alone
, opening the door for new medical and other applications.
The material developed by Anthamatten and graduate student
Yuan Meng
is a type of
shape-memory polymer, which can be programmed to retain a temporary shape until it is triggered —typically by heat —to return to its original shape
.
"Tuning the trigger temperature is only one part of the story," said Anthamatten. "We also engineered these materials to store large amounts of elastic energy, enabling them to perform more mechanical work during their shape recovery."
The key to developing the new polymer was
figuring out how to control crystallization that occurs when the material is cooled or stretched
. As the material is deformed, polymer chains are locally stretched, and small segments of the polymer align in the same direction in small areas —or domains —called crystallites, which fix the material into a temporarily deformed shape. As the number of crystallites grows, the polymer shape becomes more and more stable, making it increasingly difficult for the material to revert back to its initial — or "permanent" — shape.
The ability to tune the trigger temperature was achieved by including molecular linkers to connect the individual polymer strands
. Anthamatten's group discovered that linkers inhibit —but don't stop —crystallization when the material is stretched. By altering the number and types of linkers used, as well as how they're distributed throughout the polymer network, the researchers were able to adjust the material's stability and precisely set the melting point at which the shape change is triggered.
Anthamatten and his team optimized their polymer networks to store as much elastic energy as possible. As a result,
Anthamatten's shape-memory polymer is capable of lifting an object one-thousand times its weight
. For example, a polymer the size of a shoelace — which weighs about a gram — could lift a liter of soda.
Anthamatten says the shape-memory polymer could have
a variety of applications, including sutures, artificial skin, body-heat assisted medical dispensers, and self-fitting apparel
.
Do you have an interesting photo or other image that helps illustrate your research? We would like to showcase it. Send a high resolution jpg or other version, along with a description of what it shows, to bmarcotte@ur.rochester.edu.
---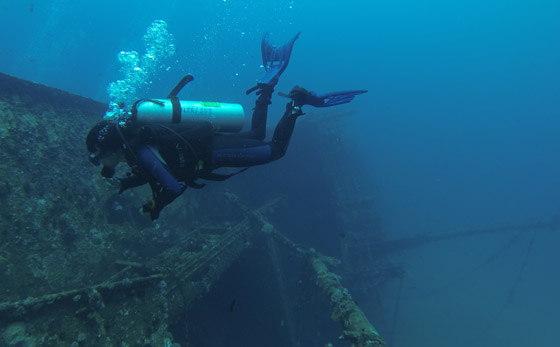 Vinisha Ranna is shown here SCUBA diving in Sri Lanka last March at the site of a large, intact French cargo vessel that foundered in 1994 carrying scrap to India. The ship lies on its starboard side in 59 to 108 feet of water. Ranna, a preceptor at the Eastman Institute for Oral Health, is studying how SCUBA diving affects teeth.
Are you a certified SCUBA diver?
If so, Vinisha Ranna would like to hear from you.
Ranna, a preceptor at the Eastman Institute for Oral Health, is
hoping to survey as many as 3,000 certified divers to learn more about how SCUBA diving affects teeth
.
It is a subject she is personally familiar with.
"After my first dive, my teeth felt funny, although I couldn't exactly pinpoint what was different," explained Ranna, a PADI and SSI certified Stress and Rescue Diver, in a recent posting at the Institute's
Word of Mouth blog
. "After speaking with the other divers, I was surprised to find that many of them had teeth problems in the course of their dives.
As a diver I was relieved; as a dentist I was intrigued.
"
Ranna, who is working closely with
Hans Malmstrom
, chair of EIOH's General Dentistry and Advanced Education General Dentistry (AEGD) program director, designed and conducted an earlier survey to find out the type and frequency of teeth problems in divers, who are subject to unique pressure and volume changes in the course of a dive.
"The results were astounding," Ranna said. "
41 percent of the divers surveyed experienced some teeth-related disorder during a dive
. Tooth squeeze (tooth pain caused during a diver's ascent when air is trapped in a dental filling or cavity) was the most common problem. Other issues were related to discomfort from holding the regulator too tightly. Jaw pain and broken fillings were also reported."
"Considering that the regulator (breathing apparatus) is held in the mouth, any tooth problem could jeopardize the diver's safety. A toothache is definitely not something that you want to worry about when you are 100 feet underwater."
The current survey, she hopes, will provide additional information that could guide research in this area.
"Among other things, we are
investigating the design of the diver's mouthpiece
— the part of the breathing apparatus that is held between the teeth during a dive," Ranna said. "The results of the effects of different mouthpiece designs could provide direction for developing a more effective and comfortable mouthpiece."
Another topic is
whether different diving equipment could affect the prevalence of dental symptoms during a dive
. "We are hoping to get the survey out to divers using rebreathers — diving equipment that collects the diver's exhaled air and sends it to a scrubbing tank to remove the excess carbon dioxide, essentially resulting in a closed circuit breathing system," Ranna explained. "The elimination of exhaled bubbles may have some effects on the teeth."
To reach the goal of 3,000 surveys,
Ranna is recruiting divers through online social networks such as Facebook pages dedicated to diving, diving blogs and webpages.
"Additionally, we will be contacting diver certifying organizations such as the Professional Association of Divers International (PADI), SCUBA Schools International (SSI), to name a few, and requesting them to send out the survey to their members," Ranna said.
Certified divers are encouraged to click
here
to fill out the survey. They can request a copy of the results by
email
.
"We're looking forward to sharing the survey results with divers and dentists," Ranna said. "It's important for the diver and his or her dentist to be aware of these changes and their effects in order to provide the best treatment."
---
University researchers in the news
A Wilmot Cancer Institute investigator has
discovered a gene that's required for the initiation of melanoma and for the growth of disseminated melanoma cancer cells in the lungs
. The findings of
Lei Xu
, Associate Professor of Biomedical Genetics and lead author of the study, suggest that the gene's signaling pathway
may be proof that melanoma stem cells exist, a question that's being debated by scientists
. The new evidence uncovered by Xu points to a gene known as FZD7 (Frizzled-7) as a requirement for new tumors to grow in melanoma cell lines. Knocking out FZD7 in mice caused melanoma that had spread to the lung to stop growing. The research suggests that
FZD7 might be a target for melanoma treatment and for preventing metastatic onset of melanoma
. Learn more by reading the
full article
.
The U.S. military does not appear to have collected or kept records of troop exposures to chemicals and did not monitor the health of Gulf War veterans until they began to report serious illnesses in 1998, says
Deborah Cory-Slechta
, Professor of Environmental Medicine, who led the latest committee to investigate the high number of Gulf War veterans who have reported debilitating fatigue, muscle and joint pain, headaches, and cognitive problems.
Without objective measures of such exposures, it's been impossible to show cause-and-effect relationships
between the two. "Moving forward, if these types of conditions are expected in future military conflicts, it is my belief that
we need to do a much better job of collecting data on such exposure before, during and after the conflict
," Cory-Slechta said. "The possibilities are far more accessible with all of the advancements in GPS tracking and in the development of personal bio-monitoring devices. We hope this report also opens the door to preventing health problems from future wars." Read more about the committee's report
here
.
Scientists at the School of Medicine and Dentistry have
discovered a way to make a nasal spray flu vaccine safer for those who are at greatest risk of catching the flu
, particularly infants under the age of 2. The currently available nasal spray vaccine, FluMist, is approved for use only in people 2 through 49 years old. Working with a vaccine similar to FluMist that is used in mice,
Andrew Cox
, a graduate student in the laboratory of
Stephen Dewhurst
, Chair and Professor of Microbiology and Immunology,
used molecular genetics to alter the vaccine virus
so that it replicates only in the nose and not in the lungs. This is important because the main reason FluMist was not approved for use in children under the age of 2 is that it was associated with wheezing in infants in clinical trials.
Read more . . .
John Foxe
, Chair of the Department of Neuroscience, is senior author of a study that
provides new insight into how the brains of drug addicts may be wired differently
. The findings, which appear in the journal
Psychopharmacology
, show that
while drug users have very strong motivation to seek out "rewards," they exhibit an impaired ability to adjust their behavior and are less fulfilled once they have achieved what they desire
. Addressing this disconnect between the craving for a drug and the ability to regulate behavior may be one of the keys to breaking the cycle of addiction.
Read more . . .
---
Congratulations to . . .
Doug Kelley
, Assistant Professor of Mechanical Engineering, who has
received a Faculty Early Career Development (CAREER) Award
from the National Science Foundation to pursue his research on the
fluid dynamics effects that are important in the performance of batteries that use liquid metals as electrodes
. Such batteries
hold a strong promise for energy storage applications on an electrical grid
with intermittent energy sources, such as one based on renewable energy sources. The CAREER program offers NSF's most prestigious awards in support of junior faculty who exemplify the role of teacher-scholars through outstanding research, excellent education and the integration of education and research within the context of the mission of their organizations. Read more about his project
here. . .
Aliakbar Bahreman
, Professor of Clinical Dentistry at the Eastman Institute of Oral Health, who was recently
honored for his immeasurable contributions to the dental profession in Iran
. After graduating as the top student from Tehran University Dental School, he came to Eastman for a Pediatric Dentistry Fellowship in1964 and completed his Specialty in Orthodontic and Dentofacial Orthopedic training, combined with a master's degree in 1967. As the first American-trained orthodontist in Iran, Bahreman started his accomplished career at Shahid Beheshti University Dental School, where he was honored during the school's 50th anniversary celebration.
Read more . . .
Ralph Locke
, Professor Emeritus of Musicology at the Eastman School, who was recently
awarded an honorable mention by the Prose Awards
in the category of Music and the Performing Arts for his book,
Music and the Exotic from the Renaissance to Mozart
.
Read more. . .
---
PhD dissertation defenses
Massiel Stolla
, Pathology, "Developmental Regulation of Platelet Function." 10 a.m., March 21, 2016, K-307 (3-6408). Advisor: James Palis.
---
Mark your calendar
Today:
Center for Integrated Research Computing symposium. Jan Spence from the Department of Pathology and Laboratory Medicine will describe an algorithm (DDiMAP) and its application to phylogenetic analysis of ongoing mutations in the study of tumors. Areeya Chantasri from the Department of Physics and Astronomy will give a research talk on the reconstruction of quantum trajectories of a superconducting circuit. 11:30 a.m. to 1 p.m., URMC 2-6408 (K-207 Auditorium).
Feb. 22:
Core Training Module 2: PI Oversight, presented by Steven Lamberti, Professor in the Department of Psychiatry, and Kelly Unsworth, Director of Research Education & Training in the Office for Human Subject Protection. Noon to 1:30 p.m., Helen Wood Hall Classroom (1w-501).
Feb. 24:
"Publicly Engaged Scholarship in Urban Communities: Teaching, Listening, and Collaborating," presented by Valerie Kinloch, professor of literacy studies at Ohio State University. 6 p.m. to 7:30 p.m., Genrich-Rusling Room, LeChase Hall. This talk will focus on the urgent need to invest in urban schools. Learn more
here
.
Feb. 26:
Deadline to nominate junior faculty for the Furth Award. Nominees should be junior, tenure track faculty appointed in natural or biological science departments within ASE, SMD or SON who have been hired within the past three academic years. Read more
here
.
Feb. 29:
Deadline to file initial applications for pilot project funding from the Infection and Immunity: From Molecules to Populations (IIMP) program.
Read more. . .
Feb. 29:
Using online tools to save faculty time, a Technology in Health Professions Education Workshop. 11:30 a.m. to 1 p.m., Helen Wood Hall (1w-510). To register, contact  
karen_grabowski@urmc.rochester.edu
Feb. 29:
Screening of
Intelligent Lives
, which explores how narrow views of intelligence led to the segregation of people with intellectual disabilities. With filmmaker Dan Habib. 7 to 8:30 p.m., Genrich-Rusling Room of LeChase Hall.
Read more . . .
---
Please send suggestions and comments to Bob Marcotte. You can see back issues of Research Connections, an index of people and departments linked to those issues, and a chronological listing of PhD dissertation defenses since April 2014, by discipline.