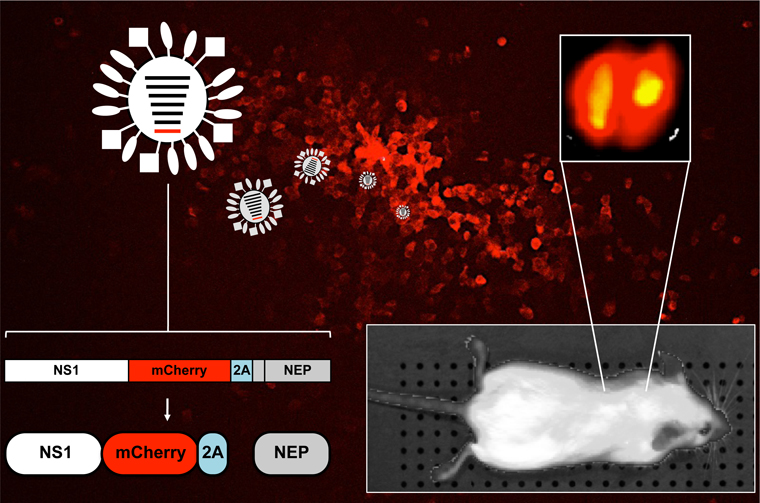 The image above, from the lab of Luis Martínez-Sobrido, shows where the red fluorescent mCherry protein is fused to the non-structural 1 (NS1) protein of influenza A virus, allowing researchers to quickly detect the virus after infection in tissue culture cells or injection in mice. This is the cover image for the current volume of the journal
Virology.
Researchers produce "ideal tool" for studying Influenza A virus
Influenza A virus causes seasonal epidemics that produce a significant number of deaths worldwide. It can occasionally result in major pandemics when novel strains are introduced into humans — such as the infamous "Spanish Flu" in 1918-1919, and the 1957 ("Asian influenza") and 1968 ("Hong Kong influenza") pandemics that together killed as many as 60 million people.

Because influenza A virus is easily transmitted, and since available antivirals have limited effectiveness against serious influenza infections, it is important to find better tools for studying this virus and identifying new therapeutics.

With help from a 2014 University Research Award, the lab of Luis Martínez-Sobrido, Associate Professor of Microbiology and Immunology, has, for the first time, produced influenza A viruses marked with mCherry — a red fluorescent protein that can be used as a tracer to quickly locate and study the viruses in tissue culture and in mice. This allows researchers to circumvent the secondary labeling of infected cells as previously required, and can be combined with various fluorescent transgenic animal systems currently in use.

These engineered viruses displayed comparable growth to wild-type viruses in vitro, responded similarly to antibodies and antivirals, and readily infect mice.

As a result, influenza A mCherry viruses are "an ideal tool in the ongoing struggle to better characterize the virus and to identify new therapeutics to combat influenza viral infections," the researchers report in their study, which is published in Virology. Lab members Aitor Nogalez-Gonzalez, a postdoctoral fellow, and graduate student Steven Baker (supported by the immunology training grant T32 AI007285) are co-authors with Martínez-Sobrido. The study can be seen here.


Do you have an interesting photo or other image that helps illustrate your research? We would like to showcase it. Send a high resolution jpg or other version, along with a description of what it shows, to bmarcotte@ur.rochester.edu.
---
Medieval Academy honors Russell Peck
Russell Peck, the John Hall Deane Professor of English, will be presented with the Medieval Academy's Robert L. Kindrick-CARA Award for Outstanding Service to Medieval Studies, on March 13 at the University of Notre Dame in Indiana.

"Peck has made extraordinarily important contributions to the field of medieval studies," said Lisa Davis, Executive Director of the Medieval Academy. "We are very pleased to be able to honor his work in this way." The Kindrick-CARA Award is presented annually to a member of the organization for leadership in developing, organizing, and sponsoring work in medieval studies.

Peck has been a faculty member at the University for 54 years, during which time he has received several commendations, including the nationally prestigious Professor of the Year Gold Medal 1985 (Council for the Advancement and Support of Education) and the University's Goergen Award for Excellence in Teaching. In 1985-86, he convinced Rossell Hope Robbins to give to the University his large collection of medieval books, along with a $1 million endowment, which became, in 1987, the foundation of the Robbins Library for Medieval Studies. With the Robbins Library in place, Peck was able to establish The Middle English Texts Series and gain grant support from The National Endowment for the Humanities for the past 20 years. This series of scholarly publications is currently at 78 volumes in print, in addition to 500 texts available online in an open access platform.

Read more about Peck's contributions here.

---
Zand is new co-director at CTSI
Martin Zand is a new co-director of the University's Clinical and Translational Science Institute, in a new leadership structure that reflects CTSI's renewed emphasis on improving the health of the population as a whole.

Karl Kieburtz, Professor of Neurology and of the Center for Human Experimental Therapeutics, continues as director; Nancy Bennett, who heads the Center for Community Health, continues as the other co-director.

The diverse skill sets of the three co-directors allows for CTSI leadership to encompass the research spectrum, starting with basic science discovery and continuing through clinical trials and implementation on the population level.

Zand, Professor of Medicine (Nephrology), is Director of the Rochester Center for Health Informatics, and Co-director of the Center for Biodefense Immune Modeling.

"We want to use data science to identify questions that we're not asking and identify data we don't yet have. This will allow us to be in that space of discovery," said Zand. "That way, we can translate data into real clinical and community interventions that improve the health of a population as a whole."

Zand will take on integrating informatics activities throughout the Medical Center and the newly created Institute for Data Science, have responsibility for the CTSI's day-to-day operations, and will lead the grant-writing process when the National Center for Advancing Translational Sciences (NCATS) releases its call for renewal applications.

Kieburtz will remain the CTSI's liaison to university leadership and to NCATS, while Bennett will be the main interface with the community through the Center for Community Health, and will focus on overall CTSI strategy and developing the population health science theme for the CTSI. Read more . . .

---
UR study on the brain's waste removal system earns Newcomb Cleveland Prize
University research describing the brain's waste removal system, which has transformed scientists' understanding of the brain and neurodegenerative diseases like Alzheimer's, has been awarded the 2014 Newcomb Cleveland Prize of the American Association for the Advancement of Science (AAAS), the group's oldest honor.

The study, "Sleep Drives Metabolite Clearance from the Adult Brain," appeared in the October 2013 edition of Science. Maiken Nedergaard, Co-director of the University's Center for Translational Neuromedicine and Professor of Neurosurgery, was lead author. Additional authors included Lulu Xie, Hongyi Kang, Qiwu Xu, Michael Chen, Yonghong Liao, Thiyagarajan Meenakshisundaram, John O'Donnell, Daniel Christensen, Takahiro Takano, and Rashid Deane with URMC, Jeffrey Iliff with Oregon Health and Science University, and Charles Nicholson with New York University. The prize was presented recently at the AAAS Annual Meeting in San Jose, California.

The study builds on the earlier discovery by a team of University researchers that the brain possesses its own unique waste removal system, dubbed the glymphatic system. The 2013 Science study revealed that the glymphatic system is highly active during sleep, clearing away toxins responsible for Alzheimer's disease and other neurological disorders. Furthermore, the researchers found that during sleep the brain's cells reduce in size, allowing waste to be removed more effectively. Read more . . .

---
Basics of IP: Working with "third parties"
(This is one in a series of articles about the importance of intellectual property and its commercialization to the University and its researchers. It is based on a current UR Ventures lecture series, "Intellectual Property and Commercializing Technology" being offered by the office of the AS&E Dean for Research. The next presentation, "Risk Assessment for Technology Investments," will be at noon, March 17, in the Gowen Room of Wilson Commons. Lunch provided. RSVP to Kelly Smith at kelly.smith@rochester.edu)

When University faculty members engage with outside companies and other "third parties," the opportunities to collaborate — and, potentially, to garner royalties — can be a very good thing for researchers, departments and the University as a whole.

But it cannot be "business as usual." At least not in the ways an outside company might like it to be, says Reid Cunningham, IP attorney with UR Ventures.

Why?

Universities are very different from the companies they collaborate with. Universities, for example, deal primarily in intellectual property. And, unfortunately, intellectual property rights typically are not transferred or licensed in the absence of a written agreement. The statutory law, common law or the Uniform Commercial Code, depending on the circumstances, can fill the absence of an agreement on key commercial terms. However, in almost no cases will they address IP rights. Therefore a written agreement is critical.

In addition, the goals of a company and the University frequently differ. The mission of a university is to not only create but to also share knowledge. That can conflict with a company's desire to conceal joint research findings in order to gain an edge over its competitors.

Universities, unlike companies, do not make a profit. So they are much more limited, for example, in their ability to indemnify a third-party partner in a research endeavor.

And, because of their non-profit status, Universities are entitled to issue bonds tax-free. That's a privilege they could ill afford to lose if they or their faculty inadvertently entered into an inappropriate agreement with a third party that jeopardizes that non-profit status.

So, even as the University encourages its faculty and researchers to engage with outside companies, it also urges them to be very careful how they do so.

1. Do not conduct research or other business with a third party unless a written agreement clearly spells out the commitments each party is agreeing to, and terms defining liability, performance requirements, intellectual property rights and confidentiality requirements.
2. Do not enter into a written agreement on your own. Only certain people at the University, generally in the Office of Counsel or ORPA (the Office of Research and Project Administration), are authorized to sign written agreements with third parties.
3. If you and a collaborator at another university come up with an invention before a written agreement is in place, contact UR Ventures or ORPA promptly. "It is much easier to prepare a written agreement right after the invention's creation," Cunningham notes. "It is much more difficult three or four years down the road."

Questions? Contact Cunningham at Reid_Cunningham@URMC.Rochester.edu

Click here to view videos and slide decks of earlier lectures in the series.

Next: The benefits and risks of confidential disclosure agreements.

---
Introducing a new faculty member
Laura Ackerman Smoller has joined the Department of History as a professor. Her research focuses on areas of intersection between magic, science, and religion in medieval and Renaissance Europe, centering around two major themes: astrology and apocalyptic prophecy, and saints and miracles. Her first book, History, Prophecy, and the Stars: The Christian Astrology of Pierre d'Ailly, 1350-1420 explores a French cardinal's use of astrology to investigate the time of the world's end. A second book, The Saint and the Chopped-Up Baby: The Cult of Vincent Ferrer in Medieval and Early Modern Europe, examines the canonization and cult of the Valencian friar Vincent Ferrer, a fiery apocalyptic preacher of the Schism years who died in 1419 and was canonized in 1455. The book traces the various meanings of the saint from the moment of his death in Brittany to his appropriation by Dominican friars in Spain's New World colonies. Smoller has held positions as lecturer and acting assistant professor of history at Stanford University and more recently as professor of history at the University of Arkansas at Little Rock. She earned her PhD from Harvard University in 1991.

---
University reseaerch in the news
A group of astronomers from the U.S., Europe, Chile and South Africa have determined that 70,000 years ago a recently discovered dim star is likely to have passed through the solar system's distant cloud of comets, the Oort Cloud. No other star is known to have ever approached our solar system this close — five times closer than the current closest star, Proxima Centauri. In a paper published in Astrophysical Journal Letters, lead author Eric Mamajek, Associate Professor of Physics and Astronomy, and his collaborators analyzed the velocity and trajectory of the low-mass star system nicknamed "Scholz's star." Read more . . .

Mitchell Anthamatten, Associate Professor of Chemical Engineering, and his team have developed a new class of rubber-like material that self-stretches upon cooling and reverts back to its original shape when heated, all without physical manipulation. Conventional shape-memory polymers need to be reprogrammed after each cycle, but that's not the case with the material developed by Anthamatten and his team. After multiple cycles of cooling and heating, they found that the material assumed its programmed shape and returned to its initial state with no noticeable deviation. Anthamatten envisions the material being applied to a number of areas in which reversible shape-changes are needed during operations, including biotechnology, artificial muscles, and robotics. The research team included two of Anthamatten's students — Yuan Meng and Jisu Jiang. The work was supported internally by the University's Pump Primer Seed Grant Program, which supports proof-of-concept studies. Read more . . .

Ten measures — selected from among 75 quality indicators — can help reduce the likelihood that patients with serious and life-threatening illnesses will experience unnecessary physical and emotional suffering, according to a two-year national project led by Sally Norton, Associate Professor of Nursing and the Independence Foundation Chair in Nursing and Palliative Care. The 10 measures range from a complete assessment (including physical, psychological, social, spiritual and functional needs), to a plan for managing pain and shortness of breath, to having patients' treatment preferences followed. The findings of Measuring What Matters, a joint initiative of the American Academy of Hospice and Palliative Care Medicine (AAHPM) and the Hospice and Palliative Nurses Association (HPNA), appear online in the Journal of Pain and Symptom Management. "As a researcher, it is promising to me because this portfolio of measures will help us build the 'science' of palliative care, which is still young," Norton said. Read more . . .

---
Phd dissertation defenses, public lectures

James Brennan, Biomedical Engineering, "Using Fibronectin Matrix Mimetics to Stimulate Three-Dimensional Cellular Self-Assembly." Noon, Feb. 25, 2015, Goergen 101. Advisor: Denise Hocking.

He Ba, Electrical and Computer Engineering, "Enabling Energy Efficient Sensing and Computing Systems." 9 a.m., Feb. 25, 2015, Hopeman 224. Advisor: Wendi Heinzelman.

Kathleen Burke, Biomedical Engineering, "Second Harmonic Generation to Study Breast Cancer Progression and Predict Metastatic Potential." 11 a.m., Tuesday, March 10, 2015, K-207, Med 2-6408. Advisor: Edward Brown.

Anthony Visconti, Optics, "Design and Fabrication of Large Diameter Gradient-Index Lenses for Dual-Band Visible to Short-Wave Infrared Imaging Applications." 9 a.m., March 18, 2015, Wilmot 116. Advisors: Julie Bentley and Duncan Moore.

Nathan Burggraff, Music Theory, "Music and Religion in a Postmodern Culture: Selected Analyses from Music by Glass and Reich." 10 a.m., Friday, March 27, 2015, Room ESM 320. Advisor: Elizabeth Marvin.

Tyler Cassidy-Heacock, Musicology, "The Sung Self of Syllables: Interpretive Paradigms for Contemporary Vocal Music." 1:30 p.m., Tuesday, March 31, 2015. Miller Center 1. Co-Advisors: Jonathan Dunsby and Holly Watkins.

Joan Huguet, Music Theory, "Formal Functions and Voice-Leading Structures in Beethoven's Early Sonata-Rondo Finales." 9:30 a.m., Friday, April 8, 2015, Room ESM 404. Advisor: William Marvin.

---
Mark your calendar
Today: Applications due from new investigators for pilot project funding from the University's Core Center for Musculoskeletal Biology and Medicine. Click here for the full RFA.

Feb. 25: "What's New in Pediatric Bone Health: Recommendations and Resources for the Evaluation of Suspected Bone Disorders in Children," presented by David Weber, Assistant Professor of Pediatrics, Division of Endocrinology and Diabetes. Pediatric Grand Rounds, 8 a.m., Whipple Auditorium (2-6424).

Feb. 25: "Clinical Trials of Devices and FDA Approvals," presented by Arthur Moss, Professor of Medicine. Good Advice: Case Studies in Clinical Research, Regulation, and the Law. Noon, Helen Wood Hall Auditorium (1w-304).

March 1: Deadline for most faculty and other investigators to file annual reports of outside compensated activity, as required by the University of Rochester Faculty Policy on Conflict of Commitment and Interest and their School/College. Eastman School, School of Medicine and Dentistry, and School of Nursing faculty and investigators should use a web-based reporting system supported by their School/College. Links can be found at www.rochester.edu/orpa/compliance/#fcoi Laboratory for Laser Energetics, and Warner and Simon school faculty and investigators should use this form. Questions? Contact Gunta Liders or your School/College administrator.

---
Please send suggestions and comments to Bob Marcotte. You can see back issues of Research Connections, an index of people and departments linked to those issues, and a chronological listing of PhD dissertation defenses since April 2014, by discipline.