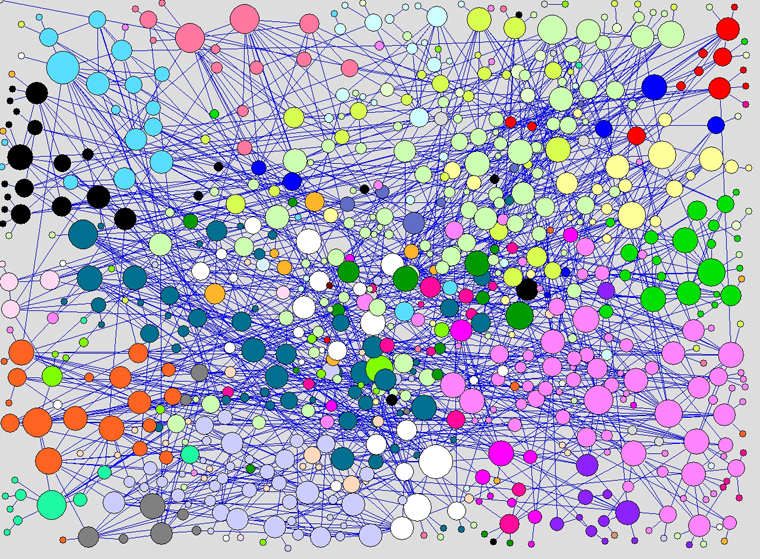 Images of research
This "sociogram," based on work by the CTSI Evaluation Team led by Ann Dozier, Associate Professor of Public Health Services, is a dramatic representation of the multidisciplinary, collaborative relationships among research teams at the Medical Center. Each circle represents a specific researcher; the size of the circle represents the number of collaborations reported for that investigator; colors represent departments; and lines represent reported collaborations among investigators. Nearly 400 respondents to a faculty survey identified 1,594 collaborations across 28 medical center departments, resulting in 309 networks with 5 or more collaborators. Results of this study were published in the Journal of Evaluation & the Health Professions.


Do you have an interesting photo or other image that helps illustrate your research? We would like to showcase it. Send a high resolution jpg or other version, along with a description of what it shows, to bmarcotte@ur.rochester.edu.
---
Collaboration can be a phone call away
How does an interesting research collaboration get started? Sometimes all it takes is a phone call.

Consider the cross-campus research project of Jiebo Luo, Professor of Computer Science, and Yousef Khalifa, Associate Professor of Ophthalmology, featured last week in the first of a series of CTSI seminars entitled "Crossing Elmwood: River Campus-Medical Center Research Collaborations."

"Two years ago, we didn't know each other," Luo explained. "But one day Yousef called me up and said he'd like to talk to me because he found out on my home page that I work on computer vision, and in particular video analysis."

"Given the olive branch, I grabbed it."

"I crossed Elmwood."

Khalifa wanted to find a better way to provide feedback to the residents he trains to do cataract surgery. "If a resident comes out of a case that didn't go well, they need feedback within 30 minutes. We need to look at the video to see what they did right, what they did wrong, reinforce good things and tell them what not to do the next time -- from patient to patient, and from surgery to surgery."

However, given that Khalifa does up to 20 cataract surgeries a day, it would "take a tremendous amount of time," to sit down each day with residents -- who are each doing four procedures a day --to review the videos of each procedure in depth and grade them in accordance with a complicated global rating system. "It wouldn't be feasible."

So Luo and Khalifa are collaborating on a developing computerized automatic analysis systems that can "look" at a video of a resident performing cataract surgery and "grade" it. This involves computer vision, a branch of artificial intelligence, in which the system must be programmed to recognize pertinent features, including typical shapes and movements associated with the surgical procedures, then classify what it sees. Comparisons of expert graders with the computer vision-based system have demonstrated the consistency of the computerized evaluation technique, Luo says.

This kind of grading is not only timely, but consistent and objective. Khalifa says this could be applied in any surgical specialty involving scopes -- and not only to assess the progress of residents in training, but to monitor the competency of specialists throughout their careers, and help them when new techniques are introduced.

"I think the future of video analysis and grading of surgical videos through artificial intelligence is a big need for us," Khalifa said.

(Next in the "Crossing Elmwood" series: "Neuroimaging Biomarkers in HIV-Associated CNS Injury ," with Giovanni Schifitto, Professor of Neurology and Imaging Sciences and Jianhui Zhong, Professor of Imaging Sciences and Biomedical Engineering, 12:15 p.m., Jan. 28, at Helen Wood Hall Auditorium.)

---
Grad students enter video about collaborations
A video produced by grad students Bryan Bobo and Youssef Farhat of the Department of Biomedical Engineering is among eight entries in this year's Video Outreach Competition sponsored by the Orthopaedic Research Society. Their 3-minute video, "Working Together for a Better Future," explains why collaboration in research at the U of R is so essential for progress in today's world of modern science and medicine. Click here to see their video (located on the bottom-left corner of the competition website). Viewers are encouraged to cast votes by Jan. 29. Farhat took first place in this competition last year for his video, "Who Cares about Orthopaedic Research."

---
Recognition for articles on opera by Eastman musicologists
Not only do Eastman School of Music students, scholars and faculty members perform and even compose operas, but the school's musicologists also do significant research on the topic.

Last September -- during the 200th anniversary of opera composer Giuseppe Verdi's birth -- Notes, the Quarterly Journal of the Music Library Association published a major article surveying some of the most important books and articles about Verdi that have appeared since 2000. The article, by Linda Fairtile, co-director of the American Institute for Verdi Studies, highlights the published research of no fewer than three members of Eastman's Department of Musicology.

For example, Fairtile praises an article by Associate Professor Melina Esse (in Cambridge Opera Journal, 2002) for revealing the "strikingly different dramatic effects" that instrumental "weeping" conveys in Il corsaro and Un ballo in maschera. Associate Professor and Department Chair Roger Freitas (Journal of the Royal Musical Association, 2002) -- in Fairtile's summary -- shows that Verdi's "preferred vocal style" is quite different from the "technique[s] favored by most modern performers and pedagogues." And Fairtile notes that two articles by Professor Ralph P. Locke (in Cambridge Opera Journal, 2005, and Nineteenth-Century Music Review, 2006) draw attention to "a range of interpretations, from the literal to the metaphorical, that focus on Aida's portrayals of the conquerors and the conquered."

This serves as a reminder that music is a performing art about which numerous "research connections" remain to be made.

---
New URMC Strategic Plan Website Launched
An overview of the Medical Center's 2014-2018 Strategic Plan can be seen at a new website. I-Quest (Innovation, Quality, Excellence, Scale and Teamwork) focuses on six key initiatives: Expand and transform the health care system, Create an integrated culture, Build platforms for innovation, Develop programs of excellence, Build enabling technologies, resources and infrastructure, and Maintain financial sustainability. Click here to explore the new site.

---
Keeping your data secure: The dropbox dilemma
Storing files in a cloud offered by a file hosting service is all the rage. DropBox, for example, now has an estimated 200 million users.

But if you store legally restricted or confidential data about research subjects or patients at DropBox, you'll be in violation of UR policy, warns Michael Pinch, the Medical Center's chief information security officer. "The problem is we have no control over that kind of data once it is shipped to a cloud server like DropBox."

However, a nearly identical alternative is close at hand. URMC is piloting the use of Box.Net, "which is very much the same service as DropBox," Pinch notes. "Everyone gets five gigabytes of storage for free, there's no need for VPN, and you can get all the functionality of DropBox."

What's different about it? "The benefit of it is that for security purposes we can force encryption; we can retrieve data that is accidentally deleted; we have a greater ability to manage the system, and we can terminate user accounts properly after a person leaves, so the data is not out in cyberspace outside of our control," Pinch explains. "We can add storage if you need it pretty easily, and it will allow you to collaborate internally as well as outside of the Medical Center."

Full implementation of this is a few months off; in the meantime, anyone with a special need to transfer restricted or confidential data off DropBox can contact Pinch about getting into the Box.Net pilot program.

Next: Another storage "no-no."

---
CTSI symposium focuses on consent
A symposium addressing consent quandaries in research will be held Thursday, March 13, at the Clinical and Translational Science Institute. "Ethics in Research: Consent Quandaries" will cover new tools for research consent, methods to address consent comprehension, the unique aspects of consent in specific settings, and the special challenges of training community partners to obtain consent and conduct research. Click here to learn more and to register.

---
The Whipple Years: Sprechen sie deutsche?
(Nobel Laureate George Whipple, first dean of the School of Medicine and Dentistry from 1921 to 1953, helped shape the school from its inception, hiring faculty and staff and supervising the design and construction of buildings. This is one in a series of occasional snapshots of research during those early years of what is now the Medical Center, courtesy of Christopher Hoolihan, Rare Books & Manuscripts Librarian at the Edward G. Miner Library and Assistant Professor of Public Health Sciences).

When the School of Medicine and Dentistry opened its doors in 1925, tuition was $300. Students were also required to buy their own microscopes. That might seem like a bargain now, Hoolihan notes, but when the depression hit in 1929, "a lot of students had to work part time to pay their way." They also were required to have completed a minimum of three years of study at an approved university or college.

Medical students also needed to demonstrate proficiency in German. Why? "German was still the lingua franca or common language of science," explains Hoolihan. "If you wanted to read medical periodicals, you needed to have some proficiency in German."

---
Introducing a new faculty member
Juilee Thakar has joined Microbiology and Immunology as an assistant professor. Her research interests include using systems biology approaches to identify immune signatures that can predict outcome of an immune response to infections or vaccinations. Thakar is particularly interested in understanding the dynamics of respiratory infections by single and multiple pathogens, and developing computational tools to model probable trajectories of the immune response. Thakar earned a PhD in Bioinformatics at the University of Wurzburg in 2006 and engaged in postdoc training and residency as a Cancer Research Institute fellow, Department of Physics, Pennsylvania State University and most recently as an Associate Research Scientist, Department of Pathology, Yale School of Medicine.

---
Mark your calendar
Today: Thomas Cech, who shared the Nobel Prize in Chemistry in 1989 for discoveries of the catalytic properties of RNA, will be the keynote speaker at the 2014 Medical Scientist Research Symposium, a half-day event that also includes a poster session. Cech's lecture will be at 1 p.m. in the Class of '62 Auditorium. The symposium is held to showcase the research and scientific accomplishments of the UR Medical Scientist Training Program.

Jan. 28: The "Crossing Elmwood: River Campus-Medical Center Research Collaborations" seminar series continues with: "Neuroimaging Biomarkers in HIV-Associated CNS Injury," featuring Giovanni Schifitto, Professor, Departments of Neurology and Imaging Sciences and Jianhui Zhong, Professor, Departments of Imaging Sciences, Biomedical Engineering and Physics. 12:15 to 1:15 p.m., Helen Wood Hall Auditorium (1W-304).

Jan. 28-29: "Planting Seeds of Hope" televised fundraiser for Wilmot Cancer Center research "seed grants." Lobby of Strong Memorial Hospital. Volunteers are needed to help man phones for two-hour shifts anytime from 5-7:30 p.m. Jan. 28 and from 6 a.m. to 7:30 p.m. the next day. Contact Karen Humbert.

Feb. 3: Deadline to apply for Center For AIDS Research award proposals targeted at the following areas of scientific interest: CNS, HIV and Aging and Age Related Complications including Cancer and Cardiovascular Risk; HIV and RNA and Viral latency/Reactivation. Awards are for one year with maximum funding per application of $35,000 in Direct Costs. Applications must be submitted to Jennifer Lynch.

Feb. 11: Deadline to apply for a $5000 Geothermal Studies Scholarship for University of Rochester juniors, seniors, and/or graduate students. Contact Desmond Stubbs for more information. ATTN: Desmond Stubbs PHD, Senior Project Manager, ORAU/ORISE, PO Box 117, MS 36, Oak Ridge, TN.

Feb .13: Building a Tool Kit for Research Quality Part II. University Quality Improvement teams share their processes and pearls of wisdom. Learn from the best. Sponsored by SCORE. 12:00-1:30 p.m., Helen Wood Hall (1w-502).

Feb. 27: Deadline to apply for Iberdrola USA Foundation Scholarships for students who will be engaged in master's level, energy-related studies next school year. Targeted for students at UR and University of Maine. Click here to learn more.

---
Please send suggestions and comments to Bob Marcotte.. To see back issues, click here.