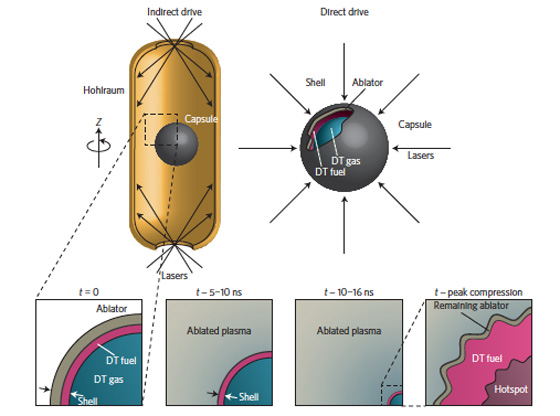 This illustration shows the two conventional approaches to inertial confinement fusion with lasers: indirect drive at top left, and direct drive. The lower diagrams depict the implosion and resulting hotspot that forms within the spherical target capsule containing DT fuel.
Inertial confinement fusion:
Significant progress, major challenges
The goal of realizing abundant, clean energy from inertial confinement fusion remains elusive. Despite significant progress in recent years, "
major challenges still remain in the quest for thermonuclear ignition via laser fusion
," according to a recent review for
Nature Physics
coauthored by University of Rochester physicist
Riccardo Betti
and
Omar Hurricane
of Lawrence Livermore National Laboratory.
Since the early 1970s, scientists have pursued the possibility of
using high-power lasers to compress thermonuclear material long enough, at high enough temperatures to trigger ignition
— resulting in an output of fusion energy many times greater than the energy required for ignition. This process is called inertial confinement fusion (ICF).
In the article, Betti, the Robert L. McCrory Professor at the Laboratory for Laser Energetics here, and Hurricane, chief scientist for ICF programs at Lawrence Livermore National Laboratory, assess the "state of the art" in five key approaches to inertial confinement fusion.
The
indirect-drive approach
pursued at the National Ignition Facility (NIF) at Lawrence Livermore
uses a laser to irradiate the inner walls of a metal enclosure
. This produces x-rays that cause a small spherical capsule containing deuterium-tritium (DT) to implode. Implosions at the NIF have resulted in fusions, which, though still well short of achieving ignition, have
for the first time demonstrated a fusion yield exceeding the total energy of the DT fuel
. Improvements in implosion symmetry, x-ray conversion, and capsule hydrodynamic stability "are thought to be within reach and sufficient for a significant step forward in implosion performance," Betti and Hurricane note.
The
direct-drive ICF approach
, mostly developed with LLE's Omega laser,
directly irradiates the target capsule with laser beams
. This results in
a higher conversion efficiency
from laser energy to kinetic energy in the target's shell. But the
laser beams exhibit speckle patterns with large variations in laser intensity
, leading to reduced compression. Asymmetries — similar to those experienced in indirect-drive — and laser-plasma instabilities must also be overcome. Techniques to mitigate these effects are being explored "with the goal of producing an implosion on the Omega laser that would scale to ignition when extrapolated to" the more powerful NIF facility at Livermore.
An "important question" that needs to be addressed with both indirect- and direct-drive approaches is "whether we have enough control over the spatial-temporal deposition of laser energy and over the engineering quality of the targets to achieve ignition with the present levels of available energy that facilities can provide," the authors note.
Betti and Hurricane also review the progress and technical challenges of alternative
"advanced ignition schemes,"
which, in addition to compression by lasers,
use external means to increase the temperature of the DT fuel and trigger ignition
.
In
fast ignition
, the target is first compressed to high density with a low implosion velocity, then ignited by a high-intensity pulse, or particle beam, of electrons or ions.
Shock ignition
also compresses the fuel first, then uses spherically convergent shocks to trigger ignition.
Magneto-inertial fusion
uses magnetic fields to relax the compression requirements for inertial confinement fusion.
"Significant progress has been made in recent years in all three of these approaches," Betti and Hurricane write. However, they still lag behind the indirect- and direct-drive approaches in terms of "integrated performance."
"This is mostly due to the
lack of suitable facilities, very limited shot-time allocations on existing facilities and the reduced size of the effort
devoted to alternative concepts."
Betti, who directs the Fusion Science Center at LLE, was one of five experts invited in 2009 to speak on "The Next Generation of Fusion Energy Research" to the House Subcommittee on Energy and Environment. He is recipient of the U.S. Department of Energy's Ernest O. Lawrence Award for "a series of impactful theoretical discoveries in the physics of inertial confinement fusion" and the Edward Teller Medal from the American Nuclear Society "for seminal contributions to the theory and understanding of hydrodynamic instabilities, implosion dynamics and thermonuclear ignition in inertial confinement fusion."
Hurricane also has received several awards and honors, including the U.S. Department of Energy Ernest Orlando Lawrence Award for National Security and Nonproliferation and four Department of Energy Defense Program Awards of Excellence.
Click
here
to read their review in full.
Do you have an interesting photo or other image that helps illustrate your research? We would like to showcase it. Send a high resolution jpg or other version, along with a description of what it shows, to bmarcotte@ur.rochester.edu.
---
Researchers here expand understanding
of codons' role in translating genes into proteins
Scientists for years have known that the genetic code contains many layers of complexity. But new research from the University of Rochester cracks the code more deeply, clarifying for example why some genes are inefficiently translated into proteins.
In a study published in the journal
Cell
, the researchers, co-led by
Beth Grayhack
, an associate professor of biochemistry and biophysics, pediatrics, and cancer,
discovered the existence and identity of 17 pairs of inefficient codons (DNA nucleotides or bases)
within the genetic code.
Scientists have generally considered each piece of the genetic code (or codon) as a single "word" in a language. But the new data
suggests some codon combinations act as compound words or phrases
whose order and pairing has a significant impact on the translation of genes into proteins.
"Consider the words 'pancake' versus 'cake pan,'" said Grayhack. "Switching the word order conveys very different meaning and function. The same is true for the words (codons) in the genetic code.
Our work provides proof of this and as a result, it revises the scientific understanding of how the code is read." Read more
here
.
---
Study: Cap on loan forgiveness could hurt primary care
A new study led by neurology resident
Ben George
, appearing in the
Journal of General Internal Medicine
, argues that
a proposed cap on a federal loan forgiveness program
could have the unintended consequence of
dissuading medical students from pursuing careers in primary care
.
The federal Public Service Loan Forgiveness (PSLF) program, which has become increasingly popular among medical graduates,
forgives participant's student loans after they have made 120 months' worth of payments while employed at a public or nonprofit institution
.
The researchers found that changes to PSLF in the form of
a cap could have a significant negative effect on physicians in lower paying fields
such as primary care and those that provide care to underserved populations, where the impact on their lifetime earnings would be more substantial.
The authors propose that if a blanket cap on PSLF forgiveness were implemented, the funds liberated by the cap
be used for an alternative program to alleviate physician debt in exchange for service in medical practices that society needs most
— such as care to underserved populations, veterans, Native Americans, or areas with physician shortages.
Additional authors of the study include URMC researchers
Ray Dorsey
and
Justin Grischkan
, and
Ari Friedman
with the University of Pennsylvania. Read more
here.
---
UR linguists help document endangered languages
Estimates among linguists range considerably, but the most conservative estimates predict that
by the end of this century half of the slightly more than 7,000 distinct languages in use in the world today will have vanished
.
University researchers with the Department of Linguistics are working hard to
help document endangered languages
. And, beginning this fall, the department will ramp up its efforts with
a new master's degree program specifically in language documentation
.
The program will be overseen by
Nadine Grimm
, an assistant professor and a specialist in African languages, particularly those in the Bantu family. Grimm, who joined Rochester's linguistics department last year,
spent months at a time in southern Cameroon from 2010 to 2015
as part of a team of three linguists, local French- and Gyeli-speaking interpreters, and members of the Bakola-Bagyeli community of hunter gatherers. Her research, focused on Gyeli grammar, entailed considerable documentation of the language, which is spoken by an estimated 4,200 people, and is considered threatened.
Joyce McDonough
, professor of linquistics and of brain and cognitive sciences, has been
working for several years on a study of the remote Dene-speaking communities
in the Mackenzie River Basin of northwestern Canada.
When a language disappears, she says, a culture disappears with it
, as does knowledge that the community has built up over centuries. When a language is lost, entire oral traditions of storytelling can be lost with it.
Highly specialized knowledge of local plant and animal life
— knowledge built up over many years and held exclusively, in many cases, within endangered language communities —
also vanishes
.
There's an additional problem that weighs heavily on scholars of language. To illustrate, McDonough draws an analogy between language and plants. "Imagine if we only had access to a few different types of plants and we had to describe the phenomena of plant life on the basis of that," she says. "With the enormous amount of variability out there, we would be missing a lot." Yet linguistic research has been based disproportionately on Indo-European languages. "
The assumptions we make about what can and cannot be part of language or expressed by language are constantly confounded by new discoveries in under-resourced languages
," she and a coauthor wrote in an article in the
Annual Review of Linguistics
in 2015. Read more
here
.
---
Congratulations to . . .
Michael Neidig
, assistant professor of chemistry, who is
one of 49 scientists recognized this year by the Department of Energy as one of the nation's "exceptional researchers"
in his or her "crucial early career years." The DOE's prestigious Early Career Award consists of a five-year, $750,000 grant. Neidig, who was named the Wilmot Assistant Professor of Chemistry in May, will use the grant to study the electronic structure and bonding in lanthanides and actinides, including short-lived and transient molecules. Read more
here
.
Michael Alan Anderson
, associate professor of musicology at the Eastman School of Music, who has
received Chorus America's 2016 Louis Botto Award for Innovative Action and Entrepreneurial Zeal
. The national award is presented to emerging choral leaders and conductors for their role in developing a professional ensemble. Read more
here
.
---
July 15 deadline for environmental health pilot projects
The Environmental Health Sciences Center (EHSC) has funds to support a limited number of meritorious Pilot Projects. The objective of the pilot project should be relevant to the theme of the EHSC, namely
"Environmental Agents as Modulators of Human Disease and Dysfunction."
Applicants may request a maximum of $30,000 for one year and must hold a tenure-track position. The deadline for initial applications is July 15. Click
here
for more information.
---
New video features Simon research, faculty
The Simon School is one of the world's preeminent research-oriented business schools, says Dean
Andrew Ainslie
in the
first
of a series of videos promoting the intellectual power of the school's faculty. Ainsle introduces professors
Guy Arie
,
Yufeng Huang
,
Sudarshan Jayaraman
,
Bryce Schonberger
, and
Erin Smith
. The video also includes Class of 2017 MBA candidate
Tara Rhett
, who comments about the transformative nature of a Simon education and what it means to learn from expert researchers who bring their knowledge into the classroom.
---
PhD dissertation defenses
David de Jong
, Psychology, "Validation of a Measure of Implicit Sexual Desire for Romantic Partners." 9 a.m., July 13, 2016. Meliora Hall 366. Advisor: Harry Reis.
Alexander Shapiro
, Electrical Engineering, "Adaptive Voltage Management Enabling Energy Efficiency in Nanoscale Integrated Circuits." 10 a.m., July 14, 2016. Computer Studies Building 426. Advisor: Eby Friedman.
Ryan Dawes
, Neuroscience, "Beta adrenergic activation constrains breast cancer progression and modulates tumor-associated exosomes." 10 a.m., July 18, 2016. Aud K-307 (3-6408). Advisor: Edward B. Brown.
---
Mark your calendar
July 15:
Deadline to file initial applications for Environmental Health Sciences Center meritorious pilot projects. Read more
here
.
Aug. 1:
Deadline for faculty and administrators to apply for Fulbright U.S. Scholar awards for 2017-18. Click
here
.
---
Please send suggestions and comments to Bob Marcotte. You can see back issues of Research Connections, an index of people and departments linked to those issues, and a chronological listing of PhD dissertation defenses since April 2014, by discipline.