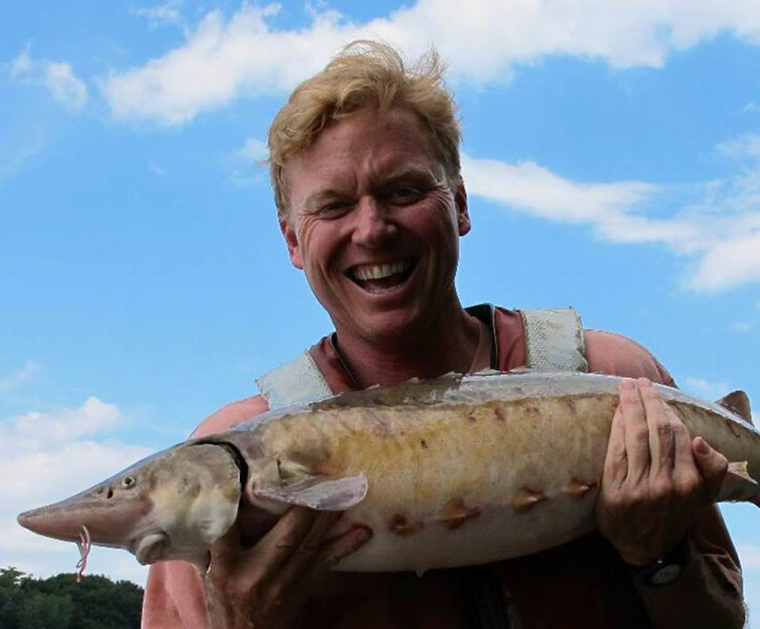 (Jeff Wyatt, Professor and Chair of the Department of Comparative Medicine, with one of the Lake Sturgeons he has helped reintroduce in the Genesee River.)
Images of research
A Lake Sturgeon, which is New York's largest freshwater fish, can grow up to seven feet long and can live as long as 150 years. The fact that this species is once again thriving in the Genesee River is good news for the fish, for a once-troubled embayment -- and, potentially, for the local economy, says Jeff Wyatt, Professor and Chair of the Department of Comparative Medicine.

For the last three years Wyatt, along with researchers Louis DiVincenti of the University and Dawn Dittman of U.S. Geological Survey, have been netting and taking blood samples from the sturgeon they've reintroduced in the lower Genesee River, to test them for heavy metals, PCBs and other contaminants. The blood sampling project, funded with an Environmental Protection Agency $308,000 grant, is part of the Great Lakes Restoration Initiative.

The initiative will help determine whether the Rochester embayment (lower Genesee River and adjoining Lake Ontario) and 42 other locations around the Great Lakes can be de-listed as "areas of concern" because of past histories of water pollution. So far, the data is promising. The sturgeon in the Genesee "are healthy and growing just as well as sturgeon in waterways that are not areas of concern," Wyatt said. Fourteen elements of environmental health (known as Beneficial Use Impairments) must also be considered in any delisting decision, he added.

But a healthy population of a bio-indicator species like the sturgeon is a sign that the Genesee's water quality is on the right track. "When you're delisted, it's an indication that many of the metrics you value in your waterways are improving -- flavor of fish, beach closings, and water quality. And that can improve revenue streams through fishing, beach going and community pride." Next: Sturgeon reintroduction has been a 10-year effort.


Do you have an interesting photo or other image that helps illustrate your research? We would like to showcase it. Send a high resolution jpg or other version, along with a description of what it shows, to bmarcotte@ur.rochester.edu.
---
Clark participates in National Press Club roundtable
Universities can help drive regional economic development -- but only if they can rely on the federal government to fund the long years of research that are required to, first, discover a good idea, then "translate" it into products and services that benefit society.

That was the consensus of Robert Clark, the University's Senior Vice President for Research, and nine other senior research officers from top U.S. universities Wednesday at the National Press Club in Washington, D.C. They participated in a roundtable discussion sponsored by the Association of American Universities and The Science Coalition, which was attended by reporters from The Boston Globe, Huffington Post, Gannett Newspapers and other national publications.

"Our communities look to us for leadership," Clark said. "They look to us for jobs and they look to us to generate innovation for new jobs." Click here to read more.

---
Deadline for Fulbright Core applications is Aug. 1
The deadline for Fulbright Core applications for Academic Year 2015-2016 is Aug. 1, notes the Council of International Exchange of Scholars (CIES). The Catalog of Opportunities is a searchable database of all programs. This year's competition includes 584 awards; of these, 419 are open to applicants from virtually any discipline. Scholars and professionals from post-docs to emeriti are able to apply for programs all over the globe.

For information about awards offered in specific disciplines or areas of the world and for information about the application, see the archived Webinars or register for an upcoming one. The webinars are very helpful in demystifying the program and will be helpful for those with questions about the application process.

Upcoming webinars include:

Today: All Discipline Awards -- What Are They?

14 July: Have You Thought About? -- Some Hidden Gems

17 July: Fulbright Flex Awards

18 July: How to Craft a Successful Project Statement

23 July: Reviewing Your Fulbright Application Package

30 July: Reviewing Your Fulbright Application Package 2

---
Applications sought for pilot funding in aging research
The Rochester Aging Research Center and the Office for Aging Research and Health Services invite applications for pilot grants in aging research. Subjects will be considered for funding from basic aging research across the translational research spectrum to the study of health services delivery and policy. Successful proposals will be funded with up to $50,000 for 12 months.

NOTE: New funding for projects that are related to HIV and aging has become available from the Center for AIDS Research. See the updated request for applications.

Applications are due by 5 p.m. Sept. 1 to Daina_Bullwinkel@URMC.Rochester.edu. Contact Dirk Bohmann, Yeates Conwell, or Vera Gorbunova with questions.

---
Introducing a new faculty member . . .
Christian Rabeling joins the Department of Biology this month as an Assistant Professor after three years as a junior fellow at the Harvard Society of Fellows and Museum of Comparative Zoology. Rabeling studies the evolutionary genetics of ants and his research integrates evolutionary biology, genetics, taxonomy, and natural history studies. Currently, he is most interested in understanding how social parasitism evolved and how this change in social organization contributes to speciation. To explore this question, he is combining molecular phylogenetic, population genetic and genomic approaches. An integral part of his research is fieldwork and in depth natural history studies, which often lead to new discoveries that are further explored in the laboratory. After receiving his Ph.D. from the University of Texas at Austin in 2010, he was awarded a postdoctoral fellowship to study at the Smithsonian Institution's National Museum of Natural History.

---
Five projects receive Cancer Institute awards
Wilmot Cancer Institute has awarded $200,000 for pilot and collaborative studies in cancer research to these projects:

1. Copper chelation as a strategy to overcome platinum resistance in non-small cell lung cancer, Eric Kim, Assistant Professor in the Department of Medicine, Hematology/Oncology, $25,000. Platinum-based chemotherapy is the mainstay of treatment for advanced non-small cell lung cancer (NSCLC). However, the response rates with first-line platinum-containing therapies are only 20 percent to 30 percent and even the initial responders rapidly develop resistance. Kim's team will evaluate the safety, pharmacokinetics/pharmacodynamics and preliminary efficacy of copper chelation by tetrathiomolybdate in combination with carboplatin and pemetrexed in metastatic non-squamous NSCLC.

2. Finding a treatment to prevent capsular contracture following reconstruction mammoplasty after breast cancer, Rick Phipps, Professor in the Department of Environmental Medicine, $25,000. This will test the hypothesis that scar-forming cells -- which cause shortening and tightening of muscle and connective tissue after breast reconstruction -- express a surface protein called Thy1. Phipps and his team propose to use a method to reduce Thy1 expression to block scar cell formation in human capsule scar cells.

3. The role of the chemokine CCL3 in the initiation and progression of acute myelogenous leukemia, Laura Calvi, Professor in the Department of Medicine, Endocrine/Metabolism, $50,000. Calvi's team plans to test the effects of CCL3, a factor produced by leukemia cells known to affect bone cells, on the progression of leukemia. The study will examine whether CCL3 is affecting blood cells, bone cells or both. Using mouse models of leukemia and leukemia cells from human patients, they will also assess whether existing drugs designed to block CCL3 could be effective for leukemia.

4. A genetic model for salivary gland adenoid cystic carcinoma, Catherine Ovitt, Associate Professor in the Department of Biomedical Genetics, Center for Oral Biology, $50,000. Ovitt and her team will generate a mouse model to investigate the origin and development of adenoid cystic carcinoma tumors. A better understanding of the mechanisms responsible for ACC tumor formation may allow earlier detection of malignancies and better prediction of tumor behavior, and will ultimately lead to the development of preventive therapies.

5. ECM removal by GPR56 in transgenic melanoma model, Lei Xu, Assistant Professor in the Department of Biomedical Genetics, $50,000. Xu's team will test whether removing the extracellular matrix, or ECM, of tumors by removing an enzyme from a cell surface molecule called GPR56 will impede melanoma growth. They will test this hypothesis in a pre-clinical model using mice whose melanoma resembles that of humans.

Since 2011, the Institute has awarded more than $1.5 million in seed grants for cancer research. This year, two awards were given in behavioral, clinical or epidemiological cancer research, and three were given in basic or translational individual or collaborative projects.

---
Sonication system available to researchers
The Genomics Research Center is making the Covaris S2 sonication system available for use by University researchers. Use the PPMS system to reserve time on the instrument. Click here to request a PPMS account. A $50 fee will be charged per session and Covaris tubes will need to be purchased separately. Direct questions to urgenomics@urmc.rochester.edu.

---
Congratulations to . . .
Marit Aure, Postdoctoral Associate of the Center for Oral Biology in the Eastman Institute for Oral Health, who tied for first place at the highly competitive International Association for Dental Research/Johnson & Johnson Hatton Awards Competition held recently in Cape Town, South Africa. Aure, who works in the lab of Catherine Ovitt, Associate Professor in Biomedical Genetics, presented "Mechanisms of Acinar Cell Maintenance in the Adult Murine Salivary Gland," which revealed that replacement of cells in the salivary gland depends primarily on the duplication of the secretory cells, rather than on stem cells. The outcome of this work is important for designing a strategy to repair damaged salivary glands, as it indicates this may be accomplished by using healthy salivary gland cells for transplant therapy. Read more here.

Two Nursing School faculty members, Mary G. Carey, Associate Professor, and Daryl Sharp, Professor of Clinical Nursing and Director of Care Management for Accountable Health Partners, who were recently selected to be inducted as fellows of the American Academy of Nursing (AAN). This is one of the highest honors in the field of nursing.

Carey joined the School of Nursing faculty in 2013. Her research has focused on improving electrocardiographic (ECG) monitoring to help better detect disease conditions such as cardiac arrhythmias and myocardial ischemia and infarction; and on the ECG's use in predicting cardiac events and sudden cardiac death. With funding from the National Institutes of Health (NIH), Carey has improved the detection of myocardial ischemia in patients with and without heart disease. Currently, Carey is leading a research team to apply cardiac monitors to healthy on-duty firefighters in the Rochester community to evaluate whether a more restful sleep environment will help to lower their average heart rate and cardiac risk.

Sharp, a researcher, professor, mentor and psychiatric nurse clinician, has made significant contributions to improve the quality of health care, and has recently been tasked with directing care management for Accountable Health Partners (AHP). She will work to develop and advance health management and care coordination within the clinically-integrated network in order to achieve better patient outcomes and enhance the patient experience.

---
Researchers in the news
Humans have a well-documented tendency to see winning and losing streaks in situations that, in fact, are random. But scientists disagree about whether the "hot-hand bias" is a cultural artifact picked up in childhood or a predisposition deeply ingrained in the structure of our cognitive architecture. Now in the first study in non-human primates of this systematic error in decision making, University researchers find that monkeys also share our unfounded belief in winning and losing streaks. The results suggest that the penchant to see patterns that actually don't exist may be inherited -- an evolutionary adaptation that may have provided our ancestors a selective advantage when foraging for food in the wild, according to lead author Tommy Blanchard, a doctoral candidate in brain and cognitive sciences. Read more here.

Antibiotics given to preterm newborns disrupt the diversity of gut bacteria, but a shorter, two-day course of drugs has less impact than seven days or more of antibiotics, according to a study by the labs of Ronnie Guillet and Gloria S. Pryhuber, both Professors of Pediatrics. The researchers also found that in the cases of 29 infants, the bacterial diversity was flourishing again after 30 days, suggesting that despite any length of antibiotic treatment in newborns the gut can acquire additional intestinal microbes over time, reports the Research@URMC blog. The process of amassing intestinal microbes starts before birth, and scientists believe that alterations occurring in the womb, at birth, and shortly thereafter might result in adverse consequences. Environmental factors such as mode of delivery at birth, antibiotic use and duration, and diet, all have a big impact on the microbiome. The study was published in the journal Pediatric Research.

In quantum physics, momentum and position are an example of conjugate variables. This means they are connected by Heisenberg's Uncertainty Principle, which says that both quantities cannot be simultaneously measured precisely. Recently, researchers have been developing novel techniques, such as "weak measurement," to measure both at the same time. Now University of Rochester physicists have shown that a technique called compressive sensing also offers a way to measure both variables at the same time, without violating the Uncertainty Principle. Read more here.

---
PhD dissertation defenses
Christopher Folts, Biomedical Genetics, "Redox/Fyn/c-Cbl--Dependent and --Independent Regulation of Oligodendrocyte Progenitor Cell Division." 1 p.m., July 14, 3-7619 Upper Auditorium. Advisor: Mark Noble.

Robert Arons, Economics, "Three Essays in Health, Education, and Retirement." 2:30 p.m. July 16, Dunkman Library. Advisors: Gregorio Caetano and Joshua Kinsler.

Ali Talib Miran Al Raisi, Mathematics, "Equivariance, Module Structure, Branched Covers, Strickland Maps and Cohomology related to the Polyhedral Product Functor." 10 a.m. July 31 Hylan 1106A. Advisor: Frederick R. Cohen.

---
Mark your calendar
July 16: Research Boot Camp: Half-day workshop applies the basic human subjects protections introduced via CITI and the policies/procedures reviewed in the orientation course to conducting research at the UR. Presentations on Study Protocol Basics: Elements and Development Considerations; Informed Consent: Federal Regulations, Institutional Policy and Good Practice; RSRB and WIRB Review Processes; and Study's Approved . . . What's Next? Continuing education credit will not be provided. Breakfast and snacks welcome. 8 a.m. to noon, Helen Wood Hall (1w-502).

Aug. 1: Deadline for Fulbright Core applications for Academic Year 2015-2016. Click here for a searchable database of all programs and here for past and upcoming webinars about programs and the application process.

Aug. 4: Deadline for proposals for the first disabilities studies cluster symposium, "Complicating Normalcy: Disability, Technology, and Society in the 21st Century," which will be held Nov. 14. Click here to learn more.

Sept. 1: Applications due for pilot grants for aging research, offered by The Rochester Aging Research Center and the Office for Aging Research and Health Services. Send to to Daina_Bullwinkel@URMC.Rochester.edu. Contact Dirk Bohmann, Yeates Conwell, or Vera Gorbunova with questions. NOTE: New funding for projects that are related to HIV and aging has become available from the Center for AIDS Research. See the updated request for applications.

---
Please send suggestions and comments to Bob Marcotte. To see back issues, click here.