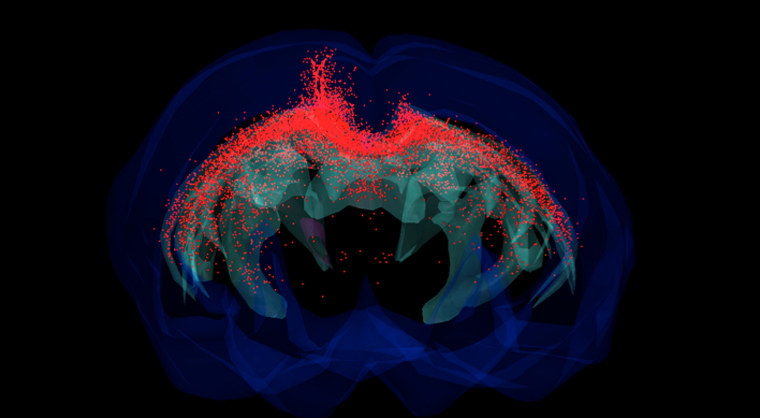 Images of research
In multiple sclerosis (MS), an abnormal immune response destroys myelin, the protective insulation around the axons that transmit messages, in the brain and spinal cord. The disease also destroys special cells called oligodendrocytes that produce myelin, whose fat composition gives the white matter of the brain its color.

One of the most promising new avenues of research in treating MS is the transplantation of human oligodendrocyte progenitor cells (OPCs), which can develop into mature oligodendrocytes that in turn replace the lost myelin. One of the University researchers pursuing this is Joana Osorio, a Clinical Instructor in Child Neurology and a Research Fellow in the lab of Steven Goldman, Co-Director of the Center for Translational Neuromedicine and URMC Distinguished Professor of Neuroscience and Neurology.

Goldman's lab co-leads a $12.1 million project funded by the New York State Stem Cell Science board to initiate a clinical trial in which human oligodendrocyte progenitor cells are to be transplanted into patients with chronic progressive multiple sclerosis. The Goldman lab's work had already shown that these cells have the ability to fully restore lost myelin when transplanted into mice with myelin disease.

To further lay the groundwork for this clinical trial, Osorio's research is establishing what happens when human OPCs are injected into the brains of larger hosts over time, in this case rats. She is specifically interested in the ability of transplanted OPCs to migrate through larger volumes of brain white matter. So far, her research has found that the human OPCs continue to divide and migrate for at least 3 months after transplantation.

"This seems to be a dynamic process, and makes us think that OPCs transplanted into even larger hosts, such as humans, will likely behave similarly," she said. Moreover, the injected OPCs "also respect the boundaries between grey matter and white matter and follow the white matter tracks we want them to follow in order to replace lost myelin."

The image above, from a 3D reconstitution video, shows human fetal-derived OPCs (red dots) that have migrated through the white matter in a rat brain 12 weeks after being injected.


Do you have an interesting photo or other image that helps illustrate your research? We would like to showcase it. Send a high resolution jpg or other version, along with a description of what it shows, to bmarcotte@ur.rochester.edu.
---
Lost then found: Whipple's notes from his Nobel prize-winning research
One of the University of Rochester's proudest moments was the awarding of a 1934 Nobel Prize to George Whipple, founding dean of the School of Medicine and Dentistry, for his studies of the effects of different foods on anemia caused by significant blood loss. Yet his detailed, handwritten notes recording his research might have been lost forever if not for a fortuitous discovery by a University maintenance man. Read more here.

---
Six URMC faculty members begin new research projects
Six URMC faculty members are beginning new research projects funded by Clinical and Translational Science Institute pilot awards for 2014-2015. The CTSI's pilot program offers faculty members one-year awards for up to $50,000 to facilitate new research and future funding. Multidisciplinary research is strongly encouraged, as well as clinical and community based research, practice-based research, and health services research. The CTSI is currently accepting applications for the 2015 pilot awards. Abstracts are due by Sept. 2. The full RFA can be found here.

The 2014 faculty awardees are:

Roman Eliseev, Assistant Professor of Orthopaedics. Project: Improving mitochondrial function in MSCs to accelerate fracture repair in aging.

Elizabeth Guancial, Assistant Professor of Medicine (Hematology/Oncology). Project: Chemoprevention of bladder cancer through estrogen receptor modulation.

Richard J. Looney, Professor of Medicine (Allergy, Immunology, and Rheumatology). Project: Role of the Gut Microbiome in Preventing Allergic Disease.

Edward Messing, Chair and Professor of Urology. Project: Exosomes from bladder cancer patients can serve as biomarkers of disease.

Craig Morrell, Associate Professor of Medicine (Aab Cardiovascular Research Institute). Project: Novel microRNA Based Therapy to Improve CD4+ T-cell Responses to Vaccination.

Sherry Spinelli, Research Associate Professor of Pathology and Laboratory Medicine. Project: The Role of Microparticle-Derived Thy-1 (CD90) in Type 2 Diabetes Mellitus.


How to subscribe to CTSI Weekly Update e-newsletter
For more stories like this and links to upcoming events, subscribe to the CTSI Weekly Update, which is sent out each Monday morning. The sign-up link is here.

---
Applications sought for community health minigrants
The Center for Community Health is accepting Community Health Mini-Grant Applications for a grant to be awarded in August 2014. The purpose of the mini-grant program is to provide grants of up to $1,000 for the development, strengthening, or evaluation of community and URMC health improvement partnerships for research, education, intervention, or service. Applications are welcome from either URMC or community partners. The application deadline is Monday, August 11, at noon. You can find a link to the RFA here.

---
Introducing a new faculty member
Gonzalo Mateos joins the Department of Electrical and Computer Engineering as an assistant professor in September. His research interests are statistical learning from Big Data, network science, wireless communications, and signal processing, focusing on algorithms, analysis, and application of statistical signal processing tools to dynamic network health monitoring, social networks, the power grid, and Big Data analytics. He was a visiting scholar this past year with the Computer Science Department at Carnegie Mellon University. He received his Ph.D. in electrical engineering from the University of Minnesota (2012). Previously, he worked as a systems engineer, Automation Technologies Division at ABB, Uruguay.

---
UR research in the news
The National Institutes of Health (NIH) has awarded a five-year, $9 million Research Program Project Grant (PO1) to scientists in the School of Medicine and Dentistry to adapt and develop cutting-edge imaging techniques, allowing them to view the immune system while it is fighting infection and disease. "Usually we take snapshots of an inflamed tissue and look at how the immune system is functioning in that tissue at that particular time," says Principal Investigator Deborah J. Fowell, who is also Dean's Associate Professor in Microbiology and Immunology at the School's David H. Smith Center for Vaccine Biology and Immunology. "Immune cells rapidly respond and relocate to damaged tissues, but you don't know if the cells involved in immune response have been there for a second, a day, or a week. You don't know if they are going to stay there or move. Having a dynamic view of the immune response in inflamed or infected tissues in real time might help us to support or block the body's immune response." The research program is divided into three, interrelated components: Project Leader Minsoo Kim, Associate Professor of Microbiology and Immunology, is developing tools and techniques to mark and guide immune system cells into tissues. Fowell is working with Co-Investigator James F. Miller, Professor of Microbiology and Immunology, to explore the movement of immune system cells through inflamed skin tissue. Project Leader David J. Topham, Professor of Microbiology and Immunology, is looking at how the immune system responds to influenza infection in the trachea. Read more here.

Researchers from the University of Rochester and the European Molecular Biology Laboratory have found out how the cells of cold-blooded animals manage to keep their biological processes coordinated when facing temperature extremes -- and even slightly colder temperatures. "The production of proteins is a key process in all cells, and it is important to make the right amounts of each protein at just the right time," said Michael Welte, an Associate Professor of Biology. While studying the internal mechanisms of the egg cell of the fruit fly Drosophila, Welte and his team discovered the key role played by a protein called Klar. Read more here.

The 1,500-mile Appalachian mountain chain runs along a nearly straight line from Alabama to Newfoundland -- except for a curious bend in Pennsylvania and New York State. Researchers from the College of New Jersey and the University of Rochester now know what caused that bend -- a dense, underground block of rigid, volcanic rock that forced the chain to shift eastward as it was forming millions of years ago. According to Cindy Ebinger, a Professor of Earth and Environmental Sciences, scientists knew about the volcanic rock structure under the Appalachians. "What we didn't understand was the size of the structure or its implications for mountain-building processes," she said. The findings have been published in the journal Earth and Planetary Science Letters. Read more here.

---
PhD dissertation defenses
Joshua M. Dewe, Biochemistry and Biophysics, "Characterizing the Role of Elongation Factor lA and Other Cellular Proteins in the Yeast Rapid tRNA Decay Pathway. " 11 a.m., today, Neuman Room (1-6823). Advisor: Eric Phizicky.

Shule Li, Physics and Astronomy, "Heterogeneous Flow in Interstellar Medium and Star Formation." 2:30 p.m., Aug. 20, 372 Bausch and Lomb. Advisor: Adam Frank.

Daniel Scantlebury, Biology, "Patterns of Adaptive Radiation in Insular Reptiles and Amphibians." 10 a.m., Aug. 20, 473 Hutchinson Hall. Advisor: Richard Glor.

Robert Emerson, Brain and Cognitive Science, "The Cognitive Neuroscience of Mathematics: Tuning Up the Number System." 1 p.m., Aug. 21, 269 Meliora. Advisor: Jessica Cantlon.

Meredith Brown, Brain and Cognitive Science, "Interpreting Prosodic Variation in Context." 2 p.m., Aug. 25, 269 Meliora. Advisor: Michael Tanenhaus.

Daniel Ambrose, Physics and Astronomy, "Measurement of the relative strong-phase difference between D° and D° --> K°s π+ π-". 2 p.m., Aug. 25, 372 Bausch and Lomb. Advisor: Edward Thorndike.

---
Mark your calendar
Aug. 1: Deadline for Fulbright Core applications for Academic Year 2015-2016. Click here for a searchable database of all programs and here for past and upcoming webinars about programs and the application process.

Aug. 4: Deadline for proposals for the first disabilities studies cluster symposium, "Complicating Normalcy: Disability, Technology, and Society in the 21st Century," which will be held Nov. 14. Click here to learn more.

Aug. 11: Deadline at noon for applications for Center for Community Health Mini-Grants. You can find a link to the RFA here.

Sept. 1: Applications due for pilot grants for aging research, offered by The Rochester Aging Research Center and the Office for Aging Research and Health Services. Send to to Daina_Bullwinkel@URMC.Rochester.edu. Contact Dirk Bohmann, Yeates Conwell, or Vera Gorbunova with questions. NOTE: New funding for projects that are related to HIV and aging has become available from the Center for AIDS Research. See the updated request for applications.

Sept. 2: Deadline to submit abstracts for Clinical and Translational Science Institute's Pilot Awards program, its Incubator program and for SMD Scientific Advisory Committee (SAC) "superpilot" awards.

---
Please send suggestions and comments to Bob Marcotte. To see back issues, click here.