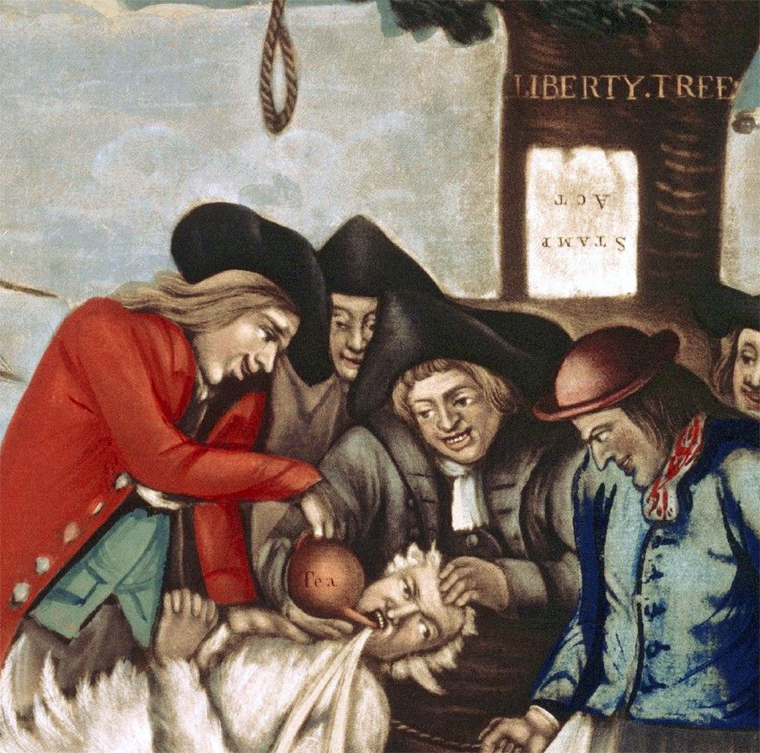 This image is from the cover of Thomas Slaughter's new book, Independence: The Tangled Roots of the American Revolution.


Book by Slaughter examines 'tangled roots' of the American Revolution
During the last 50 years, historians have adopted the tools of anthropology, economics, political science and other disciplines to gain new insights into the complex chain of events that led to the American Revolution.

Prof. Thomas Slaughter's new book, Independence: The Tangled Roots of the American Revolution, brings together these rich veins of scholarship in a single volume. It will be out this month.

"We haven't had a book that has synthesized the causes of the American Revolution since 1968," explained Slaughter, the Arthur R. Miller Professor of History. "Since then, historians -- as is true in all lines of social science research -- have adopted a range of different perspectives and methodologies. Yet none of that has been brought together in a way that takes an overview of the whole body of causes, and draws on the specialized scholarship that has focused on different aspects of this large, complicated, ungainly event."

The overarching theme of Slaughter's Independence revolves around a basic misunderstanding. When the colonists prided themselves on being "independent," it meant being "loyal at the locality. They were loyal to their family, to the parish they belonged to, and to the village in which they lived," Slaughter said. "But that also meant they saw themselves to some degree separated from the next village, and the next church -- even if it was the same denomination." To the British, however, "being independent" meant that Americans "didn't see themselves as loyal and responsible to the larger entity, the British Empire, the Church of England, the larger picture. So they were lawless, difficult people," Slaughter said.

And so, the British and American colonists "bounce through all the conflicts of the 17th and 18th century, some of which were violent, some of which were outright rebellions, with these two different understandings of whether independence is a positive quality or a fault," Slaughter notes. "And when we get to the 18th century, this is articulated over and over again in new circumstances in which the Americans say our independence is being threatened by the British Empire."

"What Americans meant was that they wanted to be independent within the British Empire, but what the British understood them to be saying, is that they wanted to be separate from, and be independent of, and no longer connected to the Empire." The American Revolution occurred at a point "where a critical mass of Americans believe they can no longer be both independent and members of the British Empire," Slaughter said. "So in one sense this misunderstanding is what keeps them together for 150 years but also is what drives them apart at the end."

Among the new circumstances that colonists faced was a dramatic increase in population, an urbanization of society, a break in the ethnic homogeneity that had defined European immigrants in the seventeenth century, a decline in average farm size, and a growing gap between the wealthiest and least wealthy among them. Next: Caffeine and the American Revolution.


Do you have an interesting photo or other image that helps illustrate your research? We would like to showcase it. Send a high resolution jpg or other version, along with a description of what it shows, to bmarcotte@ur.rochester.edu.
---
New funders, priorities, methods in health-related research to be addressed
At the Mini Summer Research Institute, which takes place June 19, researchers, clinicians, and trainees can learn more about how the ecology of health-related research is evolving rapidly and also learn from colleagues who have had success navigating the still-being-charted waters, notes CTSI Stories.

Designed around a series of rapid-fire presentations, the day-long institute will provide attendees with targeted synopses on a wide variety of topics, including how the Affordable Care Act (ACA) has affected the funding landscape, an overview of translational science at the local and national levels, data at the community level, and working with a biostatistician. No individual presentation spans longer than half an hour -- most will only last 10-15 minutes. Instead, the event will devote large portions of time to a series of panels and Q&As that allow attendees to dig deeper into whatever topic they are interested in.

"I think it will be helpful even for the established R01 investigators to get a sense of what the new directions are," said Harriet Kitzman, Co-director of the Clinical and Translational Science Institute (CTSI) and Director of the Center for Research Implementation and Translation, which is hosting the institute. "We have a great panel in the afternoon to talk about the three major areas here in regards to the Affordable Care Act, and the research questions that are emerging from it."

---
What researchers should know about "limited submission" programs
Some sponsors limit the number of nominations or proposals that the University may submit to a particular program. The guidelines for these programs require the University to screen applications to determine which applications will be submitted. Submit applications to: Catherine Muzytchuk (URMC), Cindy Gary (Hajim), or Debra Haring (ASE).


The PI must submit the pre-proposal by 5 p.m. on the day of the internal deadline. If a program is designated as "closed" but the agency deadline has not passed, you may still be eligible to apply for the program. Please contact the individuals listed above. Click here to learn more.

Here is an example of a limited submission program that will be of interest to all PIs in Chemistry, Physics, Math, Materials Science and Optics:


The Theory Institute in Atomic, Molecular and Optical Physics
The goal of this National Science Foundation Institute is to foster cutting edge research in theoretical atomic, molecular and optical physics, serve as a focus for theoretical AMO science, and to enhance the visibility of the field. Funding for the institute is designed to foster major breakthroughs at the intellectual frontier of AMO physics by providing resources beyond those available to individual investigators or small groups, in an environment in which the collective efforts of the larger group can be shown to be seminal to promoting significant progress in the science and the education of students. The internal deadline is June 20.

---
In the news . . .
The lab of John Frelinger, Professor of Microbiology and Immunology, is among those featured in a Nature news article, "Old cancer drug gets fresh look," for its work on refining interleukin-2. IL-2, the first cancer immunotherapy to be approved by the U.S. Food and Drug Administration, has been used somewhat successfully for several years to treat people with kidney cancer and advanced melanoma. The problem is that traditional IL-2 therapy often comes with life-threatening side effects, forcing some patients and oncologists to forego the risks of treatment. Frelinger is working on a strategy to modify IL-2 so that it remains inactive until it lands directly in the neighborhood of tumor cells. He is also investigating how to stimulate certain types of immune cells to create the best synergy for directly destroying cancer with minimal side effects. He believes his approach could also be customized to attack different tumor types or an individual's specific tumor. Read more at the Research@URMC blog.

Metabolic syndrome is defined as a group of conditions including increased blood sugar level, high blood pressure and high levels of "bad" cholesterol. It puts individuals at greater risk of cardiovascular problems, diabetes and obesity. A recent study by University of Rochester School of Medicine and Dentistry researchers published in the International Journal of Geriatric Psychiatry found that having metabolic syndrome significantly increased the chances of becoming physically frailer and slower in cognitive abilities, such as slower in recalling something that happened half an hour ago, reports Research@URMC blog.

A recent paper published by University researchers in the Journal of Immunology demonstrates the presence of two types of special immunological cells within the brain in HIV infected individuals and how these these platelet-monocyte 'teams' lead to increased neuronal damage. This finding suggests that targeting platelet activation or thwarting the formation of platelet-monocyte complexes could be novel interventions in combating HIV related brain damage. Read more . . .

Jeffrey Bazarian, Associate Professor of Emergency Medicine, of Neurology, of Neurosurgery and of Public Health Sciences, was at the White House recently as President Obama picked up the national conversation on sports concussions. Bazarian was among the country's top scientists invited by Obama's staff to network, raise awareness, and discuss ways to make sports safer, according to the Research@URMC blog. The President's goal is to push more money toward medical research into traumatic brain injury, which has become a hot topic among NFL and NCAA athletes and youth players and their parents. Bazarian said President Obama made it clear, however, that he's not discouraging people from playing sports. Instead he's focusing on making all sports as safe as possible by providing the tools to protect athletes and understanding the consequences of sports-related concussions. "This event certainly lent legitimacy to the research we're pursuing," said Bazarian. Last month he published a study in PLOS ONE showing that six months in the off-season doesn't always allow brains to recover from football hits.

Patients who express pretreatment concern on surveys about treatment symptoms such as nausea and memory problems tend to suffer higher symptom burdens during and after anticancer treatment, suggests research presented at the 2014 American Society of Clinical Oncology (ASCO) Annual Meeting. "Clinicians should consider using these questions as indicators to which patients may require additional symptom management care," said lead author Luke Joseph Peppone, Assistant Professor of Surgery and of Orthpaedics. "Asking patients about their expected symptom burden and information needs before treatment is a quick and easy-to-administer predictor of symptom burden throughout the cancer treatment process."

The U.S. Centers for Disease Control and Prevention recently recommended a "pre-exposure prophylaxis" (or "PrEP") as a new form of HIV prevention. "Like any important decision, being fully informed is the first step," says Michael C. Keefer, Co-director of the Center for AIDS Research and Professor of Medicine and Infectious Diseases, in a Democrat and Chronicle article. "Most importantly, the medicine can work only if taken exactly as directed. Skipping doses significantly diminishes its protective effect. Users also need to be monitored by health care providers. Currently, not many local medical practices routinely offer PrEP, but they can be found by searching the Internet for "prophylaxis Rochester." Read more here.

---
PhD dissertation defenses
Jiashi Wang, Biochemistry and Biophysics, "Investigation of an evolutionarily conserved Staufen-mediated mRNA decay pathway that involves SINEs and lncRNAs." 1 p.m., June 10, Neuman Room (1-6823). Advisor: Lynne E. Maquat.

Jason Morrissette, Biostatistics and Computational Biology, "Order Restricted Analysis of Covariance with Interactions." 1:30 p.m. June 10, Helen Wood Hall (1W502). Advisor: Michael P. McDermott.

Carolyn Glass, Translational Biomedical Science, "Identifying a Potential Molecular Therapeutic Target for MLL-AF9 Leukemia." 9 a.m. June 11, Saunders Research Building 1.412. Advisor: Archibald Perkins.

Tulin Dadali, Pathology and Laboratory Medicine, "The role of CD38 in regulating NAD metabolism, oxidative stress responses, and activity of NAD-consuming enzymes." 1 p.m. June 12, 1-7619 Lower Adolph. Advisor: Frances Lund.

Yawen Ju, Pathology and Laboratory Medicine, "Elucidating the Role of Lymphatics in the Pathogenesis of Chronic Inflammatory-Erosive Arthritis." 10 a.m. June 13, 1-7619. Advisor: Edward M. Schwarz.

---
Mark your calendar
June 11: Annual Health Professions' Faculty Development Colloquium, 7:30 a.m. to 4 p.m. A professional development conference for faculty, educators, health care professionals, and trainees, advancing quality and best educational practices. Keynote speaker is Richard I. Levin, Director and co-founder of the Harvard Medical School Cambridge Integrated Clerkship. Click here for the full program and to register. Please contact the Office for Faculty Development with any questions.

June 19: "Research in the New Age," a mini summer institute, 8:45 a.m. to 5:30 p.m. at the University of Rochester (exact location will be sent to those registered). It will help URMC investigators, clinicians and trainees increase their knowledge of the developments, opportunities and challenges emerging in T2-T4 research, including methods and approaches to garnering new sources of funding. Click here for more information and to register by June 13.

Aug. 4: Deadline for proposals for the first disabilities studies cluster symposium, "Complicating Normalcy: Disability, Technology, and Society in the 21st Century," which will be held Nov. 14. Click here to learn more.

---
Please send suggestions and comments to Bob Marcotte. To see back issues, click here.