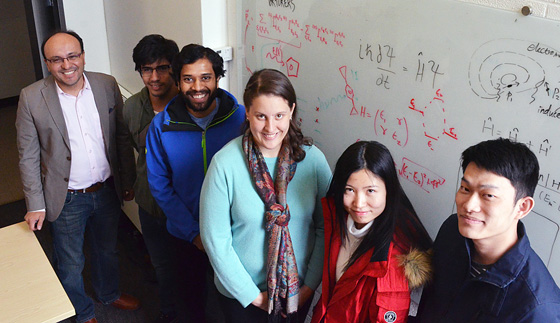 From left to right, Prof. Ignacio Franco and members of his group: PhD student Antonio Garzón, postdoctoral fellow Arnab Kar, and PhD students Rachel Carey, Zhi Li, and Wenxiang Hu.
NSF CAREER: Pushing the limits at which we can control electrons using lasers
(This is part of a series about recent NSF CAREER recipients, describing their research and how they succeeded in their applications.)
Ignacio Franco's NSF CAREER award, announced earlier this year, will enable his
group
to
explore the properties of materials driven far from equilibrium by non-resonant laser fields
, and to
push the limit at which electrons at the nanoscale can be manipulated by lasers
.
"Lasers permit manipulation on an ultrafast timescale, and by ultrafast I mean something on the order of femtoseconds — a millionth of a billionth of a second," explained
Franco
, an assistant professor of chemistry. "This is something you cannot achieve by conventional means, such as chemical changes in composition, changes in thermodynamic properties, an applied voltage and so forth."
The focus of this project is on fundamental science, Franco said. "However, if we were able to control the ability of materials to absorb light or transport electronic charge on an ultrafast timescale, this will open the way to a variety of technological applications. For example, you could devise the fastest method of generating or stopping currents, or you could design the fastest existing electrical circuit possible."
As part of this project, the Franco group investigates:
1.
The possible use of the Dynamic Stark Effect
(DSE) as a general route for ultrafast control of electronic properties and dynamics. Through the DSE, non-resonant laser fields of intermediate intensity (non-perturbative, but non-ionizing) drive materials far from equilibrium and create effective laser-dressed materials that can have very different properties to those observed near thermodynamic equilibrium. Previous experiments, for example, have shown that
this can turn fused silica (glass) into a transient metal, which then reverts to glass when the laser is shut off
.
2.
Electronic decoherence processes in molecules.
Other possible routes for laser control of electrons are based on quantum interference effects. These quantum interference processes, however, decay due to "electronic decoherence"; the loss of quantum correlations of the electrons due to interaction with the nuclei. The Franco group investigates in detail the electron-nuclear dynamics that generate the decoherence
as a necessary step in the design of additional laser control scenarios that either avoid or take advantage of the decoherence
.
The Franco group employs the power of theory and simulations to isolate new phenomena and explain experiments. The group
collaborates closely with experimentalists
"to make sure our predictions make sense," Franco said. A key collaborator is Dr.
Ralph Ernstorfer
of the Fritz Haber Institute in Germany.
The potential payoffs could be enormous.
"Since understanding and controlling the properties of electrons is of fundamental importance in chemistry, physics, material science, engineering and even biology, the outcome of this investigation will have significant interdisciplinary impact," Franco wrote in his application. "
Pushing the limits in which we can control electronic properties has the potential to catalyze transformative progress
in chemistry, spectroscopy, opto-electronic device design, communication through electrical signals and any other science or technology based on electronic control."
Franco needed only one submission to be approved for the NSF CAREER award. He credits:
• An "exciting" research idea.
• Feedback from a prior DOE early career proposal submission.
• Helpful advice from colleague
David McCamant
, an associate professor of chemistry and previous CAREER winner, who helped Franco fine tune a "strong" proposal into a "very strong" proposal.
• A new way of teaching quantum mechanics to chemistry students at the graduate level, which Franco incorporated into the equally important "Broader Impacts" section of this proposal.
• A strong letter of support from
Todd Krauss
, chair of the Department of Chemistry, stating how the University and the Department have supported Franco's research program, and how they will support the teaching plans contained in the proposal.
Franco uses award to change how graduate quantum mechanics is taught in Chemistry
A pervasive problem in chemistry departments is that
students often lack a suitable foundation in math and physics to understand quantum mechanics at a research level
, Franco explained.
Franco, who teaches Quantum Chemistry (CHM 451) for his department, had already begun addressing this by
spending a month teaching relevant math at the start of the course
. He also
turned his office hours into "active learning sessions"
in which each student takes a turn solving problems at a board, while Franco and the other students offer guidance and assistance.
"This has been a very successful strategy," Franco said. But he wanted to expand it as part of his proposal to the NSF CAREER program, which recognizes recipients not only for their outstanding research, but "excellent education and the integration of education and research within the context of the mission of their organizations." As part of his award, Franco will
develop a flipped classroom approach
for the teaching of graduate quantum mechanics.
Some of the lecture material will be put on videos that students can watch ahead of time. That will free up classroom time for group discussion and problem solving.
Barbara Masi, former Director of Educational Innovation in the University's Office of Assessment, "helped me draft something that was scholarly from a pedagogical perspective. That was very important for the success of the proposal", Franco said. "This was mentioned favorably by the reviewers and the program officer."
Deadlines draw near for this year's applicants
Full proposal deadlines
for NSF CAREER awards are
5 p.m., submitter's local time
, on these dates:
•
July 20
: BIO (Biological Sciences), CISE (Computer and Information Science and Engineering), EHR (Education and Human Resources)
•
July 21
: ENG (Engineeering)
•
July 22
: GEO (Geosciences), MPS (Mathematical and Physical Sciences), SBE (Social, Behavioral and Economic Sciences)
Read more
here
.
Do you have an interesting photo or other image that helps illustrate your research? We would like to showcase it. Send a high resolution jpg or other version, along with a description of what it shows, to bmarcotte@ur.rochester.edu.
---
Healthy glia cells blunt Huntington's disease in mice
Researchers have successfully reduced the symptoms and slowed the progression of Huntington's disease in mice
using healthy human brain cells
. The findings, published in the journal
Nature Communications
,
could ultimately point to a new method to treat the disease
.
The research entailed implanting the animals with human glia cells derived from stem cells. One of the roles of glia, an important support cell found in the brain, is to tend to the health of neurons. The study shows that
replacing sick mouse glia with healthy human cells blunted the progress of the disease
and rescued nerve cells at risk of death.
"The role that glia cells play in the progression of Huntington's disease has never really been explored," said
Steve Goldman
, co-director of the Center for Translational Neuromedicine. "This study shows that these cells are not only important actors in the disease, but may also hold the key to new treatment strategies."
Because
glia cells have been shown to migrate and proliferate throughout the brain once implanted
, these findings could herald a potential new approach to rescue nerve cells threatened by the disease.
"The partial rescue of deficiencies we observed in this study tells us that there is a significant glia component in Huntington's disease and that
we may be able to improve function and delay progression with glial transplants
," said Goldman. Read more
here
.
---
Introducing the 2016-17 Humanities Center internal fellows
Four University faculty members have been named Humanities Center fellows for the next academic year.
Peter Christensen
, assistant professor of art history, will use his Fall 2016 fellowship to
complete his first book
Germany and the Ottoman Railways: Art, Empire, and Infrastructure
, to be published by Yale University Press in 2017.
Margarita Simon Guillory
(Spring 2017), assistant professor of religion, will complete a book chapter that
examines how Spiritual Churches use ritual performances as response mechanisms
to the major shifts in New Orleans' social, political, economical, and geographical landscapes caused by the
onslaught of Hurricane Katrina in 2005
.
Dahpon Ho
(Spring 2017), assistant professor of history, will work on
his first book manuscript on Chinese maritime history
,
Sealords Live in Vain
, plus
a related ecological study
called "Scorched Earth and Manufactured Wilderness: The Forced Depopulation of Coastal Fujian (1661-1683) as Social and Ecological Crisis."
Llerena Searle
(Spring 2017), assistant professor of anthropology, whose first book,
Landscapes of Accumulation: Real Estate and the Neoliberal Imagination in Contemporary India
, will be published in September by the University of Chicago Press, will work on her next project on
changing forms of domesticity in urban India
.
Internal fellowships, supported by Jay Last '51, are
awarded to University tenure-track assistant professors in any field of humanistic study
, including anthropology, art and art history, English, history, modern languages and cultures, music, philosophy, or religion and classics.
Fellows receive an allowance of $5,000 for research and travel related to their project. Read more
here
.
---
Goal of new faculty mixer is collaboration
Seeds for Collaboration
, a new series of faculty mixers sponsored by the Del Monte Institute for Neuromedicine and the School of Medicine and Dentistry Dean's office, begins June 14.
The mixers will be held monthly during the academic year
to foster discourse that will ultimately result in inter-departmental and cross-disciplinary collaboration, discoveries, publications and grant applications
.
Following a half hour for faculty to mingle, three 5- to 8-minute seed talks will be presented, followed by discussion after all three speakers have finished.
The inaugural mixer begins at 4:30 p.m. June 14 in LaChase Assembly G.9576
, and features these seed talks:
1.
Douglas Portman
, Associate Professor of Biomedical Genetics, "What does sex do to your brain?"
2.
John Elfar
, Associate Professor of Orthopaedics, "Inroads in Peripheral Nerve Injury Diagnosis and Treatment."
3.
Karen Mustian
, Associate Professor of Surgery, "Effects of exercise on immune function and gene expression in skeletal muscle among cancer patients: Mechanisms whereby exercise may improve cancer-treatment related toxicities."
The goal of Seeds for Collaboration is to provide basic science, translational and clinical faculty alike an opportunity to share their research interests and directions and to attract collaborators
in an informal, social environment
.
---
New center to promote K-12 urban education success
A new center supporting the success of K-12 urban schools in Rochester and beyond will
leverage existing research and best practices to inform the transformation of East High School
and will
conduct research and evaluation at East that can be disseminated to inform and improve urban education elsewhere
.
The Warner School's new
Center for Urban Education Success
represents the next ambitious and much-needed milestone in the University's ongoing commitment to supporting K-12 schools. "Not only will the new Center contribute to the success at East, but it will help to disseminate and share best practices and research for improving urban education more broadly," said
Raffaella Borasi
, the Warner School's Dean and Frederica Warner Professor.
The new center's executive director will be
Stephen Uebbing
, a professor of educational leadership at the Warner School, who was the chief force behind the development of the East Educational Partnership Organization (EPO) proposal. He currently serves as project director for East, overseeing the EPO partnership with the University, and he will be joined in the Center by faculty researchers and educational leaders.
The Center will work closely with the leadership and teachers at East to capitalize on the partnership to build knowledge and improve practices that service urban students and schools.
Transparency and access to the work at East and in urban school turnarounds more generally will be part of an effort to
create a model for urban school improvement and a robust clearinghouse of research, practitioner guides, and other artifacts to support urban schools facing similar challenges
. Read more
here
.
---
Congratulations to . . .
Sheree Toth
, professor of psychology and the executive director of Mt. Hope Family Center, who has
received the John Romano Award
from the Mental Health Association of Rochester/Monroe Inc. The Romano Award is given for contributions that have enhanced the lives of individuals with mental illness, their families, and their communities. "Sheree Toth has made
profound contributions to the Rochester community and to the international community through her research and scholarly work in the area of child maltreatment
for over 30 years," according to the Mental Health Association. "Her work on how violence, maltreatment, and other traumas impact human development and family relationships has led to the
development of proven evidence-based services
. Toth's efforts have brought hope to countless families facing significant challenges that discovered strategies to find wellness through effective treatment."
J. Richard Ciccone
, professor of psychiatry and founding director of the Psychiatry and Law Program, who
received the Rochester Academy of Medicine' highest honor
— the Albert David Kaiser Medal — for more than four decades of distinguished service and contributions to the medical community, including
his trailblazing work to bring modern forensic psychiatry into the American courtroom
. Read more
here
.
Donatella Stocchi-Perucchio
, associate professor of Italian, who has been
named an honorary professor at the University of the Pacific
(UP) in Lima, Peru. The designation
recognizes her scholarly contributions to the field of Italian studies and comparative literature as well as her efforts in fostering a dialogue among Italianists worldwide
. Stocchi-Perucchio has published on Dante, Cavalcanti, Pirandello, and Leopardi. A new coedited volume entitled
Dante politico: Ideological Appropriation Across Boundaries
is forthcoming with
Mediaevalia
. The exploration of Dante's role in the post-colonial reclamation of pan-African identity is among her future research projects. Read more
here
.
---
University research in the news
Two school-based
suicide and drug prevention programs that empower teens to become change agents
for promoting health — refined and tested by
Peter Wyman
and his team — will be
implemented at 60 high schools and middle schools across New York state
with a $1.5 million secured by State Sen. Rob Ortt of North Tonawanda. "Research shows peers have enormous influence on adolescents' choices and decisions, especially when it comes to things like substance use, risk-taking and sexual practices," says Wyman, a professor of psychiatry. "But rather than bemoaning this fact, it actually offers immense opportunity to capture and leverage peer group influence for prevention and health.
Just as suicide can be contagious, so too can be the attitudes and behaviors that counter suicide, and help adolescents thrive.
" Read more
here
.
---
These webinars will help you compete for a Fulbright
The Fulbright U.S. Scholar Program offers
teaching, research or combination teaching/research awards in over 125 countries for the 2017-2018 academic year
. Opportunities are available for college and university faculty and administrators as well as for professionals, artists, journalists, scientists, lawyers, independent scholars and many others.
Among the resources available to
help you prepare a competitive application
are these upcoming webinars:
Fulbright Scholar-in-Residence Opportunities for SLAs and Others (Today)
Multi-Country Opportunities and the Fulbright Global Scholar Award (June 14)
Fulbright S-I-R Application Walk Through and Open Questions (June 14)
How to Craft a Project Statement (June 15)
Virtual Advising: East Asia and the Pacific (June 21)
Fulbright Guide: Dissecting the Catalog (June 22)
Virtual Advising: South and Central Asia (June 23)
Fulbright: The Final Frontier (June 29)
You can register and find out more about these webinars
here
. Click on the "Past" tab to access audio recordings of previous webinars.
---
PhD dissertation defenses
Mahdi Nazm Bojnordi
, Electrical Engineering, "Memory System Optimizations for Energy and Bandwidth Efficient Data Movement." 2 p.m., June 16, 2016. Computer Studies Building 523. Advisor: Engin Ipek.
Edward Hansen
, Physics and Astronomy, "Outflows from Young Stellar Objects: Bringing Numerical Simulations Closer to Observations of Herbig-Haro Objects." 2 p.m., June 16, 2016. Meliora 221. Advisor: Adam Frank.
---
Mark your calendar
June 14:
Seeds for Collaboration faculty mixer. Presentations by Douglas Portman, John Elfar and Karen Mustian. Sponsored by the Del Monte Institute for Neuromedicine and the School of Medicine and Dentistry Dean's office. 4:30 p.m., LaChase Assembly G.9576.
June 24:
Deadline is 5 p.m. for applications for Center for AIDS Research pilot awards in
Focused Topic Areas
and in
General HIV/AIDS
. Contact Laura Enders at
Laura_Enders@urmc.rochester.edu
or (585)273-2939.
July 1:
Deadline to submit applications for AS&E
PumpPrimer II awards
. Faculty in Arts & Science should refer questions to
Debra Haring
and those in Engineering to
Cindy Gary
.
---
Please send suggestions and comments to Bob Marcotte. You can see back issues of Research Connections, an index of people and departments linked to those issues, and a chronological listing of PhD dissertation defenses since April 2014, by discipline.